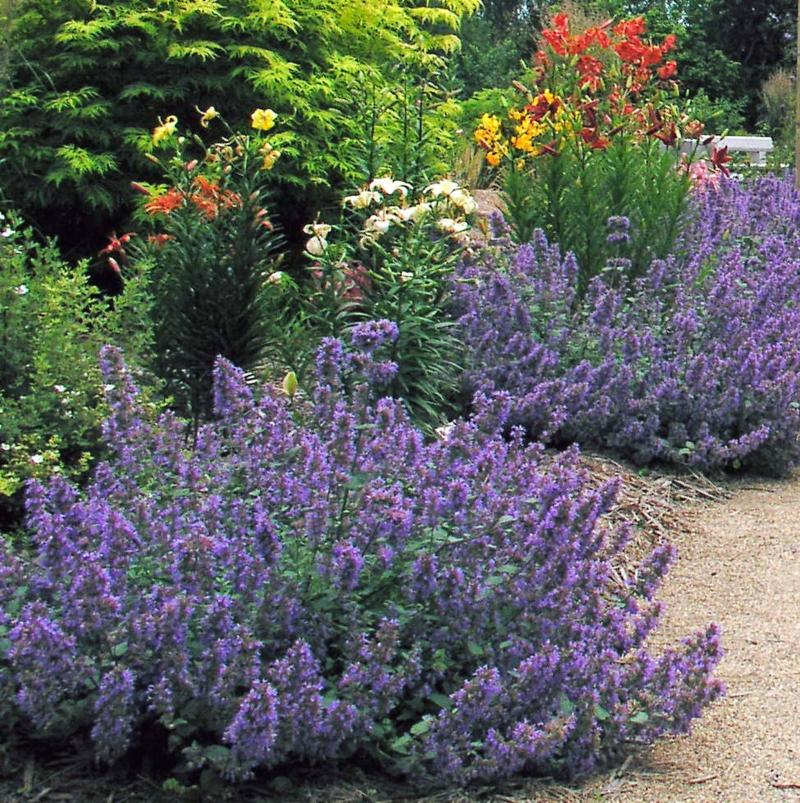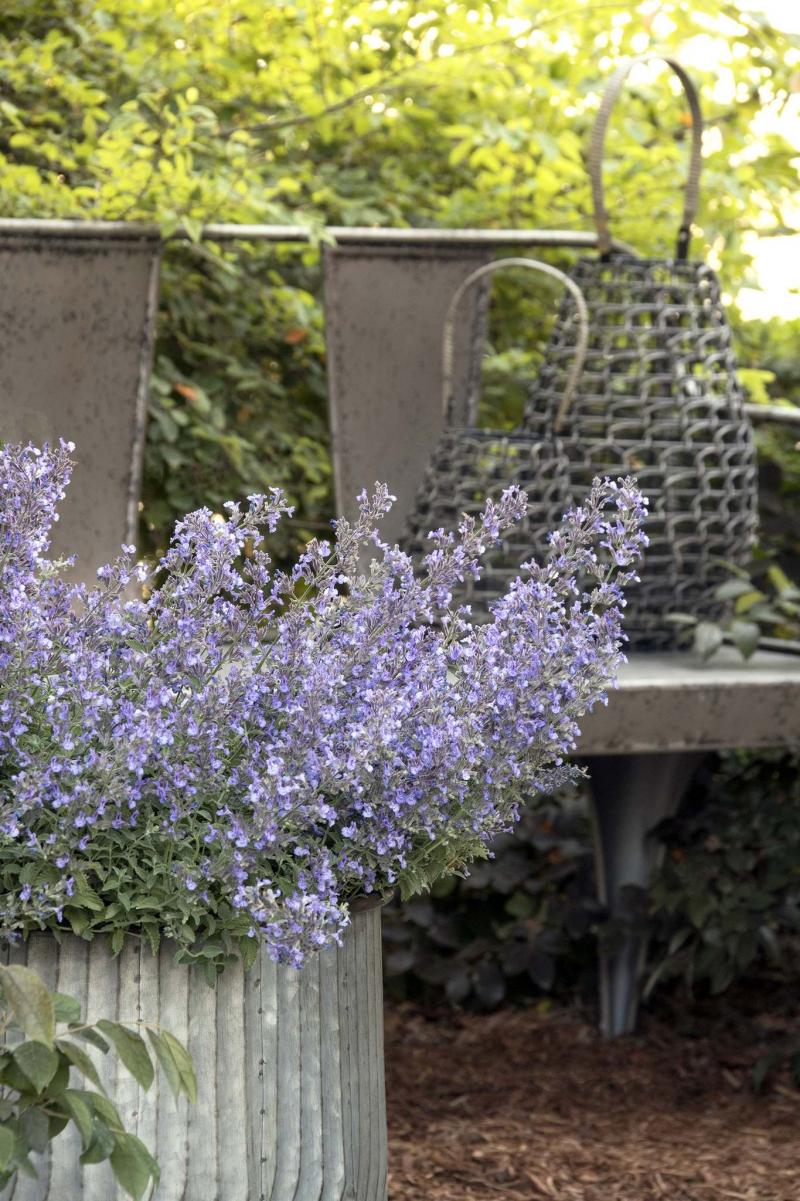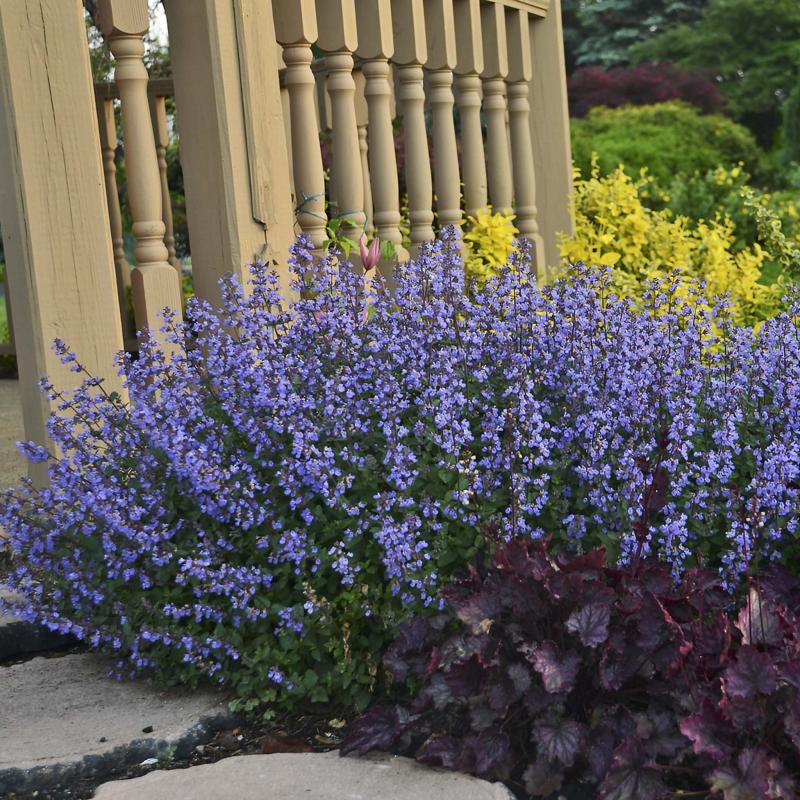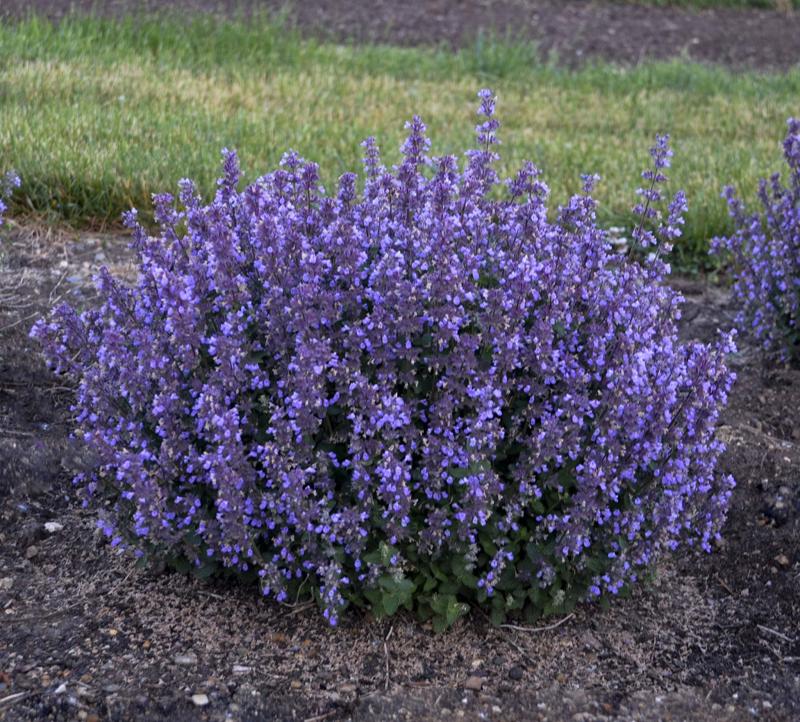 Not every plant steals the spotlight with its stunningly gorgeous blooms or lustrous foliage. Some plants remain on the sidelines like wallflowers, not making a big noise, but quietly doing what they know how to do best. Catmint, or nepeta, is just such a plant.
A workhorse perennial that is short, shrubby and multi-stemmed, catmint has lavender-like qualities — it's a fragrant herb that belongs to the same family, Lamiaceae, requires a full sun location with well-draining soil and has fragrant silvery-grey foliage and small, purplish-blue flowers that hug a profusion of medium-long spires. But there the similarity ends because, in zone-3 gardens, lavender is short-lived and temperamental even with the benefit of reliable snow cover, whereas nepeta keeps coming back year after year.
In this era of the natural planting movement that takes its cue from the movement and structure of drifts of herbaceous perennials based on the intentionally low-maintenance style favoured by renowned Dutch plantsman Piet Oudolf, nepeta fits the bill as a no-fail herbaceous plant. Ideally suited to the garden border and a magnet for pollinators, nepeta is enjoying a resurgence of interest with numerous new varieties being introduced at a greater level than in the past. Do they all perform equally well?
No garden worth its salt is built on a foundation of untried and untested plants. This is where Richard Hawke comes in. As plant evaluation manager at Chicago Botanic Gardens, Hawke evaluates a wide range of herbaceous perennials.
My first question to Hawke in a recent phone interview was to ask why the plant evaluation program at Chicago Botanic Gardens should be considered a useful and important resource for northern gardeners. Hawke says that while many of the perennials evaluated are typically grown in cold-climate areas, including zone 3, the trials are pertinent because, first of all, it's a process with criteria and a methodical approach to collecting and sharing information. Gardeners, whether they live on the west coast or in the heart of the prairies, can all draw some connections.
In a comparative study of cultivated catmints, Hawke evaluated a number of varieties familiar to zone-3 gardeners, including Dropmore Blue, which was introduced in 1932 by Dr. Frank L. Skinner of Dropmore, Man. In Skinner's groundbreaking book, Horticultural Horizons: Plant Breeding and Introduction at Dropmore, Manitoba (1966, Manitoba Department of Agriculture and Conservation), he wrote that Dropmore, a cross between N. mussini and N. ucranica, "seems quite sterile and continues to flower from May until September during which time bees can be seen working on it on any sunny day."
Dropmore makes sense, Hawke says. "How much better can you get than a plant that's tried and true in your own area?" Exactly, but that doesn't stop us from planting varieties such as, say, Calamintha nepeta ssp. nepeta Blue Cloud, a zone-4 subspecies with larger leaves and larger flowers that we know nothing about.
Gardening plants have become as competitive as fashion styles or automobiles — there's a new model every year. In the case of some plants, such as Echinacea, there are many new varieties. Catmint, Hawke says, is a plant you can count on generally. "It's good in hot, dry areas. It's a great substitute for lavender and many of the better-known varieties like Dropmore, Walker's Low, and Junior Walker, are sterile plants so bloom throughout the summer months without reseeding."
Gardeners want to know which varieties are best and that's what a trial does, Hawke says. "It's not just, what is a great nepeta, but what is a great plant that you can count on?" If it's done well for us, he says, it's likely going to do well for others because it's a good plant.
The plant evaluation looks at characteristics such as flower colour, bloom period, flower coverage, leaf colour, plant height and width, disease and pest problems, ability to rejuvenate without hands-on intervention and winter injury.
In the catmint trial, numerous different varieties were planted together in an open space with full exposure to the elements. "Our goal is to have the very best plants with a minimum of input," Hawke says. "We water as needed because, obviously, water is essential. We mulch with shredded leaves and wood chips for water conservation and we do weed because we are a display garden. We don't fertilize, divide or deadhead, nor do we do any disease or pest control." Hawke acknowledges that some gardeners might go to significantly more trouble, but the average gardener may not.
Varieties which received high-performance ratings include hardy Dropmore, Six Hills Giant, Little Titch, as well as Walker's Low, a zone-5 variety suitable for growing in patio planters. Nepeta Joanna Reed, a medium-tall variety (60 cm), received five-star excellent ratings because it demonstrated a robust habit all season long and its stems did not flop. Kit Cat, a more compact (45 cm) variety with smaller, more numerous flowers that only recently has been available in our area, received 3½ stars in the study for its less than floriferous habit.
In looking at the varieties that were tracked, I would have to say that not all of the names are familiar, such as Little Titch, but that's one we are likely to see here since it is hardy to zone 3 and extremely compact at only 20 cm in height. In Hawke's comparative study, it received four stars and had good (but not excellent) flower coverage.
As with most new plant introductions, nepeta is bred today with an emphasis on compact form. Little Trudy, available locally, is a zone-4 dwarf selection that grows to 20 cm high and about 45 cm wide. Purrsian Blue, also sold locally, is slightly taller at 35 cm. Kitten Around is the same petite size, and both varieties feature periwinkle blue flowers accentuated by dark purple or rosy-purple calyxes.
In the medium-size variety known as Cat's Meow (43 cm tall, 76 cm wide), the emphasis is on a tidy appearance with a dense, round shape. The game-changer may be Cat's Pajamas, a new introduction for 2019. Cat's Pajamas is about half the size of Cat's Meow and blooms two to three weeks earlier. The colour of the indigo blue flowers is said to be bolder, too, and it has zone-3 hardiness.
Nepeta Dropmore Blue is about 25 to 30 cm tall and 30 to 45 cm wide, so must expect competition from more compact varieties even though it is uniquely suited to our climate. Hawke says that winter hardiness involves more than adaptability to freezing temperatures. The biggest issue, he says, is wet soil which can be the kiss of death for a plant in the winter.
The root system of any plant, he says, is the lynchpin. If the roots are sitting in too much water, they become weakened but if plants are anchored in well-drained soil that provides them with adequate moisture, aeration and nutrients, they are more likely to survive even a harsh winter.
For more plant evaluation results, visit chicagobotanic.org.
colleenizacharias@gmail.com