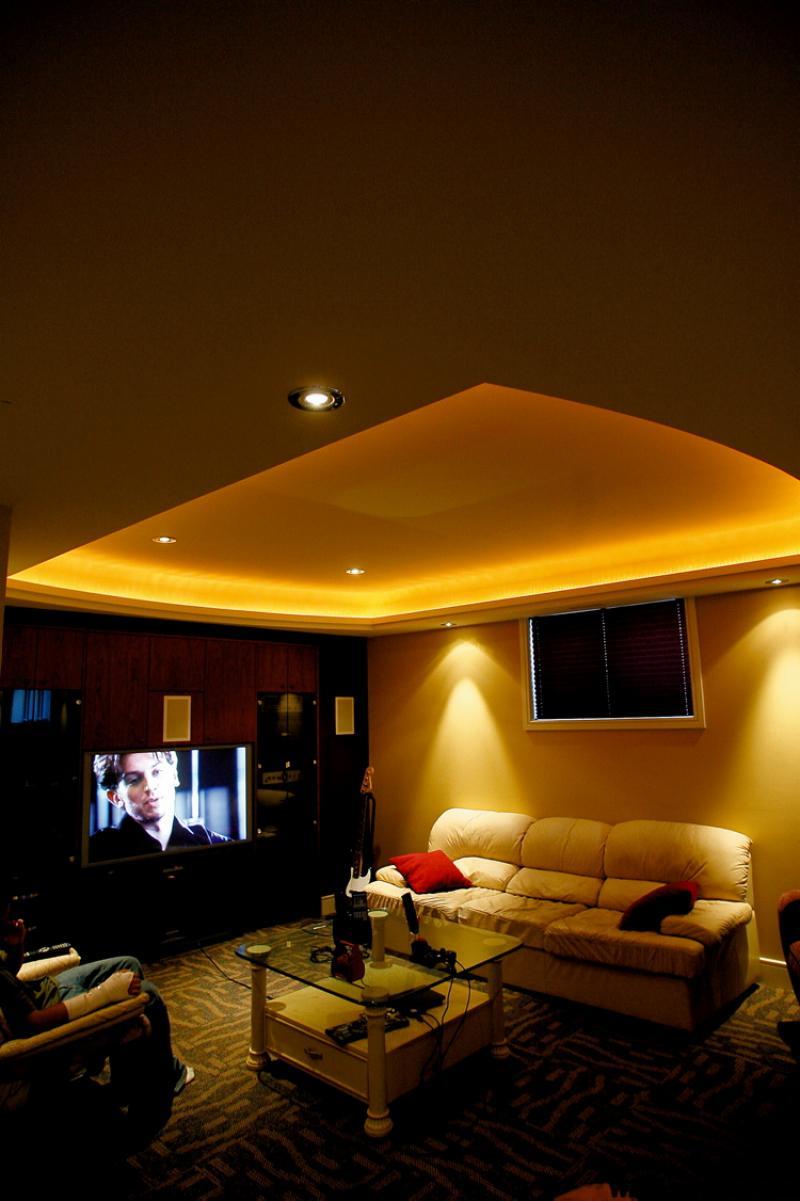 When it comes to choosing a ceiling product for your basement rec room, there are two basic choices -- drywall and suspended. Most people prefer the look of smooth drywall, and I understand that -- it's relatively easy to install and looks great. It's hard to argue with the elegance and simplicity of a perfectly flat, drywalled ceiling.
Suspended ceilings look "seventies" to many people, or institutional. But I think more people should consider using them.
Depending on the height of your basement, you may be limited to one type or the other, so let's start with assessing your basement, to get an idea of which way you should go. The distance between the basement floor and the bottom of the floor joist overhead will be the big deciding factor. That's all about how much headroom you have -- or how much you can afford to lose.
Drywall can be fixed directly to the joists, so you only lose a half an inch of headroom -- the thickness of the material. With suspended systems, you can lose about three to five inches.
If you have a new home, the basement usually is deep enough and ceiling height usually isn't a concern, so you have your choice. But in the case of an older home, the basement was thought of as a utility area, not as living space. So the room height isn't necessarily going to be great.
In this case you'll need to maximize the headroom, so drywall might seem the best or only option. But be warned: If there are electrical junction boxes in between the joists, you can't permanently cover these over with drywall. That's dangerous and against code.
So, you will need to have your wiring updated and those junction boxes moved. That's going to add to your reno budget.
Also, in some older homes I find there are many times when copper piping or ductwork is attached to the bottom of joists, making it impossible to hang drywall directly to the bottom of the joists.
This situation is exactly why I'm a fan of a suspended system. It always gives you easy access to all the electrical and plumbing in your ceiling. It's practical. And, to my mind, the disadvantage of losing a couple of inches of headroom is worth the access convenience. Suspended panels can also be replaced easily in the event of a plumbing leak from above, or long-term condensation damage from sweating pipes.
To me it's a no-brainer that, given the choice, a suspended ceiling is the way to go. But if those institutional-looking two- by four-foot foam rectangles we are so used to seeing in commercial buildings are putting you off, you need to know there are new ceiling systems that look stylish. Or, your contractor can simply cut the panels into two-foot by two-foot sections to get away from that school or office look.
Another factor to consider is the acoustic properties of the space. Are you going to have your TV with surround sound speakers in the basement? Some suspended ceilings are made of soft, sound-absorbing material so that it minimizes sound deflection or echo in the room. It makes a noticeable difference, especially if the floor isn't carpeted. And, back to practical reasons -- running speaker wires for a 5.1 surround sound system is easy with a suspended ceiling, and that goes for a basement installation, or even for running wires for a TV room on the floor above. It is not nearly as straightforward and clean with a finished drywall ceiling.
As far as soundproofing qualities, both drywall and suspended ceilings can have equal amounts. Drywall can be mounted on resilient channels that separate the drywall from the floor joists and minimize the transfer of certain frequencies. But the trade-off is a thicker ceiling. You can also get special soundproof drywall sheets. Because suspended ceilings already have a resilient property built in, and have a sound-absorbing feature to minimize sound deflection, I would go with the suspended ceiling if overall acoustics, as well as soundproofing, are important to your environment.
The important thing to remember when choosing a ceiling system is to make your decision based on practical reasons and not strictly based on looks. Ask yourself these questions:
Do I need to maximize the headroom?
Do I have electrical junction boxes between the joists?
Are there obstructions hanging down below the bottom edge of the joists?
Am I going to need access behind the ceiling in the future?
It may be that you have HVAC ductwork hanging down low in certain places. Maybe your situation requires more than one type of ceiling system, such as drywall around your ducts and a suspended ceiling across the flat expanse. The trick is to make the best decisions directly based on the situation and the obstacles already in place.
-- Canwest News Service
Catch Mike in his brand-new series, Holmes Inspection, airing Thursdays at 8 p.m. ET/PT on HGTV. For more information visit www.hgtv.ca.
Do you have a question about home renovations? Email mikemakeitright.ca.