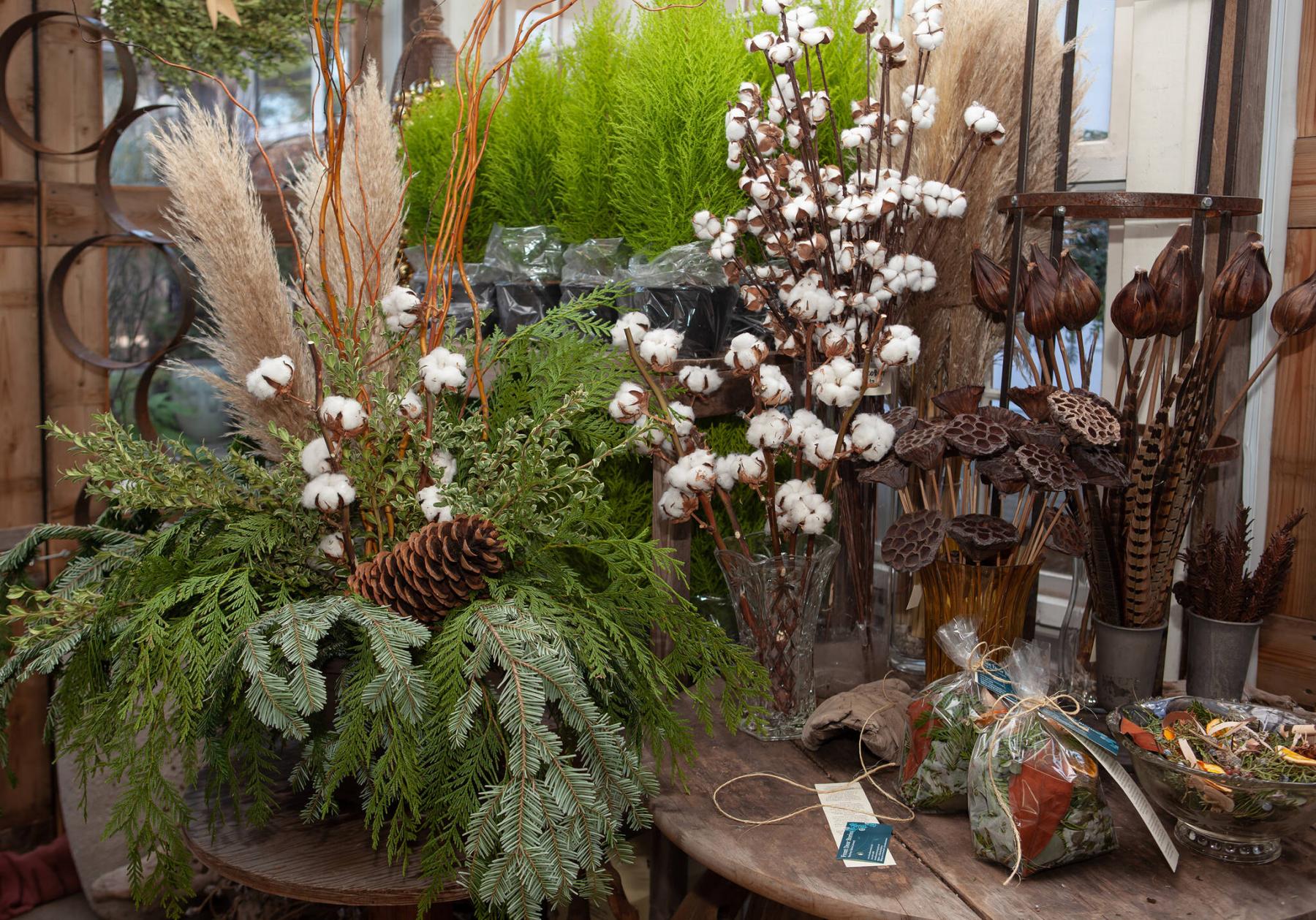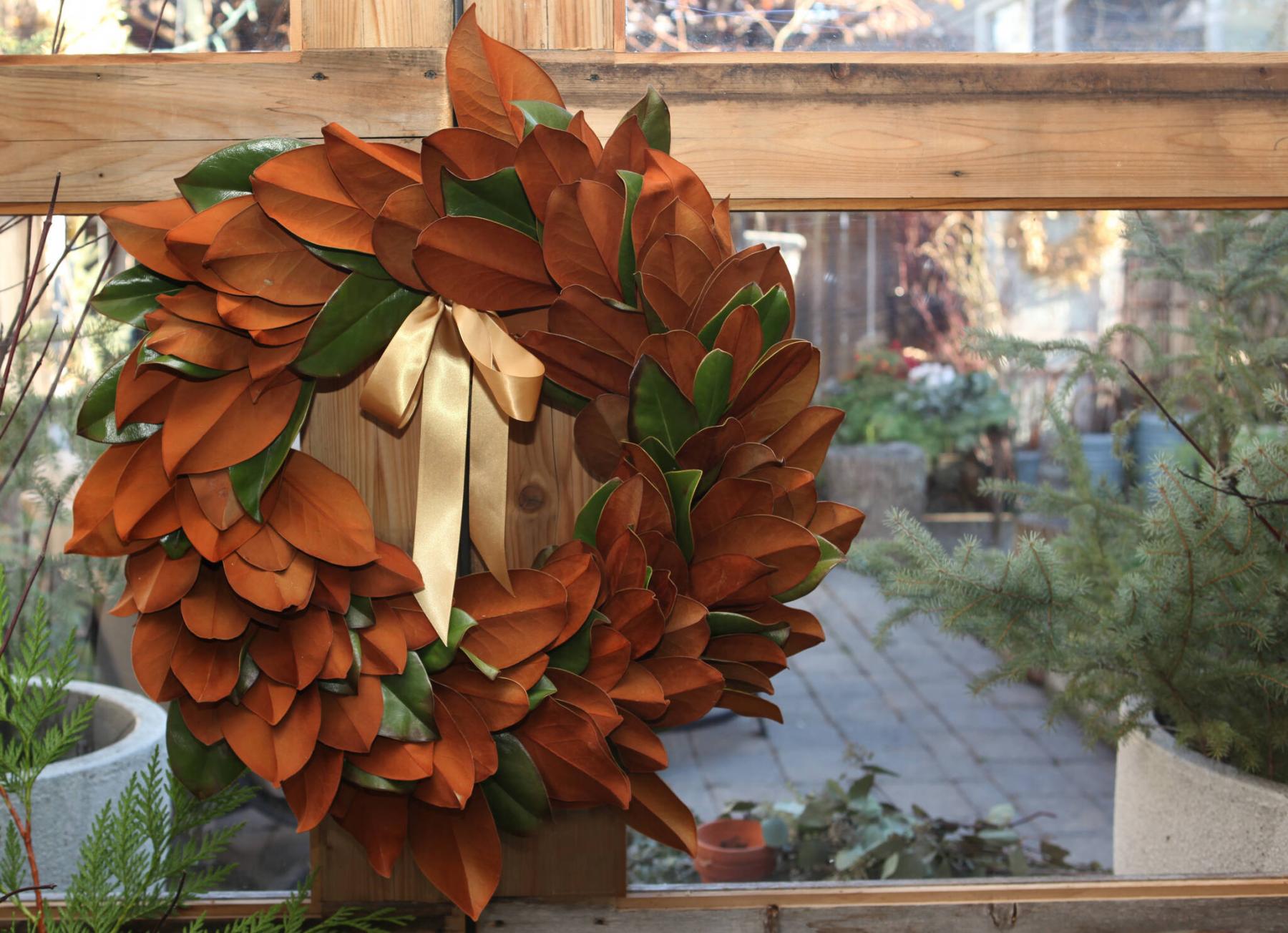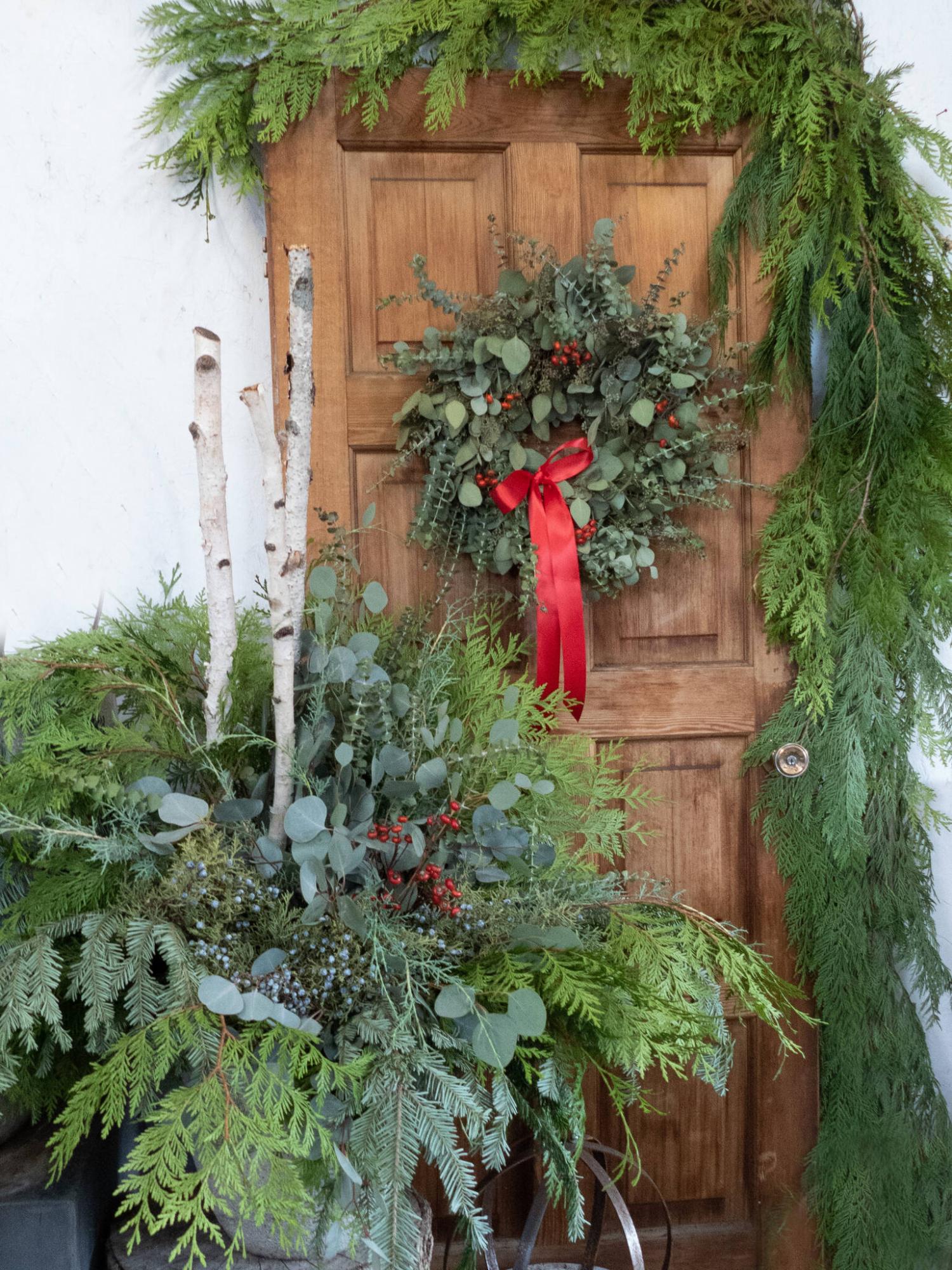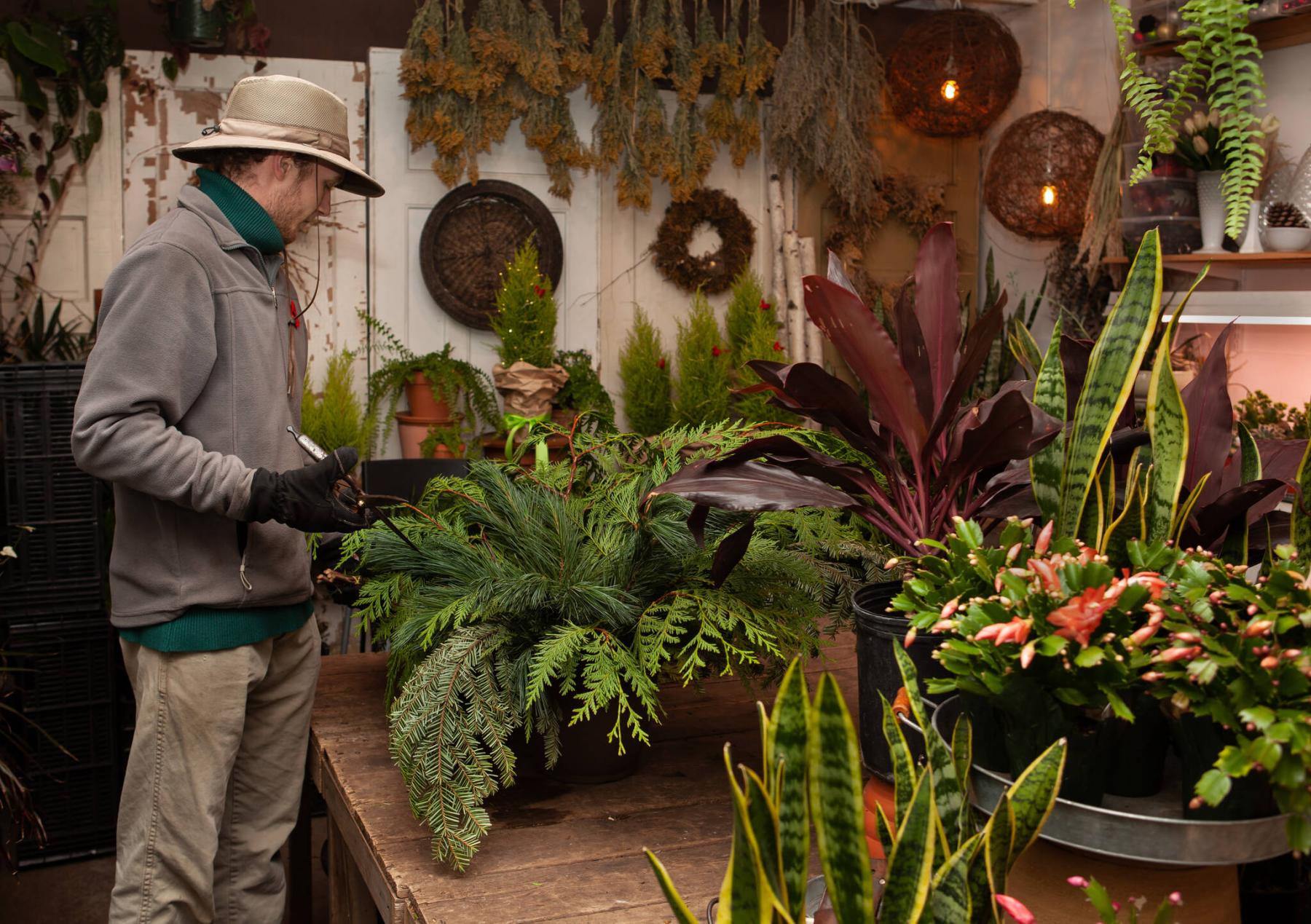 Sharlene Nielsen knows how to make a great first impression. The owner of Front Door Stories, a container gardening service since 2008, Nielsen specializes in creating curb appeal that has a fragrant, welcoming appeal year-round.
Over the years, Nielsen has decorated some of the best-dressed entrances around town. Today she operates a small-scale boutique studio tucked away in a quiet residential neighbourhood in Westwood at 208 Browning Blvd., that offers a hand-picked selection of lush plants and greenery for any season for decorating your home inside or outside.
This weekend Nielsen is hosting her annual holiday open house which is by appointment. In the days and weeks ahead, she will be processing online pre-orders in time for countless pickup and delivery options right up until Christmas. When I arrived at her studio last weekend, Nielsen had just completed unpacking a large shipment of fresh greenery, bulbs, berries, and other materials and was busy building her signature designs including wreaths, planter kits, grab and go arrangements, botanical dish gardens, bulb kits, and more.
The weather was unseasonably warm last weekend. People were outside in their shirt sleeves mowing lawns and the buzz of chain saws could be heard. Cooler weather has now arrived but the question on everyone's lips is, "will it be a cold winter, and will we have normal snowfall?" Winter planters and outdoor wreaths and garlands last longer outdoors when temperatures remain consistently below zero degrees, but we live in a climate of fluctuating temperatures and last winter was no exception.
There are easy steps you can take to ensure that your winter holiday containers and wreaths will be long lasting, says Nielsen. The first step is to prepare your existing outdoor pots by removing the top twelve inches of potting soil and turning up the remaining soil before it freezes. This accomplishes two things, she says: it helps to prevent your outdoor pots from cracking during winter's freezing temperatures and makes room for adding an insert pot. An insert pot gives you the ability to build your design in the comfort of your house or garage before placing it in your outdoor planter.
Nielsen regularly spritzes her supply of fresh greenery with water and keeps custom planters well hydrated right until the moment they are delivered to her clientele. When fresh cut greenery is placed into moistened soil that is not frozen, she says, the greenery will continue to draw up moisture and stay fresher longer. If temperatures turn mild, make sure that cut greenery stays hydrated and if possible, choose a location that does not receive direct sun. For clients who have a full sun location, Nielsen chooses greenery such as cedar and fir over pine which tends to brown more easily. This holiday season, she plans to showcase a long-lasting modern planter that will transition seamlessly from the festive season through to March.
When staging your winter container garden, scale, height, and placement are key. The trend is towards larger, statement pieces, says Nielsen. "One signature pot is really all that most houses need." Not only does a large outdoor planter that looks like an art piece have greater impact, it will also hold more greenery, branches, berries and other accents for a more dramatic display. "A big planter gives you height so that it is above the snowline," says Nielsen. "You'll be much happier with the results than if you decorated five little pots."
More people are purchasing high-end pottery and want to ensure it is protected for the winter, says Nielsen, who has a preference for the rich character of clay and weathered, rustic patina. There are many diverse types of planters to choose from that have been tested to withstand harsh climatic conditions. Nielsen has numerous outdoor pots which she has successfully used for the past 15 years.
She recommends choosing a pot with a dark surface to complement a light façade or vice versa. With the pandemic, says Nielsen, outdoor decorating has expanded to include winter planters that accent fire pit areas and skating rinks.
Nielsen's boutique studio is a fragrant and visual feast. The atmosphere and ambience of the outdoor setting is inspiration alone. From the moment you enter, you will feel ready to start decorating for the holidays or shopping for nature-based gifts. Nielsen makes it so easy. Pre-made grab and go planter kits come with everything you need to build your own winter planter including a video link that you can follow at home. There are also wreath kits that contain foraged botanicals as well as numerous items for decorating indoors – bulb kits, for example, handcrafted potpourri, and lush dish gardens. All you need is your favourite bowl but Nielsen has you covered there, too. She keeps an assortment of vintage glass bowls. Create your own botanical dish garden with a kit that includes three plants, a flowering bulb (your choice), moss, hand-washed stones, and festive accents such as tiny fairy lights.
There are lemon cypress trees in assorted sizes that are wrapped in brown paper sleeves for cold weather protection. To keep them looking fresh and healthy during the holidays and into the new year, Nielsen recommends regular watering and spritzing. "It's essential not to let your lemon cypress tree dry out," she says.
Nielsen offered cultured rosehip wreaths for the first time last year and will have more this year. In addition to traditional greenery, Nielsen is working with a modern design that includes magnolia, oregonia, branches, and pampas grass accented by antique gold or copper coloured ribbon. She also carries a select number of handmade iron plant supports, including orbs and pillars, from Garden Essentials, a Canadian company. Nielsen is the company's representative for Manitoba.
Nielsen's online sales increased dramatically last year and although she is branching out, she says she is sticking with the boutique model. It's a family affair. Her son, Gaven Nielsen, works full-time for Front Door Stories. Nielsen's parents are always ready to pitch in with deliveries when things start to get a little crazy. Her mom, Claudia, and 13-year-old niece Whitley have been busy making fresh greenery bundles that include giant sugar pine cones and foraged branches. Darlene Stack, a long-time friend, makes bags and bags of fragrant potpourri with dried oranges.
There is a distinctively natural and authentic feel to whatever Nielsen creates. If you are looking for sparkles or bling, just ask, but otherwise, Nielsen prefers to design with natural materials. Sustainability plays a substantial role in her business. She has a zero-waste mantra and is always looking for ways to incorporate all the fresh bits and pieces left over from making wreaths and arrangements. "Our signature potpourri has a bit of everything we use in all our designs," she says. Any greenery that cannot be used is composted. Nielsen forages sustainably and finds creative uses for recycled materials. A stellar example is the beautiful addition in 2020 to her existing studio using recycled wood and glass.
Now it's very possible that appointments for this weekend's open house may be fully booked – check online at www.frontdoorstories.com – but starting next week, you can shop in person every Friday and Saturday from now until Christmas.
colleenizacharias@gmail.com