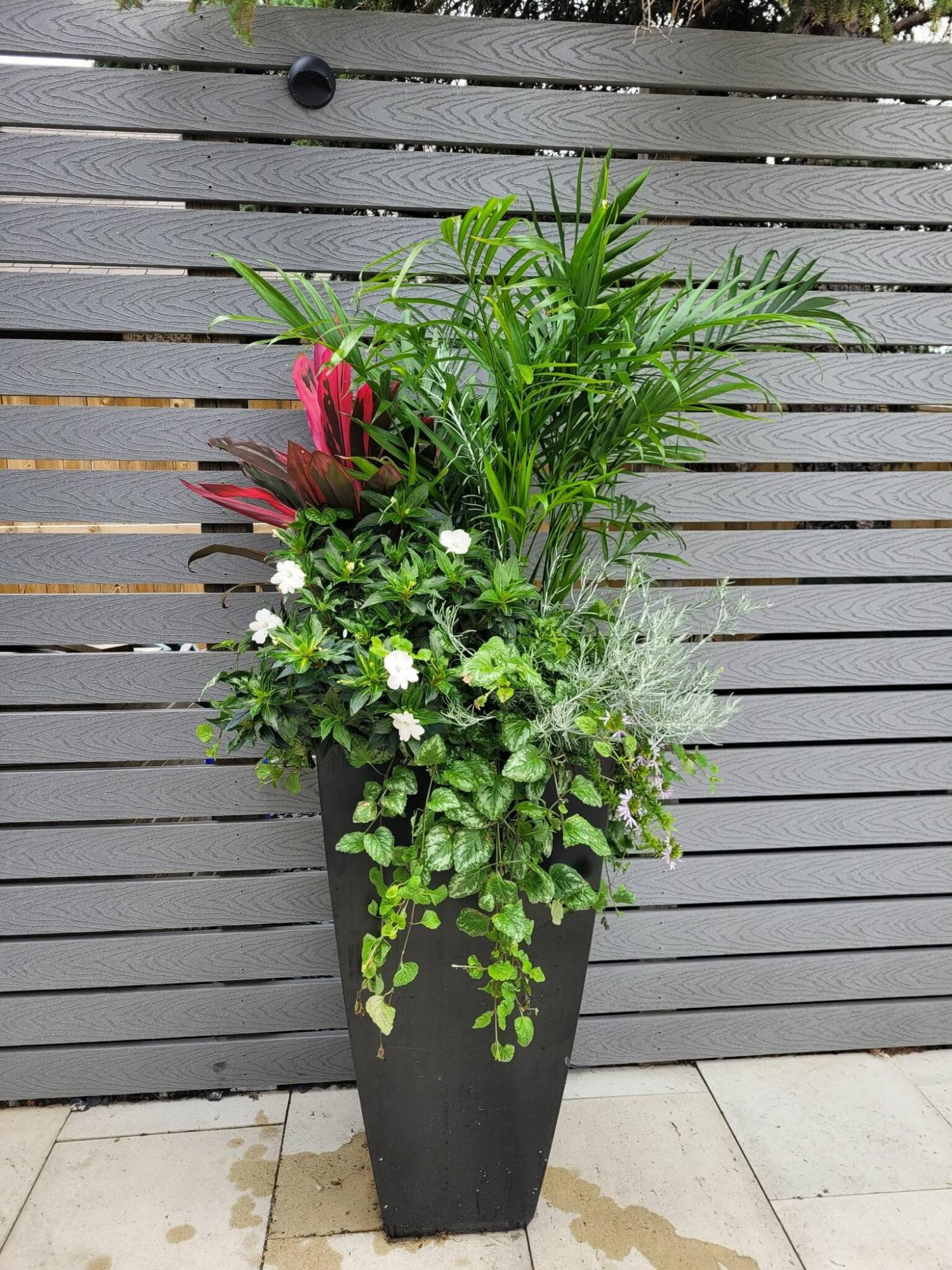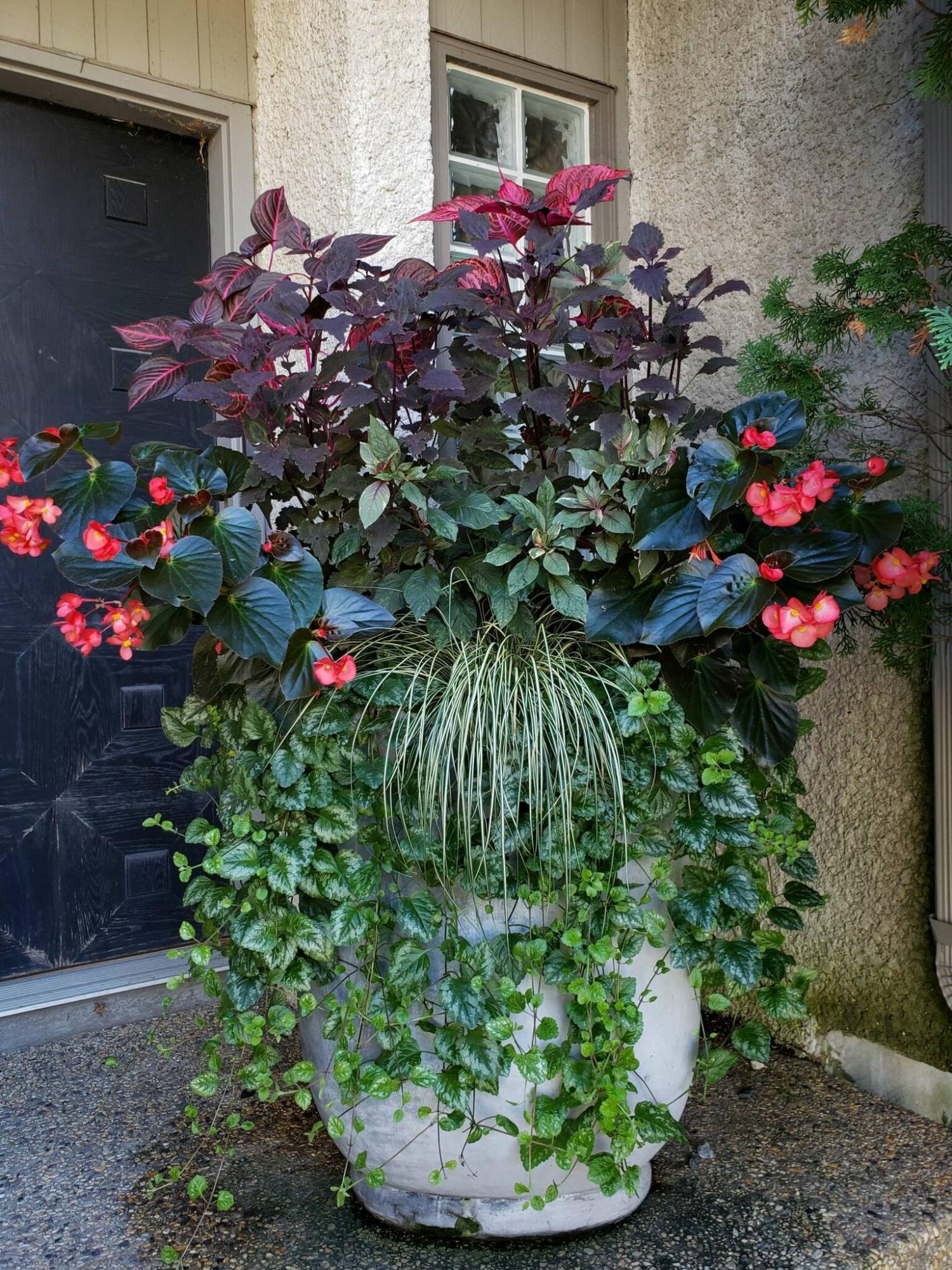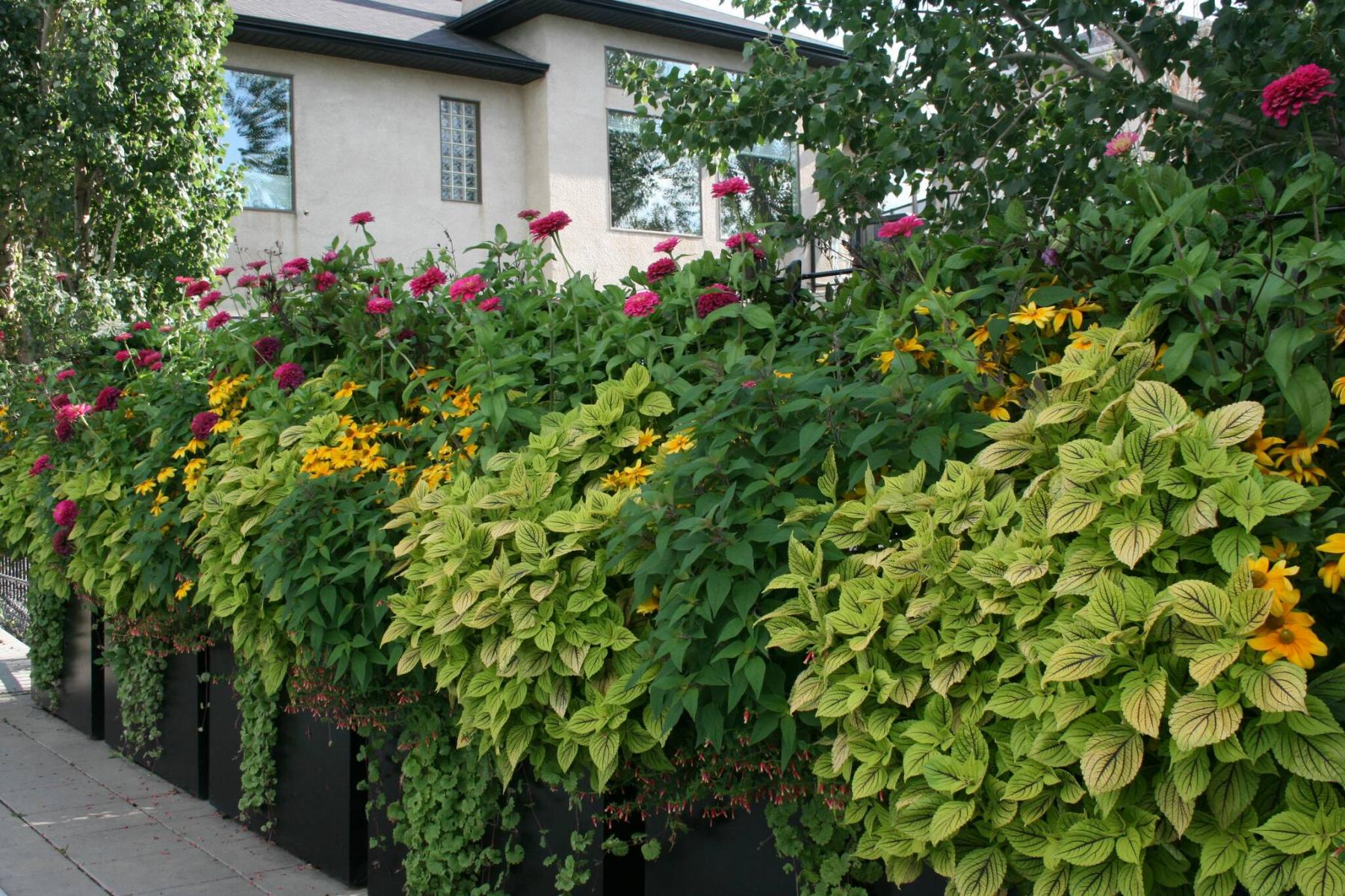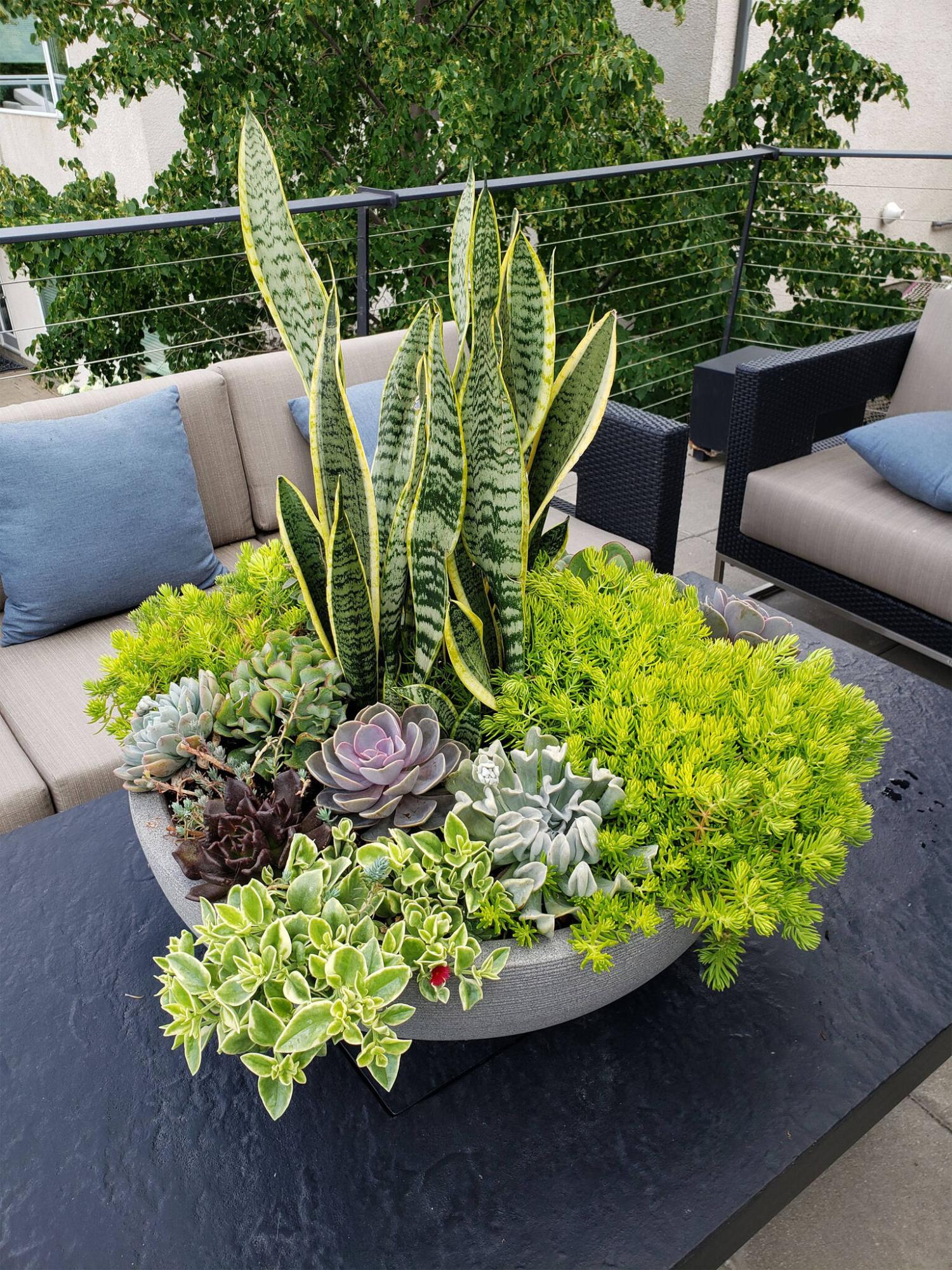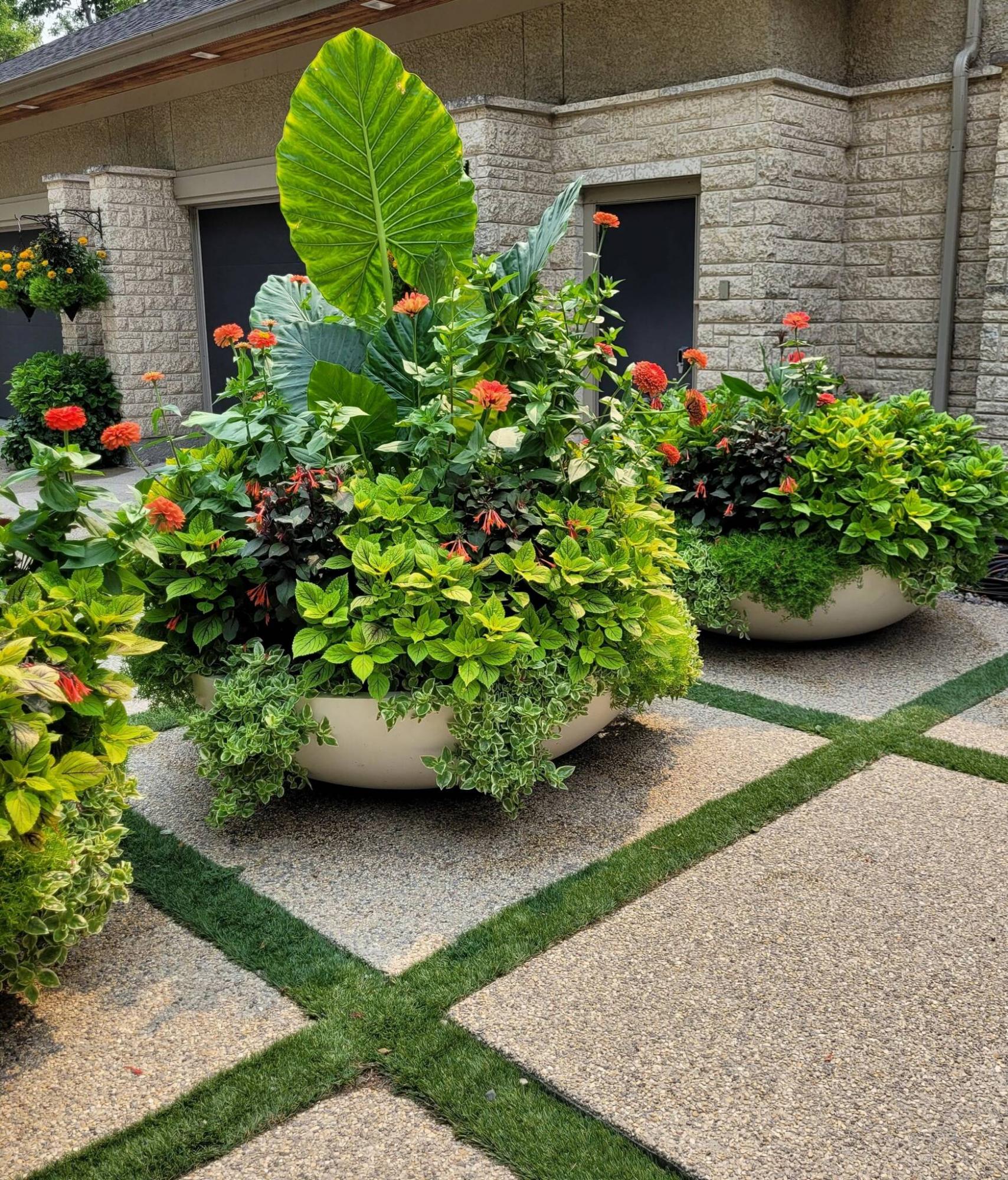 Creating and designing a container garden is an opportunity to experience an outstanding spectrum of colour and texture. Movable feasts, container gardens offer a luxuriant start to the growing season and the potential for eye-catching displays that can be enjoyed during the hottest months of the summer and into the cooler temperatures in autumn.
As soon as our chilly, snowy spring starts to settle down, many of us will feel like kids in the plant-filled candy stores we call garden centres. Winnipegger Karen Chopp feels the temptation shared by many gardeners to buy an individual plant on impulse, but her choices are mainly influenced by her desire for perfect pairings. She says she believes in resisting the urge to rush into spring planting which can result in the need to protect tender plants from the risk of frost.
Chopp is the Barefoot Gardener. Her seasonal container designs decorate many outdoor dining spots in Winnipeg each year. Chopp uses the thriller, filler, spiller concept to create captivating, one-of-a-kind container gardens for her corporate and residential clients. She plants densely for a lush effect. Largely self-taught, Chopp's design inspiration began with flower arranging. She worked for a local wholesaler where she arranged cut flower bouquets for grocery stores. Soon she was creating flower arrangements for restaurants and special events as well as designing container gardens. In 2019, Chopp purchased a Hijet mini truck and modified it to serve as a mobile flower shop but then the pandemic happened.
"With more people staying home, my container garden business just took off and much of my focus now is on designing outdoor containers as well as their season-long care and maintenance," she says.
What are some of the plant combinations, tips, and techniques that Chopp uses to create successful container gardens with maximum impact?
"I look for the healthiest and fullest plants I can find. I like to see what the flower looks like but I'm looking for healthy buds rather than an explosion of flowers." By pinching or trimming off the blooms on annuals when you first bring them home, you will encourage more side shoots for a bushier plant. "Don't be afraid to trim your plants so they continue to do what you want them to do."
Chopp says she can't stress enough the importance of reading the guidelines on plant tags for a plant's moisture and light requirements as well as the maximum height and width you can expect a plant to grow. It's a shame to invest in a small jewel of a plant only to have it completely hidden from view by a nearby plant with an aggressive growth habit.
Chopp believes in designing container gardens so that they are appealing on all sides. The fact is, even with the right amount of care, she says, sometimes a particular plant does not perform well. The ability to turn a container around may allow a plant time to improve or recover or allows you time to nurture a replacement plant.
When planning the design of your containers, consider surrounding elements such as the style of your house or the colours and textures in your flower beds or the size and shape of your patio where your container groupings will be placed. Chopp often works with very large planters. If the planters are round, she generally chooses three of a kind for each plant she is designing with. For a large square-shaped planter, she uses combinations of two of a kind.
Chopp selects a centrepiece or thriller that is well suited to the size of a planter. Tropical plants with a strong shape are ideal. Some favourites include elephant ears, canna lilies, palms, and papyrus. She uses bushy plants such as coleus to build the collar around the thriller component and adds trailing plants that enhance the fullness of the design. One of her go-to spillers is Lamiastrum Silver Nettle vine with silver-green leaves. Trailing varieties of plectranthus are also great performers. Let's take a closer look at some of Chopp's plant combinations.
For a client who wanted a border container garden consisting of a row of six large-sized planters, Chopp created an identical design in each container consisting of Benary's Giant zinnias with Cobaea scandens Cup and Saucer vine for height above a lower layer of rudbeckia, coleus, and a dark leaved salvia for contrast. A layered underplanting of Cuphea (also known as the cigar plant or firecracker plant) provided a delightful and unexpected flowering accent against a trailing skirt of Creeping Charlie.
The upright sword-like leaves of Sansevieria with variegated cream and green colour is the thriller in a shallow tabletop bowl planter designed by Chopp. A generous splash of Lemon Coral sedum with spiky chartreuse foliage plays well with the rounded rosettes of succulents in varying tones accented by Mezoo Trailing Red, an easy maintenance trailer that has succulent green leaves with white edges.
When Chopp met with a prospective client who wanted to showcase three massive bowl containers in a courtyard, she couldn't wait to create an enticing design that would make a dramatic statement. For the thriller, Chopp selected Colocasia elephant ears, a tropical plant with bold, shield-shaped foliage. The upright stems of Benary's Giant zinnia with salmon rose flowers also provided vertical interest while complementing Gartenmeister fuchsia's clusters of tubular flowers. Multiple coleus plants filled out the design along with indestructible Mezoo Trailing red. "Most elephant ears can handle the sun," says Chopp, who is more concerned with placing them in a spot that provides some shelter from the wind. "Elephant ears do best with consistent watering."
Against the backdrop of a grey fence, Chopp combined the fine texture of Majesty Palm and vivid colour of Cordyline Red Sister with white-flowered New Guinea impatiens, artemisia, and Silver Nettle. The silver foliage of artemisia is an amazing accent in containers, says Chopp, and there are many upright and short, trailing varieties to choose from.
For a front door planter in a part-shade location, Chopp paired Dragon Wing begonia with foliage plants such as magenta-coloured Iresine that contrasted with a smoky plum-purple coleus variety and the unique texture and mounding habit of Carex Evergold Japanese sedge.
When deciding where to place your pots, consider how a space is going to be used, says Chop. "It's important how you use plants around a dining area, especially if you have a tighter space." When planting around a patio dining area, flowers that attract a lot of bees or wasps can make guests nervous. If bushy plants are too close to a heavy traffic area, there can also be the risk of pollen transfer. Leave enough room to walk alongside containers. This will lessen damage or plant breakage.
Consider the proximity of a container grouping to a pool area. Chlorine splashes can damage plants nor is it desirable to have a heavy bloomer shedding its petals in the pool, says Chopp.
Chopp sources everything she needs from local garden centres. She uses a granulated fertilizer which she waters in well to provide slow-release feedings to container plants. By mid-season, if needed, she supplements with a liquid fertilizer.
colleenizacharias@gmail.com