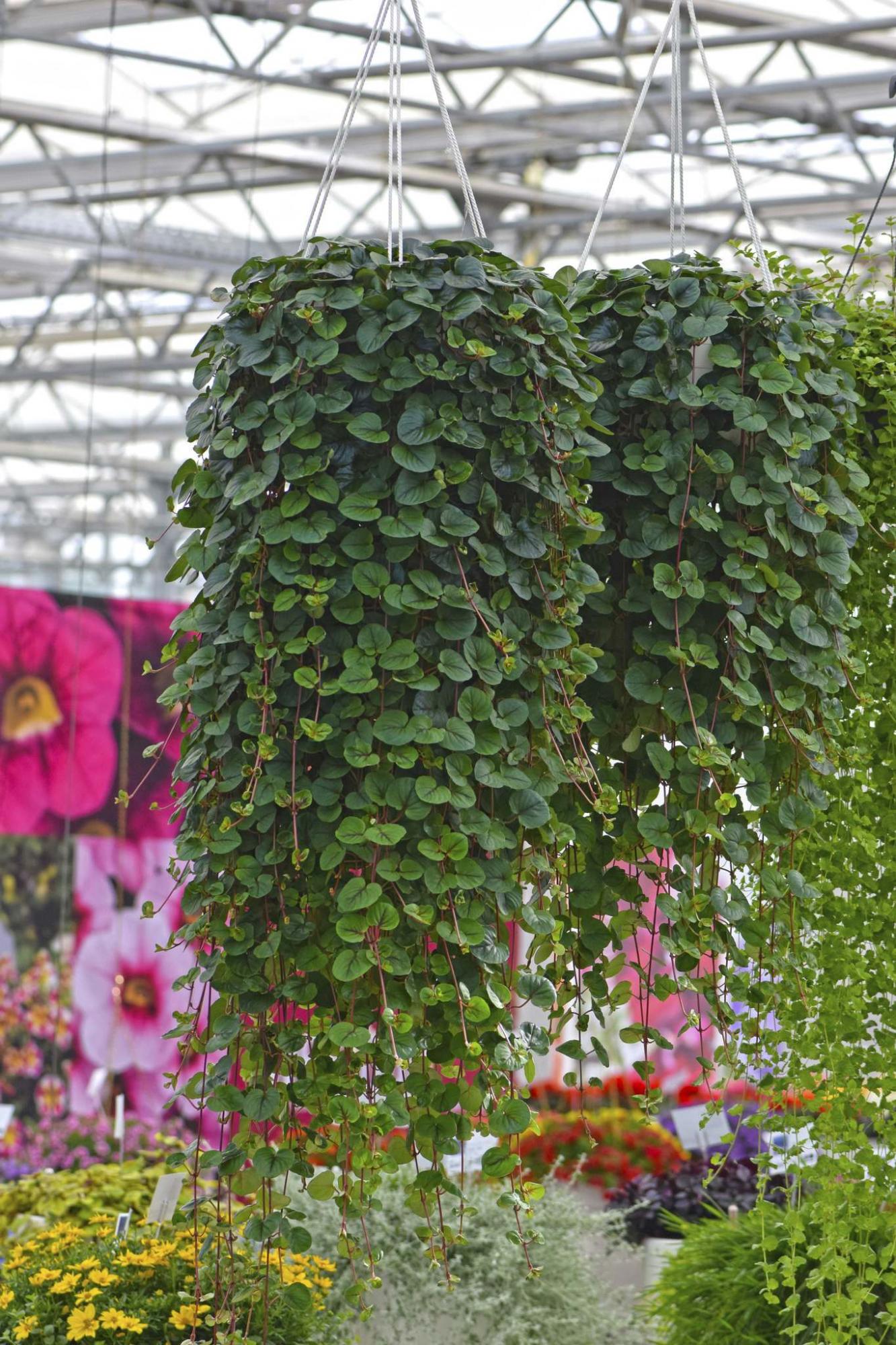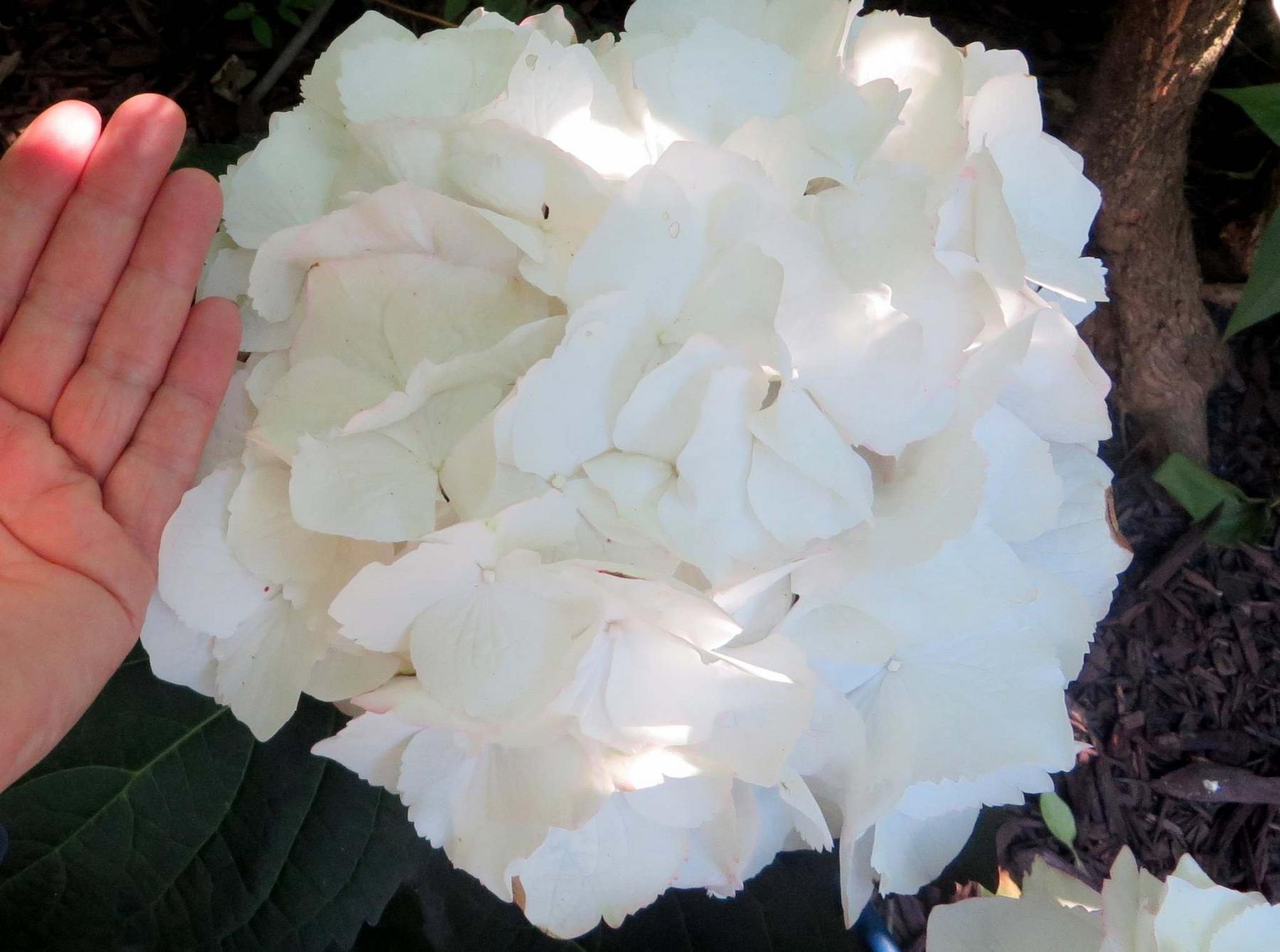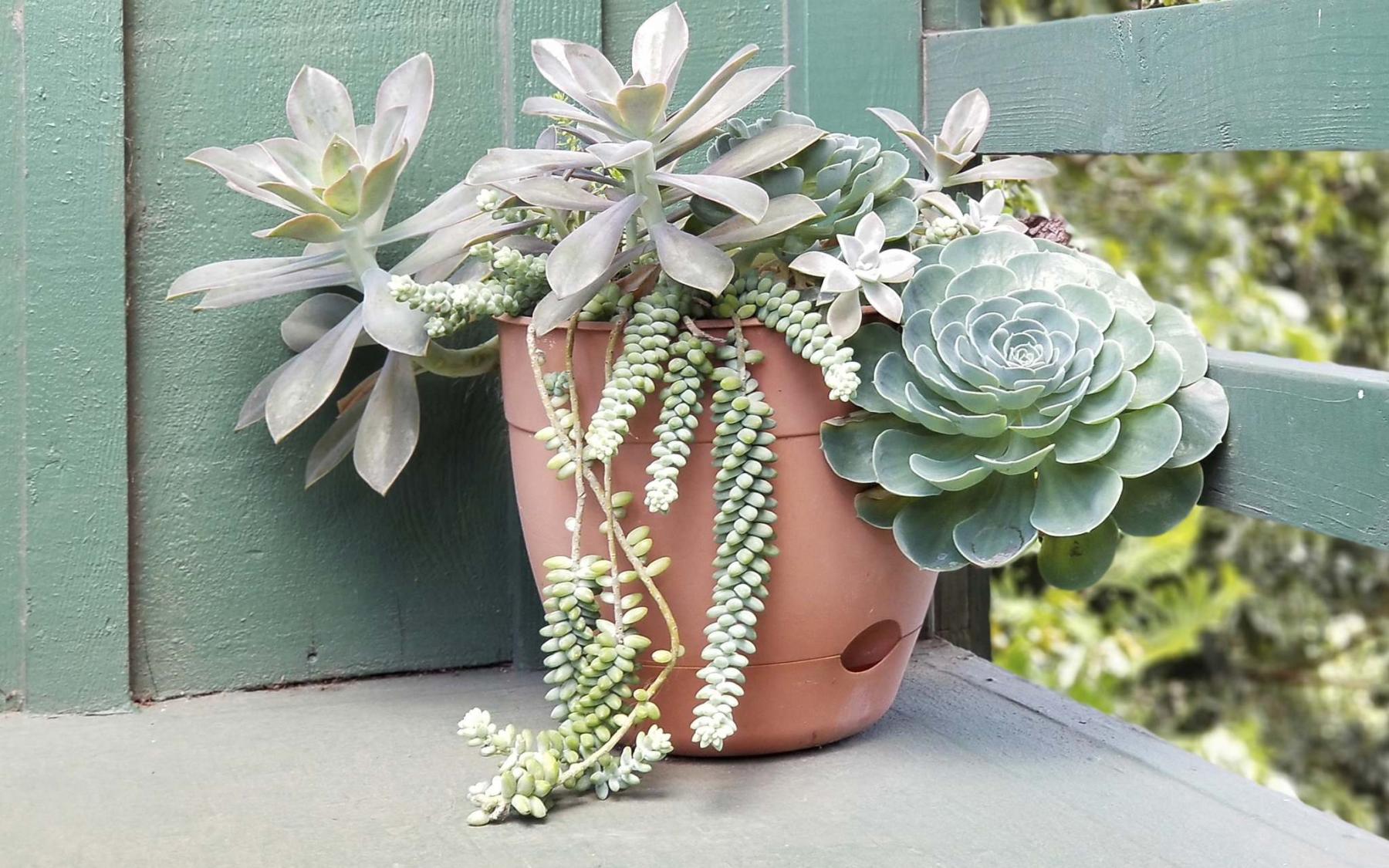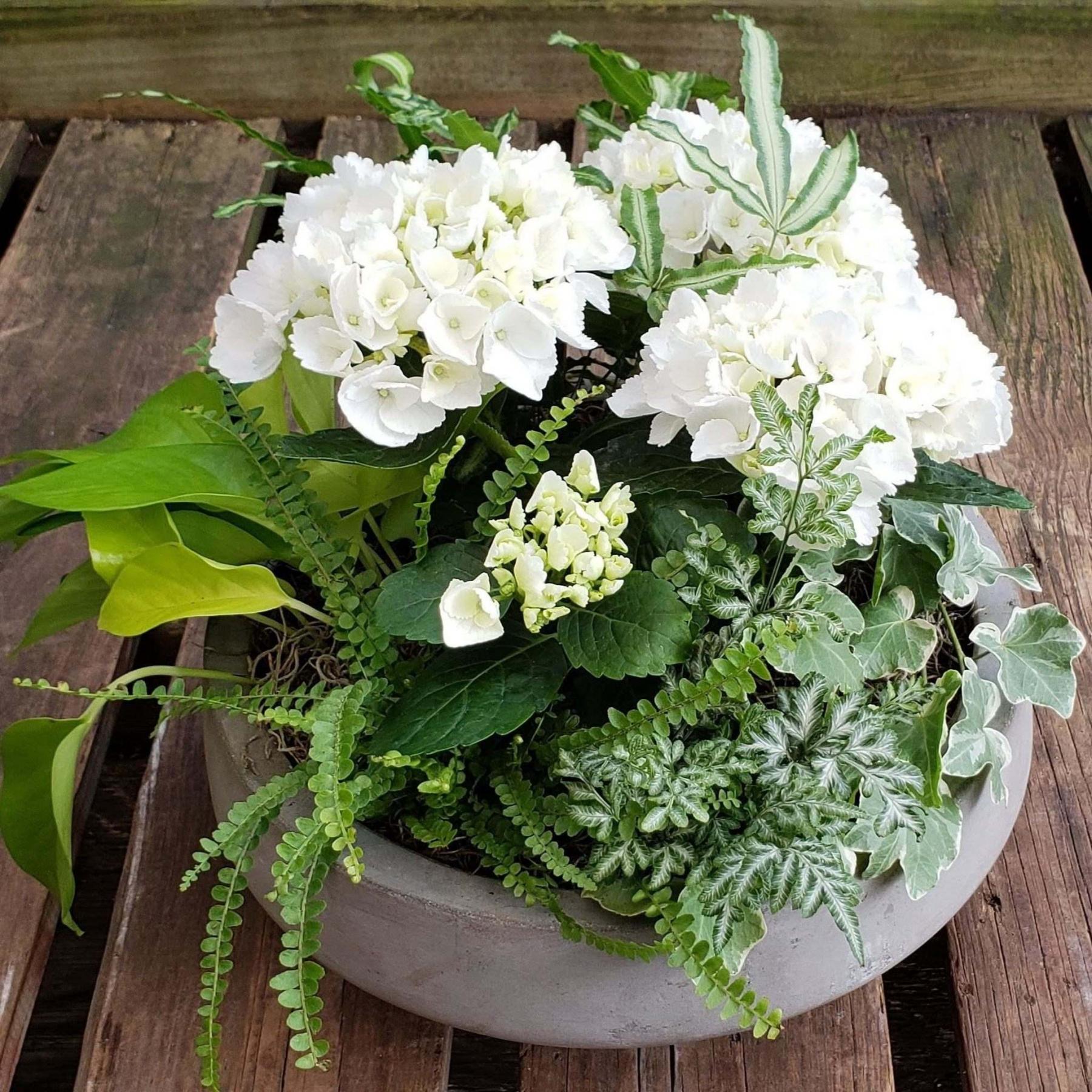 Each year there are new plant introductions that have almost a magnetic force. Flowering annuals, in particular, can have a powerful attraction. What induced me, for example, to buy nine Kanmara hydrangeas when one or three would have done just as well? I have no buyer's remorse. From May to October, in heat, drought or soaking rain — no matter the wacky weather — Kanmara was worth the investment. Many Free Press readers agreed. Indeed, in the nearly 10 years that I have been writing this column, no other plant variety generated as much reader response.
As advertised, Kanmara's prolific blooms are massive and the stems are sturdy. So long as this shade-loving plant is not exposed to sunlight and is watered regularly, the showy foliage stays pristine and dark green. Why have we gone gaga over Kanmara? The long-lasting nature of the blooms is one reason, but also the fact that a potted hydrangea doesn't require the addition of fillers and spillers, plus its small footprint and big impact provide instant colour in the garden, on the patio or on the balcony.
Of course, Kanmara did not win over everyone. A common concern is the colour of the blooms as they age — even though they age very well. By midsummer, Kanmara's hefty mophead blooms — regardless of whether they start out white, blue or pink — eventually transition to green as the blooms age.
Readers also questioned whether the blooms need to be deadheaded or if the Kanmara continues to produce new blooms during the summer, and whether it can be overwintered outdoors. The answer is no to all three questions; however, a number of readers plan to bring Kanmara indoors for the winter.
While Kanmara is surely one of the trendiest plants of 2019 (if not the 'it' plant of the year), what are some of the other plant varieties that really stood out this year? I asked Erna Wiebe, co-owner of Oakridge Garden Centre in Steinbach, and Susan Jensen, co-owner of Jensen Nursery and Greenhouse in Winnipeg, to name some of this year's most popular plants.
Wiebe says that customers are looking for plants that are unique and different. Big, bold foliage and unusual flowers proved to be a strong draw this year. Caladium has long been grown as a houseplant, but this foliage plant is going mainstream as a good choice for shade containers. Wiebe says that customers snapped up two varieties, Summer Breeze and Red Alert, and combined them with Belleconia begonias or Miss Montreal, part of the Begonia Unbelievable series. Easy to grow, caladium comes in a range of shapes, colours, and patterns.
Alstroemeria (also known as Peruvian lily) has grown in its appeal in the past few years. This is largely due to the popularity of the Colorita series, a tissue culture series with long-lasting blooms. Oakridge carried several colours this year and will carry more next year.
Both Wiebe and Jensen say that consumer interest in tropical plants continues to rise. Demand for tropical foliage plants and all types of houseplants now exceeds demand for succulents, Jensen says. Still, succulents continue to have a dedicated following. Jensen is exactly right, though, that the desire for low-maintenance plants is one of the top garden trends. "Customers want less deadheading, less trimming — I see this trend continuing," Jensen says. The Main Street coleus series was also a top pick for its compact size, late flowering, and versatility in sun and shade. Jensen plans to carry more of the Main Street coleus series and more tropical and foliage plants next spring.
Customers are also looking for flowering annuals that are less demanding but offer good performance and plenty of blooms. "The runaway hits this year were two series of begonias — Solenia and Iconia," Jensen says. Both of these hybrid begonia varieties represent breakthrough breeding and a steady stream of new varieties. Semi-trailing, they are well-branched and floriferous with shade to part-sun tolerance.
Petunias, of course, are among the most popular flowering annuals, although I have never cared for the sticky feel of the flowers and leaves. Now comes SuperCal Petchoa. An exciting new petunia calibrachoa hybrid, the blooms of SuperCal Petchoa leave no sticky residue. That's not the only reason for Jensen's excitement — Petchoa combines the best characteristics of petunias and calibrachoas. "We're switching to SuperCal Petchoa for our hanging baskets because of the amazing range of colours and long-lasting performance, even in the hot, dry summer months," Jensen says.
Pollinator-friendly plants were at the top of our lists this year. So educated are we now about the importance of providing nectar for pollinators that the Latin name, Asclepias incarnata (commonly known as swamp milkweed), rolls off our tongues. Wiebe says that one variety, Ice Ballet, flies out the greenhouse door. Ice Ballet is a perennial that is native to North America. It is borderline hardy, however, to our growing zone, but like so many perennials, whether tender or hardy, it is useful in container designs.
Buddleia Grand Cascade, Wiebe says, captivated plant shoppers and pollinators alike. One customer counted 40 to 60 Monarch butterflies on a single Buddleia in her garden. What makes Grand Cascade so unique is that the enormous, light-lavender flower panicles cascade downward. The blossoms have a delicious honey-scent. Typically Buddleia, commonly known as butterfly bush, is not hardy to our growing zone. Grow it as an annual or try overwintering it with a layer of flax straw, Wiebe says.
Trailing plants are essential in container designs. Lysimachia is a trailing variety that is nearly as ubiquitous as petunias and geraniums. A new variety, Lysimachia FanciFillers Sunburst from Westhoff, blew away the competition, Wiebe says, with its large, dark green leaves, marked with distinctive red veins and stems. Sun-loving, this vigorous trailing variety produces masses of showy-yellow, star-shaped blooms. Fancifillers Sunburst trails straight down to an amazing length of 60 to 120 centimetres. This variety is ideal for containers and hanging baskets and plays well with pretty much everything. Need some privacy when you are sunbathing? Use Sunburst as a living screen for your balcony or porch railings.
All of us have our favourites. What's important is to make a list, not only of individual varieties that performed well, but also, don't forget to make note of your favourite combinations.
What will we go gaga over next spring? Expect to see more annual hydrangea varieties. Felina is a new-generation potted hydrangea that is especially exciting. Available in light-pink or light-blue, Felina is a double-flowered hydrangea. Developed by European-based Hydrangea Breeders Association, Felina represents innovative, cutting edge breeding. Wiebe says that it is more compact than Kanmara and is suitable for smaller containers.
Although potted hydrangeas look smashing all by themselves, I'm inspired by a container design by Earl Lieske, a Chicago-based container-gardener extraordinaire whose creations are some of the best I've come across. Using a round, bowl-shaped container, Lieske accented a white florist hydrangea with Silver Ribbon fern, Neon pothos, Lemon Button fern and trailing variegated English ivy.
We have from now until next spring to dream up our own beautiful plant combinations.
colleenizacharias@gmail.com