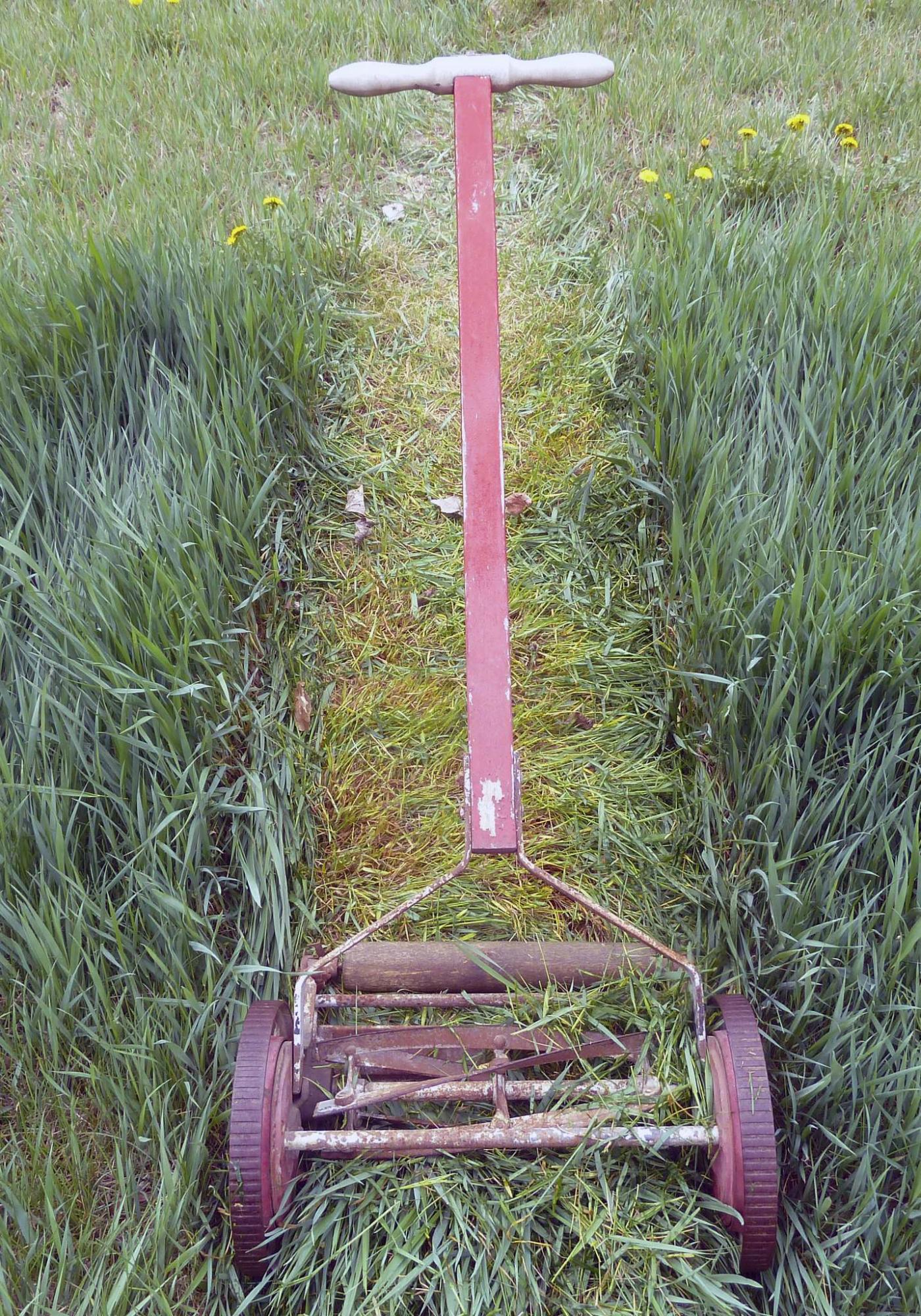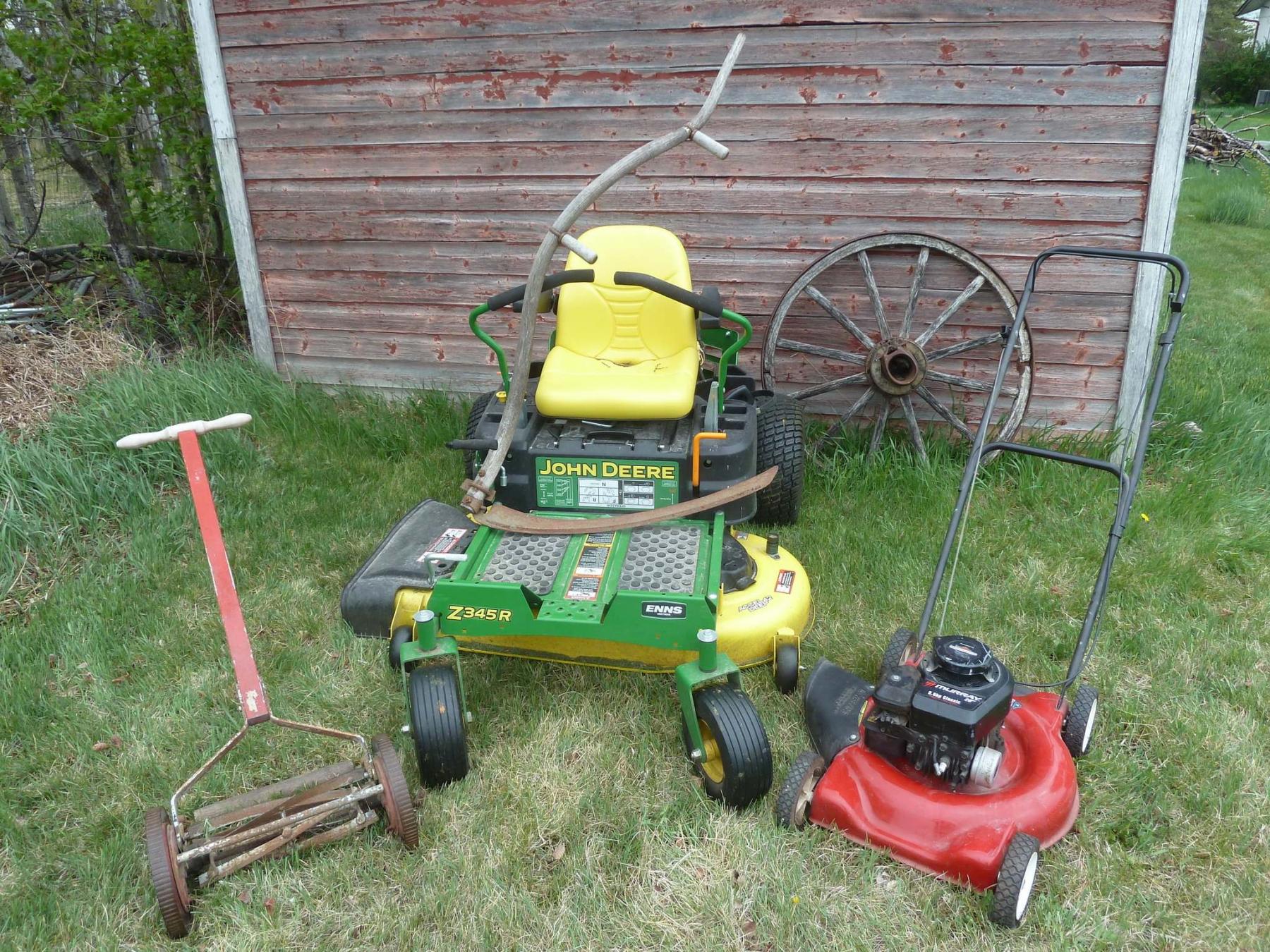 Mowing season is upon us, and it sure beats the heck out of shovelling snow.
But if you have a yard bigger than a large pizza, the next free moment you have will be sometime in July, or maybe August, when the growing season slows down a bit.
I have two acres, but thankfully only about one acre requires mowing. But then there's also the trimming, the weed control, mosquitoes, and the sheer exhaustion to cope with.
My yard is the type where there's no time to recuperate after mowing it; you have to immediately start all over again — or it grows so fast you can never catch up.
Been there? You are currently there? I definitely feel your pain.
I was born back in the scythe, manual reel push-mower days. Some folks call it a sling blade. Fortunately I was too small to wield one with any authority. Good thing. Those grim reapers are hard work. But for a little guy, so is pushing a reel mower. They take work because the pusher (kid) is the engine that makes the wheels turn that makes the reel spin that cuts the grass. You have to be a certain minimum height to have all that operate efficiently. If you're too short, and you pull the handle down to where you can actually push the mower, the drive wheels come off the ground. If you're almost tall enough but not quite, when you push on the handle it just goes up instead of ahead. So then, once again, all of a sudden, nothing happens.
It's no wonder us reel-mower generation kids are so riddled with anxiety.
What a joy, what a relief it was when gas mowers came along. Just pull the rope, do some easy pushing, and let the machine do the work. Sometimes more work than you wanted them too. When I was 13 or so, I took a job cutting a neighbour's yard on Douglas Park Road for $10 a month.
I felt rich, but it didn't last long. I somehow managed to cut a young maple tree they had been nurturing, halfway through the trunk. Oh, the horror. It just slowly leaned over until the leafy part rested on the ground.
The people weren't home, so I packed wet mud into the wound, wrapped it with something and put a splint on it, so it stood straight and tall again. I think I remember telling them I accidentally nicked it, apologized profusely, and when the tree croaked shortly thereafter, was just kind of too embarrassed to go back and was soon broke again.
The biggest mowing challenge of my life came after moving to a 3.5-acre yard in Headingley. It laughed at my little gas push mower, so I decided to bring in the big guns and bought a good used John Deere 116 lawn tractor. The yard back then wasn't landscaped. It was rough prairie with tall, crabby grass. I spent a good 10 years of my life jolting along on that little workhorse. Loved the hydrostatic drive, though.
Salvation came many years later when I subdivided, and now have only two acres and about an acre that has to be mowed, and the smartest purchase of my life, a 22-horsepower John Deere zero turn — the Cadillac of mowers.
I was also wise enough to add the mulch feature, eliminating those long rows of spewed grass to rake up.
I can almost even outrun those maddening mosquitoes. It's like driving an armchair around the yard. The biggest challenge now, in a regular summer (which hopefully this one will turn out to be), is finding enough dry days to mow between the rainy ones, which ironically becomes the time left to drive my old Buick convertible.
Comments and column ideas welcome!
lmustard1948@gmail.com