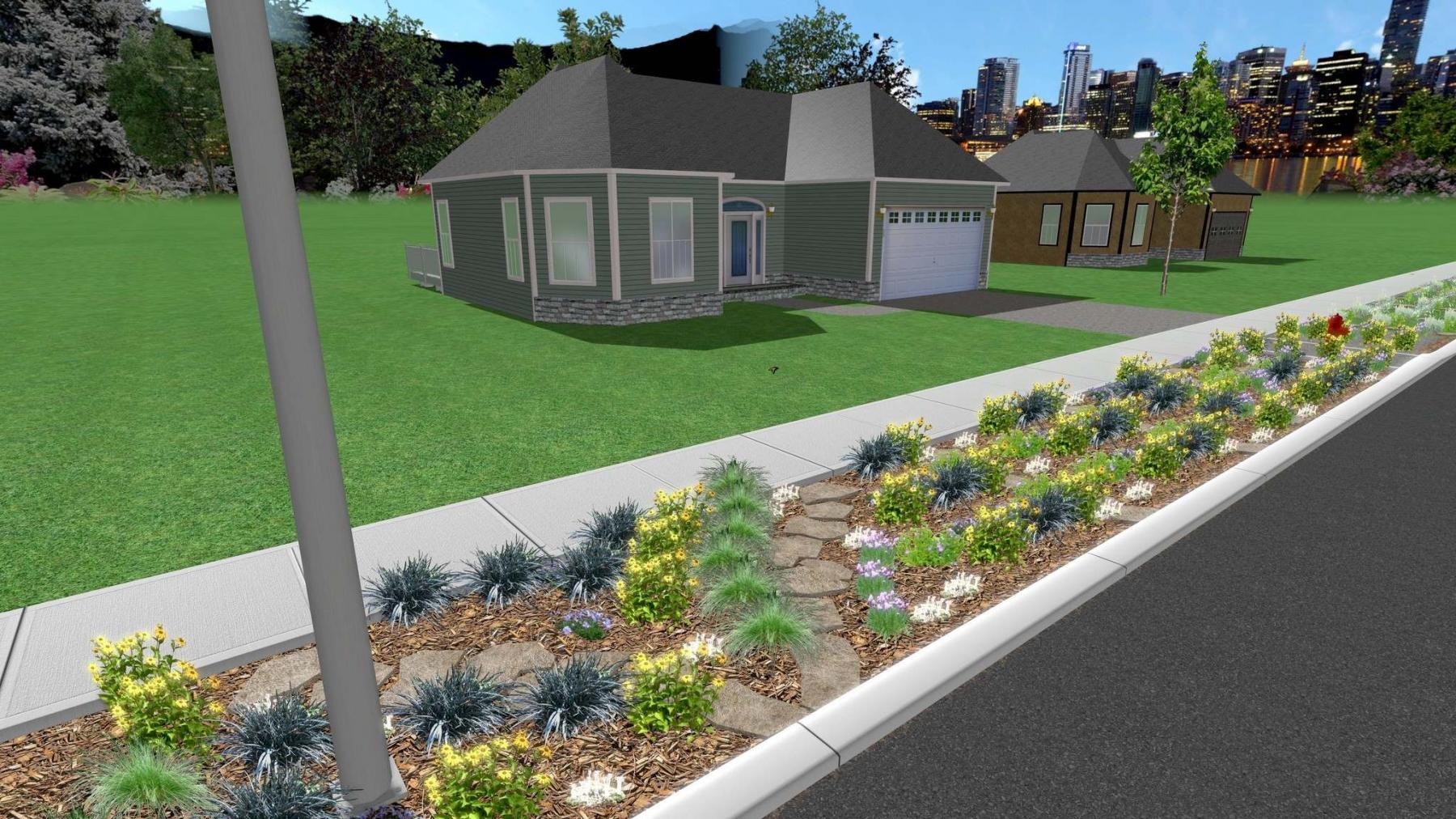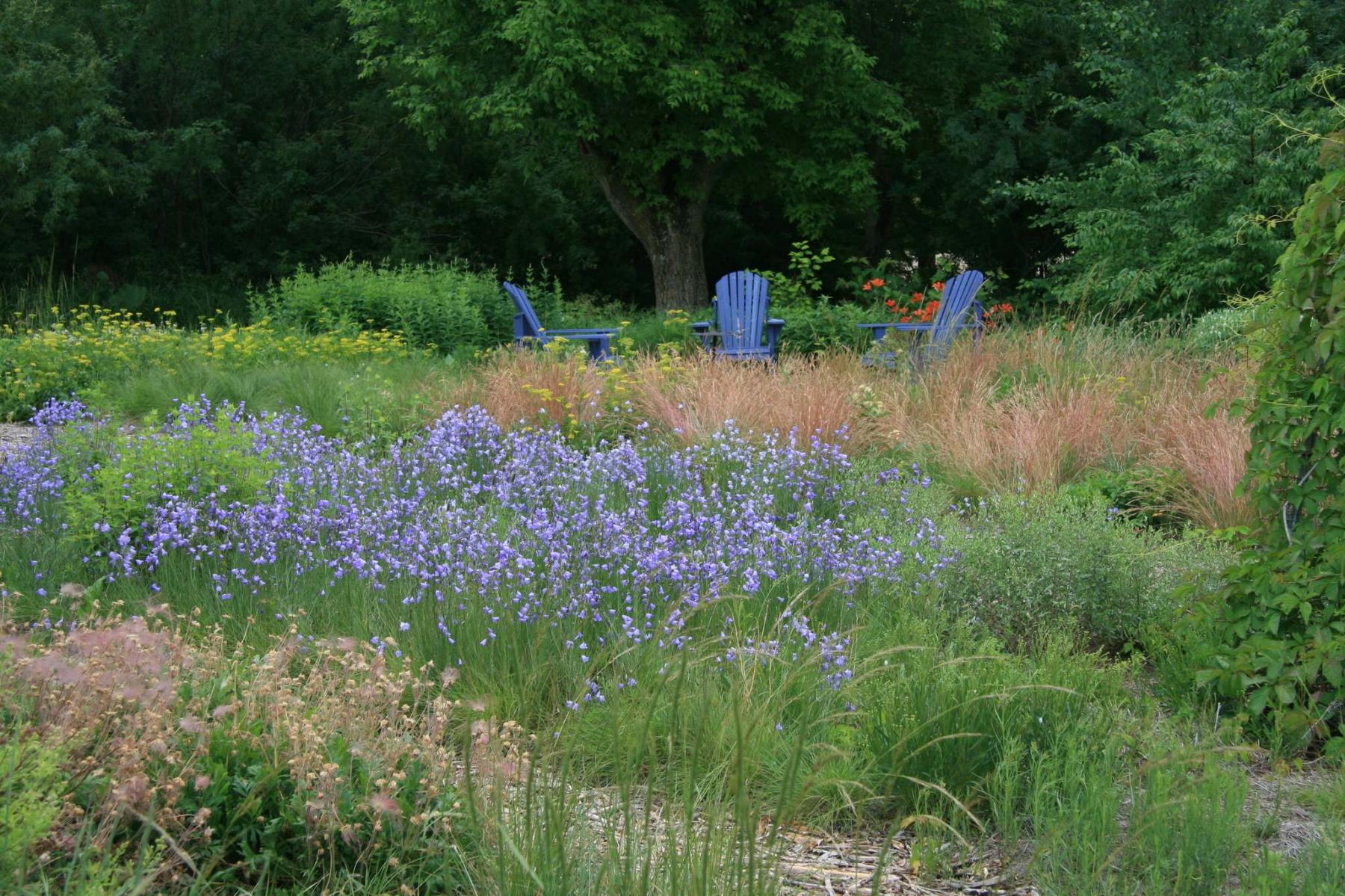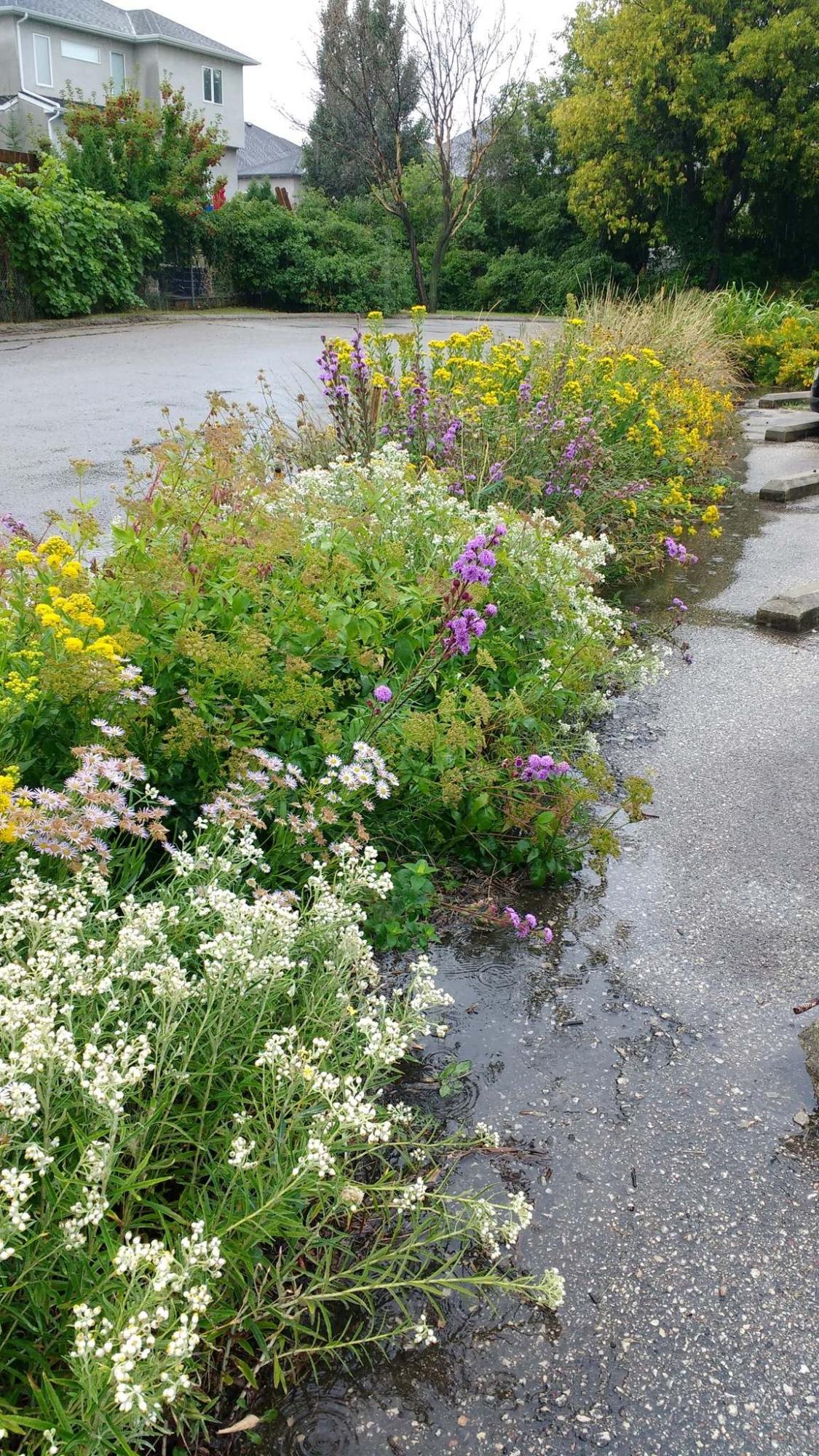 Ever glance down at a median strip when your car is stopped at a red light? The awful truth is that many medians in Winnipeg look their best when they are covered with a deep layer of snow. As the snow melts, few of us are enamoured with the sight of a weedy mix of sand and gravel followed by a sea of dandelions that constitutes the groundcover on many of our medians and boulevards.
While naturalization is a growing trend in parks and open spaces in Canadian cities including Winnipeg, more and more cities and towns in North America are also improving the aesthetic appeal of urban medians and boulevards with a native plant palette that enhances driver and pedestrian experience, provides benefits to nature, and contributes to a community's sense of identity. Examples include Victoria, Calgary, Kingston, Toronto, Washington D.C., Seattle, Chicago, Minneapolis and Madison — the list of urban centres replacing non-native plants in traffic medians with native plants is a long one.
If, as a private landowner, you are just itching to rip out the turf on your boulevard and plant drifts of flowering native perennials, the City of Winnipeg's Neighbourhood Liveability By-law (#1/2008) is a must-read first. But let's ignore for a moment the extensive and restrictive guidelines outlined in the by-law and fantasize instead about the possibilities.
I asked Kelly Leask and Aimee McDonald, both native plant specialists, to reimagine the planting palette for a median or boulevard. Colleen Watson, a local landscape designer and certified prairie horticulturist, created a 3D rendering to illustrate Leask's and McDonald's proposed planting plan for an urban boulevard meadow habitat. Leask owns and operates Prairie Originals, a native plant nursery in Selkirk and McDonald is co-owner of Prairie Flora, a native plant nursery in Teulon. Watson owns Watson Designs and Landscaping in Winnipeg.
Reimagining medians and boulevards as pollinator corridors or naturalized landscapes in a city such as Winnipeg would naturally require plants that are salt and drought tolerant. Leask and McDonald recommend combining salt and drought tolerant varieties together with shallow rooted varieties, deep-rooted varieties as well as ground covers. Native plants function better as a community when there is more diversity. "Initially, you will see the plants more as individuals," says Leask, "but as the plants mature and fill in, it becomes a dense planting." Naturalistic landscape design is characterized by a layered planting scheme also known as matrix planting. Some of the most famous examples have been designed by Dutch garden designer, Piet Oudolf.
Here are some of the plant varieties that Leask and McDonald suggest using in a roadside planting:
Little Bluestem (Schizachyrium scoparium) has feathery white seed heads and striking orange-red foliage in the fall. It grows 45 to 60 cm and is an attractive, deep-rooted grass that is both salt and drought tolerant. As well, Little Bluestem is a host for Skipper butterflies and a food source for songbirds.
Black-eyed Susan (Rudbeckia hirta) is a shallow-rooted native prairie wildflower that blooms in its first year of planting and is tolerant of salt spray from de-icing salts used on roadways during the winter. It grows to about 45 cm tall. Prairie Dropseed (Sporobolus heterolepis) is a fine-textured, deer-resistant native grass that is stunning as part of a low border. It is also salt-tolerant.
Blazingstar (Liatris punctata) is a deep-rooted native prairie wildflower that has exceptional drought tolerance. It is very attractive to butterflies and hummingbirds but not deer. Examples of shallow-rooted plants are Harebell (Campanula rotundifolia), Pussy Toes (Antennaria parvifolia), and Early Blue Violet (Viola adunca). Pussy Toes and Early Blue Violet also make excellent groundcovers, gradually spreading beneath and around taller varieties like a living mulch.
Mother Nature loves structural layers, says McDonald. The more diverse layers, the better. Some varieties like Philadelphia Fleabane and Fringed Frome scatter themselves around and create serendipitous combinations. Groundcover varieties help to keep more spontaneous types of plants in check but you can also cut back seedheads to reduce the number of new plants. Space permitting, she recommends picking one plant variety and planting it in a drift for maximum impact.
McDonald says in a high traffic area she would love to see drifts of native perennials such as Purple Prairie Clover, Dotted Blazingstar, Purple Coneflower, and Wild Bergamot growing among a soft landscape of grasses such as Blue Grama, Prairie Dropseed, and Little Bluestem. This would make the surroundings beautiful and peaceful, she says, like seeing a natural landscape from a distance.
There are many native plants to choose from for full sun, part shade, and deep shade.
A cautious approach might be to minimize or limit the number of native species that are planted together in the misguided notion that less is more because it looks tidier. Leask and McDonald are eager to reframe this old argument. For one thing, the highest level of organization requires the highest level of energy input, says Leask. "For a low-maintenance landscape that uses less resources (water, for example), it's okay to let go of some control," she says, "especially in a situation where plants are fairly contained as in a boulevard framed by a sidewalk and a paved street. Planting more species together would help to keep the boulevard appealing by eliminating gaps between bloom times."
It's important to address the perception by some (you know who you are) that naturalizing an area with ecosystem-friendly native plants is a recipe for an invasion of weeds. McDonald says that mulch can be added to the spaces between plants when an area is first planted. Mulched straw, for example, can help with weed suppression but as plants establish, slowly spread and reseed to fill in any empty spaces, weeds are naturally suppressed because the roots of native plants assist in keeping soil healthy and less prone to soil compaction. Compacted soil, after all, is the real recipe for encouraging weeds. Know your plants and it will be easier to identify any weeds.
Using the plant palette recommended by Leask and McDonald, Watson created a landscape design which, remember, would only be possible if there were changes to the current Neighbourhood Liveability By-law. Watson grouped selected plants in a linear or curved line rather than a random placement. This technique could assist in distinguishing between weeds and prairie plants in the first and even second growing season, she says, when weed control is most important. In subsequent years, says Watson, the plants will establish more naturally. Watson also selected varieties with different bloom times and colour throughout the growing season. She added Tyndall stone stepping-stone pathways with crushed granite in between the stepping-stones. These pathways would be laid at ground level to protect them from snow removal equipment and would be suitable for pedestrian traffic, she says, but would also offer visual interest and add to the relaxed style of the design.
The colours, textures, movement and fragrance of native plants are vibrant and enchanting, says Leask. Spending a lot of time in traffic? "Maybe a butterfly will visit your car window," says McDonald, "and you can forget for just a moment that you are stuck in road construction."
colleenizacharias@gmail.com