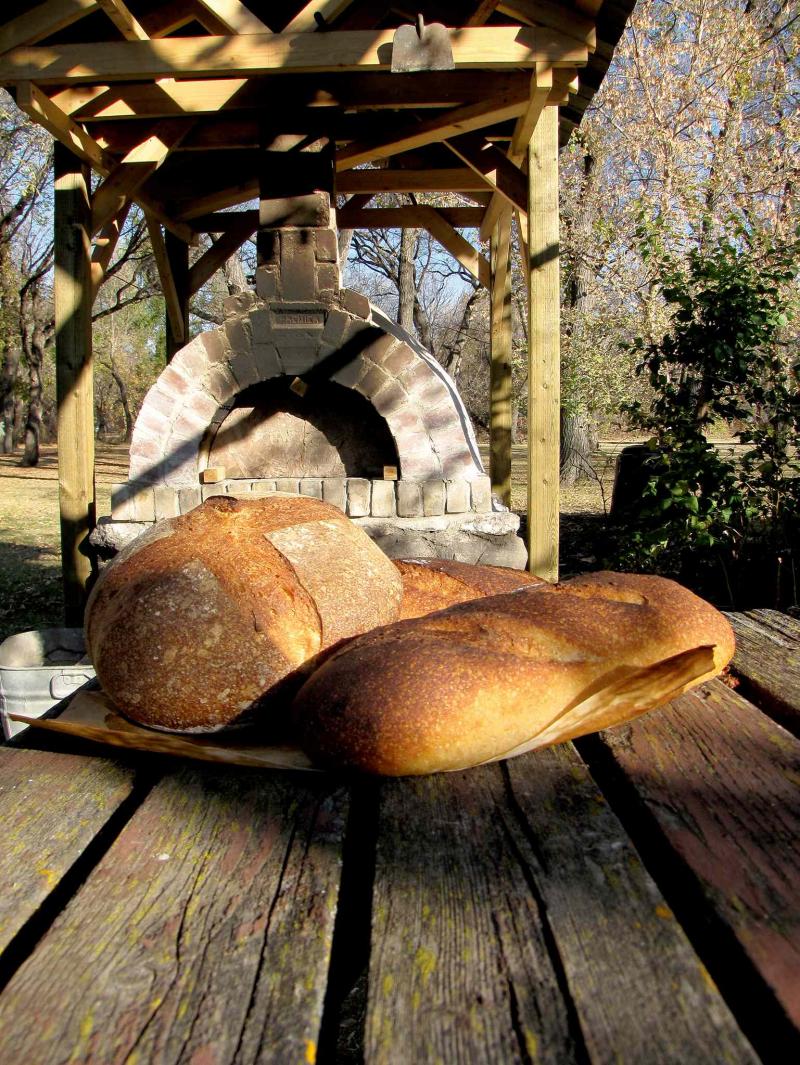 Chestnuts roasting on an open fire, Jack Frost nipping at your nose...
This holiday season, a growing number of outdoor cooking enthusiasts may be humming the lyrics to this classic song composed in 1946 by Mel Torme and Robert Wells, as they prepare delectable dishes in their newly acquired pizza ovens on cold Prairie evenings beneath a starlit sky.
Michele LaTourelle, an avowed foodie who is also a display advertising sales representative for the Free Press, fell in love with the idea of having her own outdoor pizza oven while watching British celebrity chef Jamie Oliver on the food network deftly preparing one delicious wood-fired recipe after another.
The holidays are a time when all of us have a particular interest in food -- how it is prepared, how it tastes, and above all, how we share it with friends and family. Does food taste better when it is prepared in a wood-fired oven? LaTourelle answers with a resounding yes and has experimented with her backyard oven many times since it was installed in October by Jason Druet, JD Interlock & Landscapes.
For a mid-December gathering of friends and family, LaTourelle served margherita pizza as the appetizer. First, she prepared fresh homemade dough. Next, she hand-crushed San Marzano tomatoes in a bowl, added 45 ml olive oil, a good pinch of sea salt and fresh, crushed oregano for the no-bake sauce. Buffalo mozzarella and fresh basil, which LaTourelle brought indoors from her garden in the fall, were the finishing touches.
The pizza was ready to eat in 35 to 45 seconds, a mere fraction of the time that it took to prepare. LaTourelle says the taste of food cooked in an oven with an open fire is unsurpassed.
She recommends using tamarack wood, a hard wood that holds the heat in the pizza oven for a longer time in cold temperatures than another type of wood such as birch, and starts the fire about three hours prior to dinner.
So far LaTourelle, who is of Italian heritage, has assembled a variety of pizzas, one of which didn't have a speck of tomato sauce, only grilled potatoes with gruyere cheese, pancetta, and fresh rosemary on a roasted garlic crust. What else does she plan to try? Fresh-baked bread, steaks, even roast turkey.
LaTourelle is delighted with the overall effect on her average-sized urban landscape, which has been transformed with the addition of the oven, so useful and aesthetically pleasing at the same time. "The oven is the first thing that visitors see when they step into the yard," says LaTourelle.
In a matter of hours, Jason Druet, JD Interlock & Landscapes assembled the kit onto an existing concrete pad with easy access to LaTourelle's deck.
Wayne Patram, product development manager for Barkman concrete, says a solid base is essential. The oven kit weighs more than 4,000 kilograms and stands approximately 2.4 metres high. To create a concrete base, Patram recommends excavating about 23 cm below the grade and about 15 cm larger than the oven's dimensions in order to provide support beyond the footprint dimension.
"Fill with 19 mm down limestone and compact firmly, then add a 2.5 cm layer of sand on top," says Patram who describes the Barkman oven as a Lego-style DIY kit, one that comes on three or four pallets so it can be moved into the landscape without the need for heavy machinery.
Are outdoor pizza ovens going mainstream? Patram, who has plans to install one in his own backyard next spring, believes they are. Certainly, he says, the list of back orders is an indication of their popularity.
"Cooking is a social activity," adds Patram. "People like to gather in the kitchen when a meal is being prepared. It's the same thing outdoors."
Mario and Silvia Aiello, south Winnipeg residents, plan to install a Mugnaini Medio 110 wood fired oven in their small backyard. After completely renovating the exterior of their home, Aiello has spent the past year readying his landscape for a model of oven that traces its origins to his birthplace, Italy.
Aiello, owner of the Wood 'n' Stone Shop, is a certified installer for Mugnaini wood-fired ovens that are available either as a masonry oven kit for building from scratch or as a pre-built factory-assembled model. The ovens have a terra cotta shell that can be individualized depending on the homeowner's preference.
"Love your grandmother's set of dishes?" asks Mario. "Break them and decorate your oven."
Mario is a master craftsman with a passion for authenticity and plans to cover his oven in the same K2 stone he applied by hand to his chimney.
He also plans to install a Rumford-style fireplace in his outdoor space, which thus far has seen the new addition of a retaining-wall planter, brick patio and wood pergola. A kitchen garden planted with oregano, parsley and other ingredients for cooking will go into the retaining wall, interspersed with dwarf barberry shrubs.
Like the LaTourelle family, the Aiellos love to cook and entertain. Mario's mother was a chef at the late, great Vesuvio's restaurant and has instilled in her family a love for good food.
"A wood-fired oven," insists Silvia "is not about the speed with which food is cooked. It's about the experience of making, enjoying, sharing and savouring food. It's about the delicious marriage of flavours and the immediate satisfaction."
Mario describes the Mugnaini oven as a different sort of animal. The shape, for example, is that of an igloo that has been flattened on the top and has a solid refractory clay base that is layered with clay aggregate. More important to Mario than even flavour is food safety. The firebrick floor made of refractory clay has been fired to 1,649 C to burn out all of the particulates.
The modular oven was patented in Italy in 1946 by Silvio Valoriani. The North American distributor is Mugnaini Imports in California ,which is also the site of a cooking school taught by Andrea Mugnaini. Both Silvia and Mario are planning next year to register for the cooking classes, which are held in a renovated farmhouse in Mugnaini's vineyard in the heart of Sonoma wine country.
Andrea Mugnaini and John Thess are co-authors of The Art of Wood Fired Cooking (2010, Gibbs-Smith). In a recent phone conversation with Thess, he pointed out that only nine of the 100 or so recipes contained in the book are for pizza, underscoring the wide range of dishes that can be prepared from roasted pork loin with fig sauce or roast turkey with thyme to oven-poached eggs with braised summer vegetables.
"No one wants to stand next to you when you are using a smoky barbecue grill," says Thess, "but guests move in closer if you are preparing a meal in a wood-fired oven."
As the outdoor landscape evolves to include a wider range of luxurious but attainable accessories for the homeowner's enjoyment, there is one wood-burning oven that hearkens back to a much earlier time. Urban Eatin' Gardeners Co-op has built cob ovens using clay, sand and straw, one of which is owned by Wheat Song Bakery, located in Morden.
Owner Lynette Froese recalls the dance party where everyone stomped and mixed the clay, sand and straw by foot on a tarp. Urban Eatin's Paolo Riva (now with Root Fire) moulded the mixture into the shape of the oven body. Fieldstone, sourced locally, was used to create the plinth or base of the oven, which also features a brick facade and chimney.
Riva extols the benefits of this ancient art form and continues to offer cob oven workshops. "They excel at baking bread because of the high levels of radiant heat and also the conductive heat from the hearth."
Froese says it takes about three hours to heat up the oven. Because it retains heat for several hours, Froese bakes pizza and buns initially, then inserts other food such as squash, sometimes even a roast. She has also used it as a slow cooker overnight. Froese's favourite recipe for pizza dough is an artisan sourdough recipe sourced from Healthy Bread in Five Minutes a Day by Jeff Hertzberg and Zoe Francois (2009, Thomas Dunne). Sample her bread at Morden's farmers market or check out the recipe at www.frugalfamilytimes.com.
Bon appétit!
colleenizacharias@gmail.com