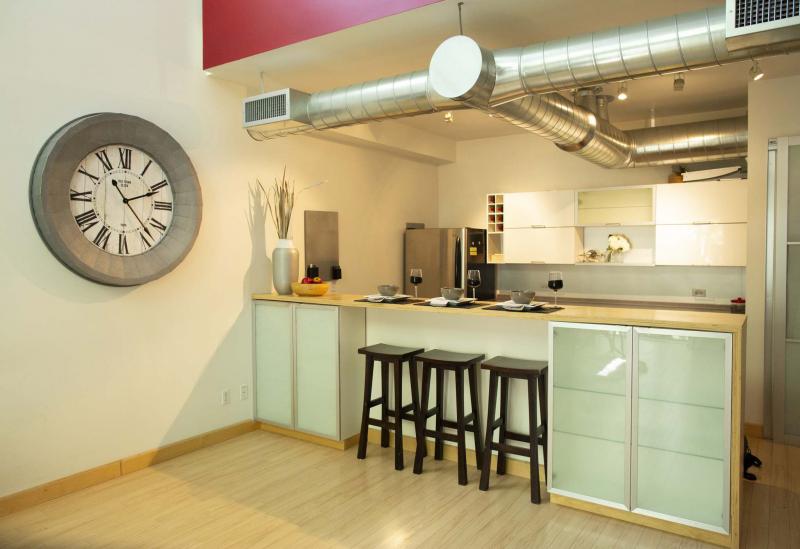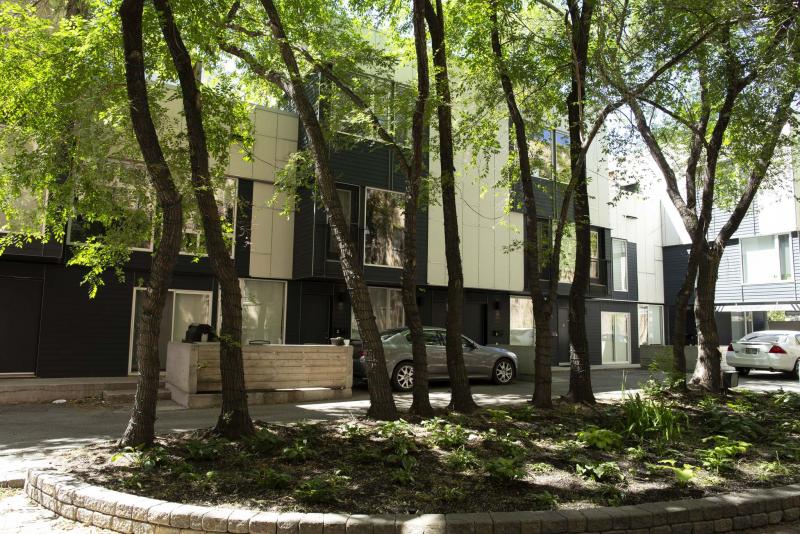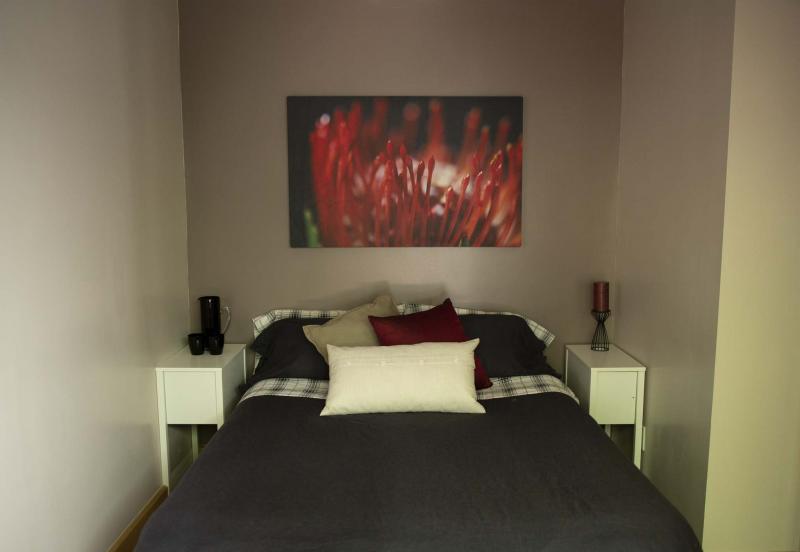 When most people think of condos in downtown Winnipeg, they usually visualize mature brick buildings that can be as much as 100 years old.
Imagine, then, discovering a modern-looking condo development tucked away amid a collection of mature buildings between Colony Street and Vaughan Street.
Cutting-edge condo buildings don't often sit across the street from vintage buildings with weathered stone exteriors and brick sidewalks in the city's downtown area, so you're forgiven if you marvel at how its architects fit the building into such a compact tract of land on one of the city's shortest thoroughfares, Webb Place.
"This development is a genuine architectural masterpiece," Eric Neumann of Realty Executives First Choice says.
"There are only seven units in the building, with each one featuring a different design. The project's architects did a wonderful job of fitting the building into the available land and designing unique yet functional suites."
The suite in question — unit four, 443 Webb Place — possesses its own special personality, he adds.
"So many of the condos for sale these days are of the cookie-cutter variety — they're all very much the same in their design. That's not the case with this unit. The architects threw away the mould when they came up with the floor plan for this one."
Although the unit isn't huge — it measures 945 sq. ft. — it feels appreciably larger than its official measurements.
That feeling of space can be attributed to its loft-style design, Neumann says.
"The moment you step inside, you're greeted by a great room with a ceiling that soars up to a height of 18 feet. A floor-to-ceiling window on the suite's front wall and another huge window set up high on its side wall allows loads of natural light to flow inside. The windows offer beautiful tree views, too."
Perhaps more important is the fact that the high ceiling works with a stellar layout to give the great room a supremely spacious feel. At no time do you feel as if space is lacking.
"Each area in the great room is nicely proportioned," he notes.
"The open-concept kitchen is tucked away along the back wall with a maple bar-top area that seats three. A wide aisle between the bar area and counter on the other side provides plenty of room to create, while exposed ductwork and glossy white cabinetry give the area a mod, industrial feel."
Just steps from the kitchen is a spacious dining area that can hold a table for as many as 10. The adjacent living room is massive, sporting plenty of space for furniture and a king-sized entertainment unit.
"It's a great area to relax or visit with guests after dinner — it overlooks the trees in the courtyard, as well as the beautiful building with its stone façade across the way. There's also a closet on the main floor that contains a stackable washer/dryer and storage space, another great feature."
Take the solid fir staircase upstairs, and you arrive at a loft area that's divided into three distinct areas: flex space, bathroom and bedroom.
"The flex space could be used either as an office, media area/den or even an art space," Neumann says.
"It overlooks the main floor, and its rear wall is lined with a custom closet with built-in storage. The flooring upstairs is the same as downstairs, gorgeous natural oak hardwoods. Tons of natural light flows into the loft from all the windows in the great room."
Head down a hallway to the left, and you find a lavish three-piece bathroom set neatly between the flex space and master suite.
"It was recently remodelled with a gorgeous taupe tile floor, custom tempered glass/tile shower with rainshower head and walnut vanity. It offers a nice touch of luxury, and is just a few steps from the impressive master bedroom."
Turns out, the master bedroom isn't impressive due to its sheer size. Rather, it's impressive because it enjoys access to its own elevated outdoor space.
"Patio doors on its front wall lead out a private treetop balcony," Neumann says.
"It's perfect for enjoying a cup of coffee on in the morning, or relaxing in the evening after a long day at work."
And while the building is a bit off the beaten path, its location is exceptional, he adds.
"You're just a short walk from downtown Winnipeg — work, Bell MTS Place, shops, stores and services. If you choose to use your car — the suite comes with a heated underground parking spot in the Kiwanis building just steps away — I believe you can take the underground network as far as Portage Place."
Neumann says the suite — which is ideal for a single professional or young couple — is a true find.
"It's a hidden gem that's not only loaded with character, but that is also very livable. If you're looking for a unique place to live downtown, this could be the one for you."
lewys@mymts.net
Details
Location: 4-443 Webb Place, Downtown
Year Built: 2006
Style: Loft-style condominium
Size: 945 sq. ft.
Bedrooms: 1 plus flex space
Bathrooms: 1
Price: $254,900
Contact: Eric Neumann, Realty Executives First Choice, 204-885-8999