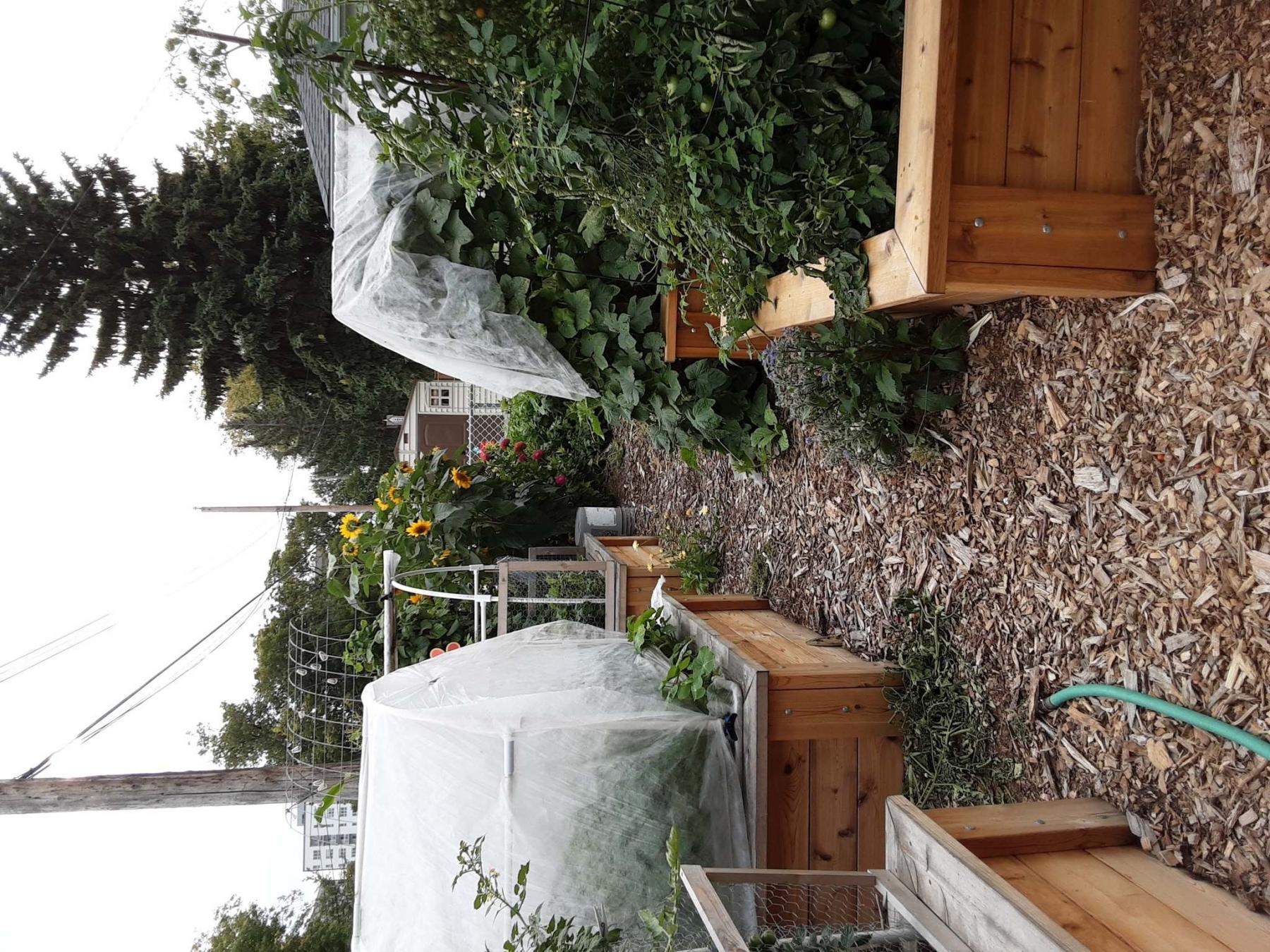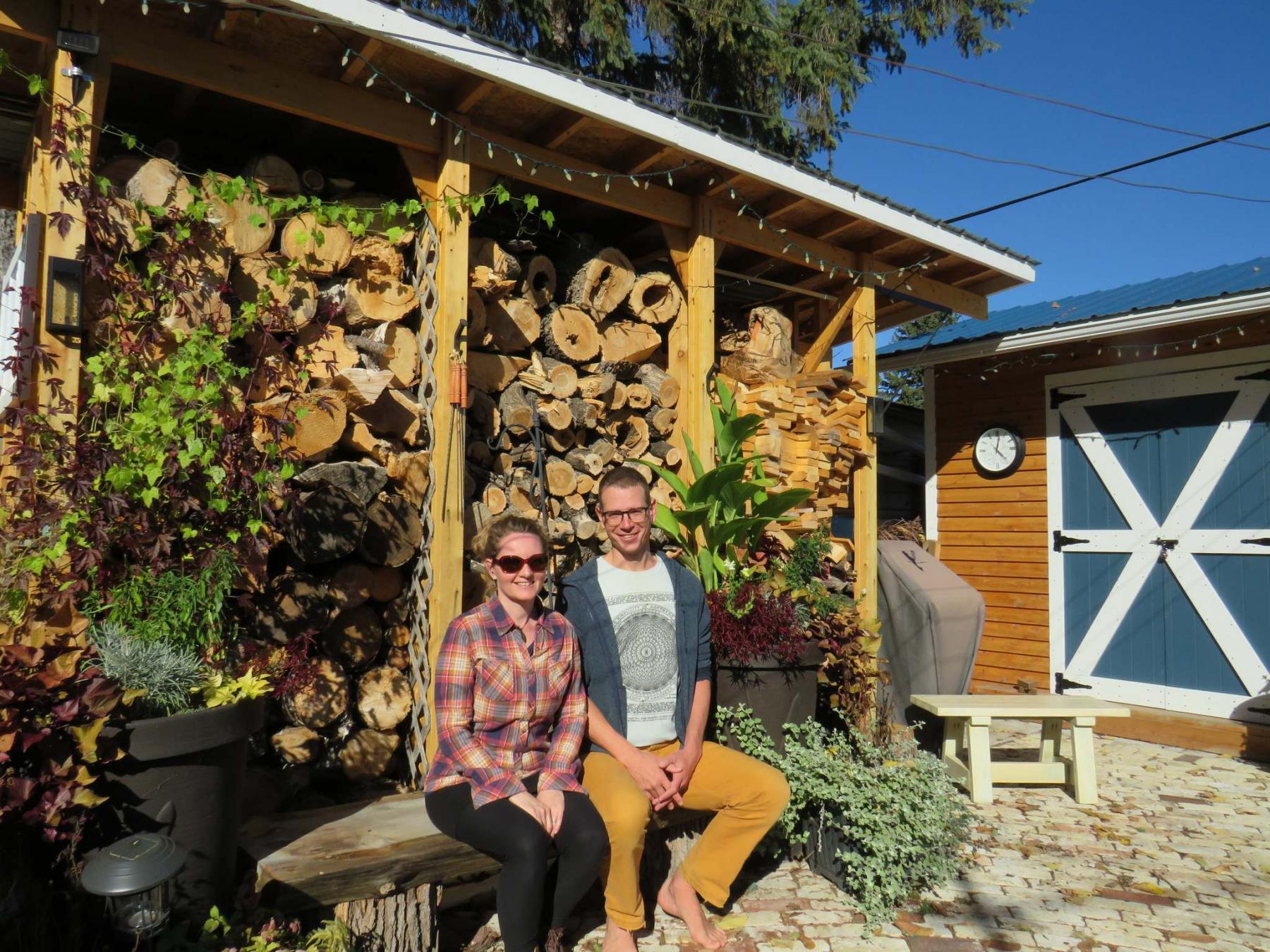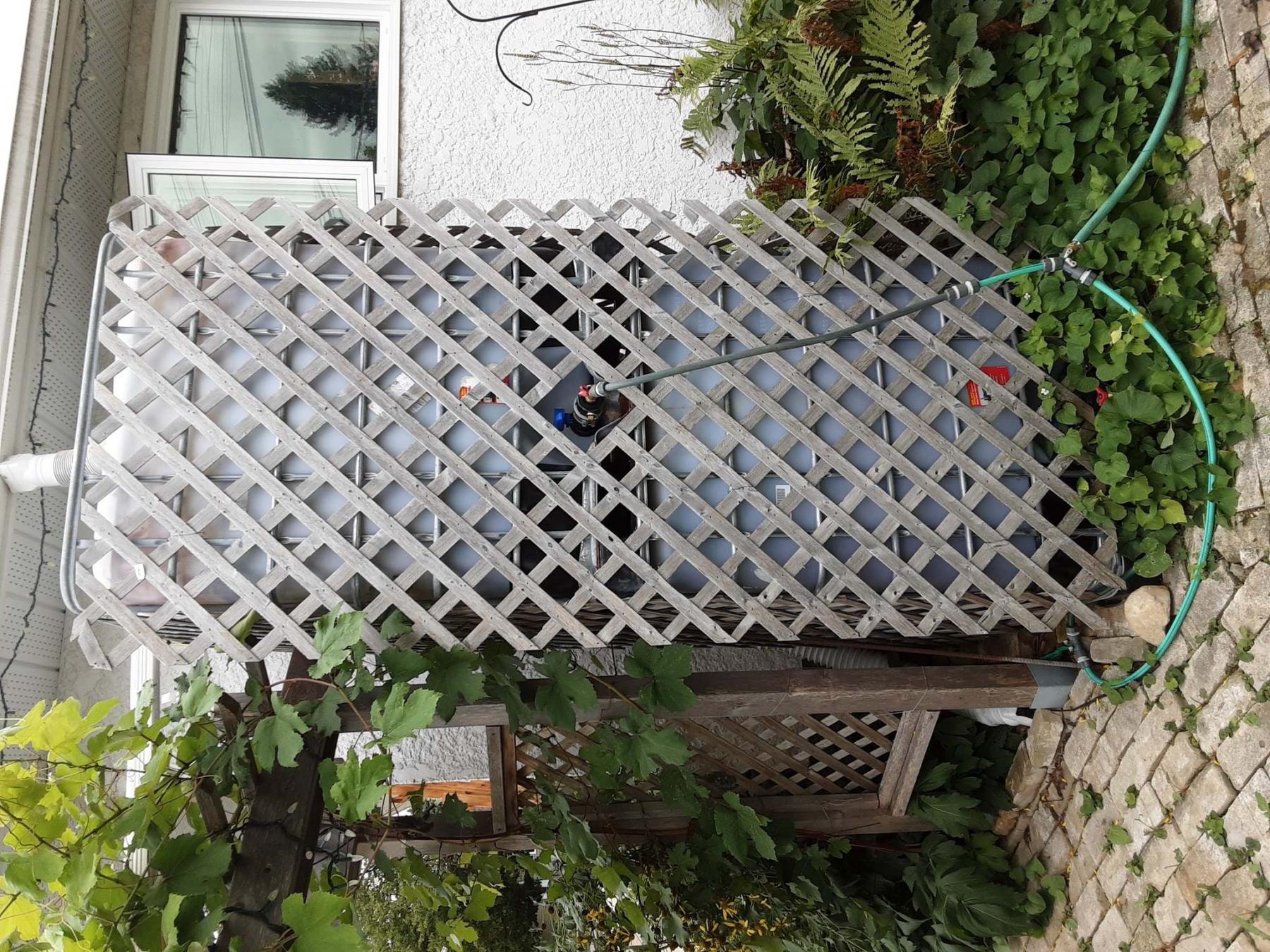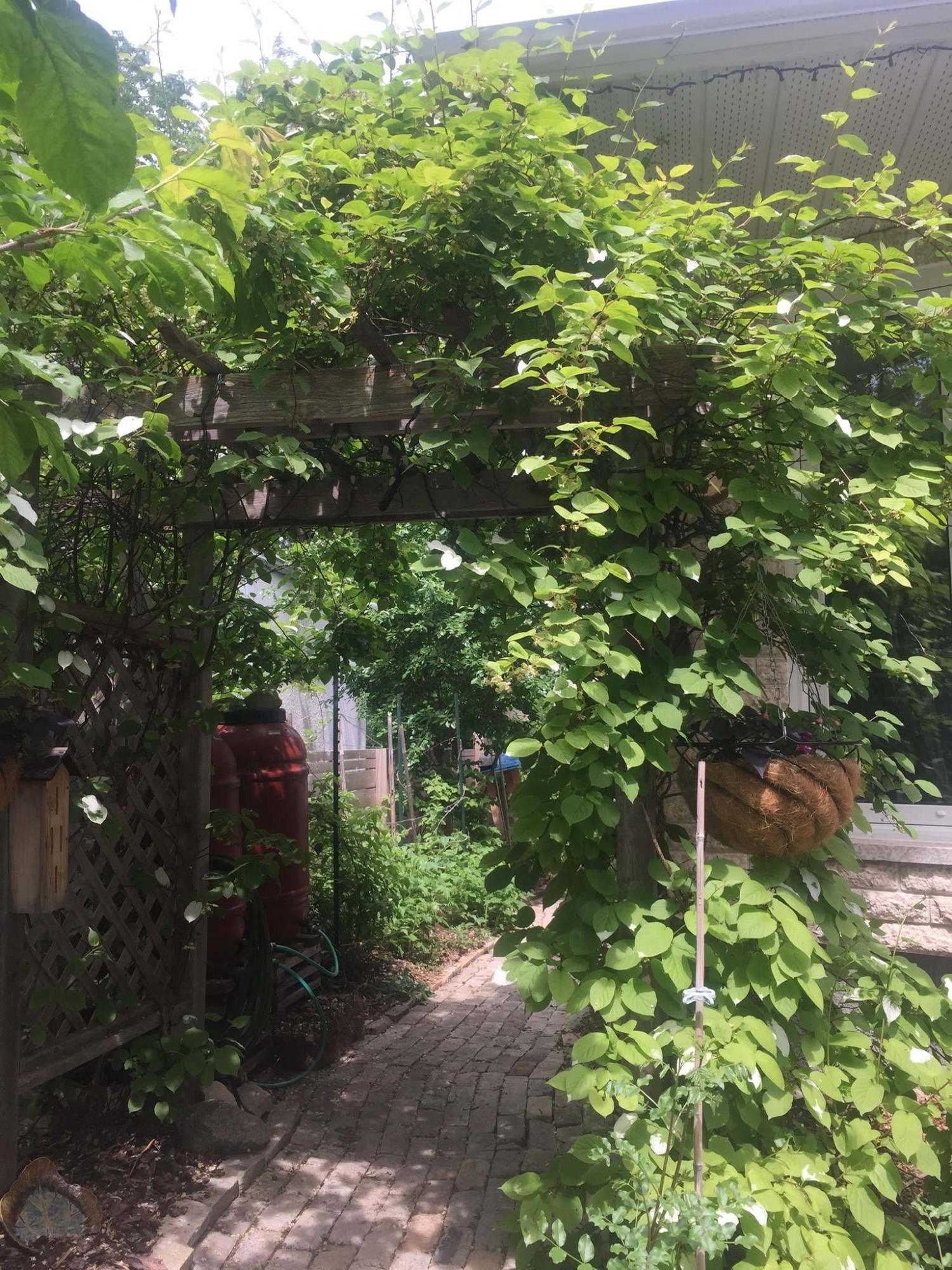 Monika Thiessen and Michael Thys take rainwater harvesting very seriously. Whenever it rains, no matter how little or how much, it's all systems go at their 50 ft by 100 ft residential property in North Kildonan. Their permaculture design was created 10 years ago.
Recently when I visited their property, I asked Thiessen and Thys if their initial permaculture design required some tweaking since it was first installed, especially in light of the extreme drought in recent years. None whatsoever, they replied. That's pretty impressive. Not every rainwater harvesting system gets it right the first time nor has the built-in capacity to capture rainwater overflow, redirect the harvested water, sink it into the soil, and slow and spread the water's flow so that it is directed at the root systems of every plant across a landscape. How have Thiessen and Thys managed to successfully cycle and recycle harvested water and create drought resilience on their urban homestead?
After completing a permaculture design course offered by the Harvest Moon Society in Clearwater in 2010, Thiessen, who has a background in forest ecology, and Thys, an osteopath, set out to design and implement their unique water management system with the goal of creating an edible smorgasbord that would be engaging, beautiful, highly efficient and functional.
Thiessen and Thys grow a productive food garden that runs the entire length and width of their property from the edge of the curb on their front boulevard to the edge of their property along the back lane. They utilize every square inch of their property including tight spots where they grow fruit and vegetables vertically. There is not a blade of grass in sight. There are, however, plenty of trails with layers of wood chips. The trails are, in effect, swales or what Thiessen also refers to as walkable ditches that are hidden infrastructure designed to enhance deep percolation of rainwater.
Rain barrels are situated at all four corners of their 1,200 square foot house. "When the rainfall amount is five mm," says Thys, "100 per cent of the rain that comes off the roof, flows into the eavestroughs and into the rain barrels and then we collect 1,500 litres of water at each of the four corners." A single rain barrel that holds 400 litres of water fills up quickly, says Thys. Rain barrels also collect rainwater that runs off their woodshed, garden shed, as well as their neighbour's shed directly adjacent to their property line. In addition, they utilize two stacked IBU water totes (caged water tanks) that each hold 1,200 litres of water and are equipped with a valve and a lock lid. A lattice framework conceals the IBU totes.
The overflow system is an important part of their design. Not a drop of rainwater is wasted. Once their rain barrels and totes are full, overflow water is diverted into a pipe that drains into the woodchip-covered ditches below the soil surface where it slowly percolates into the ground over time. "The soil is the real storage system," says Thys. When rain finally arrived in June, Thiessen and Thys had enough water storage for watering their food garden for about three or four weeks.
"Most people have a tough time grasping what we did here, in terms of creating walkable ditches," says Thiessen. Once the ditches were dug out, Thiessen covered the ditches with a boardwalk she built out of scrap wood. She then covered the boardwalk with a layer of wood chips which were obtained for free from a friend who is an arborist. The ditches are two feet deep and have the capacity to store thousands and thousands of litres of water, says Thys.
Thiessen and Thys are keen to normalize this type of permaculture design so that it will become much more common. "Once people see our system, they might not want to implement and maintain it themselves, but they might nevertheless come to appreciate and value it, and thus be interested in making an arrangement with someone else to implement and maintain it for them — in exchange for part of the harvest or a small amount of rent." Thys believes this could open an entrepreneurial opportunity in a community and help increase food production, food security, biodiversity, ecosystem functions, as well as community spirit and safety.
The woodchip trails grow mushrooms in abundance and this serves an important function, says Thys. The trails act as a biological water irrigation system that soak up and store huge amounts of water, like a sponge. The mushroom network takes this into its body, says Thys, allowing the fungi to exchange water and nutrients for plant sugars. Mycorrhizal fungi play a key role in transporting water and nutrients to plants. "We even inoculated our pathways with edible King Stropharia mushrooms and harvested a great crop for many years."
Thiessen says that the only maintenance of the woodchip trails required in the past 10 years has been to add a wheelbarrow full of wood chips in a couple of areas where a section of the original boardwalk rotted.
Thiessen lets the leaves that fall into the garden beds stay in the beds. She shreds some of the leaves but mostly leaves them alone to slowly decompose like a forest floor layer that provides nutrients to the roots of plants. "Nobody goes in and weeds or rakes the forest floor," says Thiessen. None of their plants are cut down for the winter. "Leaving our plants standing over the winter means that we catch more snow on our property," says Thys, "and all the fallen leaves and layers of mulch help to slow and absorb the moisture from the spring melt even as the underlying ground is still frozen."
The reclaimed brick patio in their backyard is also a rain collection surface. When the patio was being built, they created a slight gradient which facilitates the absorption of water into the same type of trail system that exists in their front yard.
In mid-October when I visited their garden, the temperature was a balmy 19 C. Most of their vegetables had already been harvested but there were still some, including tomatoes, that were growing in the raised beds that Thiessen built over the past two years. She also built a woodshed from reclaimed wood as well as a creative repurposed bench that sits on giant oak tree stumps. A handywoman, Thiessen also designed and built their shed.
Thiessen and Thys have many more projects planned. They would like to install a four-season greywater recycling system if the City of Winnipeg would allow it. "It would involve putting a small tank in our basement," says Thys, "which would receive all the water from the sinks, showers, and washing machine." A sump pump would be needed to pump the water out of the tank which could then be directed into the woodchip trails where it could soak in and be dispersed by mycorrhizal fungi, he says. The deep layer of woodchips would function as a biological filter.
There is so much more that all of us could be doing to conserve water, says Thys, which would also help to reduce wastewater treatment costs.
colleenizacharias@gmail.com