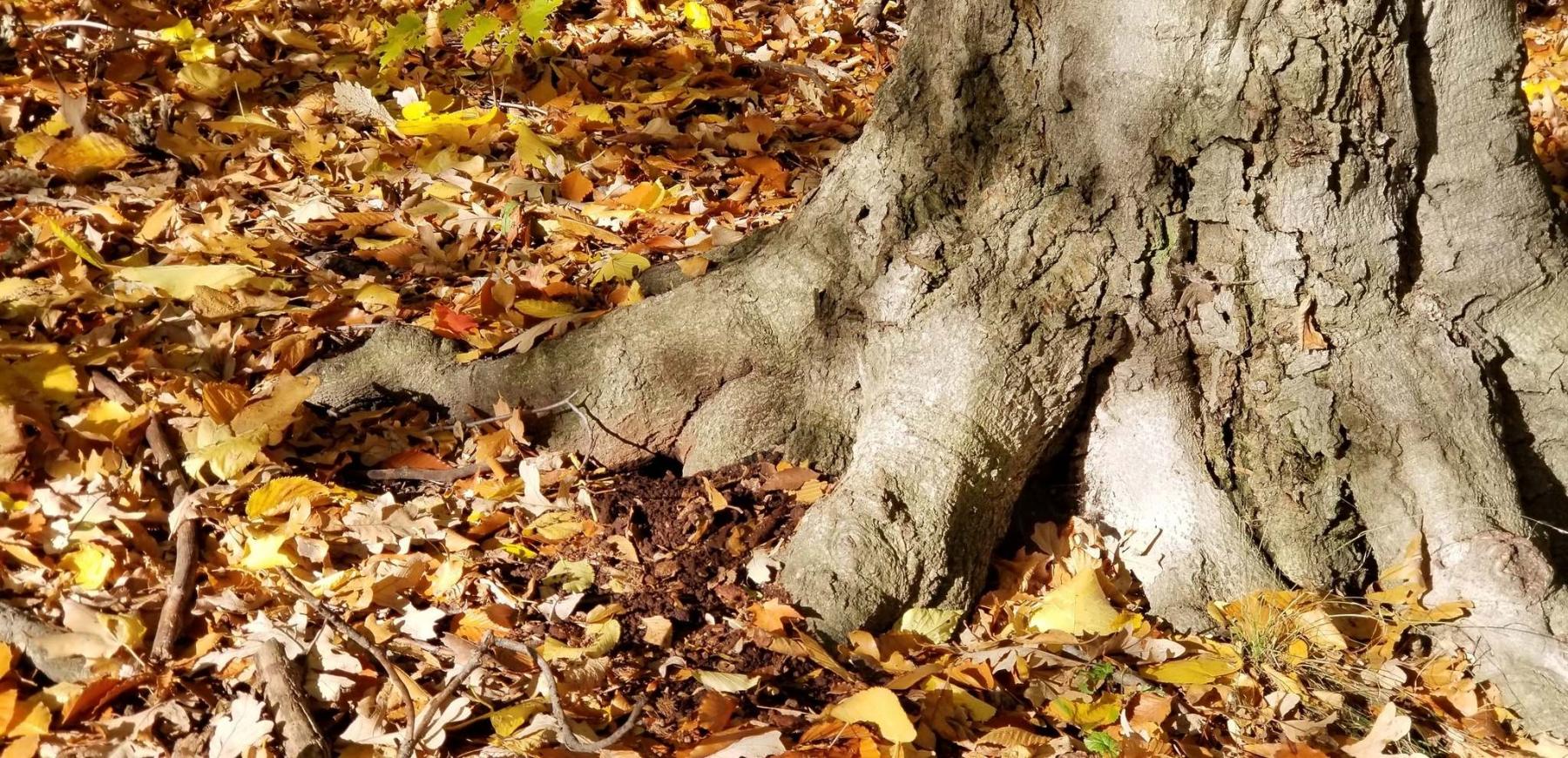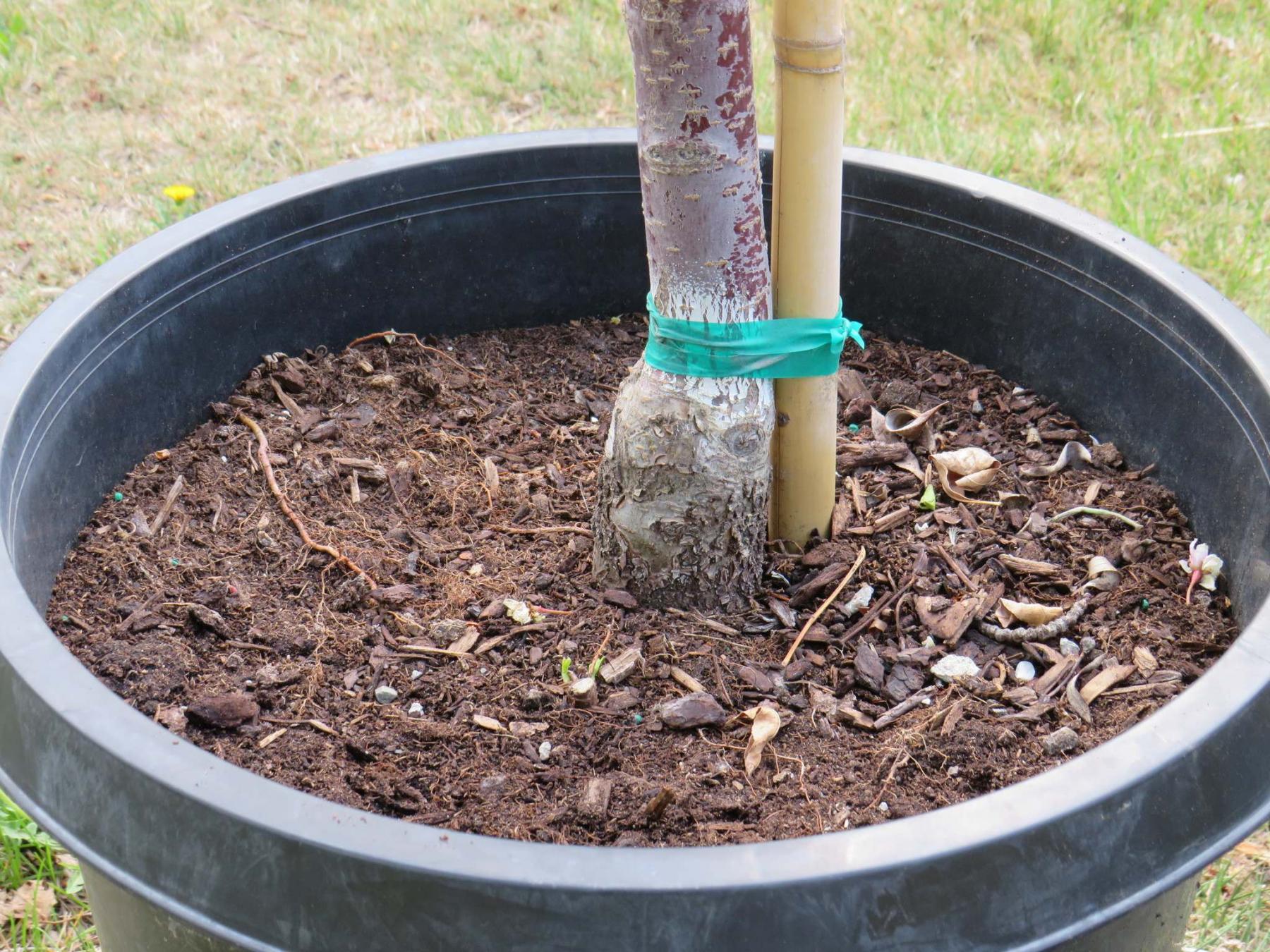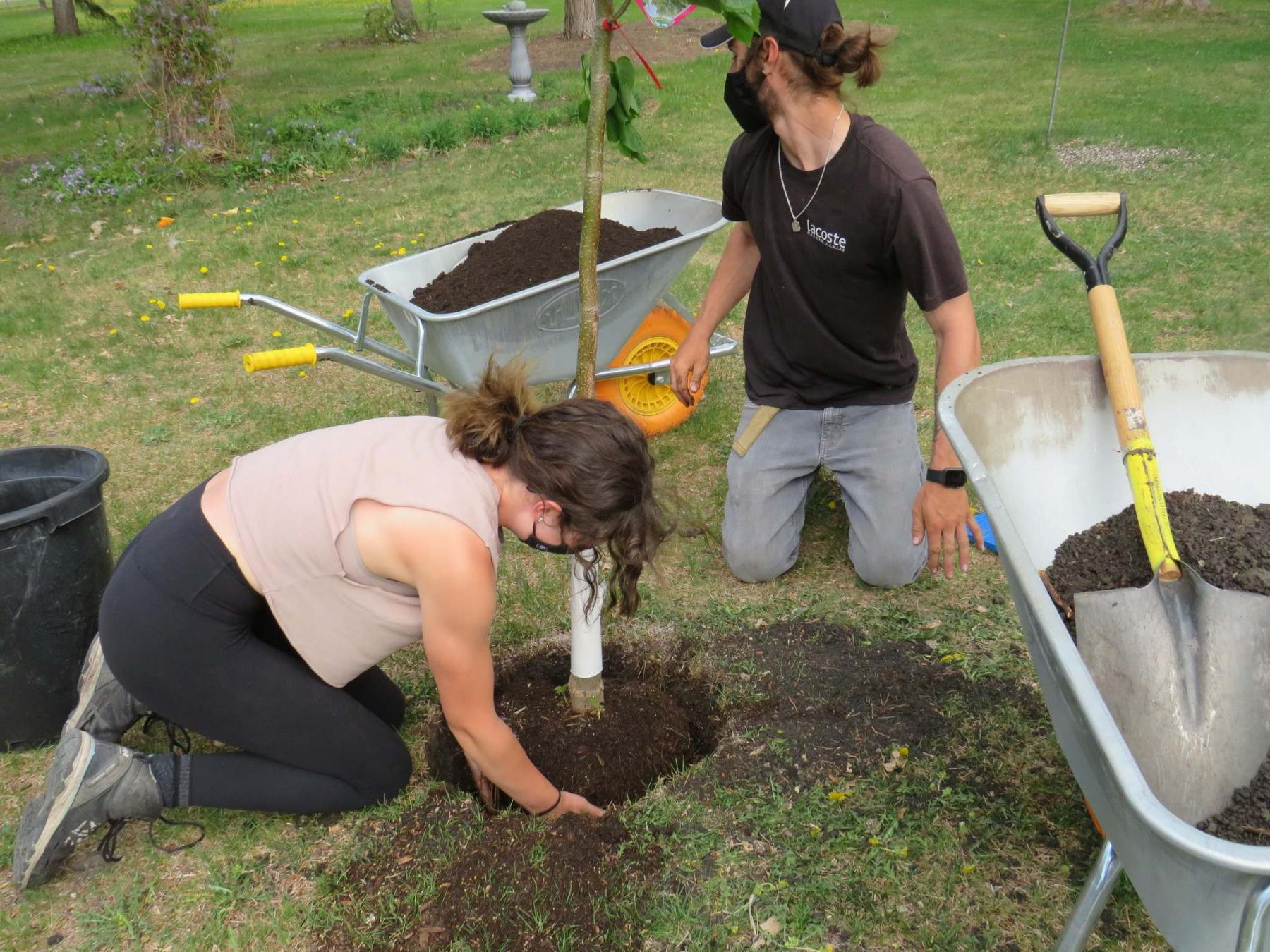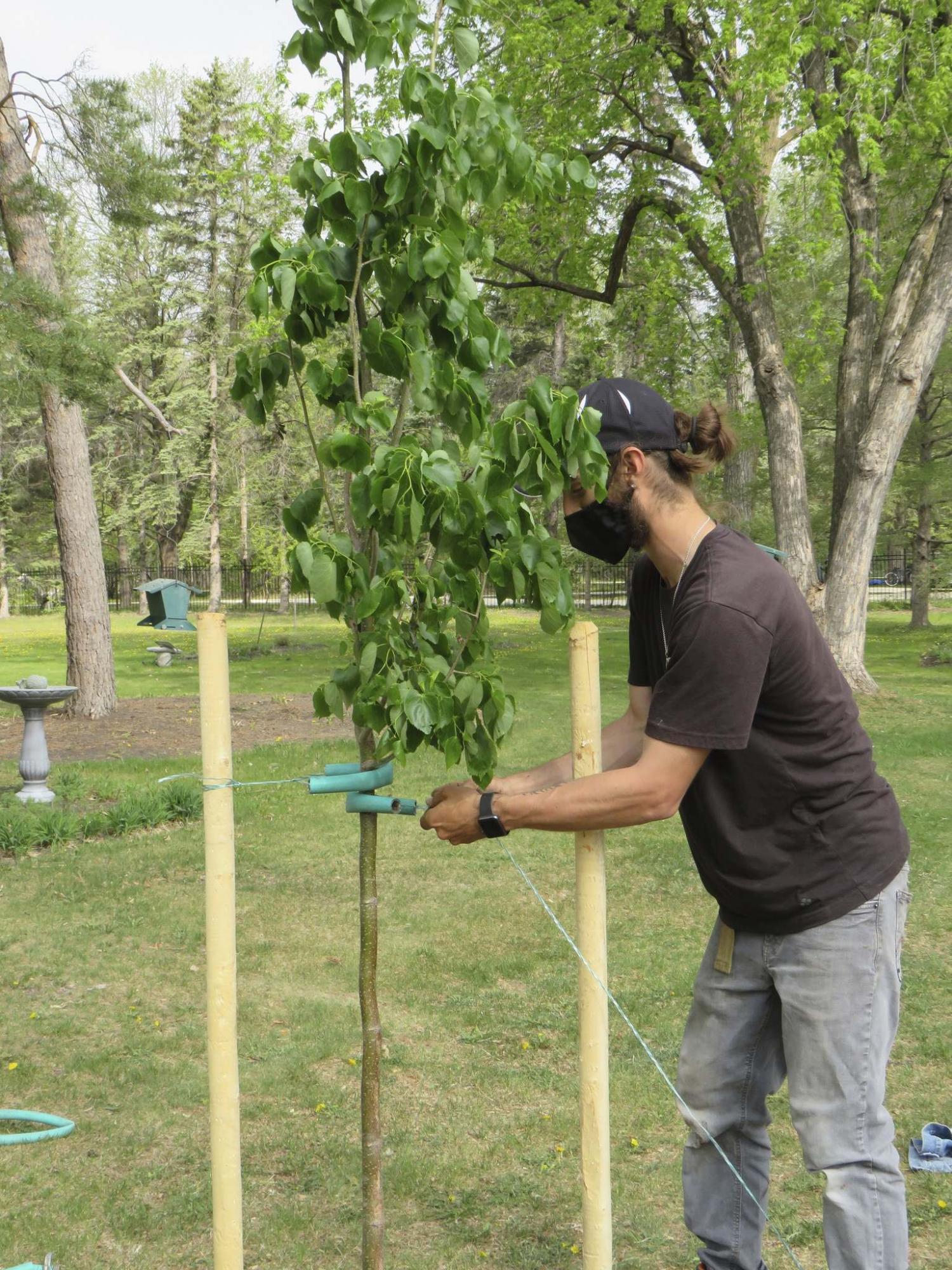 Shopping for trees and the planting and maintenance of trees involves careful planning. Strategies are needed to ensure that young trees have healthy, decades-long lives.
When Marion Lewis and Earl Stafford went to Lacoste Garden Centre in April to purchase several trees for the riverfront acreage on the outskirts of Winnipeg where they make their home, it was at the forefront of their minds to select diverse species suitable for different areas in the treed landscape. They wanted varieties that would enhance their landscape and be excellent at attracting birds.
They selected Gladiator Rosybloom crabapple which has glossy purple leaves for contrast in the landscape and small purple fruit; Spring Snow flowering crabapple which produces fragrant white blossoms in spring but no fruit; Royal Beauty Rosybloom crabapple which has a distinctive weeping shape and small dark-red fruit that remains on the tree throughout the winter months (food for birds); Goodland dwarf apple, which produces delicious fruit for eating fresh and cooking; Princess Kay plum which has showy double white flowers in early spring but no fruit; Harvest Gold Linden which has golden fall colour; and Ponderosa Pine, a very large long-needled pine tree with large cones that grows to 18 metres by nine metres.
The variations in sizes, shapes, foliage colours, as well as flowers and fruits will enhance the property and give a lot of pleasure for a long time to come.
All the trees selected are cold-hardy varieties. All except one were purchased as containerized trees ranging from 10-gallon to 15-gallon sizes. The Ponderosa Pine was purchased as a balled and burlap tree (B&B) with a massive root ball size around 360 kilograms. Lewis and Stafford made the decision to have the trees professionally planted.
On a perfect day in mid-May, Lacoste's tree-planting crew which included Liam Thomson, landscape foreman, Preston Lee, Brooklyn Holbrow, Corey Proulx, and Steven Harrison, arrived at 9 a.m. sharp. With the key skills and knowledge for planting trees, they brought along a sturdy tree dolly as well as several tools including spades, shovels, wheelbarrows, stakes, and stake pounders. They also brought along a quantity of four-way soil mix, a versatile all-purpose soil that includes a mix of peat moss, black topsoil, compost and sand. The light mixture includes nutrients to promote healthy growth and good soil drainage. Together the crew worked in tandem over the next two hours to plant the trees with a high degree of precision.
A spade was used to cut out each hole one and one-half times the size of the nursery pot. "We always dig the planting hole 15 to 30 centimetres deeper than the depth of the root ball and then add a layer of soil mix to the bottom of the planting hole," says Thomson. An application of MYKE Tree and Shrub, a growth enhancer, was mixed into the four-way soil mix to promote healthy root establishment. "We try to give new tree plantings the best possible start in their new home," says Thomson.
It is essential to not plant your tree too deeply. Identify the root flare which is where the trunk meets the roots and flares out. When setting a tree into the planting hole, says Thomson, the top of the root ball should always sit slightly above the surrounding grade. "This typically works out to the height of the root ball plus or minus 2.5 or five centimetres." In addition, only a thin layer of soil at most should be added to the surface around a newly planted tree. "Any change to the grade around a tree causes stress to the tree," says Thomson.
The trees were staked using two wooden stakes with a thick diameter. The stakes were installed opposite one another and secured with a piece of thick hose and strong nylon. Typically stakes should be in place for just one growing season. "We don't want the tree to be dependent on the stakes," says Thomson.
While the containerized trees could each be carried individually, a tree dolly was needed to transport the large Ponderosa Pine to its planting location. It took all five members of the crew. The depth of the planting hole for the Ponderosa Pine needed to be very precise and measured nearly one metre wide and one metre deep.
"Once a heavy root ball goes into the hole, it is not a matter of lifting it out and resetting," says Thomson. "There is no way of getting a B&B root ball back out of the hole without heavy equipment. Double- and triple-checking the depth and width of the planting hole is critically important when installing B&B trees."
Ponderosa Pine thrives best in well-drained soil. Soil mix was added to the planting hole along with a bag of sand to promote good drainage. Once the root ball was set into the planting hole, the top of the burlap was folded back.
After planting, the trees were watered deeply. Thomson recommends watering newly planted trees slowly and deeply once a week. "In periods of excessive heat, watering twice a week may be required. Overwatering, however, is one of the primary causes of premature tree death. Water deeply but infrequently."
Thomson, who is enrolled in the Landscape Horticulturist Apprenticeship Program, a four-year program offered by Red River College, is on the path to becoming a certified journeyperson. Lacoste supports Thomson's efforts as the employer-sponsor for the work experience portion of his training.
Lewis, a renowned medical researcher, has planted scores of trees in her lifetime and has a deep feeling for nature. Many of the existing trees on the property, purchased by Lewis more than fifty years ago, are more than 100 years old and attract numerous species of birds. This spring she was thrilled to be visited by a male Scarlet Tanager, a gorgeous songbird that has a crimson red body and black wings and tail feathers.
At 95, Lewis's ultimate tree planting goal is to grow trees with a strong foundation for a lasting legacy.
Trees are a good investment. They provide many benefits to the environment as well as to our mental health and wellbeing. Trees provide shade and wind protection that results in reduced heating and cooling costs. Trees provide essential habitat for birds and other small creatures. Trees store carbon, filter particulates out of the air, and reduce stormwater run-off that can carry pollutants.
Cheyenne Gittins, nursery supervisor at Lacoste, says that demand for trees in 2020 was huge. "This year demand for trees has skyrocketed," she says. Nurseries are experiencing shortages of the most popular varieties – maples trees with red fall colour, for example. It's wise to consider a variety of options, says Gittins.
If you are planting a tree on your property this year, Trees Winnipeg and the City of Winnipeg invite you to join the Million Tree Challenge by registering your tree at milliontreewinnipeg.ca. The Million Tree Challenge, an initiative first introduced by Winnipeg mayor Brian Bowman in 2019 and officially launched this spring, calls on all Winnipeggers to help plant a million new trees in Winnipeg by the time our city's population reaches one million. At last count, more than 14,640 trees have been registered.
colleenizacharias@gmail.com