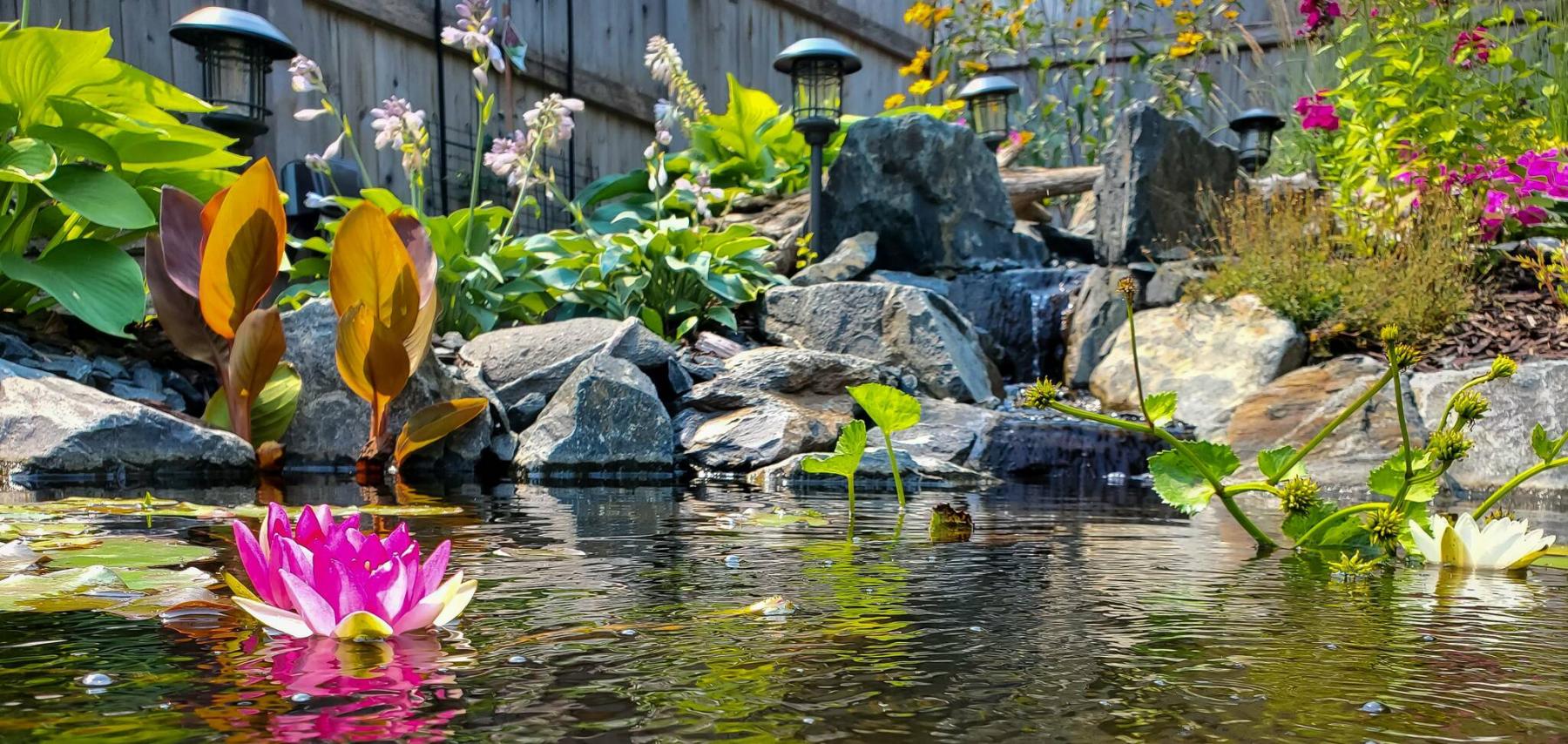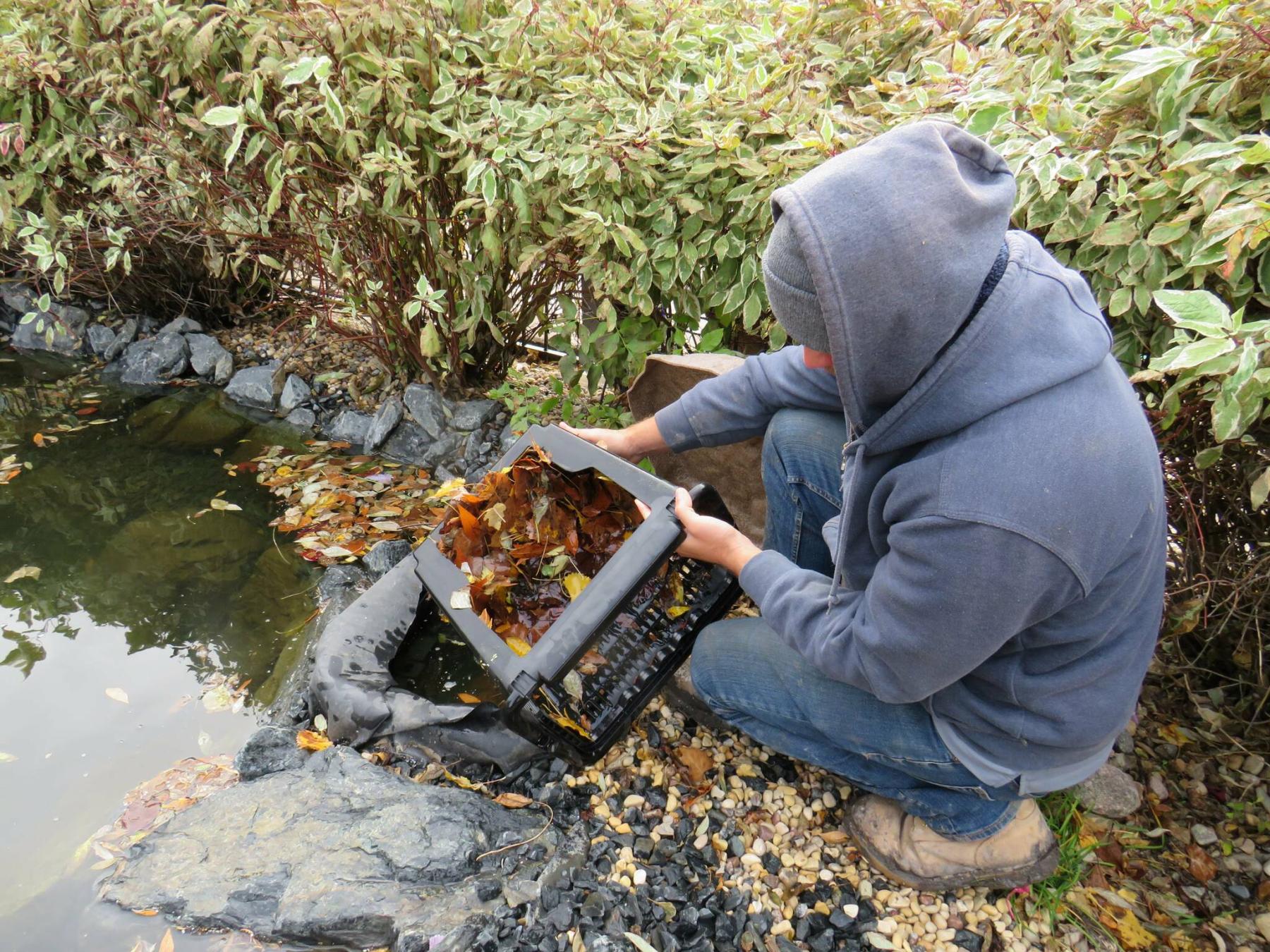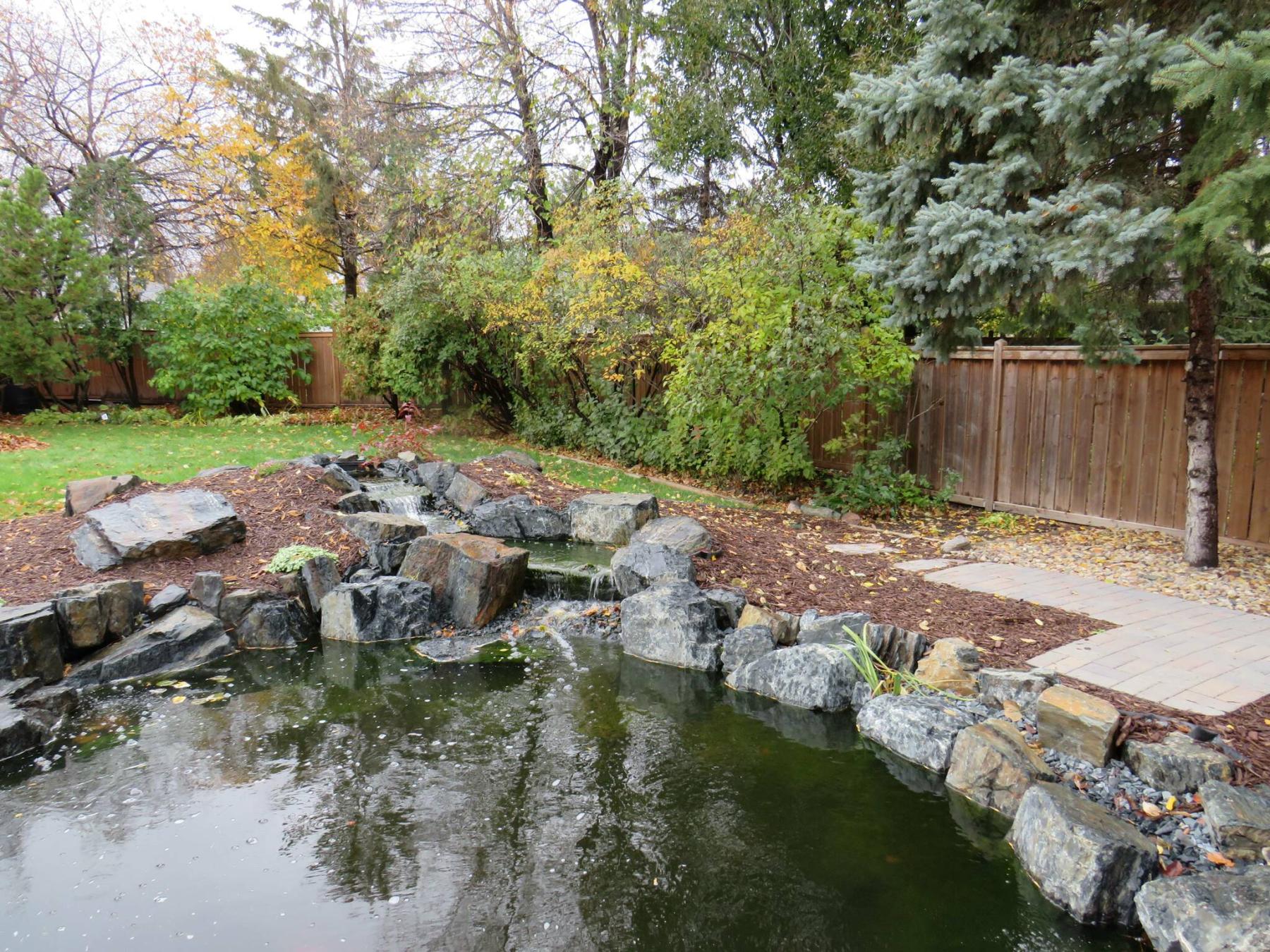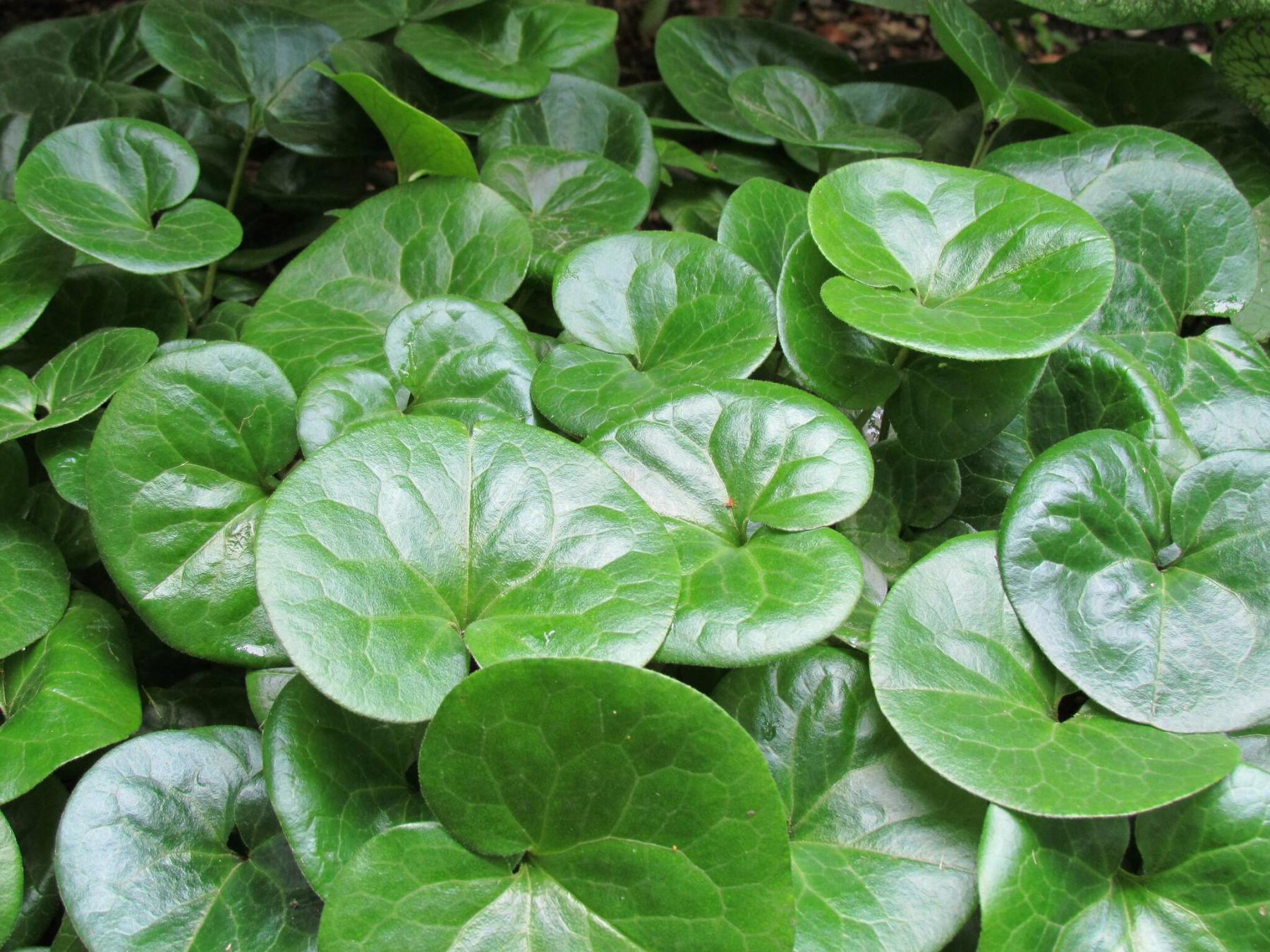 Everyone should have a water feature in their yard, says Riley Scott. The movement of water and the sound it makes brings a magical element to an outdoor landscape. A pond with fish and aquatic plants is the ultimate water feature as well as a living ecosystem that brings a private oasis to life. But what about the maintenance and operating costs that are involved?
"With the right pond system, there is next to no maintenance along with relatively low operating costs," says Scott, owner of Nuterro Solutions. "Our systems are very low maintenance. Typically, in the fall, for example, when it's time to close a pond, it takes about an hour to shut them down."
Scott is the owner of Nuterro Solutions. On a cool and rainy day in mid-October, I went with Scott in his truck for a look at three of his most recent pond projects. It was an opportunity for me to see ponds in an entirely new light.
Nuterro Solutions started out as a landscaping company but as its focus turned towards building ponds, it completed training to become the first certified Aquascape contractor in Manitoba. Aquascape is a name that resonates in the pond industry because its vision focuses on a low-maintenance ecosystem approach to water features that relies on a natural balance of circulation, filtration, plants, fish, and rocks and gravel. All certified Aquascape contractors must install or use Aquascape products exclusively on their water feature products. In addition, maintaining certification is dependent on meeting the recommended education units every two years. Today, Nuterro is Manitoba's largest water feature builder and pond supply store.
The first project I visited was a recreational pond which is a natural ecosystem swimming pond with natural filtration. Scott believes it is the first of its kind in Manitoba. The homeowners sold their cottage at the lake and wanted to recreate the look and feel of being at the lake in their own backyard. A natural swimming pond has a depth of about 1.2-1.5 metres. What would be the advantage of a swimming pond compared to a traditional swimming pool? "With a swimming pool, you can only enjoy it when you are actually using it," says Scott. A recreational pond doubles as a water feature that requires less maintenance than a traditional swimming pool, there are no chemicals, and it includes aquatic plants. A swimming pond also attracts wildlife. "Our swimming ponds mimic the natural water circulation and filtration that you find in Mother Nature," says Scott.
Scott's swimming pond design includes a waterfall feature that pumps 12,000 gallons of water per hour. I was mesmerized by the sound of the water, oblivious to the fact that I was standing in oodles of slippery, ankle-deep wet mud (good thing I wore my boots). A wetland filter has been installed which removes leaves and sediment to improve water clarity.
Aquatic plants are integral to achieving a truly balanced ecosystem pond and also help to provide valuable biological filtration that removes excess nutrients from the water, says Scott.
Some of the aquatic plants that he is installing for his clients include Marestail (an annual forb also known as horseweed), Lysimachia Tufted Loosestrife, Corkscrew Rush, Bogbean, varieties of Iris and hardy water lilies, and Marsh Marigold. Marestail, Tufted Loosestrife, and Marsh Marigold are native to North America. Marsh Marigold has lustrous, kidney-shaped leaves and bright yellow flowers. It is often found growing around the margins of a water feature or lake. Bogbean has feathery white flowers.
The swimming pond is accented by massive granite boulders which Scott brings in from Kenora. Some of the boulders weigh more than 1,000 lbs. Additional features include a newly installed deck which Nuterro built along with a hot tub and cedar barrel sauna that the clients purchased from other suppliers. Scott built cedar privacy screens which will be covered by Dropmore Scarlet Honeysuckle (Lonicera x brownii), a hardy vine with long tubular, deep-red flowers with orange throats. An Amur Maple tree growing through the new deck will provide leafy shade in a few years. Scott's crew installed several plants in October and will be back next spring to install more.
To accent the area around the swimming pond, Scott is planting several trees such as Spruce, Birch, Larch, Hawthorn, and Columnar Mugo Pine. Shrubs include Euonymus Burning Bush, Gold Coast Juniper, Winecraft Gold Smoke Bush, Dwarf Mugo Pine, and Royal Jubilee Ninebark.
Scott says that a swimming pond alone costs up to $100,000.00.
The second project we visited included both a swimming pool and a pond with a waterfall. The pond is home to several Koi fish which the homeowner enjoys feeding each morning. At the foot of the pond, a skimmer with a suction feature is concealed beneath a cover which looks exactly like a large concrete stepping stone. Lightweight, it lifts easily to reveal a basket full of leaves. Just pull it out and empty it. The skimmer also houses the pond pump and plumbing from view for a more natural look. As well, a fill valve inside the skimmer automatically adds water to a water feature when needed.
Scott also showed me the Automatic Dosing System which is an electronically operated dispenser that automatically adds beneficial bacteria to a pond to keep the water clear. He also utilizes an IonGen which has a small ion-producing probe that uses a trace amount of copper ions to help control debris without the use of traditional liquid chemicals.
If a pond contains several Koi fish, the water in a pond can become cloudy, says Scott. "We don't normally pressure wash ponds in the fall unless they are dirty. Typically, in spring, when we open ponds for our clients, we drain the ponds right down to the bottom, put the electronics back in, and pressure wash everything."
It is recommended to take fish indoors for the winter. Most small ponds are no more than 61 cm deep but ice in Manitoba can freeze to 91 cm. "But if a pond is 1.5 metres deep, then it's possible to overwinter fish in your pond," says Scott. "You don't have to feed them, but a hole must be kept open to allow for a gas exchange. We can achieve this with a horse trough heater floating in the pond." Nevertheless, in an extreme winter, it gets tricky, says Scott, and your fish stand a better chance at survival indoors for the winter.
The third property we visited was extensively treed. The ground was covered with leaves, but the ecosystem pond was mainly clear. Before shutting down for the winter, ecosystem ponds are meant to run continuously, 24 hours a day, seven days a week. "If you turn them off, the bacteria start to die," says Riley. It's recommended to not turn them off for more than six hours. What about the operating expense? "Minimal," says Scott. "The IonGen and Automatic Dosing System cost about $1.00 each a month." The pump is a low energy consumption pond unit which Scott estimates costs about $20.00 a month to operate.
For more information about ecosystem ponds, including sizes, systems, and pricing, visit nuterrosolutions.com.
colleenizacharias@gmail.com