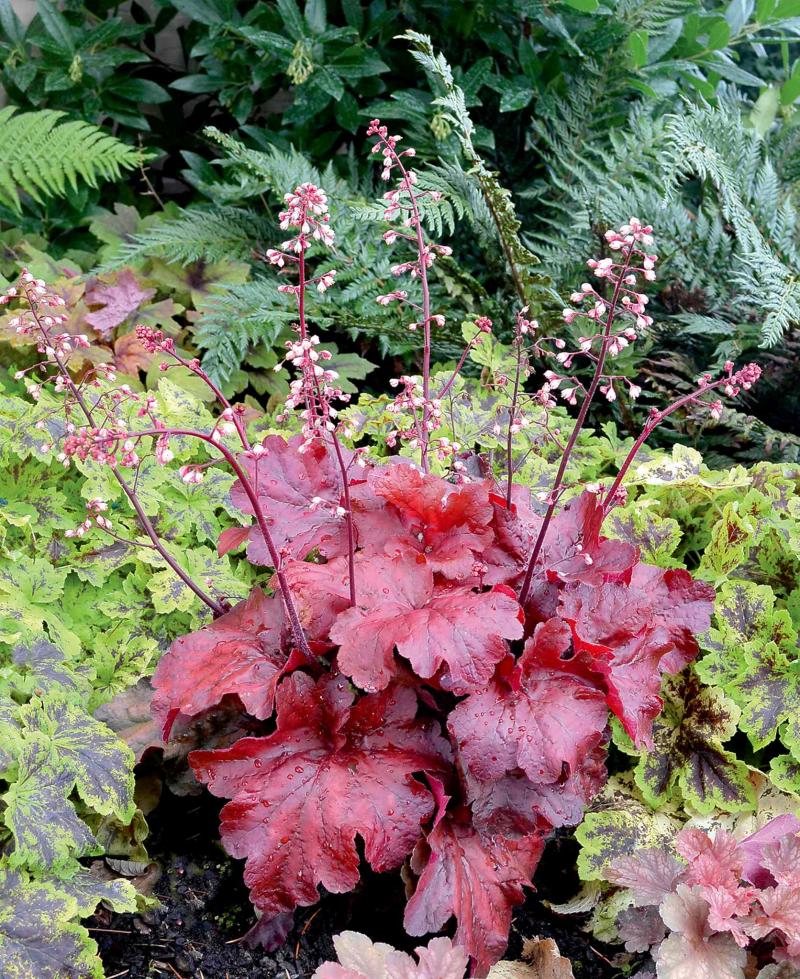 I know for certain that all of my hosta plants will eventually re-emerge from their winter sleep at some point this spring. The only thing that might spoil the perfection of the furled-up leaves of hosta as they poke through the ground with assuredness is if a rabbit comes by during the early hours of the morning and chomps off the top.
Despite that minor annoyance, once temperatures are consistently warm, hosta grows rapidly.
Why talk about hosta in an article about heuchera? Because so often we find them planted together in a part-shade location of the garden, each punctuating the planting design with valuable form and fascinating foliage. While heuchera never attains the sometimes imposing size of the larger varieties of hosta, its high impact is undeniable.
Heuchera, however, or coral bells if you prefer, can sometimes be more challenging to grow than hosta.
There are more than 50 species of heuchera native to North America. The majority of new heuchera cultivars have been introduced by renowned breeder Dan Heims of Terra Nova Nurseries in Oregon.
Heuchera were once mostly nondescript plants with rounded green leaves and a pretty but fleeting spray of tiny pink, red or white flowers on slender, leafless stems. Thanks to advancements in plant breeding, heuchera is now one of the most intriguing and varied perennials for the front of the border or used as a luxurious addition to container displays.
With a candy store of selection, it's the marvellous leaves of heuchera that command our attention. Ruffled, scalloped, undulating, fluted, speckled, sometimes glimmering with silver veining and often with cheeky undersides in richly contrasting colours, what's not to love about the tantalizing foliage of heuchera?
Superlatives aside, how consistent or vigorous is the performance of heuchera in the garden? Beyond a doubt, its performance in the first season of purchase scores top marks providing it receives adequate moisture and the more shade-loving varieties are not allowed to scorch in a full sun location.
Come spring, however, heuchera's post-winter appearance can be a bit perturbing and sometimes our favourites regain only a fraction of their former glory. Considering the purchase of heuchera represents no small investment (ranging in price upwards of $15 for a decent-size plant), failure to thrive is no small disappointment.
Does any frustration we might feel usurp our eagerness to buy more? Our enthusiasm might be tempered somewhat at first, but any resolve to not spend another $15 or more on a new one weakens fairly quickly at first sight of them when we visit the garden centre.
Anything so beautiful and in a colour palette not easy to find in other perennial plants deserves to be tried again. And again. Replacement, though, can become an expensive habit. Better to understand from the start some of the specifics that are particular to growing heuchera, including its preference generally for shadier, more sheltered and well-drained areas of the garden where it receives good snow cover during the winter and adequate moisture during the summer.
Brenda Newton is a Brandon gardener who is skilled in growing heuchera as well as in successfully propagating them. Newton will be presenting on heuchera at Westman Gardeners' Horticultural Day April 18 in Brandon.
A visit to Newton's website, valleyrimgirl.com, shows a comprehensive listing of perennials grown on her large property of 4.5 hectares overlooking the Assiniboine Valley. An obvious plant collector, Newton is as susceptible to the many charms of heuchera as the rest of us, maybe even more so, growing dozens of varieties in her flower beds.
Newton grows both shade-loving and sun-tolerant varieties. Favourites include too many to list, however some outstanding varieties are Brandon Pink, Silver Scrolls, Dolce Black Currant, Sashay, Velvet Night, Midnight Rose, and Crimson Curls.
Her mulch of choice is flax shive, the portion of the flax stem that remains once the seeds and fibre have been removed. Newton says it decomposes nicely. She does not disturb heuchera in the fall, leaving all of the leaves that blow in and around for added protection to the crown of the plant.
While some plant resources recommend removing browned leaves in the spring before new growth begins, Newton waits until the end of June when new foliage has grown from the centre before she does any trimming.
The shallow root system of heuchera and tendency of the crowns to push out of the soil make them susceptible to damage from the freeze-thaw cycles we often experience on the Prairies. Mulching helps to prevent this. Lifting and resetting the plant in the springtime every three years or so is also helpful, taking care to ensure the crown is just below the soil surface.
Newton has found success simply by building up soil each summer around the crown of her heuchera plants. "Not a shovelful, just a wee little bit," says Newton, adding the amount would not even be enough for anyone to notice.
Newton enjoys producing heuchera plants in numbers either by seed collected from the flower heads in fall or by division in spring. Newton stores the heuchera seed in a container rather than a plastic bag, making it easier to retrieve the miniscule seed, which is about the size of a pepper grain. She pre-chills the seeds in her fridge for a minimum of three weeks before starting them in January.
Newton buys clear plastic shoeboxes from Home Depot for about $1 each and uses Pro-Mix potting soil (about 3.8 cm) that contains a biofungicide to prevent damping off. After moistening the soil, the heuchera seeds are sprinkled thinly on top (the tiny seeds need exposure to light to germinate). The shoebox is covered with the clear plastic lid, and once the seeds start to sprout, about 10 days, she places the seedlings under grow lights.
Plantsman Dan Heims insists division of heuchera is simple. Dig it up and pull it apart gently, especially if the plant is brittle. The babies separate easily from the rest of the clump. Heims suggests stripping off the lower leaves to reduce the stress on the new division, allow the end to heal for a day or so and then transplant into a pot, taking care to maintain the soil at evenly moist levels.
This season, expect to see many must-have varieties of heuchera. Deanne Cram at Shelmerdine Garden Centre says her favourite is Obsidian, a compelling dark beauty with lobed leaves that are nearly black in colour.
Interestingly, Obsidian has been used in hybridizing many new introductions. One example is Coco coral bells, part of the Little Cuties collection of heuchera. My favourite heuchera, Midnight Rose, is a sport of Obsidian. I love the splashes of hot pink flecks over black leaves atop wine-coloured stems.
Attracted to dark purple or purple-black varieties for the shade garden? Cram recommends Berry Marmalade, which has black leaves and a silvery veil; Black Taffeta with silky black foliage; Blackberry Crisp with ruffled leaves; and Forever Purple, which sports purple pink flowers. Pair any of these with a chartreuse-coloured hosta or a fern such as Japanese painted fern for an appealing display.
Shelmerdine will also have Cherry Cola, part of the Soda series. Featuring red-brown leaves and cherry-red flowers, plant it in part-shade.
A new listing for 2015, Fire Alarm, claims it to be one of the best red coral bells to date with fiery red colour in spring that deepens to mahogany red in summer. Erna Wiebe at Oakridge Garden Centre in Steinbach plans to carry Fire Alarm along with the entire Little Cuties collection.
Wiebe is also excited about a new introduction called Brazen Raisin. Its purplish black leaves have wine-red undersides. The hot pink buds open up to pale pink and white flowers.
Contrast dark varieties with Peach Crisp, Marmalade or Citronelle.
colleenizacharias@gmail.com
NOTICES
Westman Gardeners present their annual Horticultural Day on April 18, 9 a.m. to 3:30 p.m. at the Central Community Centre, 529 - 4th St., Brandon. For more details visit westmangardeners.ca. Pre-register by calling 204-728-0792.
Steinbach Area Garden Club will host their biannual Dessert Evening on April 27 at 7 p.m. at the Mennonite Heritage Village. Enjoy delectable desserts and a presentation by author and gardening expert Lyndon Penner, who will explore why we garden. For more details visit sagardenclub.com.
Love ornamental grasses? Plan to attend Agassiz Garden Club's Spring Garden Workshop on Sunday, April 19, 12:30 to 5 p.m. at Pioneer Club, 32 Park Ave, Lac du Bonnet. Register by calling 204-345-8419.