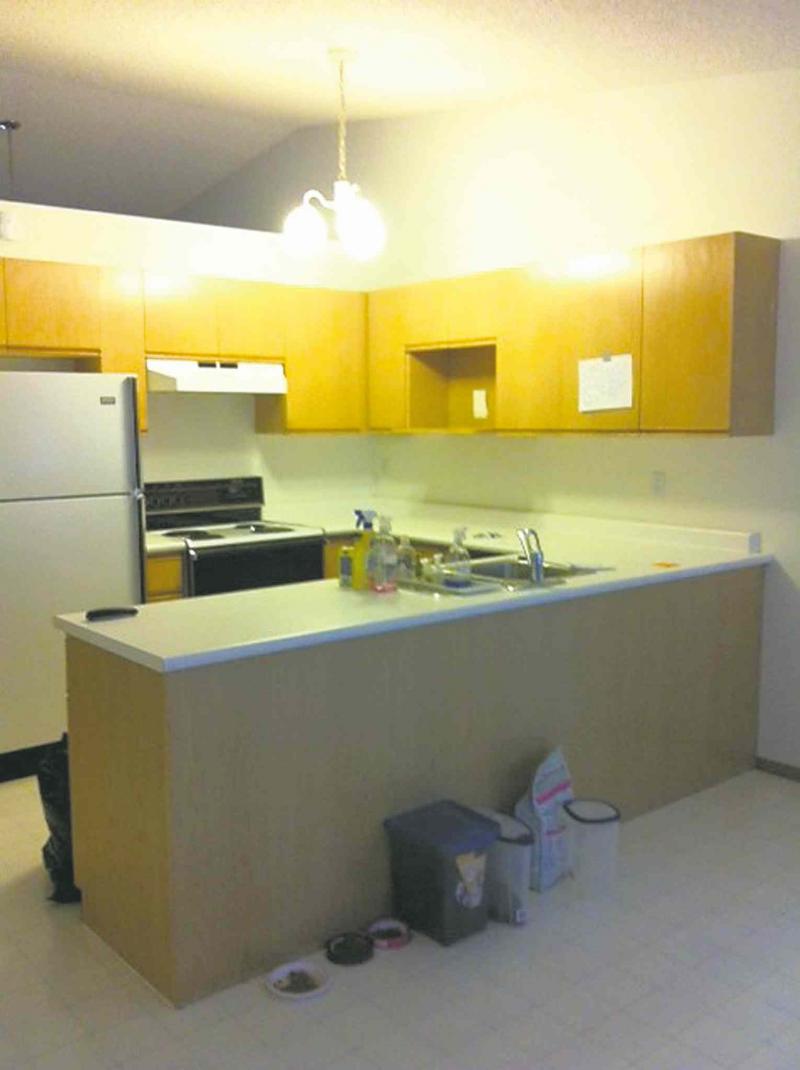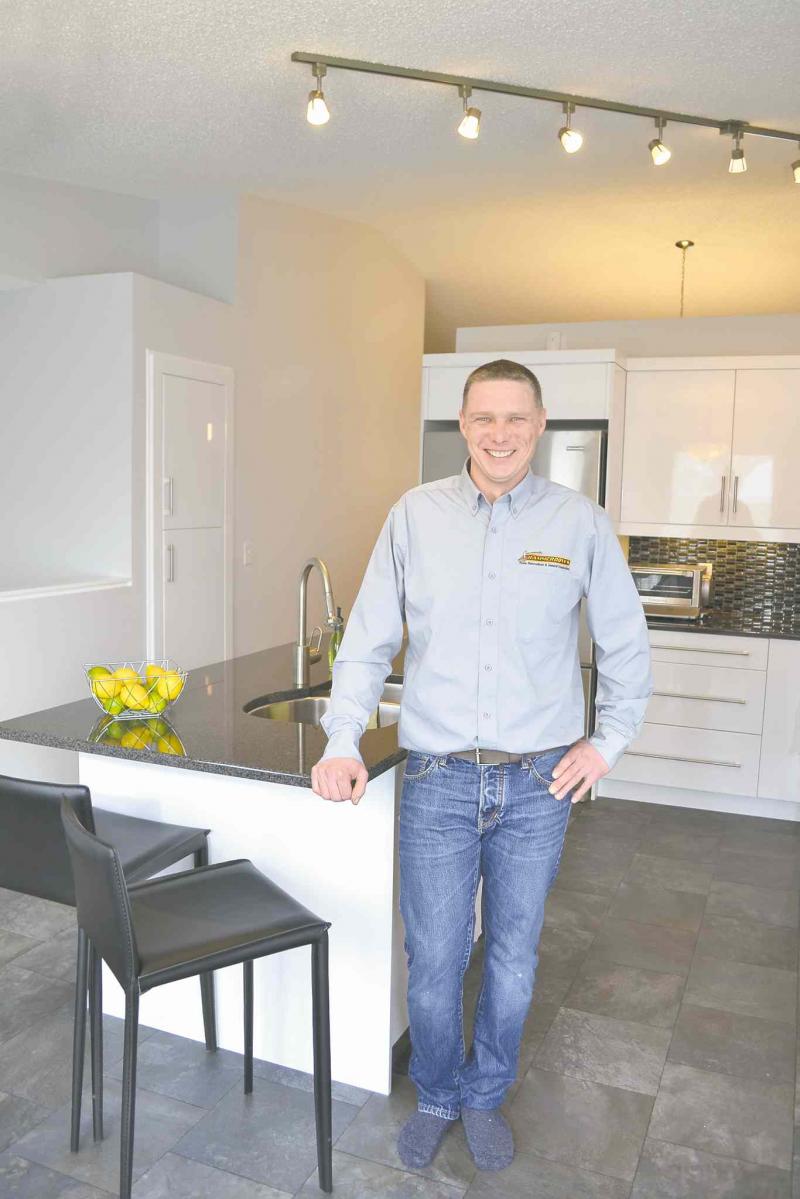 When Marilyn and David purchased their house in West Kildonan 25 years ago, it was a lovely show home loaded with all the newest features and amenities.
But a quarter-century later, some of home's once-beguiling characteristics such as red oak trim, veneered plywood cabinets in the kitchen and low-watt lighting fixtures were showing their age.
The worst area was the kitchen, where an L-shaped cabinet reduced working space and rendered a whole section of the room unusable.
Moreover, the appliances had heroically performed well beyond their best-before date and all needed to be replaced.
"My husband wanted to sell the house and find something newer," said Marilyn, who was on the cusp of agreeing when a friend suggested an alternative to selling might be to renovate.
Said Marilyn, "My friend highly recommended a contractor who had 'performed a miracle' in her home."
Acting on her friend's advice, Marilyn contacted Tyson Hiebert, owner of Winnipeg's Hammerdown Construction.
After a few meetings with Hiebert, Marilyn and David were convinced the young man had the requisite skills, work ethic and reliable crew capable of completely overhauling their kitchen.
In collaboration with Patrick Chan, a designer at Kitchen Craft in Winnipeg, Marilyn and Hiebert created an ultra-modern kitchen with glossy white thermofoil cabinets, luxury vinyl tile (LVT) flooring, new stainless steel appliances, solid granite countertops and a glass-tile backsplash.
"The cabinets have increased my storage space many times, and they include slow-close mechanisms for the doors and drawers as well as full-extension, dovetailed, solid-wood boxes," Marilyn said.
Hiebert converted a broom closet with a bi-fold door into a useful pantry with upper and lower thermofoil doors, and included full-extension dovetailed wood boxes and slow-close hardware.
A corner cabinet has a lazy susan more than 15 inches in diameter, with plenty of room for spices and other cooking ingredients, said Marilyn, adding she enjoys cooking.
As the new Kitchenaid fridge/freezer was about eight inches taller and less deep than its predecessor, she said Kitchen Craft designer Chan made an adjustment to the height and depth of the pre-built cabinets to accommodate the extra height and slimmer design of the appliance.
"He was so pleasant about it," she said. "No extra charge, just a 'don't worry about it. We will take care of it.'"
The pièce de résistance is an island with a solid granite countertop, an inset sink and built-in dishwasher and loads of space for other kitchen paraphernalia on both sides of the thermofoil cabinet.
The island opens up the food-preparation area by eliminating the awkward L-shaped cabinetry that had previously blocked access to other parts of the large kitchen.
Hiebert selected a single-tap gooseneck faucet by EMCO to add yet another modern splash to the inset sink.
Marilyn said she made a trip to Granite Mountain near Lac du Bonnet to select the type and colour of granite that would most complement the light- and dark-grey paint palette she had chosen for the walls.
She also wanted something that would match the swirling dove-grey and white tones of her LVT flooring.
"It wasn't an easy decision; I was astonished by the selection of stone available at the quarry," she said.
Her final choice was seamless black granite with flecks of grey, white and subtle metal hues that blended with the stainless steel sink, appliances, white cabinets and grey walls.
She said the people at Granite Mountain were very professional, making a template of her sink to ensure it would fit tightly under the island countertop.
"They also checked that the back and side walls of the kitchen were straight so there would be no gaps between them and the L-shaped granite that makes up the main countertop," she said.
Hiebert said the backsplash was the last and most controversial aspect of the renovation.
"A poorly chosen backsplash can really kill a good design," he said, "so I encourage my clients to think long and hard about it before making a final decision."
Said Marilyn: "He showed me many, many samples of different materials, but I kept rejecting all of them. I didn't believe I would ever find the perfect product."
Finally, however, a snazzy glass creation from Ames Tile spoke to her.
The backsplash, comprised of small rectangles of black, brown and crystal tiles, is a perfect match to the colour scheme in the rest of the kitchen, is as functional as it is waterproof and can be wiped down with a damp cloth.
The glass tiles are highlighted by strip lighting mounted under the upper cabinets.
With the backsplash completed, Marilyn asked Hiebert to install light fixtures that would further brighten the kitchen and other areas of the house.
Accordingly, a length of adjustable track lighting was run diagonally across the kitchen ceiling and a 1990s-style hanging lamp was replaced with a modern bowl-style pendant with metal accents.
In the dining room, a 100-watt overhead light was removed in favour of a 500-watt chandelier controlled by a dimmer switch, and the foyer is now illuminated by a powerful overhead lamp similar to the pendant light in the kitchen.
As well, the bold, vibrant look of the kitchen was extended into the dining and living areas by painting an interior gable wall -- visible from all three rooms -- the same grey tone used extensively in the renovated kitchen.
"Hiebert also removed the aged baseboards and window trims, replacing them with white mouldings that added a fresh look to drab parts of the house," Marilyn said.
As to satisfaction with their contractor, the couple can't say enough about Hiebert and his team of professionals.
"Tyson (Hiebert) competently led us through the entire process, was extremely knowledgeable, hardworking and very trustworthy, as were all the members of his team. Moreover, we were kept within budget and never rushed into making decisions," Marilyn said. "I'd recommend him and his team to anyone who is considering a renovation. My husband and I are ecstatic. We won't be moving in the near future."
For his part, the 38-year-old contractor said his company wouldn't exist without his group of professional renovators, including Jeremy Pillipow, Sean Thiessen and Paul Doroniuk.
"We're like brothers. We work hard to get a job done, but we don't cut corners. When clients meet us, they sense they can trust our work, our work ethic and our honesty."
Moral: When in doubt, a trustworthy renovator may be the alternative to an expensive move.