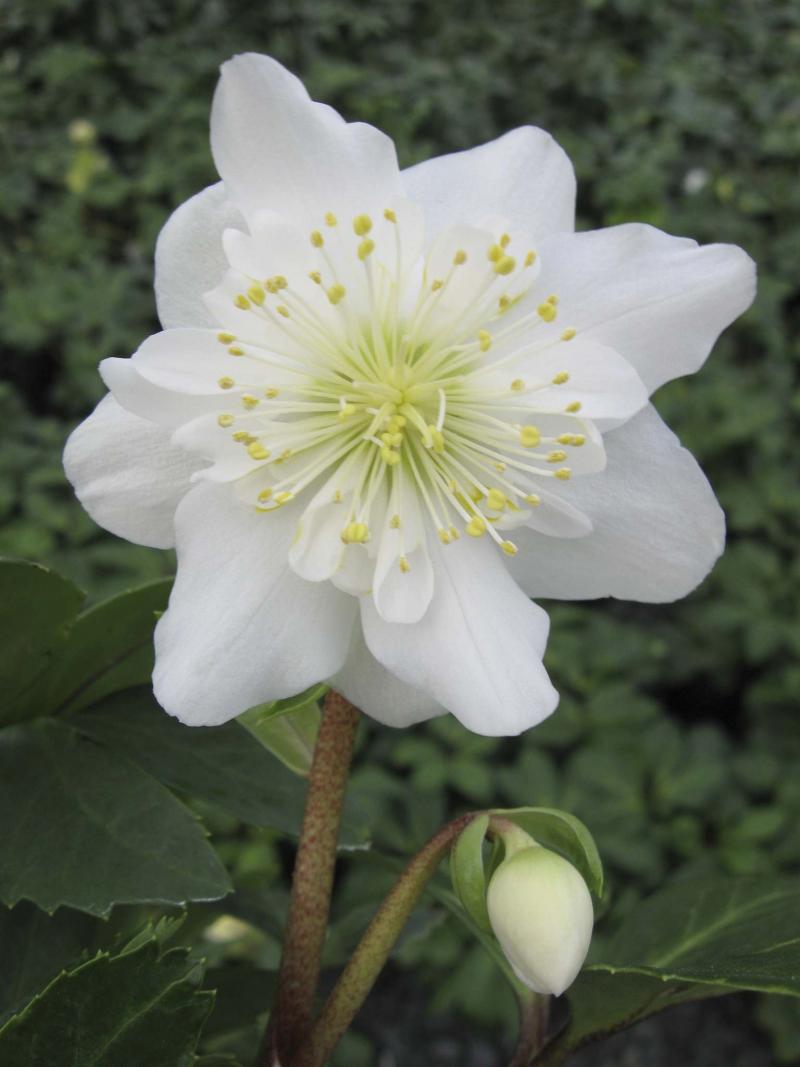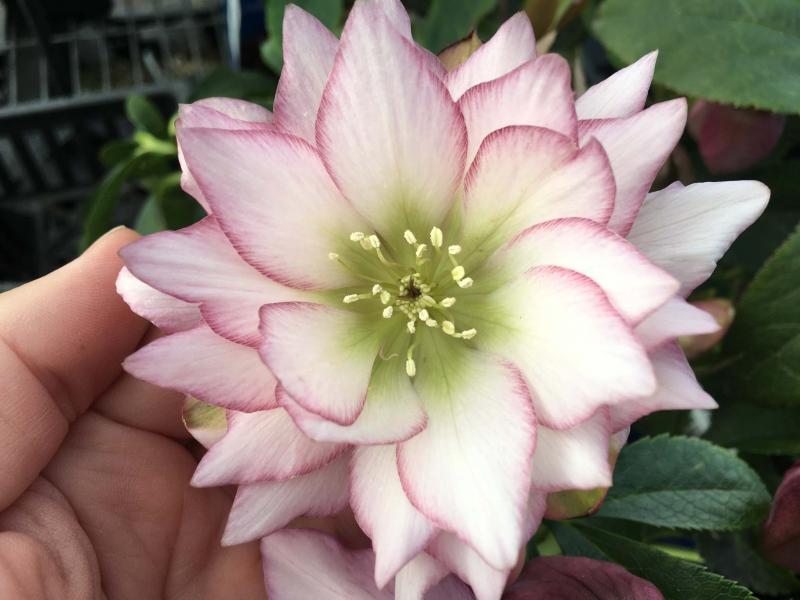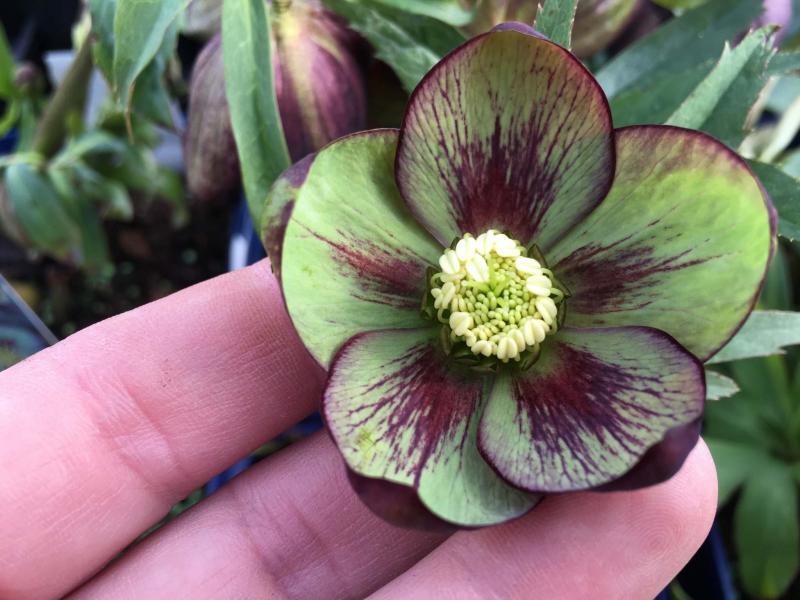 Unlike the hosta, which claims much of the space in shady sites in the typical Prairie garden, the Helleborus up until now has had a rare presence. As a growing legion of cold-climate gardeners are seduced by these splendid spring-flowering beauties, the hellebore's surprising adaptability to our inclement climate is convincing more local gardeners as to its charms.
A clump-forming perennial notable for its deeply divided, dark evergreen, leathery-textured foliage, the swelling buds of the hellebore are among the first signs of life in the still-untidy spring garden with its layers of old leaves and bits and pieces of winter debris waiting to be cleared away. It's an amazing, welcome sight, the single, semi-double or double flowers of individual varieties offering breath-taking colour and patterns.
A member of the Ranunculaceae (buttercup) family, the long-lasting, seven centimetres downward- or slightly outward-facing blooms on 30 to 60 cm tall spikes consist of a modified calyx — five overlapping and showy sepals surrounding small, green, tubular nectaries that attract pollinators and are sometimes a startling chartreuse colour. In the centre are the delicate, cream-coloured or pale yellow stamens and anthers.
Deer and rabbits know to steer clear of Helleborus species that contain alkaloid toxins, although the occasional pesky squirrel has been known to take wicked delight in biting off a developing bloom.
Admittedly, most local gardeners I have talked to who grow hellebores in their gardens acquired theirs through specialty mail-order nurseries — such as Fraser's Thimble Farms and Phoenix Perennials — located on the west coast.
Availability is limited at local garden centres, although a search uncovers a selection of good entry-level series of colour strains and cultivars.
When Terry Enno decided last fall to leave her job at Lacoste Garden Centre where she worked as a perennial plant specialist and to relocate to Richmond, B.C., her first concern, naturally, was what to do about the plants in her West End garden. With friends and fellow gardeners clamoring for some small piece of her collection, Enno's treasured specimens of Helleborus x hybridus were dug up, carefully divided, and sent to new gardens where soon they will be waking from their winter dormancy.
After growing hellebores in her Winnipeg garden for almost a decade, Enno can testify to their durability so long as they are provided with good growing conditions.
While there are a number of Helleborus x hybridus varieties classified as hardy to zone 3, such as Goldfinch with buttery yellow, rounded sepals with ochre red flecks, Enno couldn't resist the temptation of also growing zone 4 types such as Winter Jewels Rose Quartz with white double picotee flowers edged in rose and a zone 5 variety, deep wine-red Winter Dreams Cassis Red.
Identifying an area in her garden that would provide protection from strong winds and afternoon sun as well as good snow cover, Enno planted her hellebores into well-drained soil that had been amended with organic matter. An annual topdressing of organic matter, such as well-rotted compost or leaf mold, is sufficient to supply nutrients for hellebores, Enno says. "Maintain even moisture in the spring when hellebores are actively growing."
Although established plants are drought-tolerant, ensure adequate moisture during extended dry periods in the hot summer months when plants are not actively growing.
To overwinter the more tender varieties, Enno took a three-pronged approach: a layer of mulch, Styrofoam cover and deep insulating snow cover. It worked. With each year, the clumps grew bigger and more floriferous.
Today, Enno works at Phoenix Perennials, a specialty mail-order nursery in Richmond with more than 4000 different types of plants including more than 100 strains and cultivars of Helleborus. Enno has found her lotus land.
Gary Lewis, owner of Phoenix Perennials, is an avid hellebore enthusiast, personally growing dozens in his zone 8a backyard. Lewis acknowledges that for the uninitiated gardener, there is still a fair bit of mystery surrounding hellebores as well as trepidation about growing them in a region with harsh winters.
Lewis says that the prevailing thought at one time was that Helleborus x hybridus (formerly known as Helleborus x orientalis) was hardy only to zone 5, but there are numerous reports of success from gardeners in northern Ontario, Winnipeg, Edmonton, Calgary and their surrounding communities who rely mostly on good snow cover without much additional insulation to overwinter hellebores.
"It's important to keep in mind that there are other factors that affect the hardiness of plants," Lewis says. "Microclimates in the landscape, prevailing winds, soil moisture, patterns of snowfall and whether adequate snowfall occurs before freezing temperatures arrive are all factors that determine the range of plants that we are able to grow."
Hellebores are long-lived perennials with long lasting flowers — two to three months. It can take up to two years before they bloom, but once established, they are reliable bloomers in the spring garden. For the best show, Lewis recommends a location with lots of morning sun and some late evening sun. Avoid exposure to direct sun in the afternoon.
In the spring as the snow melts, the old foliage may be somewhat worse for wear. To reveal the new buds in spring, Enno removes some of the tattered, flattened foliage from the base of established plants once the risk of a late frost has passed. New foliage appears several weeks later.
Bloom colour is outstanding in the cooler temperatures of spring. "The lighter coloured varieties (light pinks and whites) will green up eventually as the blooms age," Lewis says, "however, the dark-coloured varieties (purples, red and burgundies) hold their colour."
Hellebores are not inexpensive. With the recent advent of tissue culture techniques now used to propagate some species of Helleborus for large-scale production (resulting in identical clones), some of the most highly sought-after hellebore varieties are those grown laboriously from hand-pollinated seed. Hellebore varieties derived from a seed strain result in unique plants with no two that are identical.
The two species of hellebores suitable for growing in our climate, according to Lewis, are Helleborus niger (Christmas rose) and Helleborus x hybridus (Lenten rose).
For first-time gardeners who would like to try growing hellebores, Lewis recommends Helleborus niger Snow Frills. This early-blooming variety from the Helleborus Gold Collection has pure white flowers with a centre of showy golden stamens. It has good winter hardiness.
"The best of the best in North America," Lewis says, "is the Winter Jewels Series of Helleborus x hybridus from Marietta and Ernie O'Byrne of Northwest Garden Nursery (in Eugene, Ore.)."
Grown from hand-pollinated seed, Winter Jewel hellebores come in a full range of colours. Onyx Odyssey Lenten Rose offers dramatic, double slate, purple and moody black flowers. Jade Star is a study in green with red veins and a red picotee edge. Cotton Candy is a delicious concoction of pale double flowers with soft light pinks.
With numerous varieties to choose from, you won't be disappointed.
colleenizacharias@gmail.com
Event listing
The 10th Annual Gardening Saturday Conference happens on March 18 at Victoria Inn, 1808 Wellington St. For early-bird pricing on workshops, tradeshow and lunch with keynote speaker Ken Brown, register by March 14. Email info@gardensmanitoba.com or phone 204-895-4560.