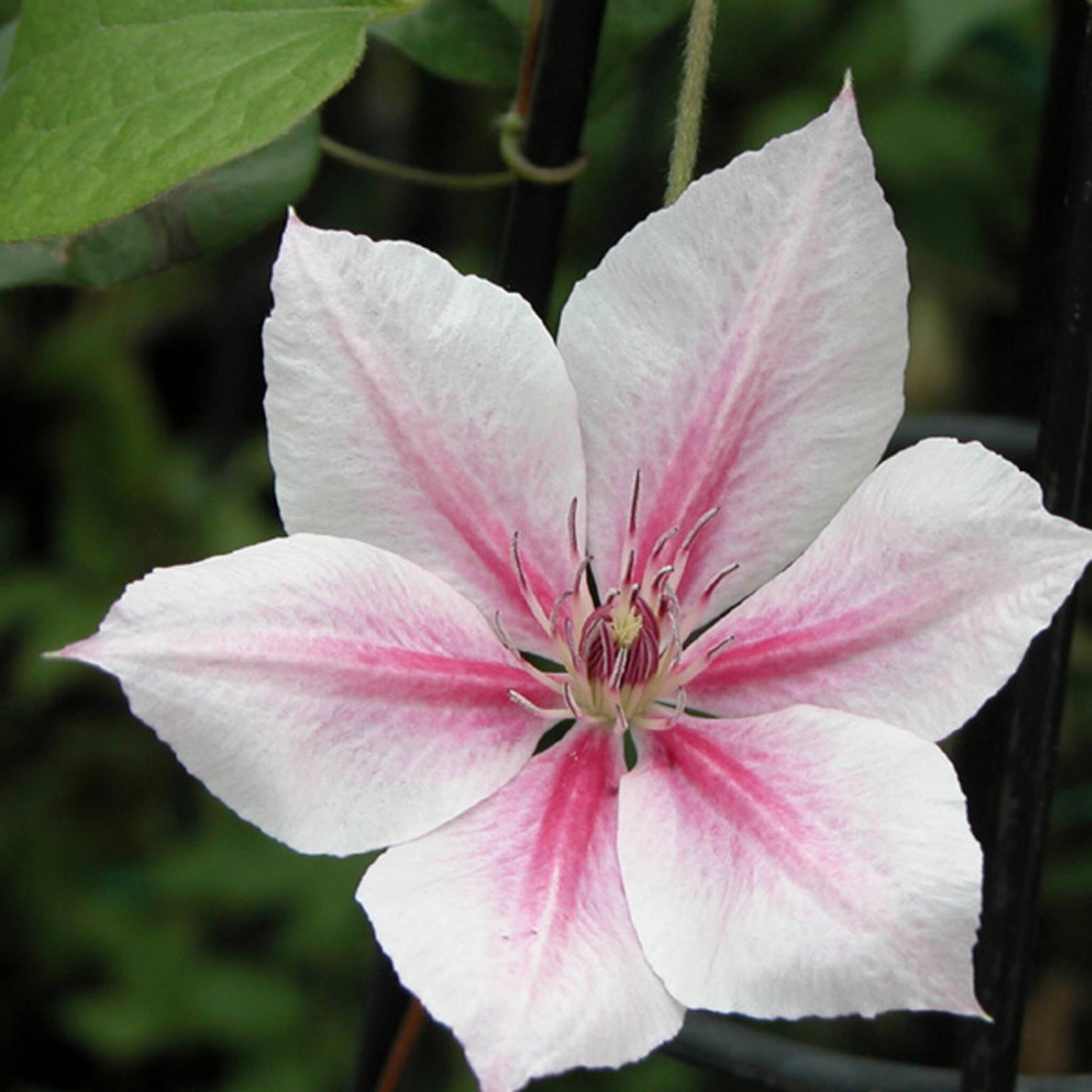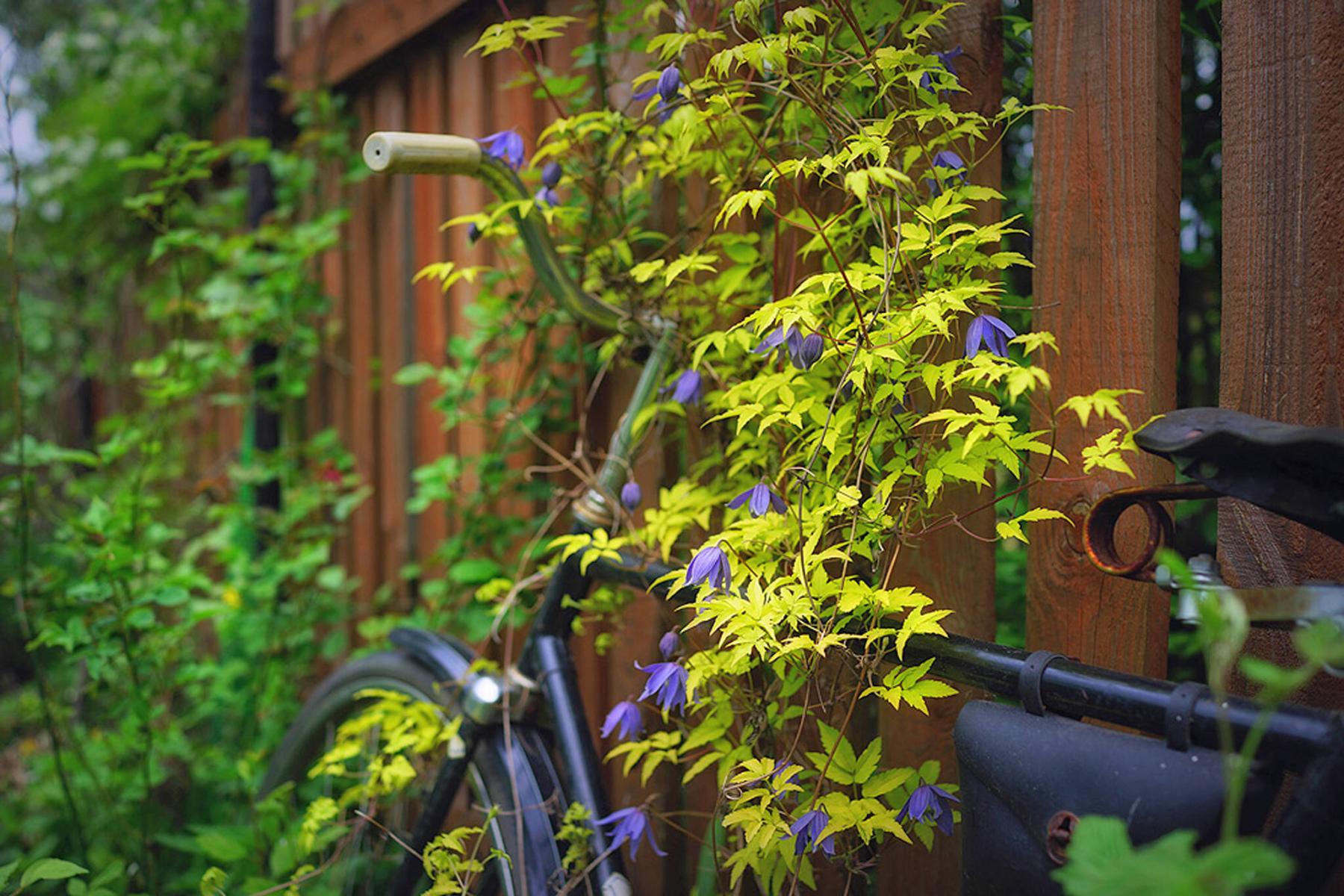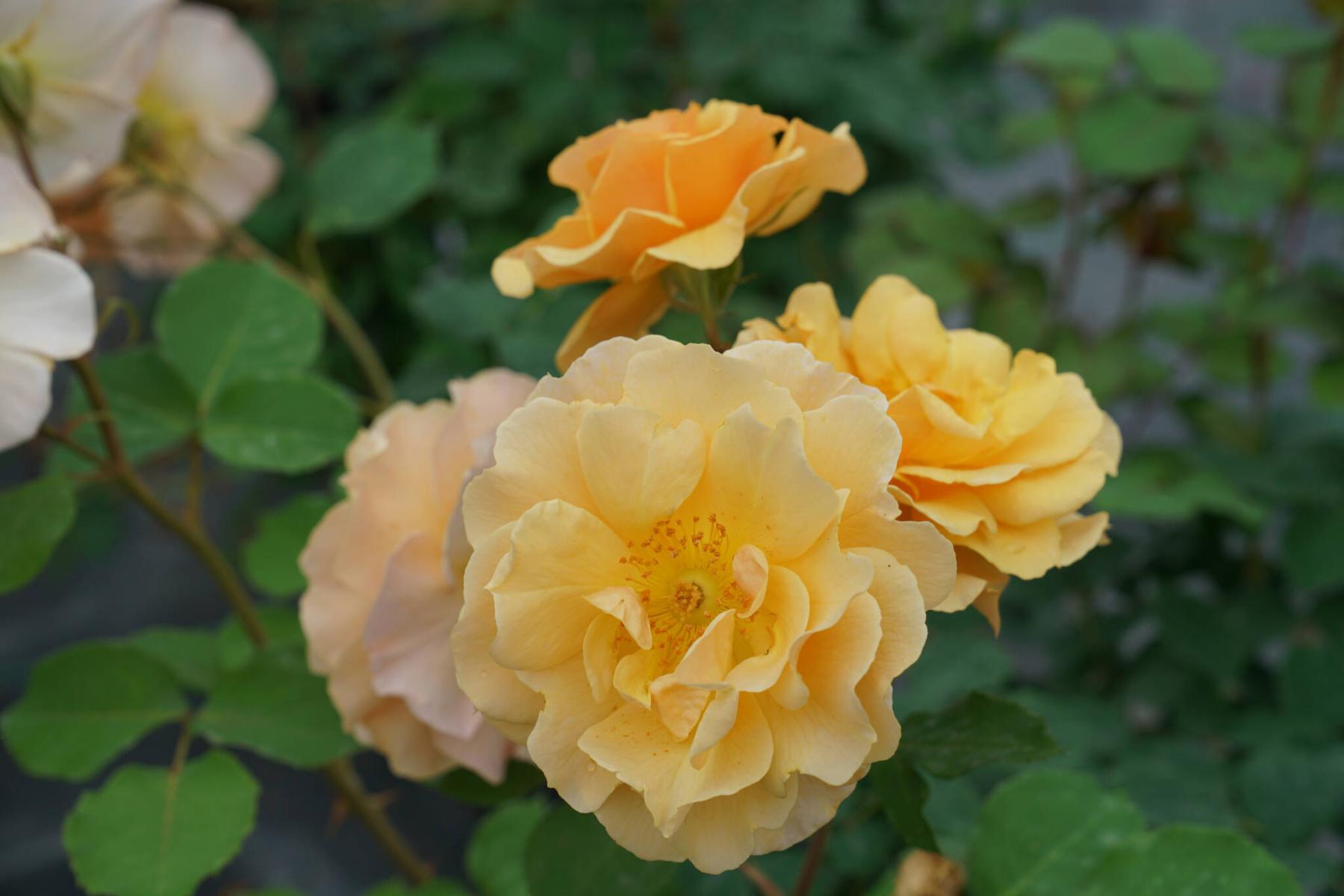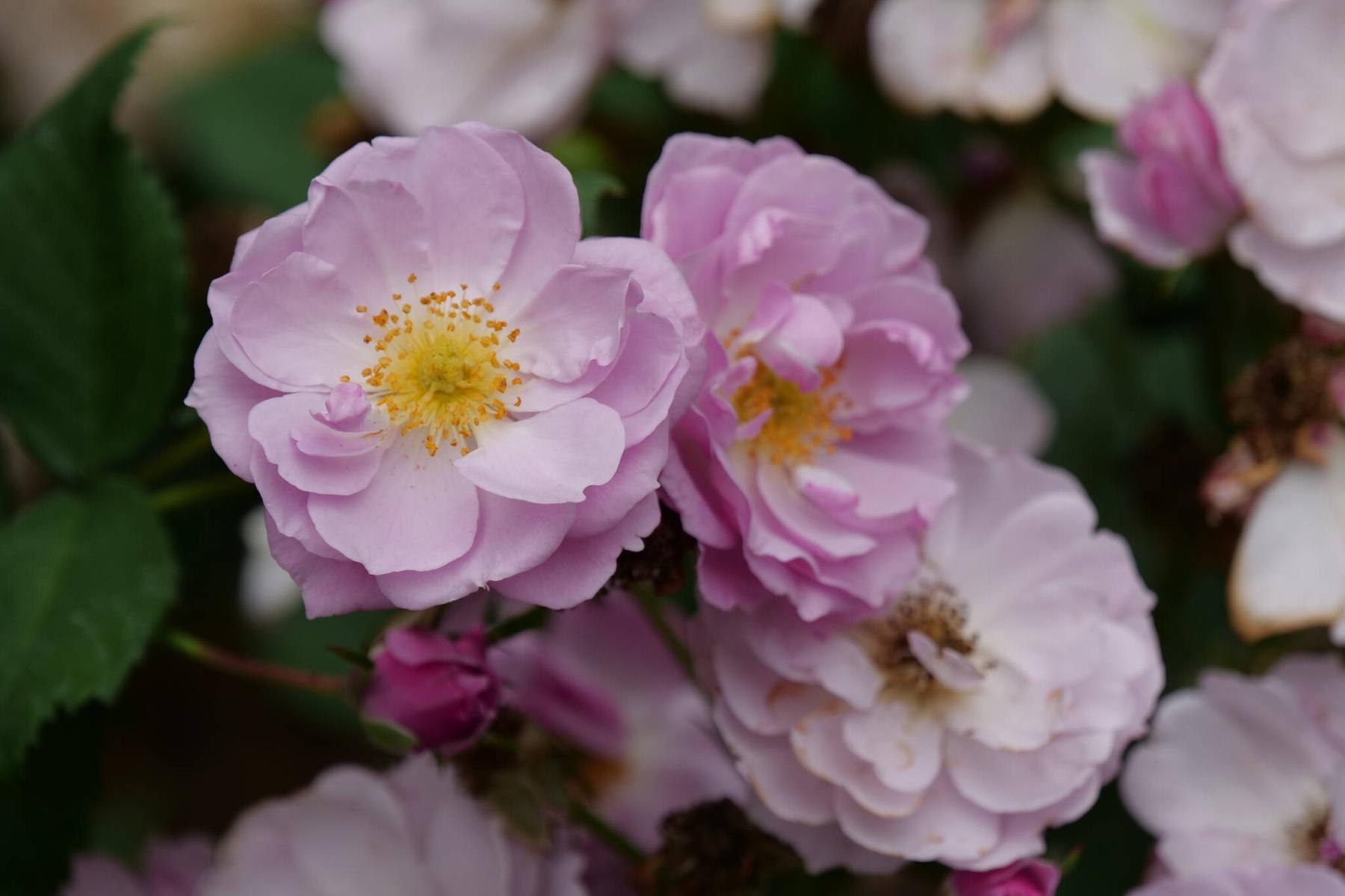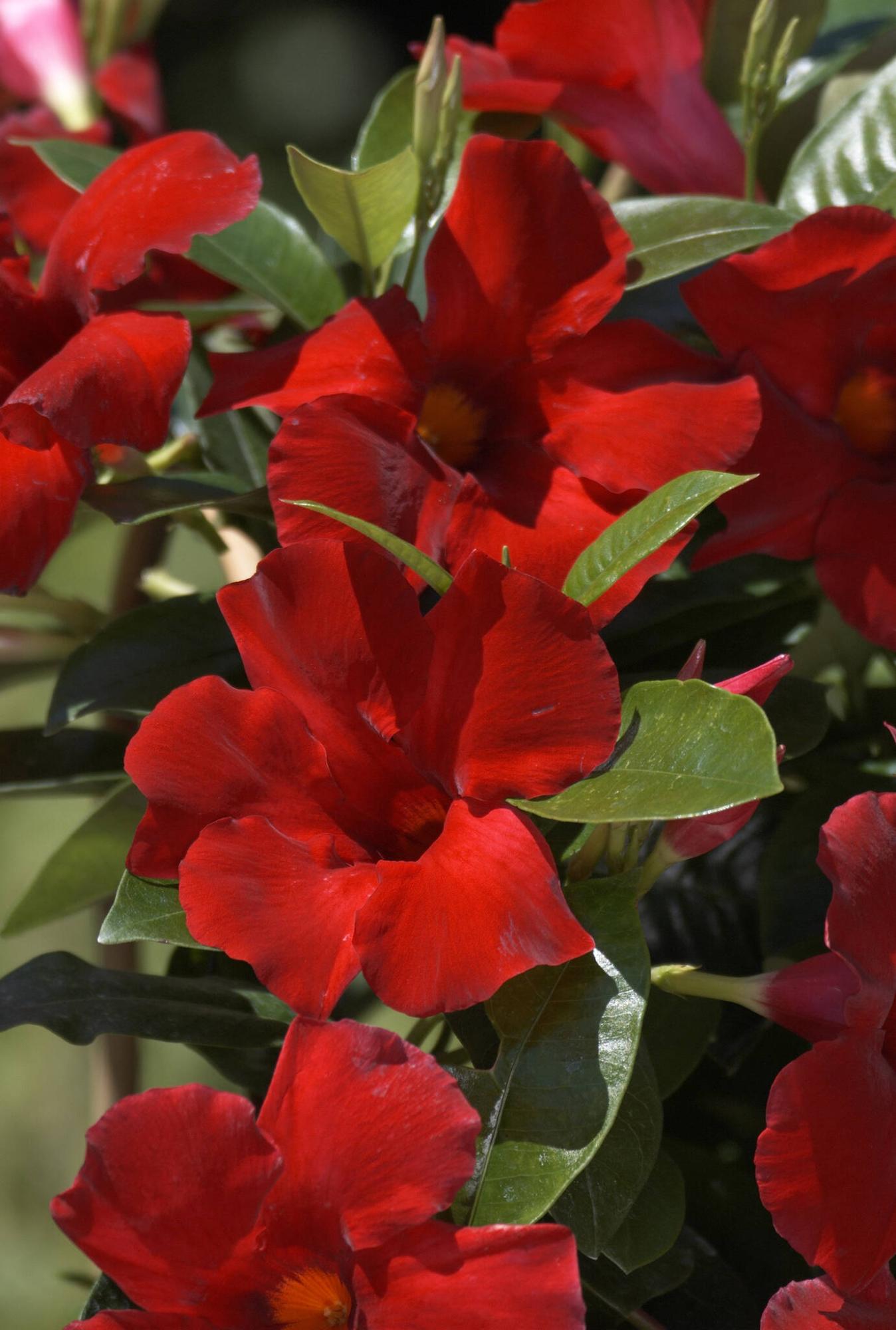 There are many ways to add vertical interest and height to a garden. A built structure such as an arbor, pergola, or garden arch serves as an attractive focal point. Imagine the visual impact that is created when a leafy vine laden with flowers clambers up an open trellis, spilling over when it reaches the top, its trailing vines moving gently in the breezes. Blank outer walls or empty stretches of fence are a missed opportunity until you soften their lines with climbers. The result is a layered effect that enhances privacy. For anyone who wishes to create an intimate space, the design possibilities are as diverse as the types of climbing plants.
John Leperre sees eye-catching design possibilities in climbing plants such as clematis, honeysuckle, and hops vine. He's also intrigued by a new series of mini-climbing roses. Leperre lives and gardens in Winnipeg and is a sales representative for Bylands Nurseries, a wholesale supply nursery located in Kelowna that ships plants throughout North America.
Pink Fantasy is one of the clematis varieties that we will see this year at select garden centres. "Pink Fantasy is a large-flowered clematis with a different shade of pink than I've seen before," says Leperre. The 4-to-6-inch (10-15cm) flowers have pointed petals and bloom from early summer to early September on a compact 6-8 feet (2-2.5m) plant. Hardy to Zone 3, Pink Fantasy can be grown in sun or partial shade. The flowers bloom only on the current year's growth. Pruning Pink Fantasy is easy — cut the plant back in early spring to two sets of buds on each stem close to ground level.
"We're shipping our favourites and that means Jackmanii clematis, obviously the most popular clematis," says Leperre. "Jackmanii's vibrant violet-purple flowers really stand out. It is hardy and vigorous and if you have a large place to fill, I recommend this variety. Jackmanii can grow about as large as the space you can provide but without overtaking a space like a Virginia Creeper vine." Jackmanii's plentiful blooms are the same generous size as Pink Fantasy's flowers but the vine itself grows to a mature height of 12-to-20 feet (3.5-6m). It requires the support of a trellis and can easily be trained to climb a wall, fence or other structure. Jackmanii is hardy to Zone 3 and has a long bloom period (late June to September). Prune Jackmanii in early spring close to ground level.
Jackmanii thrives in full sun which is the planting aspect that is most recommended. But it is also suitable for partial sun and bright shade. Leperre plans to experiment by planting Jackmanii clematis on the north side of his house. "I live in a neighbourhood that doesn't have a lot of large trees. Some of my neighbours are growing Jackmanii on the north side of their house and they bloom quite nicely because they get sun in the morning and late afternoon. I'm interested to see if mine will be as floriferous or if it will just provide leafy cover for the outer wall."
When setting out new clematis plants, work a shovelful of compost into the planting hole. The roots should be kept cool and shaded. Apply a generous layer of organic mulch to the soil surface to help conserve moisture in the heat of summer.
Dropmore Scarlet honeysuckle (Lonicera x brownii) is an underrated vine, says Leperre. A vigorous climber with twining stems and scarlet, trumpet-shaped flowers with an orange interior, Dropmore Scarlet honeysuckle was introduced in 1950 by Dr. Frank Skinner, a renowned plant breeder who lived in the village of Dropmore, Manitoba. This variety grows to a height of 10 feet (3 m) and pruning is not required. You may also come across Mandarin honeysuckle which was developed at the University of British Columbia. It's quite lovely with bright mandarin orange flowers but Dropmore Scarlet is a more reliable bloomer, says Leperre.
Red Wall Virginia Creeper (Parthenocissus quinquefolia) is a hardy native vine that grows in part sun to sun. It climbs quickly by tendrils and is useful if there is something you want to hide from view. It offers splendid red fall colour and will quickly turn your fence into a living wall, but is not recommended for planting near buildings.
Leperre is most excited about Rise Up Amberness and Rise Up Lilac Days, the first-ever climbing roses from Proven Winners ColorChoice Shrubs. These are part of a new series, Rise Up, bred by Chris Warner from Shropshire, England, and can be grown as a climber or a shrub rose. Reblooming mini-climbers, they have a dense habit and exceptional fragrance. Rise Up Lilac Days, which has lovely lilac-coloured flowers with a spray of yellow stamens, can climb 5-8 feet (1.5-2.4m) but Laperre expects it would grow 4-6 ft (1.2-1.8m) in our climate. Rising Star Amberness will climb to a height of about 4 ft (1.2m) and brings unique colour to the garden with amber-yellow flowers that have golden stamens. Both varieties are hardy to Zone 4. For added winter protection, apply a layer of mulch in late fall.
Laperre plans to grow the climbing roses on trellises against the south wall of his house. "My outer wall is white, and it gets quite hot in summer. I would put the trellis a foot away from the wall to provide good air circulation." If the roses are grown on a trellis, the canes will need to be trained but wait until the second year.
Bylands is supplying a limited number of Rise Up Amberness and Rise Up Lilac Days shrub roses to select Canadian Tire stores but check with your local independent garden centres as well about availability. The Rise Up series will introduce additional varieties in 2024.
It takes time for new climbing plants to fill out. Combine them with fast growing annual vines such as Cup and Saucer (Cobaea scandens), Morning Glory, or Mandevilla. Every year I grow Mandevilla SunParasol Giant Crimson on tall trellises in containers. This year I am growing it on a section of fence as a backdrop to Pink Diamond hydrangea and Culver's Root (Veronicastrum virginicum) with white candelabra-like spikes.
I also plan to grow Alpina Stolwijk Gold, an early spring flowering clematis with unusual golden foliage and nodding blue, bell-shaped flowers that are 1-2 inches (3-5cm) across. Stolwijk Gold is exceptionally hardy and easy to grow and is adaptable to sun, partial sun, or bright shade. It grows to a moderate height of 6 ft (2 m) so will find many applications in the landscape. Doris Verhaeghe, perennials manager at Aubin Nurseries, loves the beautiful golden colour of Stolwijk Gold's foliage. It's not often that we can find this variety, but this spring it will be available at some local garden centres.
I'm also looking for Piilu clematis, a moderate grower. Piilu means Little Duckling in Estonian and is pronounced pea-loo. A stunning variety, Piilu is hardy to Zone 3. The light pink flowers with a deeper pink bar and showy, creamy stamens, bloom in late spring on old wood and again in early fall on new wood. Think about the possibilities!
colleenizacharias@gmail.com