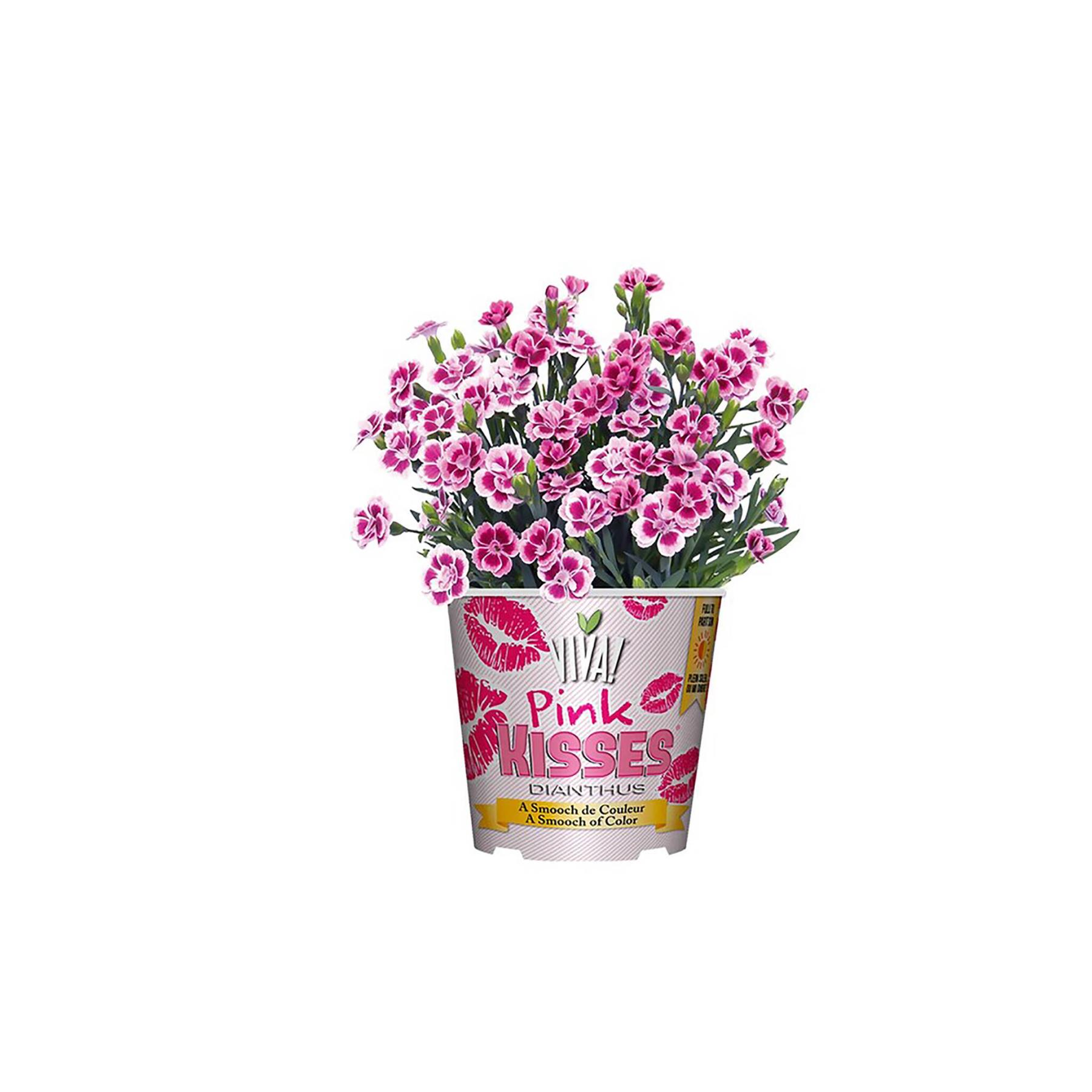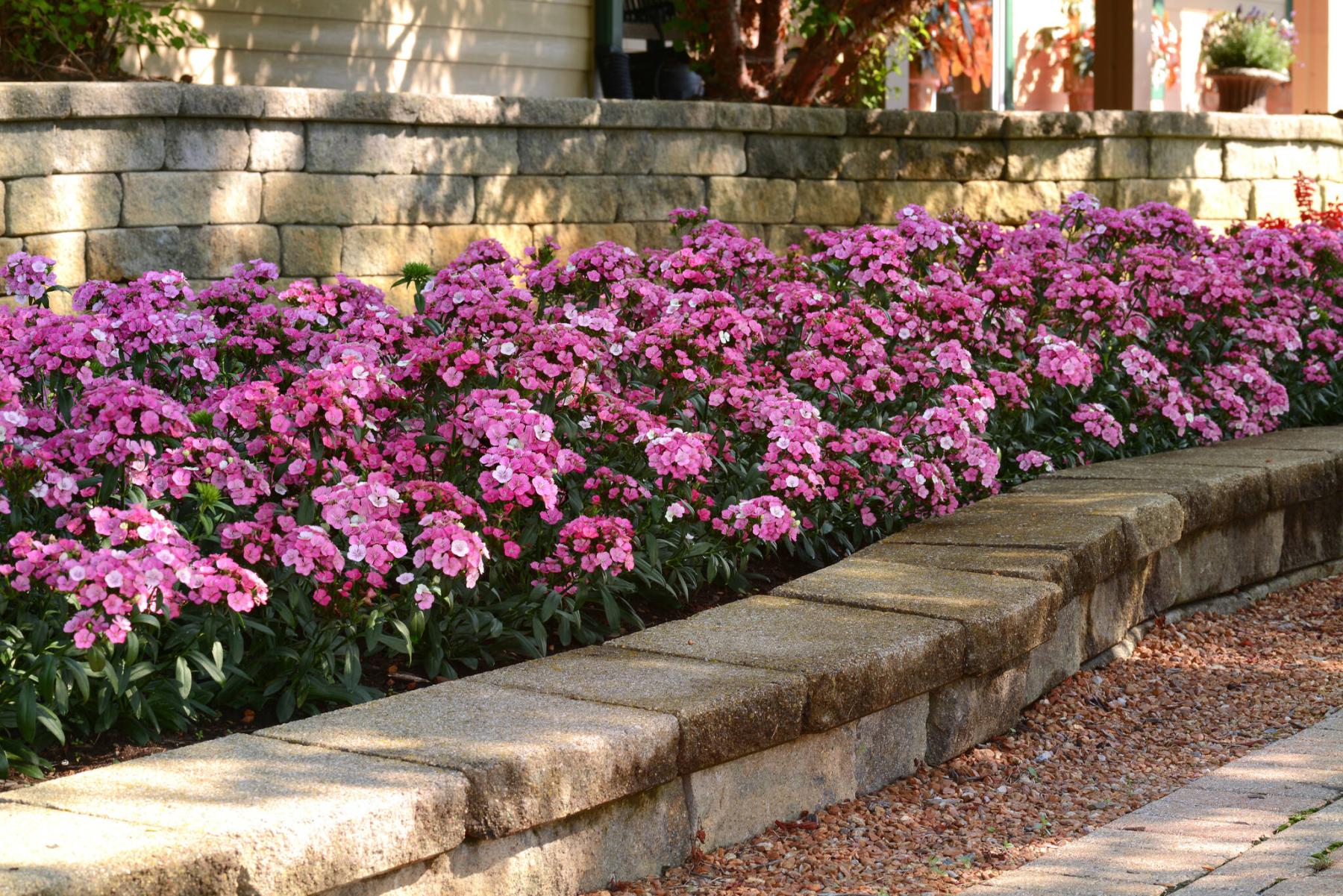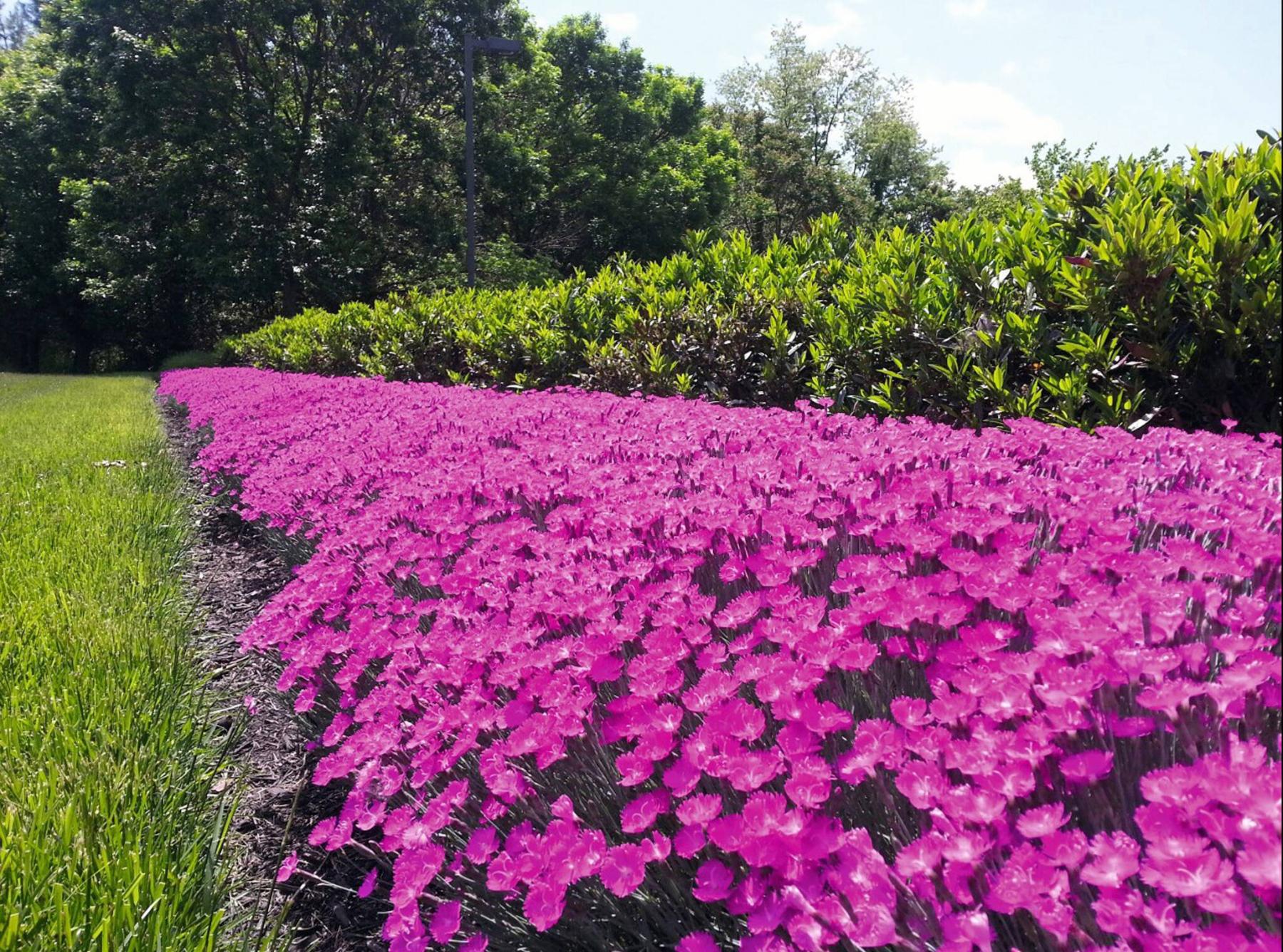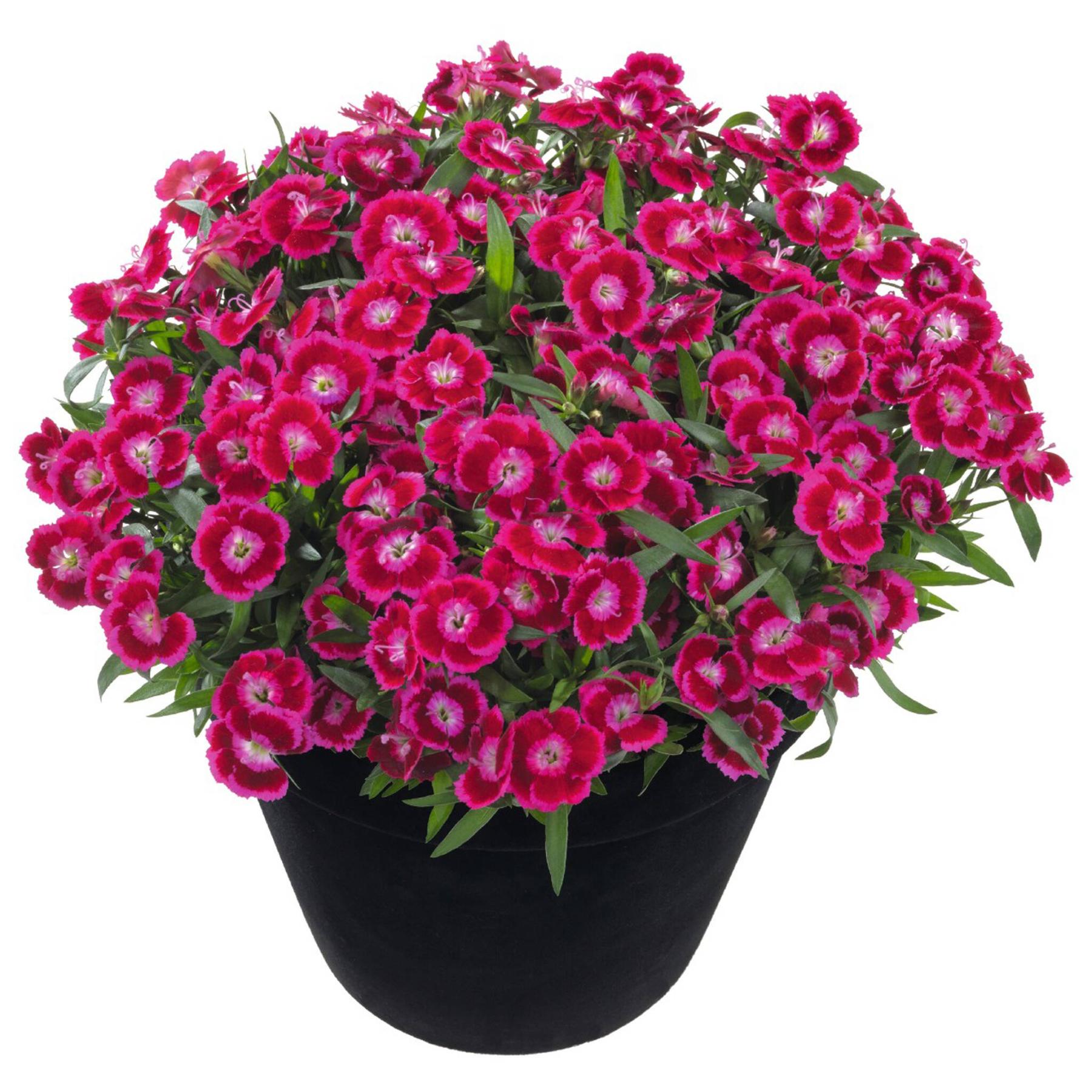 In the last 10 years, tremendous breeding innovation has produced several new varieties of Dianthus, a low-growing plant distinguished by fragrant flowers and grassy, blue-green foliage. Commonly known as pinks, the genus Dianthus has been in cultivation since the 17th century. Today there is a resurgence of interest in dianthus cultivars, spurred in part by a breakthrough development in 2022. After 12 years of negotiations, regulations about bringing in unrooted dianthus cuttings from outside North America — Europe, especially, where the dianthus market is booming — have been finally lifted.
The number of new dianthus series and varieties is skyrocketing. What are some of the opportunities offered by the diversity of new dianthus plants? Perennial varieties offer first-year flowering as well as dependable overwintering. In addition to unparalleled bloom periods that start in May and carry through to August or even September, this ultimate border plant resists deer and attracts butterflies and hummingbirds. Dianthus is also excellent in pots. There are annual varieties, too, to choose from, including versatile new varieties which can be grown in hanging baskets or indoors as a compact, flowering houseplant. If you are looking for an imaginative gift for Mother's Day, dianthus may be just what you are looking for.
Owen Vanstone oversees an important plant trial program for the Prairies at Vanstone Nurseries in Portage la Prairie. A vast range of plants are evaluated for their performance including winter hardiness. The dianthus trial has produced some exciting surprises, said Vanstone in a recent telephone conversation. When Rockin Red Dianthus barbatus (also known as Sweet William) was first introduced to the market, it was classified as hardy to Zone 5.
"We had it in our annual program and then moved it into our perennial program," said Vanstone. "After a three-year trial, there's been 100 per cent success on Rockin Red, Rockin Rose, and Rockin Pink Magic." A recent addition to the series, Rockin Purple, has not been assessed yet, but the series is now rated as hardy to Zone 3. Each of the cultivars feature lacy flowers that bloom in clusters from spring to fall. Their long bloom time and upright growth habit make them an ideal choice for the front of the border. They grow to a height of 50 cm (19 inches) and can be used as cut flowers. Dianthus typically does best in full sun, but the Rockin series can also be grown in part sun. Good drainage is essential.
The Beauties series of dianthus has become a staple in the dianthus program at Vanstone. Initially referred to as Kahori, the series had already established a good reputation for cold hardiness. "Kahori has now been rolled into the Beauties series: Beauties Kahori, Beauties Kahori Pink, Beauties Kahori Scarlet, and Beauties Annabelle," said Vanstone. Those four have been in the program for some time and another five in the series were added to the trial. "The Beauties series bring a day neutral flowering habit so that effectively gives you blooms from May to October. Any perennial that will do that in the garden is pretty hard to resist."
A bloom time that extends from the start of the growing season to the end is like the holy grail to gardeners. We can plant a range of perennials for a succession of blooms in the garden, but the possibilities are even greater for providing sweeps of colourful blooms at the front of a border or in containers. "You can shear back the Beauties series and they just keep developing flowers," said Vanstone. "They really are an outstanding item in the perennial garden."
The Beauties have demonstrated first-year flowering, superior heat and humidity tolerance, and rock-solid cold hardiness. "Year after year, they come back 100 per cent." A key selling feature is that the Beauties series also resists deer and rabbits, said Vanstone. "Another key feature is that they have outstanding fragrance and it's really quite a pleasant fragrance. Very valuable as a gift item." The Beauties series has a mounding-spreading habit and is more of a ground hugging dianthus with a mature height of just 10 cm (4 inches). Flower colours include white, fuchsia, pink, or lavender. "The Beauties series feature a single flower but a ton of them — a whole carpet of tiny little blooms," said Vanstone.
The genus Dianthus belongs in the carnation and pink family (Caryophyllaceae). The Olivia Dianthus series is made up of bicolour varieties with larger flowers. The series includes Olivia Bella, Olivia Cherry, Olivia Sweet, and Olivia Wild. All have a mounding-spreading habit with a mature height of 10-15 cm (4-6 inches) as well as excellent winter hardiness. "With Olivia, which is referred to as a pot carnation, you get larger, frilly blooms and more double flowering," said Vanstone. Olivia's flowers are larger than Beauties by a significant margin."
Jolt Dianthus is an annual series. In 2015, Dianthus Pink Jolt was named an All-American Selection national winner. I almost bypassed it one year because its appearance in the garden centre one May gave little hint of its promise. But when I dropped back to the garden centre later in June, I was struck by Jolt's vibrant flowers and sturdy, upright habit. Ideal for a dynamic mass border planting, Jolt grows 41 cm (16 inches) tall and blooms the entire season.
Falling In Love Rosie is a brand new trailing annual dianthus that is the first hanging basket type dianthus on the market. Bred in Israel, it produces bright pink from spring through summer. Where can you find it? When I last checked, Falling In Love Rosie was available only at St. Mary's Nursery, but we should see greater availability in 2024.
The Home Depot Canada is carrying Pink Kisses Dianthus, a novelty variety that has been wildly popular in Europe for the past 10 years. Mark Beaty, senior live goods merchant, said that Pink Kisses Dianthus which has two-toned pink double flowers will be sold this year in a quart pot. A small number will be available in an 8-inch planter. Pink Kisses Dianthus can be grown indoors or outdoors on patios, balconies, or in the garden and it makes a great gift item. Pink Kisses is a pot carnation which may or may not be fully hardy to our climate. Interestingly, Pink Kisses is a new entry to Vanstone's trial program.
In container gardens, dianthus will provide great texture and plenty of blooms. Keep the soil moist and don't allow it to dry out. Deadhead spent flowers. In the perennial garden, dianthus will work well in mixed plantings. Create beautiful patterns by combining dianthus with other small-leaved perennials that have a similar shape or texture such as Phlox subulata (creeping or moss phlox), Antennaria (pussytoes plant), Festuca (blue fescue), or wild violet. Or plant a sweep of dianthus in front of taller perennials such as Aquilegia columbine, Armeria sea thrift, and upright varieties of Phlox.
I have a series of terraces in my backyard that are planted mostly with low-growing plants but for the past few years I've observed that vibrant, season-long colour has been lacking. Dianthus to the rescue!
colleenizacharias@gmail.com