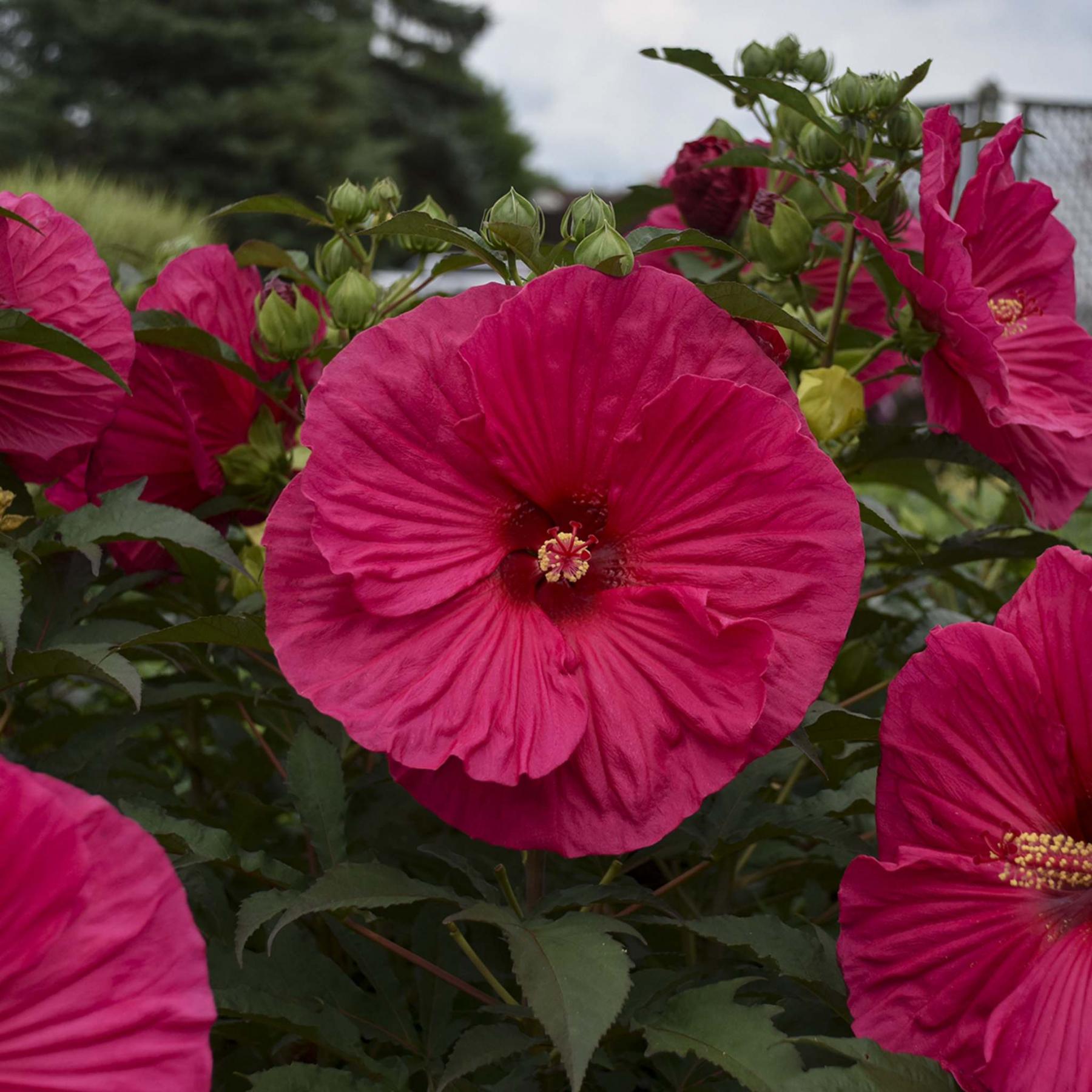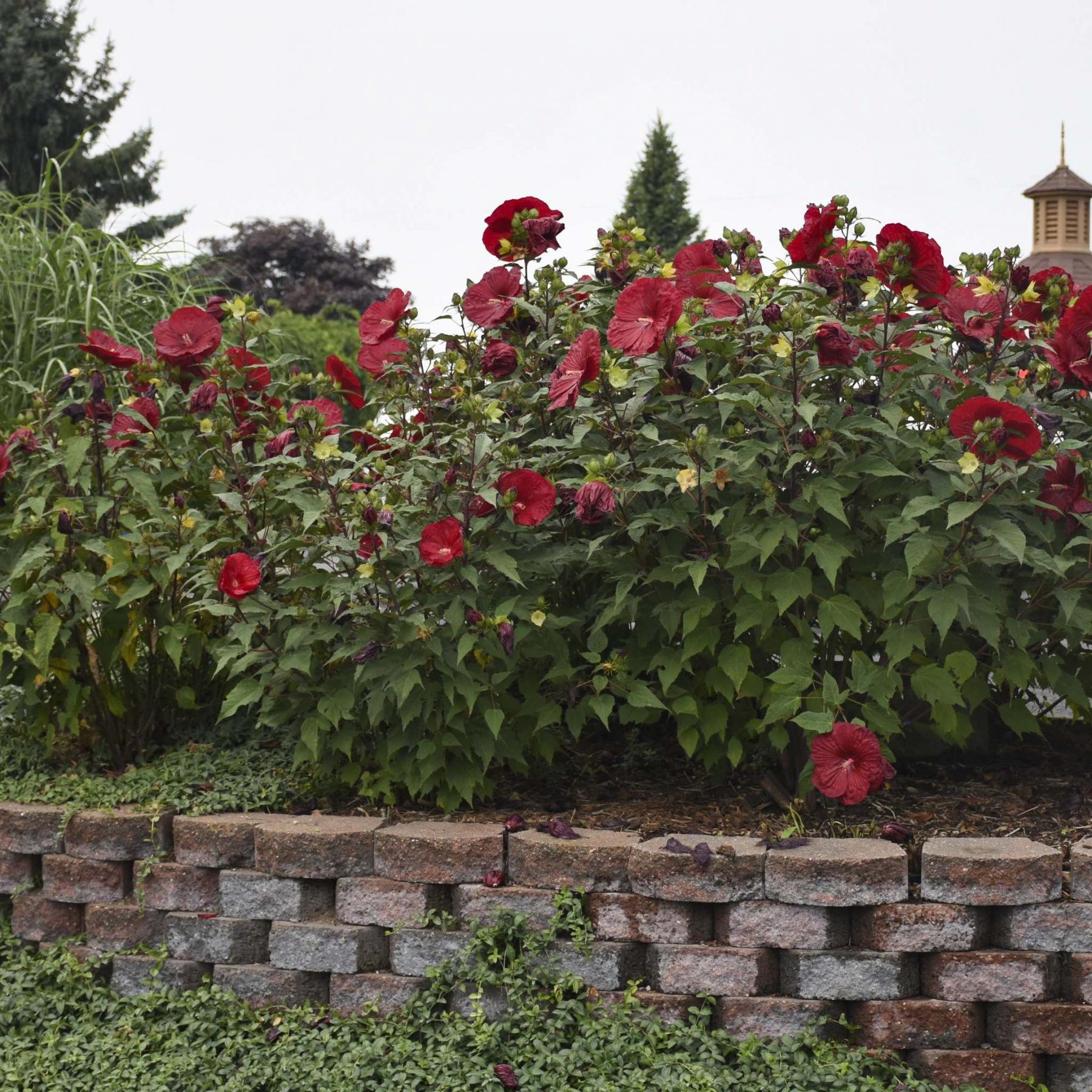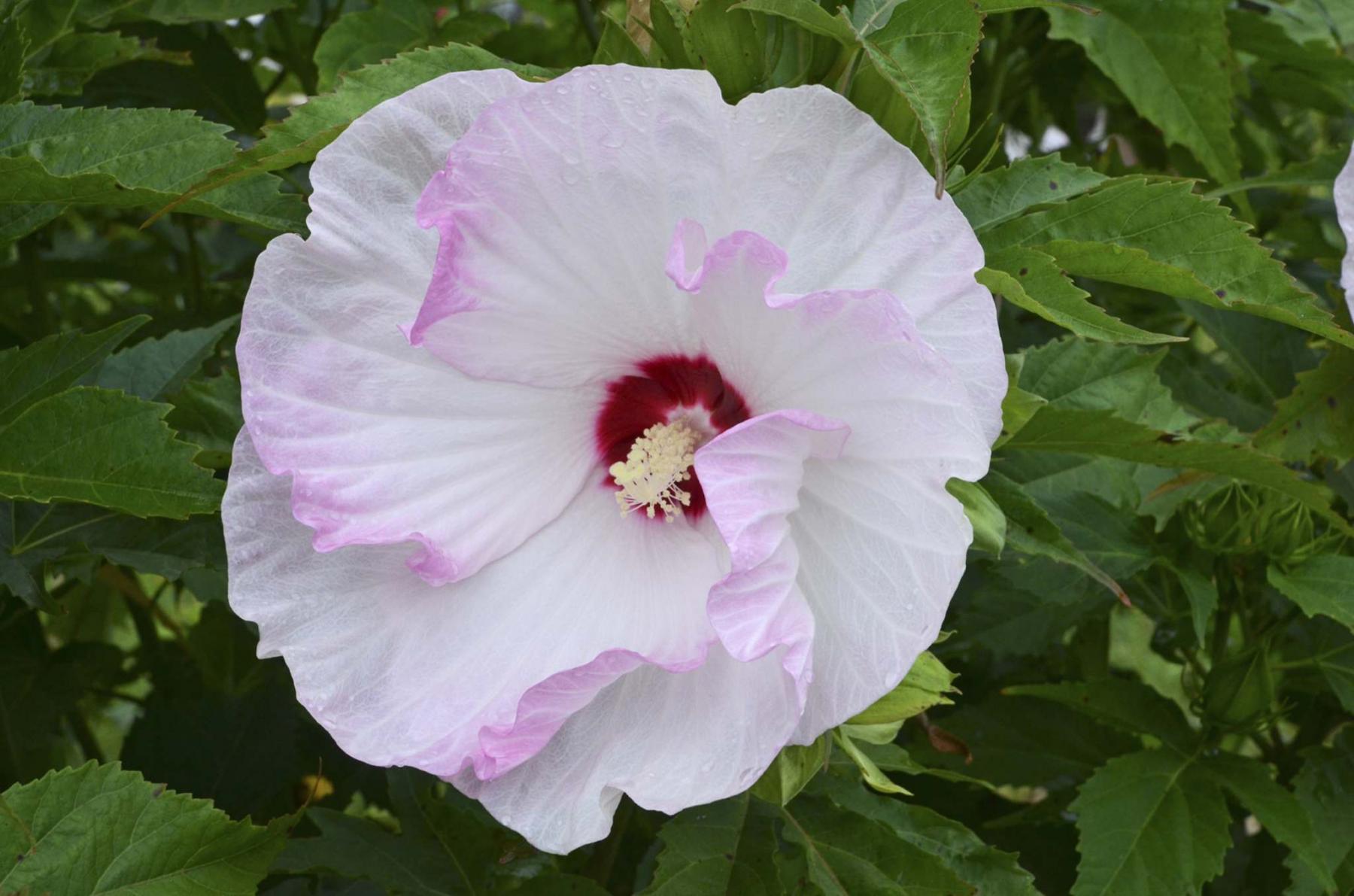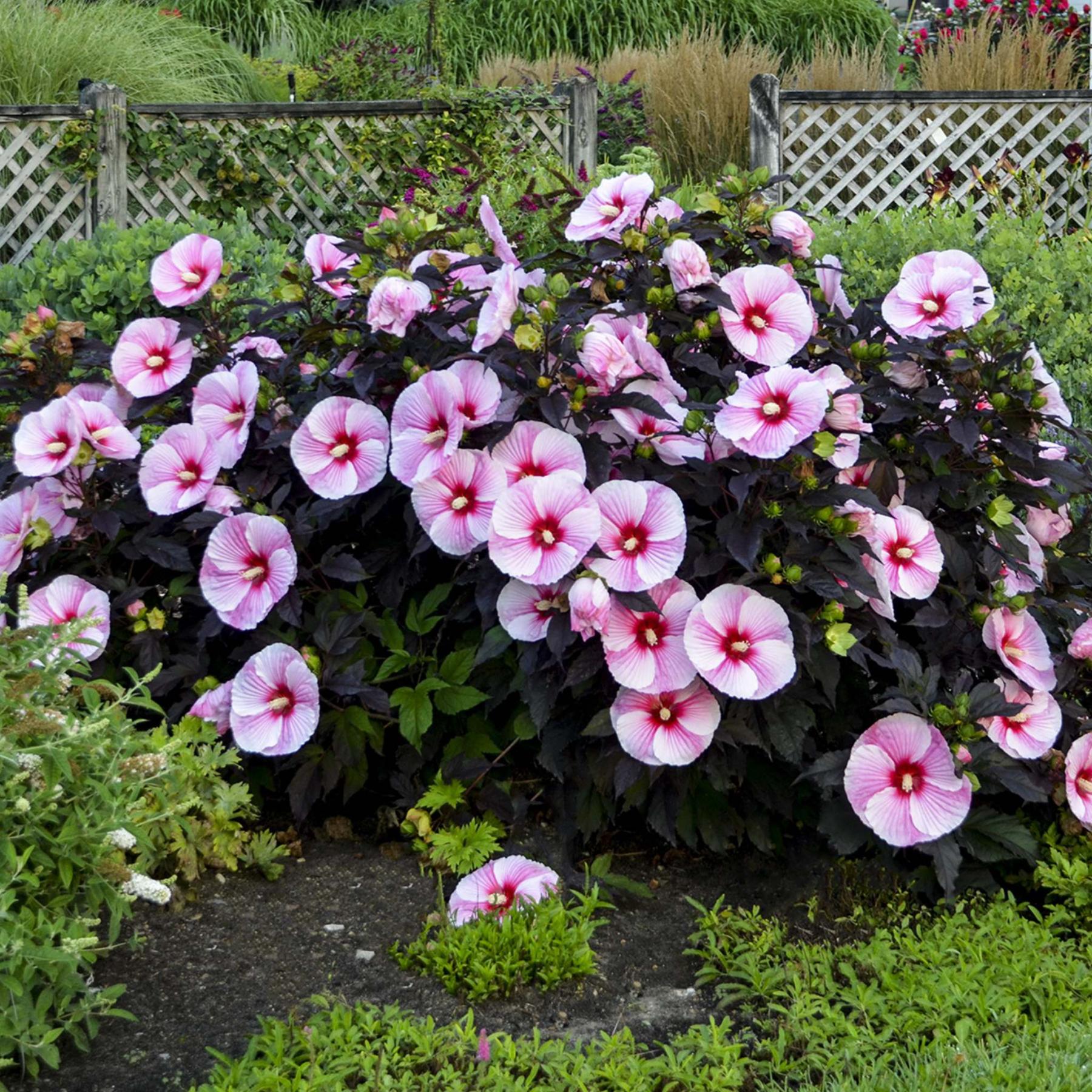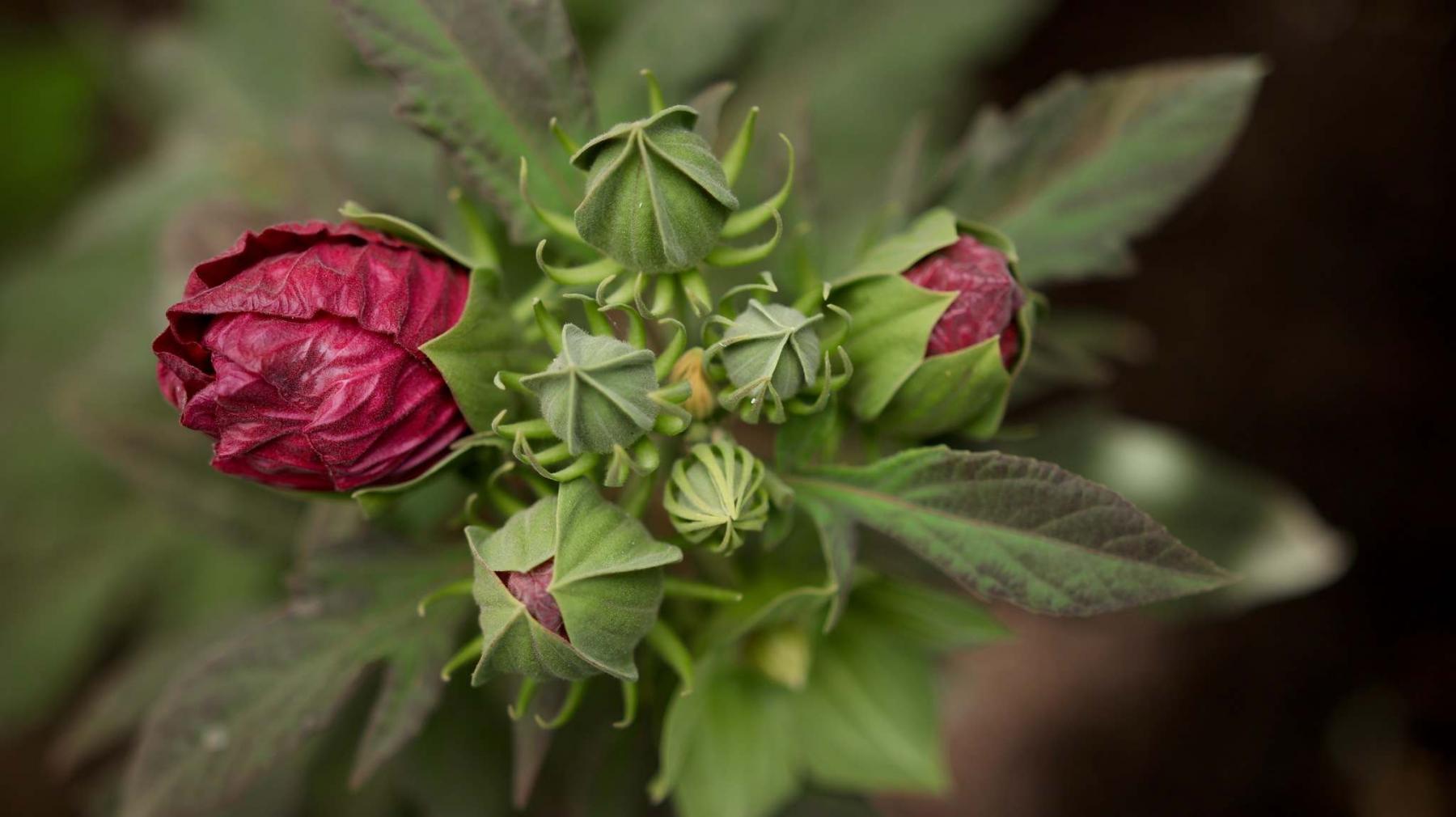 After putting all her energy towards growing into a tall, sturdy and leafy shrub-like clump, July is the month when rose mallow hibiscus hybrid reveals herself in all her glory. You wouldn't want to be a wallflower vying for attention in the garden if you found yourself planted next to rose mallow hibiscus. Subtlety is not the rose mallow's most highly developed characteristic — that would be the immensely beautiful, dinner plate-sized flowers.
Rose mallow, also known as swamp mallow (Hibiscus moscheutos), is native to the eastern and southeastern United States and can be found growing in damp areas such as wetlands and riverbanks. The range for swamp rose mallow also extends into Ontario, where it can be found growing in the coastal marshes of lakes Erie and St. Clair and has the distinction of being the only native member of the genus Hibiscus to occur in Canada.
Over the years, plant breeders have introduced numerous hybrids of the wild species, but with improved characteristics. Older hybrids sported flowers mostly at the top of the plant; however, new introductions have flowers from top to bottom. Perhaps the most well-known series of hardy hibiscus introductions in recent years is the Summerific series of perennial rose mallow hibiscus.
The Summerific series consists of many different varieties, including Ballet Slippers, Perfect Storm, Cranberry Crush, Cherry Choco Latte, Berry Awesome, Holy Grail, Candy Crush and Evening Rose. Proven Winners has named Summerific Berry Awesome the 2019 Perennial of the Year as part of its national plant of the year program. Holy Grail is a new introduction for 2019, and Candy Crush and Evening Rose will make their debut in 2020.
Sue MacLeod, owner of Glenlea Greenhouses, grows some of the varieties in the Summerific series of hibiscus, as well as other hibiscus varieties such as Mars Madness, Plum Crazy, Starry Starry Night, Summer in Paradise and Vintage Wine. All of these are hardy to zone 4a (average minimum temperature of -29 to -35 C). More and more local gardeners, MacLeod says, are having success overwintering Summerific rose mallow hibiscus hybrids in our inclement zone 3b climate (-35 to -40 C). The prospect of these hardy hibiscus varieties surviving our winter climate for even a year or two is just one more reason to try growing them in your garden.
MacLeod overwintered her hibiscus in the ground for three years by adding a deep, protective layer of shredded leaves. It didn't survive the past winter, however. Last July, Maurice Larson, former supervisor of the English Garden at Assiniboine Park, planted Summerific Berry Awesome in his garden. One of the first varieties in the series to bloom, Berry Awesome has 17- to 20-centimetre ruffled lavender-pink flowers with a crimson centre. The broad maple-shaped leaves are a contrasting deep green.
Larson says his plant was a mature size when he planted it in his garden and that it produced a flush of blooms over the summer. "Each bloom lasted one to two days," Larson says, "but in a continued succession of fabulous flowers."
Larson, who planned to overwinter his hibiscus plant similar to the hardy hibiscus he overwintered in past years in the English Garden, provided adequate moisture throughout the growing season and into late fall. He did not cut back his hibiscus, but left it standing so that the stems and branches could catch snow for winter protection. He also mulched heavily and fortunately the plant was in an area with good snow cover.
"At times, I despaired," Larson says as he waited for Berry Awesome to emerge this spring. Hardy hibiscus hybrids are notoriously slow to emerge in spring and typically come up later than most perennials, so patience is required. He thinks it may have been even slower to emerge this year because of May's cool soil temperatures. Despite their late appearance in spring, hardy rose mallow hibiscus hybrids will continue to create a visually striking display for late summer gardens and patios, thanks to their long bloom period.
Larson says his Berry Awesome hibiscus is now a healthy, multi-stemmed plant that is growing rapidly.
For all their exotic beauty, hardy hibiscus hybrids are easy to grow in the garden or containers. Just add plenty of water and deadhead spent blooms regularly. How much is enough water? Consider this: rose mallow hibiscus hybrid plants are suitable candidates for a bog garden. It's important to not allow hibiscus to dry out.
The size of hibiscus cultivars varies, but essentially these are luxuriant specimens that need room enough to grow. In the humid confines of a greenhouse, MacLeod says, plants may grow 15 to 17 cm a day. Some varieties are as tall as 150 cm. She says many of her customers have been eagerly waiting for the hibiscus, which is now ready. In addition to its availability at her retail location in Glenlea, she will also have a quantity available every Saturday at the St. Norbert Farmers' Market. That's where I bought my first hibiscus.
I was struck by the bushy size of the plant, but also by the appearance of the fat buds, which are held on bright green carpels. The buds are exotic and maybe even a little prehistoric looking. There can be no doubt they will open into something incredible.
This year, I plan to try Summerific Ballet Slippers hibiscus, which grows to 120 cm tall and 130 cm wide. Ballet Slippers has attention-grabbing 17 cm hollyhock-like flowers in the softest shades of pale pink with a crimson red eye. I'm also intrigued by Summerific Starry Starry Night, which is said to have the darkest foliage of any hibiscus hybrid. The large flowers are pale pink with dark pink veining.
Vintage Wine is from the Walters Gardens hibiscus hybridizing program and has near-black buds that open to scarlet red flowers, which have a crinkled texture. The heart-shaped leaves are dark green. This shrub-like perennial grows to 120 cm.
Hibiscus Summer in Paradise looks interesting, too. This variety has cherry-red flowers, which are dinner plate-sized, but grow to only 90 cm tall and 105 cm wide.
In addition to overwintering zone 4 hibiscus that has been planted in the ground and mulching heavily, container gardeners may want to experiment with the trenching method. In fall, before the ground freezes, dig a trench (about 35 cm deep) in a protected location that receives plenty of snow cover. The area up against a house foundation facing south works well. Wait until your hibiscus has stopped growing and the leaves have fallen off, then lift it from its pot, leaving the soil around the root ball intact, and lay it in the trench. Cover completely with soil and shredded leaves.
I have overwintered tender hybrid rose tree standards, boxwood and Endless Summer hydrangeas using this method and found it to work very well. In spring, once the ground has thawed, lift your plant. Cut back the old stems on your hibiscus to about 15 cm before new growth appears. Pot it up in fresh soil, gradually move it to a sunny area, water as needed and look forward to another season of bloom.
colleenizacharias@gmail.com