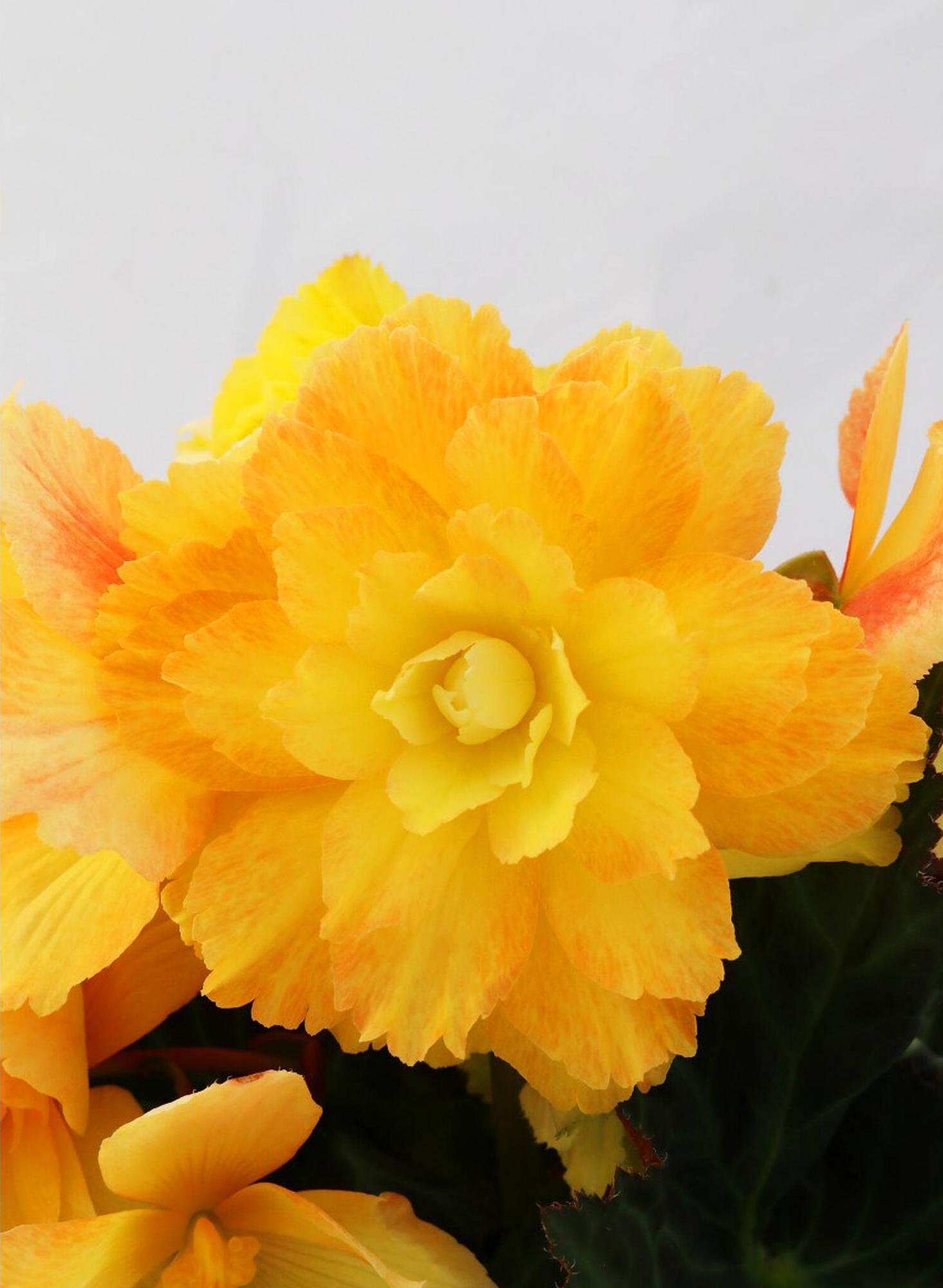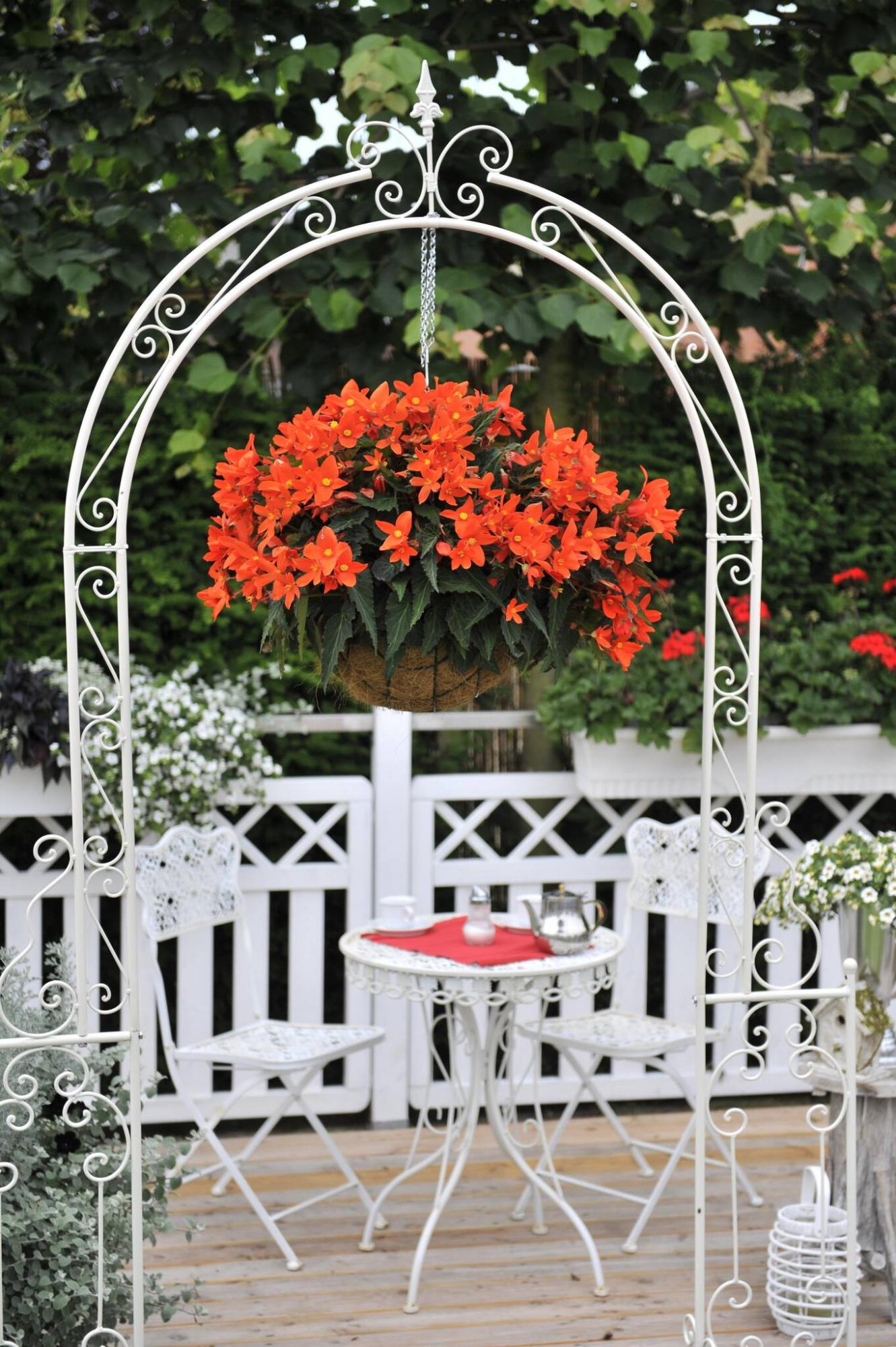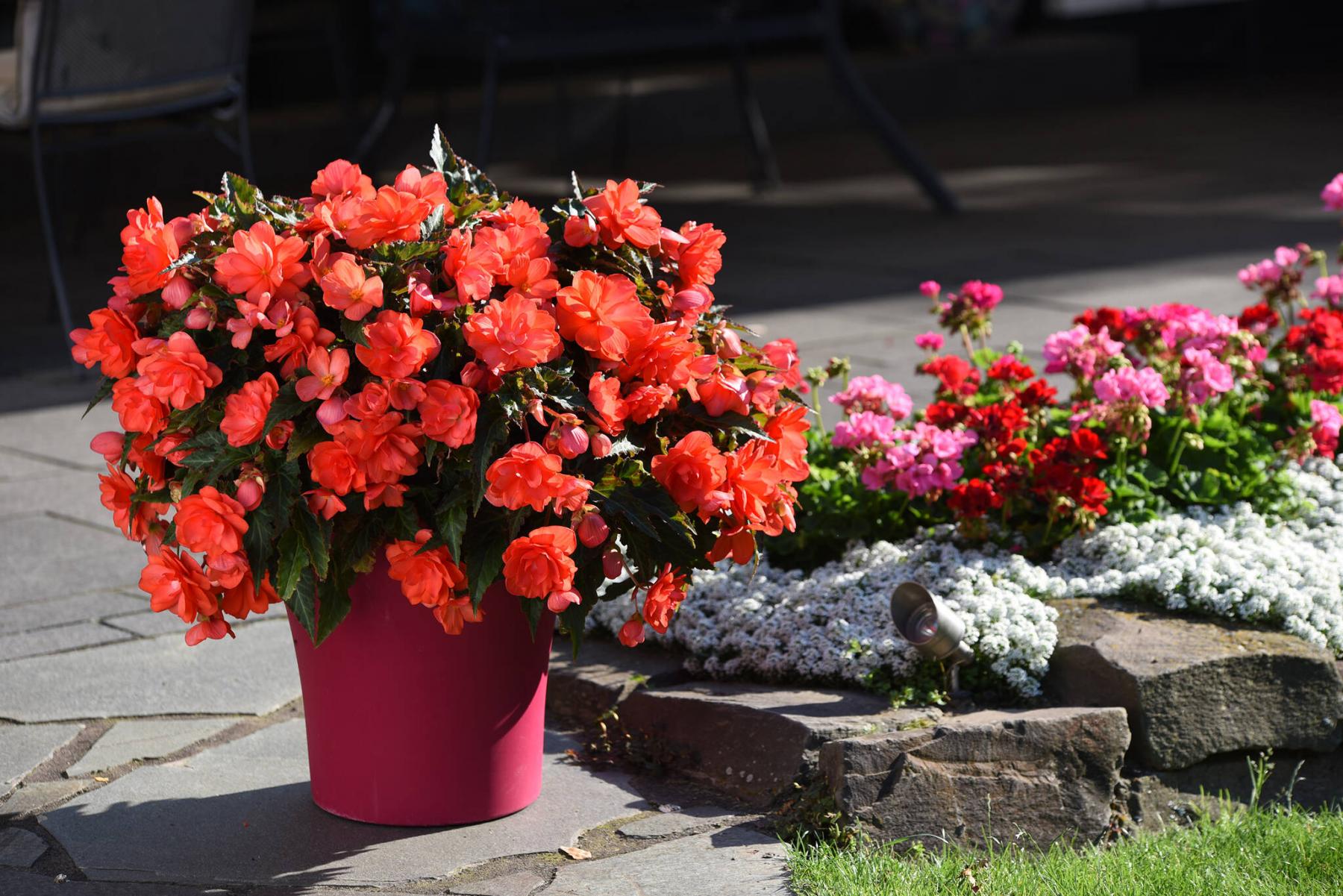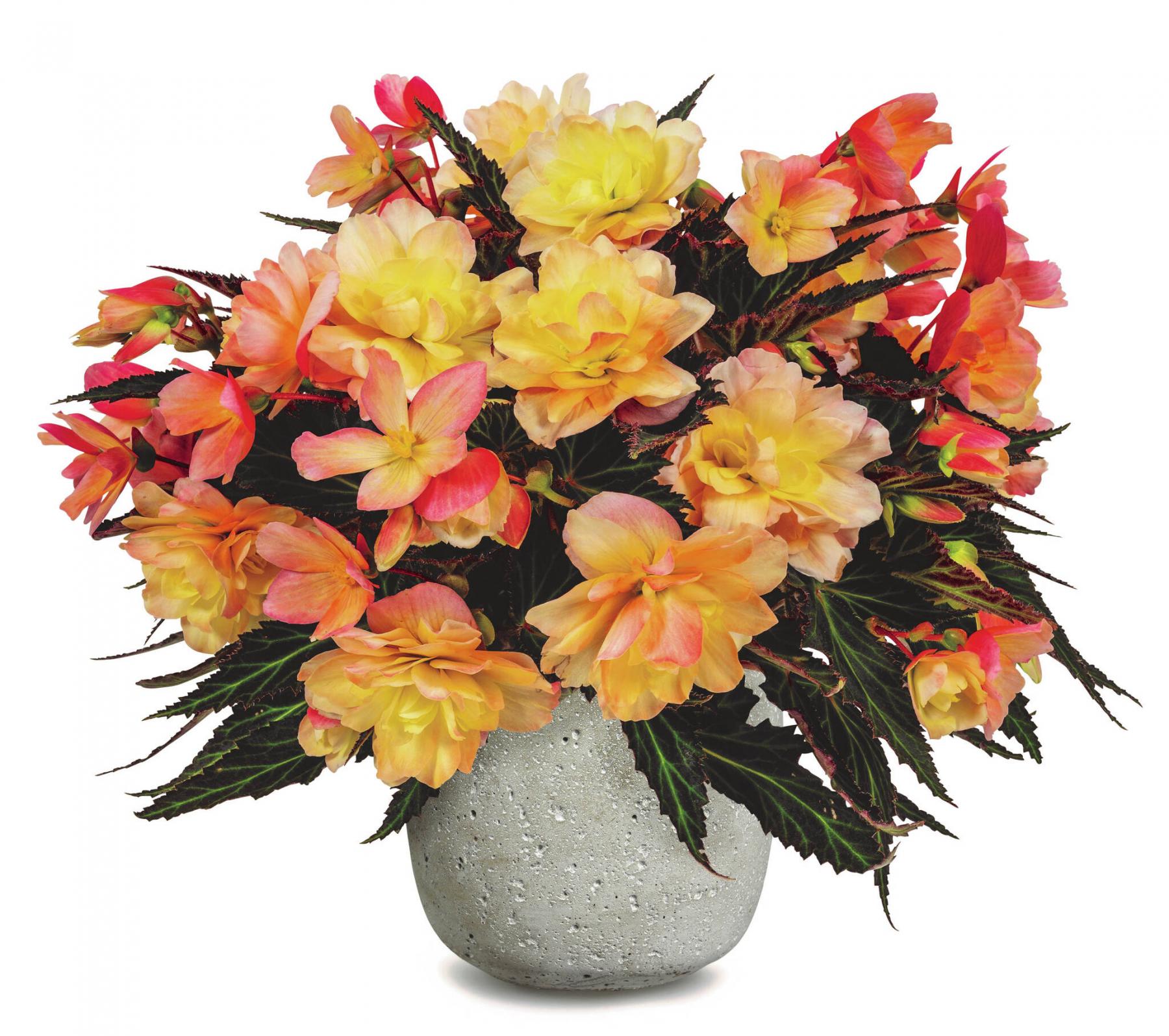 Imagine for a moment that you are standing in your garden or on your patio or balcony on a scorching hot day in late July. After weeks of hot and humid weather and not a drop of rain in sight, the flowering annuals in your pots, baskets, and window boxes look tired and faded. It's déjà vu all over again.
Whether gardeners will see a repeat record-setting heat wave in summer 2022 remains to be seen. For long lasting beauty, select floriferous annuals that exhibit strong heat tolerance, carefree flowering performance, vigor, and habit. The iconic I'Conia begonia line from Dummen Orange delivers on all counts. I'Conia begonias have been a favourite of mine ever since the introduction of Miss Montreal several years ago. Prior to 2015, I was in the habit of planting tuberous begonias in my containers every year but as beautiful as they were, the displays were restricted to shady, protected sites.
The arrival of I'Conia Miss Montreal begonia marked a turning point. Not only does she thrive in part sun and part shade locations, her creamy double flowers with peachy-pink tones accented by lance-shaped leaves spill luxuriously out of containers, hanging baskets, and window boxes – without deadheading. I might have been satisfied if the beautiful display lasted all summer long, but I've grown I'Conia begonias in my garden long enough to know that the beauty of the display only intensifies in fall.
Miss Montreal will remain an annual favourite for many of us but new additions to the I'Conia line are not to be missed. Dummen Orange's I'Conia Scentiment Peachy Keen was named the Industry's Choice Award winner during the Greenhouse Grower's Medal of Excellence reception held at Cultivate'21. Regarded as a breakthrough in the genetics of hybrid garden begonias, Scentiment Peachy Keen was also awarded the prestigious FleuroStar award by Fleuroselect last June in Germany. Scentiment Peachy Keen represents the first fragrant addition to the I'Conia lineup.
When Dummen Orange acquired the sweet-smelling Scentiment begonias, breeders crossed the variety into their I'Conia line to improve its habit and increase its flower count while retaining its strong citrusy fragrance. Diane Surette is Dummen Orange's general manager for Canada. "The flowers don't fall off and there are many, many more flowers," she says. The flowers are soft yellow with peachy undertones and the green leaves with their pointed tips have a slightly serrated edge. The robust branching and upright form will work well in containers and window boxes in both part sun to part shade or full shade.
Lemon Berry is another new I'Conia selection that will be available this spring. Lemon Berry has appealing, bicolor blooms that are light berry pink with lemon yellow centres and a trailing habit. The dark pointed foliage with chartreuse green veins is a standout feature. Lemon Berry's blooms are so beautiful you may want to take a bite out of them. Go ahead, a little nibble won't hurt you, Lemon Berry's blooms are said to be edible.
In addition to Miss Montreal, the internationally award-winning I'Conia Miss varieties include Miss Miami and Miss Malibu. Their cascading habit makes these varieties ideal for hanging baskets and window boxes. The slender stems ably support the masses of fully double blooms. This spring, look for Miss Malibu which features extra-large coral blooms. Her foliage is a rich, dark green.
The I'Conia Portofino series offers a more mounded habit. Last year I grew Portofino Yellow and Portofino Hot Orange in containers and window boxes in both part sun and part shade locations. The colours stayed brilliant throughout the growing season. The display remained outstanding right up until the middle of October. This year I plan to add Portofino Citrix. I'm intrigued by the slightly fringed edges of the double flowers but especially by the hints of orange that are like soft brushstrokes on the golden yellow petals. So attractive.
For a different look altogether but with the same sultry appeal, I'Conia Upright varieties – Fire, Salmon, Sunshine, White – have large single flowers and distinctively dark, dark foliage. I'Conia Upright is well-suited to large planters as well as landscapes.
For smaller containers, the I'Conia Bacio lineup offers more compact varieties in a range of colours.
I'Conia begonias produce such an abundance of flowers that they are ideal as standalone plants. For containers in part-shade locations, I like to tuck in maidenhair fern for its delicate texture or Callisia repens, a fast-growing, creeping succulent that spills over the edge of containers. For larger containers, I combine multiple begonias and trailing plants such as ivy or Sunburst Lysimachia with the addition of coleus for height and contrasting texture. For part shade or full shade containers, try pairing I'Conia begonias with the stunning foliage of Jurassic Rex begonias. It's a dynamite combination.
I'Conia begonias, no matter which variety, will always perform equally well together, says Surette. "One of the big breakthroughs in our I'Conia breeding is that the flowers hang on, they do not snap off easily, ensuring long term beauty."
What's essential is to resist the temptation to put your begonias outside too early in the season. Begonias do not tolerate wet, cold feet. Late spring is ideal for planting begonias – after the first week of June, for example, when there is no risk of frost. As an interspecific hybrid begonia, the I'Conia has been bred to not only have larger flowers but to tolerate extreme heat, direct sun, or shade. Surette recommends watering twice a week.
In drought conditions, however, it's tempting to overwater. Take your cue from your local garden centre where experienced staff allow the soil surface of begonia plants to dry between waterings. Stick your finger into the soil and if it is dry one to two inches below the soil surface, it's time to water. Or if you prefer, test the moisture with a screwdriver. If it comes out easily, your begonia is probably fine for another day or two or more.
It's possible to grow I'Conia begonias in full sun conditions if you are prepared to water them more often. Again, it's important to strike the right balance. I'Conia begonias are not prone to root rot but if they are routinely overwatered, don't expect them to survive. Like any annual plants that you bring home from the protected environment of a greenhouse, remember to gradually introduce your I'Conia begonias to the outdoors to prevent leaf and petal scorching.
colleenizacharias@gmail.com