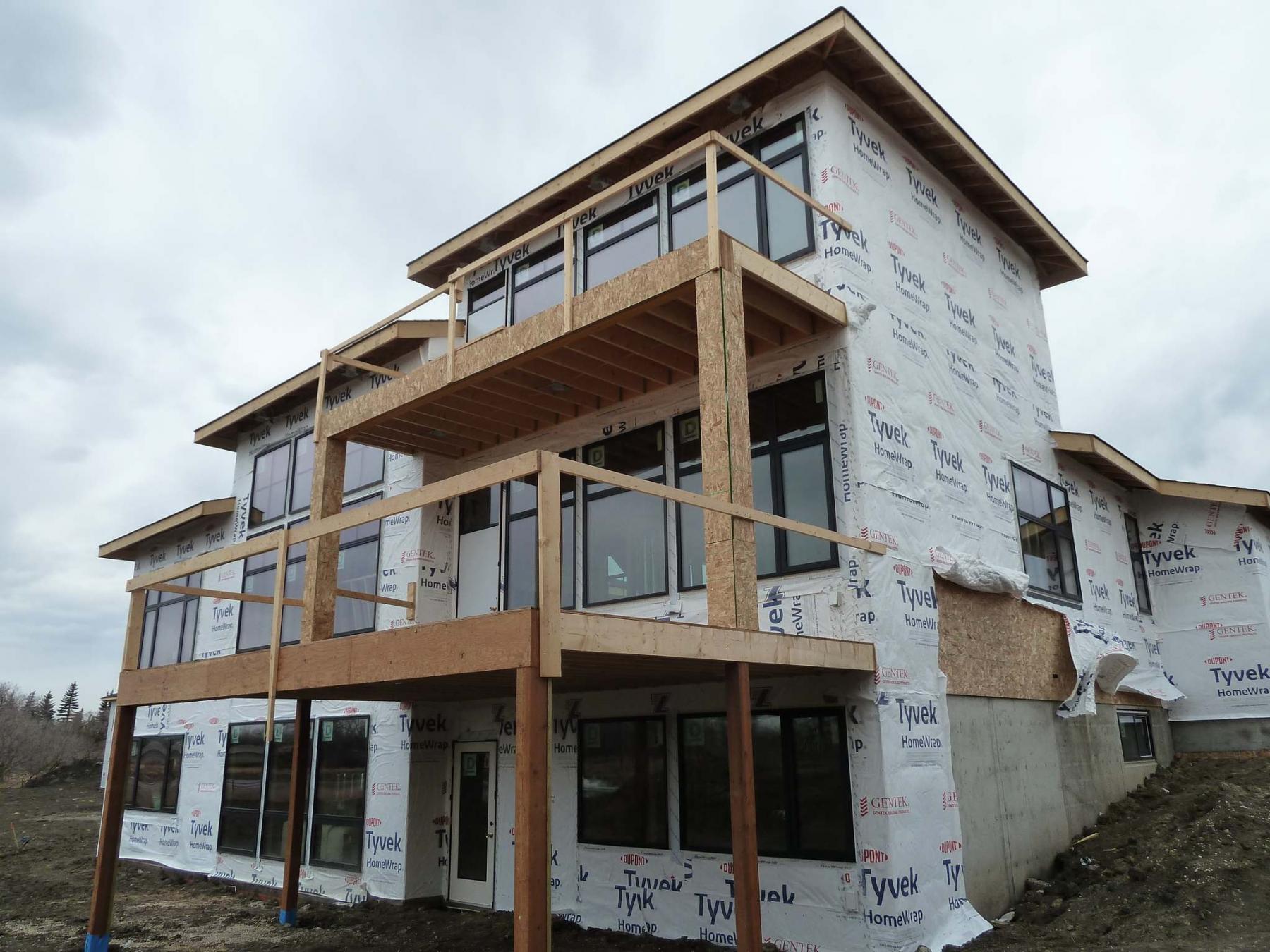 Mark your calendars!
Today I'm taking you into one of the most gorgeous show homes you'll ever see, but it won't be ready till this fall, so you'll not only have time to arrange your schedule, but also to get vaccinated, so you can schmooze during the tour.
SO looking forward to this virus being HISTORY!
In the meantime, follow me into this stunning Irwin Home, currently under construction at 52 Curry Dr. on the Assiniboine River, in Headingley.
I loved it the second I saw it, because it does the most important thing you can do on a fabulous lot like this — maximize the view.
The whole front of the house is glass.
My thanks to David Powell of the Powell Property Group for sending me the stats on this palace, such a magnificent residence this will be.
The design definitely reflects the times, because with so many of us working from home now, I was pleased to hear the spacious second-floor bedroom I was admiring, with a door out to a good-sized balcony, is actually going to be an office, with an excellent view of the river.
What an inspiring, comfy space to create in.
Interesting also to note what an historically significant stretch of river this view includes.
Within view from the balcony of this home is a CPR train bridge, built in 1882, and still in use today. Worthy of note to mention that this bridge was constructed with a turntable in the middle, allowing the bridge to swivel open to allow for the passage of steam barges and large paddlewheel boats hauling cargo and people up and down the river.
Along with busy river traffic, and trains whistling through, the bridge area has been a corridor for all kinds of prairie traffic, as a rope-style ferry had also been built at this spot way back in 1869, with major upgrades to follow in 1880 and 1905.
From the Headingley Historical Society: "In the last half of the 1800's, southern Manitoba farmers crossed the Assiniboine at this point bringing grain by wagon over the ferry to Winnipeg mills, often camping here on the river banks and returning the next day with supplies. Stage coaches crossed here to deliver mail to southern Manitoba."
As for historic traffic through this home's front yard, it was also a well used trail for Indigenous peoples following bison along the river.
You won't be seeing that today.
So how much living space will be backing up this phenomenal view?
We're talking 2,718 square feet in the main house area, and with the walk-out basement included, total livable space will be around 4000 square feet.
Floor covering? From the spec sheet: "Hardwood to the great room, entry/hall, kitchen, dining room, powder, foyer and stairs. Laminate with foam underlayment in the loft, lower level lounge area and hall; carpet to all bedrooms and lower level stairs with 3/8 high density pad; stairs clad in hardwoods from the main floor floor to the second floor, carpeted from the main floor into the lower level, and luxury vinyl tile in the rear entry, WIC, pantry, lower level baths and laundry."
Oops, I left out "heated tile to the main-floor ensuite." Well of course there is.
Interesting details: All bathrooms, bedrooms and laundry walls insulated for sound (a very good thing); Christmas light plug on an extra switch; instant hot water for the kitchen sink, I mean, just so much more, including, in the garage, one outlet for a future electric car.
Dry air a problem for you? No worries, there will be a humidifier installed on the main floor furnace. And for those cool fall and winter days, a gas fireplace in the Great Room, and an electric fireplace in the lower level Great Room.
So cosy.
Can't wait to check out the finished mansion during the Fall Parade of Homes — HOPE I'M MASKLESS!
Comments and feedback welcome!
lmustard1948@gmail.com