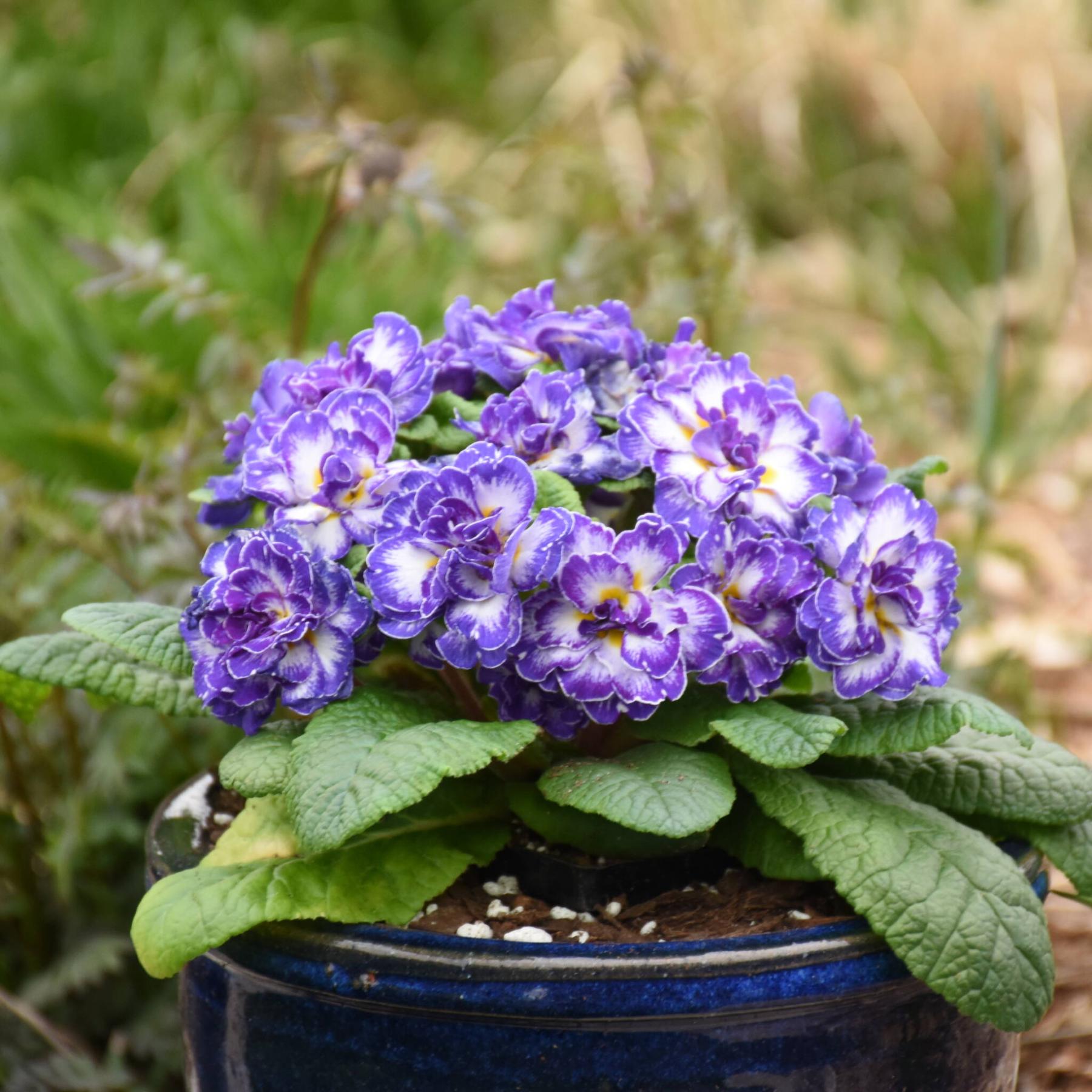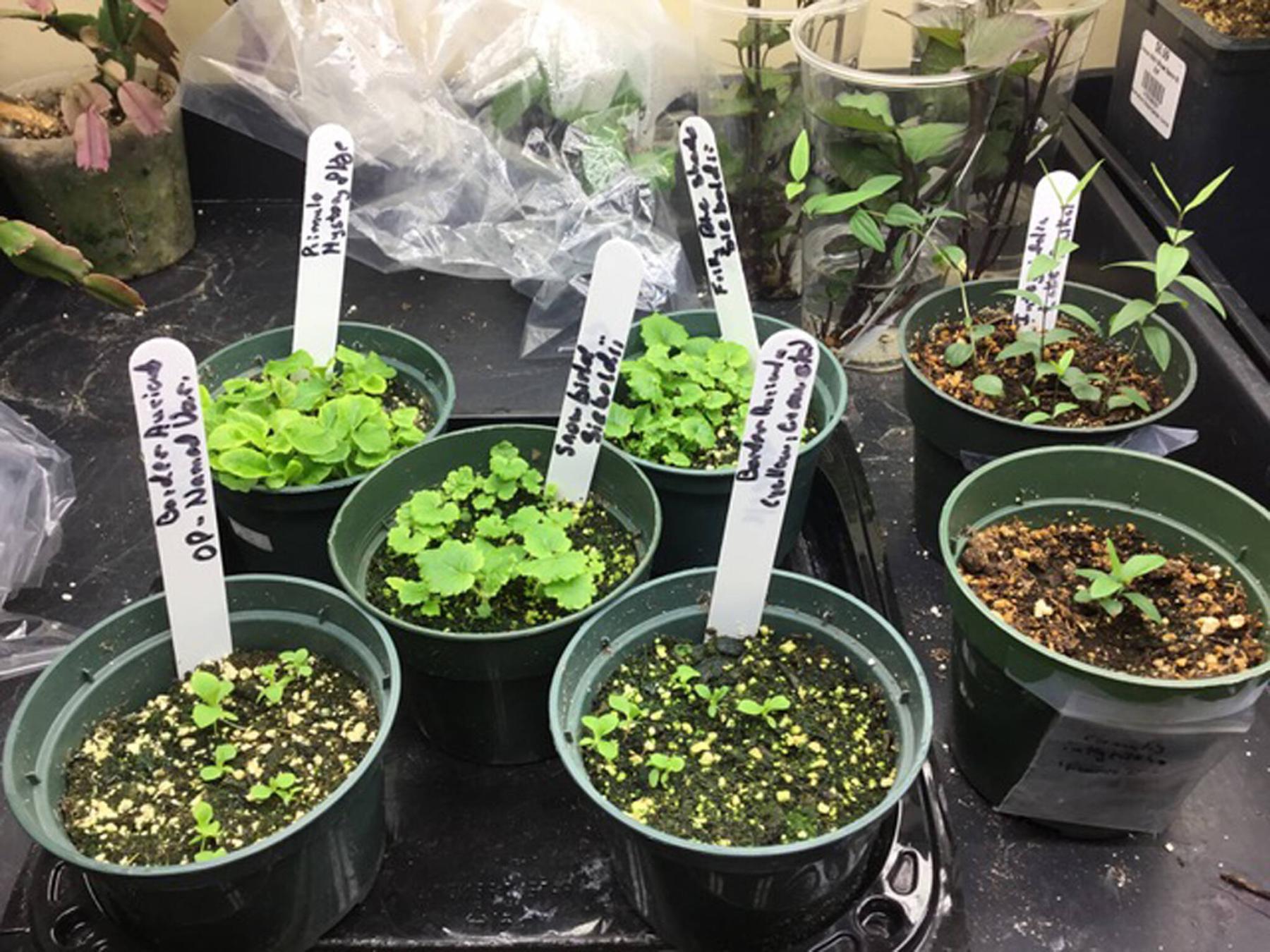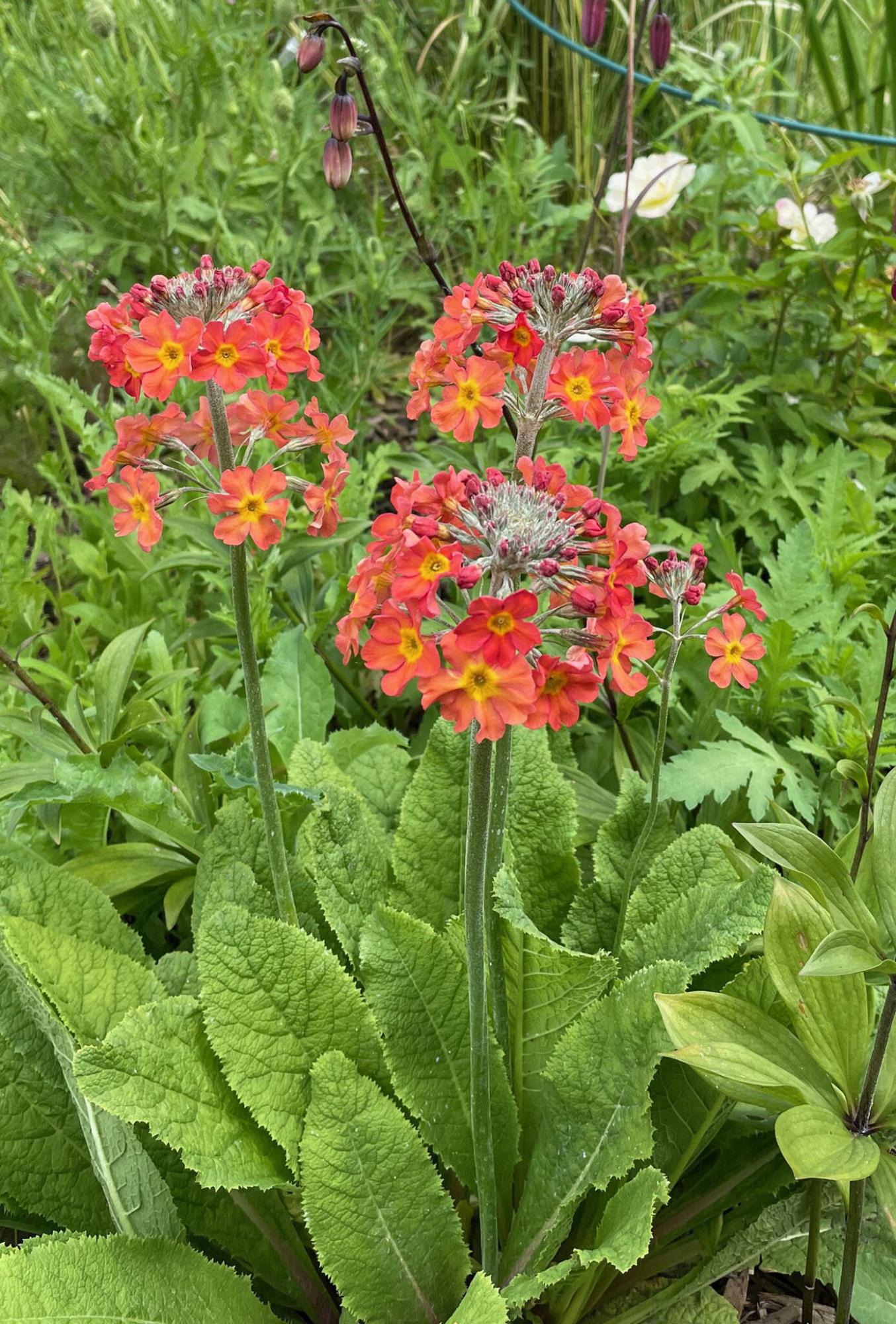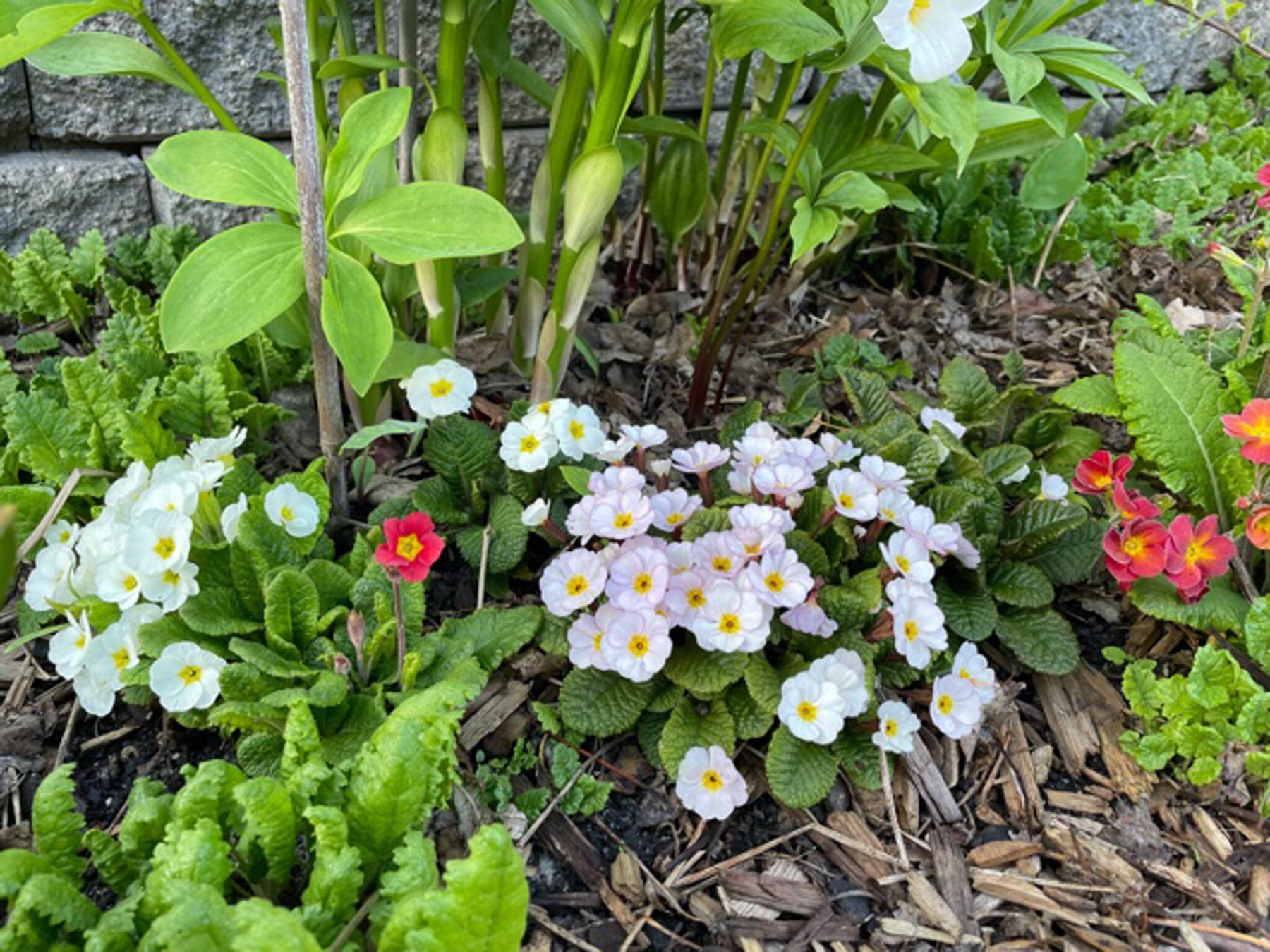 Primroses provide us with some of the earliest blooming flowers in our gardens each spring. The Latin primus means "first" and refers to the early flowering nature of the species. The common name primrose derives from the Latin prima rosa meaning 'first rose'. But that is where the comparison ends. Primroses do not belong to the same family as the rose nor do they crave the same growing conditions. Primroses thrive in part shade areas of the garden that receive morning sun and protection from the hot afternoon sun and grow best in moist, well-drained soil.
Popular since the 16th century, Primula is one of the largest of all genera with over 450 species. For many of us, grocery store primroses (Primula vulgaris) may be the most familiar. These are large flowered hybrids that come in a range of cheerful colours. If the outer foil is removed immediately from the outside of the container as soon as you bring it home from the store and bright light is provided along with plentiful moisture and cool indoor temperatures, chances are that your grocery store primrose may survive long enough to plant outdoors in May. Often, though, our hot, dry summer conditions and severe winters prove too much for these primroses.
However, there are several other diverse types of hardy primroses worth growing. Dozens of primroses are set to bloom in Greg Boguski's Brandon garden this spring plus he is preparing to add even more varieties that he has been growing from seed this winter. The earliest blooming variety is the Polyanthus Primrose, a cross between Primula veris and Primula vulgaris.
Boguski's first primrose – purchased decades ago and still growing in his garden – is Primula 'Assiniboine' which was introduced in 1965 by Frank Leith Skinner, a renowned plant breeder and horticulturist who lived in Dropmore. "It's a beautiful soft pink-peachy colour that blooms in May," says Boguski. "It never sets seed and is rock hardy but it is hard to find. It deserves to be more widely grown." Primula 'Assiniboine' is a very hardy hybrid of P. pallasi and P. officinalis. After it wintered well, Boguski was interested in knowing which other types of primroses might be hardy. "I always loved the pictures of the English countryside with cowslips (Primula veris) blooming. And from there the exploration started!"
In one part of his garden, Boguski has combined soft pink Siebold primroses with Yellow Lady's Slipper for a vivid spring display. "Siebold primroses bloom the most, they are a mass of colour," says Boguski. His favourite type of primrose, he also grows Siebold primroses under an apple tree which blooms at about the same time. "I combine them with bluebells (Mertensia virginica) and Solomon's Seal – it attracts bumblebees really well." Primula sieboldii is reliably perennial and starts blooming around mid-May to early summer. A Japanese species often referred to as Japanese Primrose or Sakurasou, the Siebold primrose is well-suited to moist, woodland areas and has large, fringed flowers that come in pink, rose, white, or purple flowers and heart-shaped crinkled leaves with wonderful texture.
"Siebold primroses will actually go dormant in summer if the ground starts to become dry, so they are more of a spring ethereal. They'll stay green all summer if they have enough moisture but if they don't, they die back but come up again the following spring." Compared to Winnipeg's heavy clay soil, Brandon's soil texture is more of a loamy sand. It is free-draining without the pooling and puddling so prevalent with clay soils. In the heat of the summer, though, water evaporates from the surface of sandy soils at a faster rate than clay soils. Boguski amends his soil with additions of compost and grows primroses in part shade or shade. He keeps his rain barrels full and waters plants as needed during summer.
In his book, Horticultural Horizons: Plant Breeding and Introduction at Dropmore, Manitoba (published by Manitoba Department of Agriculture, 1967), Frank Skinner wrote, "Our hot dry summers are really harder on Primroses than our winters and to succeed well with them provision should be made to water them during the driest portion of the summer."
Auricula cultivars are the easiest to grow and are very hardy, says Boguski. "The alpine auriculas have leathery leaves and are native to mountainous regions. Planting them in rock gardens in part-shade allows for excellent drainage and helps to keep them moist." Boguski says that some auriculas are heavily scented but you need to get down on your hands and knees to enjoy their fragrance.
Boguski also grows Candelabra hybrids (Primula beesiana also known as the bee's primrose). Native to high mountain meadows, Candelabra hybrids are tolerant of sunnier conditions so long as the soil is kept moist. Boguski's candelabra primulas bloom into early summer.
Boguski starts nearly all his primroses from seed, some of which he obtains through seed exchanges offered by the American Primrose Society where he is a member. He also orders seed from Barnhaven Primroses, a world-renowned nursery specializing in primroses since 1936. He starts the seeds in fall. Here are the steps Boguski follows:
Fill 4-inch shallow pots with slightly moistened but well-draining, sterile potting mix. Scatter seeds over top of the soil medium, cover with a dusting of fine sterile potting mix and top with a slight amount of perlite, vermiculite, or grit. Moisten medium well by bottom watering which allows water to be slowly absorbed. Allow the pots to drain for two to three hours. Label the pots with the name of the variety and the date sown. Place the pots in a plastic bag and put them in a root cellar for six to eight weeks or in the crisper of your fridge. After the vernalization time, place the pots under lights. Maintain a temperature of 55-65 F. (12-18 C.). Too much heat can inhibit germination. Once the seedlings have a couple of true leaves, transplant your primroses into small pots. Apply a dilute amount of fertilizer, about ¼ teaspoon per gallon of clean, fresh water.
Boguski plants primula seedlings outdoors in a partially shaded location in early- to mid-May, taking care to gradually acclimatize plants and protect them from the risk of a late frost.
In addition to the American Primrose Society's website, (americanprimrosesociety.org), one of Boguski's favourite resources is The Plant Lover's Guide to Primulas by authors Jodie Mitchell and Lynne Lawson (Timber Press, 2016). Mitchell and Lawson are a mother and daughter team who operate Barnhaven Primroses which is now located in France.
Hardy primroses are available at garden centres in a fantastic range of colours. Easy to grow, they have few pest or disease problems. Look for the Belarina series which has double blooms. New for 2023 from Proven Winners, Primula vulgaris 'Blue Ripples' has fully double bicolour flowers with ripples of violet blue and white. The flowers are sterile which result in plants that are long blooming.
For expert tips on dividing your primroses this spring, check out the April edition of Winnipeg Gardener, a free monthly newsletter I write for the Free Press. You can sign up to receive the newsletter at wfp.to/gardener .
colleenizacharias@gmail.com