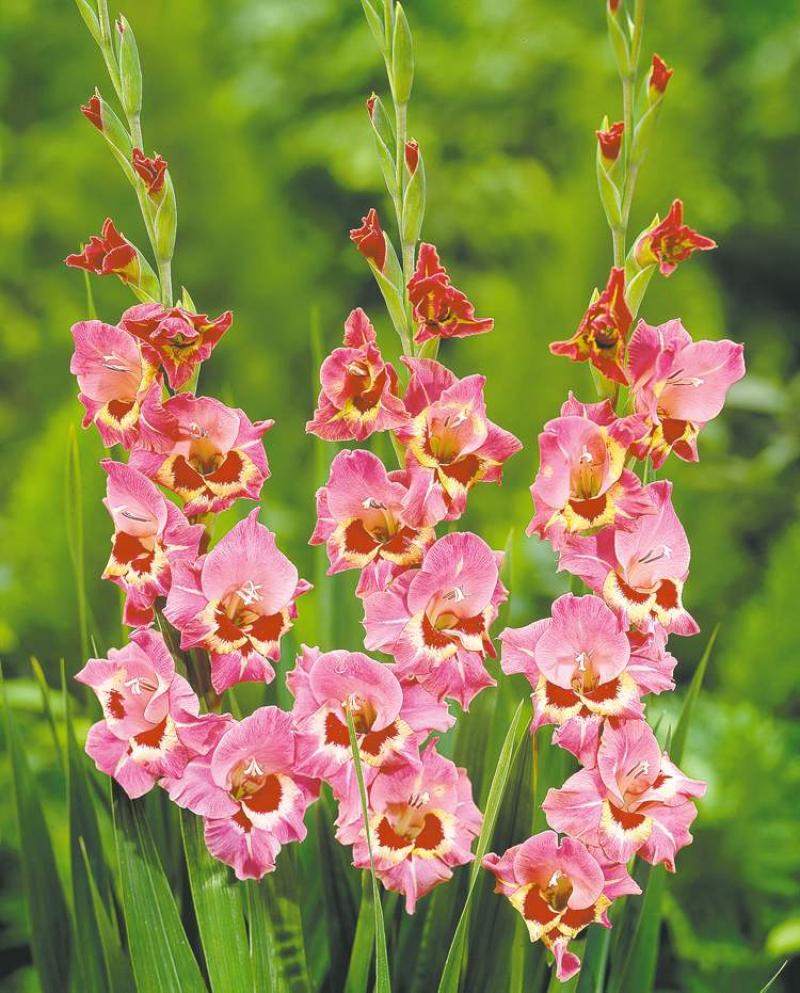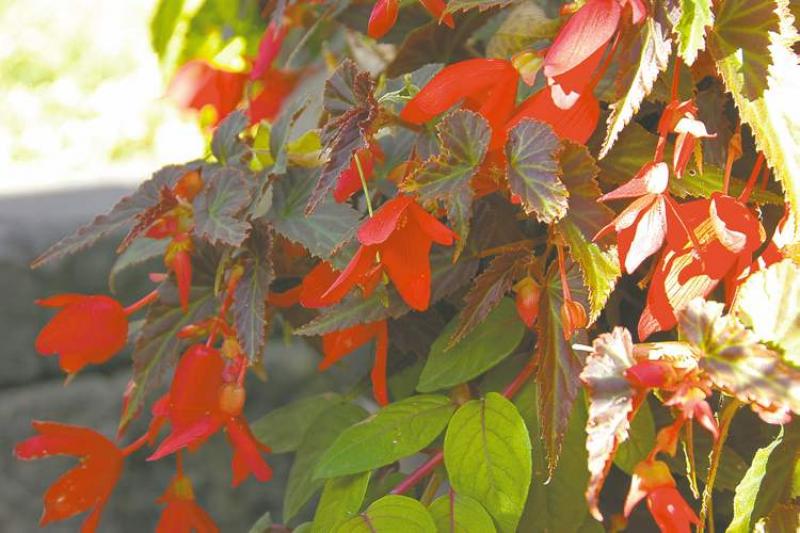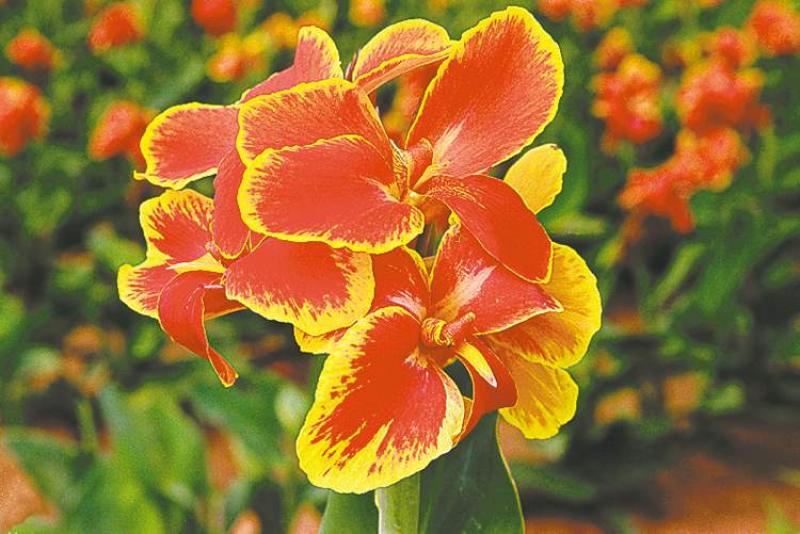 Calla lilies, canna lilies, dahlias and gladiolus produce some of the most gorgeous flowers in the summer garden. Their versatility, range of size and dazzling blooms make them a splendid addition to the herbaceous perennial garden.
The difference, though, is that they are classified as tender bulbous plants and, unlike hardy perennials, must be lifted and stored for the winter.
Are they worth the trouble? The simple answer is, yes. One option would be to just discard them in the fall and purchase lovely new ones in the spring. But, with a little bit of effort, storing them over the winter guarantees even larger blooms for next summer's floral displays. Not only is it economical to save and replant them, there's great satisfaction in nurturing these beauties from one season to the next.
There are five different types of bulbous plant: true bulbs, corms, tubers, tuberous roots and rhizomes. It's easy enough to lump them all into the same category -- bulb -- but each has a unique underground storage structure that ensures the plant's survival when it is dormant and, in some cases, different requirements for overwintering.
Here's a description of each type.
True bulbs
The true bulb consists of five parts, including a basal plate, fleshy scales, tunic (a skin-like covering), the shoot (contains the developing flower and leaf buds) and lateral buds (develop into bulblets). True bulbs are divided into tunicate bulbs (ex. alliums, daffodils, hyacinths, muscari, reticulata irises and tulips) and feature a paper-like covering that protects the scales. The imbricate bulb (ex. lily) lacks the papery covering.
Corms
A corm is a swollen stem base with a thin tunic and a growing point. There are several buds, called cormels, present on the corm and each one will develop into a new growing point. Examples include gladiolus and crocus.
Tubers
Tubers lack a basal plate or a protective tunic covering but, similar to corms, have buds (called eyes). Essentially they are modified stems. Examples include anemones, caladiums and oxalis.
Tuberous roots
Examples would be the begonia and dahlia, although the tuberous root of each is distinctly different in appearance. The dahlia has multiple stems sprouting from the tuber, similar in appearance to a cluster of carrots. The tuberous begonia, on the other hand, looks like a round, flat disc. Both lack a basal plate, have eyes, and are modified roots rather than stems.
Rhizomes
These are swollen underground stems with a branching shape and more or less horizontal. Surface buds, that are not always easily visible, produce shoots. Examples include calla lily and canna lily.
If tender bulbs are left in the ground, they will only rot over the winter, so rescuing them by digging them up in the fall and following a few basic but essential steps for storage is well worth the effort.
Although methods vary, depending on the type of bulb, Dugald Cameron, owner and co-founder of GardenImport.com, a Canadian online and mail-order company, says if you are having success with the method you are using, don't mess with it.
"The plant should be killed to the ground before you lift it," Cameron says.
"When you dig up the root, best to do it on a sunny day. Leave the soil on, don't wash it; divide it with a sharp knife if it needs it. Each piece needs to have an eye -- these will be next year's growth. Place in perlite or vermiculite, spacing them so they are not touching. Store them in a cool, dark room in the house or the basement."
Take care to not damage tubers as cracked or broken ones will not grow but if you do wash off the tubers, allow them to dry out by laying the clumps upside-down on a flat surface for two or three days.
There are some dahlias that are hybridized for growing in containers. Shorter in size, it is recommended that instead of lifting them, simply store them in the pot in which they are growing and put them in a cool, dark room. Cameron adds, "Check for excess moisture in the container. Sit it upside down until the moisture drains out."
Canna lilies can be lifted and stored in a manner that is very similar to the method for dahlias. Once the foliage has blackened following a first frost, trim the foliage to about four inches. Dig up the rhizome, do not wash, and dust the dry rhizomes with soil and bulb dust. Store in a cool, dark place in moist peat moss, perlite, vermiculite or sand.
Susanne Olver, a Winnipeg horticulturalist and associate editor of The Prairie Garden, has nurtured tuberous begonias for many years. The results are sturdier stems and lush, oversized blooms. A favourite is going into its 13th season.
"In the fall before frost kills the foliage, tuberous begonias (bulbs, foliage and soil) should be dug up and placed in boxes," Oliver says. "If grown in pots, the whole pot should be taken indoors. Place the plants in a cool, unheated room or basement and remove foliage when it is completely dry.
"In early March, the bulbs can be restarted. They should be watered well and not until the soil becomes dry again. At that time, they need light and a slightly warmer temperature. If the bulbs are very shrivelled, they can be soaked in lukewarm water for a few hours and then planted.
"Also, when taken out of hibernation, large bulbs can be divided into two but not replanted until the cutting surface is dry. A dusting of wood charcoal helps to avoid infection. Tuberous begonias can be kept this way year after year, increasing the number and size of blooms."
This year, I fell in love with 'Million Kisses' Begonia (Begonia boliviensis), a profusely flowering, trailing begonia that puts on a magnificent non-stop display. I asked Duayne Friesen, sales representative for Ball Seed, if the plant's small tubers could be overwintered in the same way as a tuberous begonia.
"This type of begonia would best be handled by bringing the plant indoors for the winter and then taking cuttings," he said. "Ideally, you don't want these types to develop a corm but rather, to put their energy into the growth and the flower."
Lynda Oakes, president of the Miami Horticultural Society, recalls the late, legendary Mary McGregor of Carman, whose prize-winning gladiolus and dahlias were eagerly sought after by legions of gardeners from as far away as Minnesota.
"She faithfully overwintered them, sharing her vast inventory each spring with other bulb enthusiasts," Oakes said. Today, they continue to thrive in many gardens and I saw some beautiful examples at the Miami Hort Society's annual show.
Gladiolus corms should be dug up prior to the first hard frost, retaining a clump of soil around the bulbs. Remove old foliage carefully so as not to damage the corm. Carol Bender, master gardener, suggests sorting them according to colour.
"Set them in bread or nursery trays in the warm sun to dry for a few days," she says. "Spread them out in an airy place to cure for a month. Use fans if necessary to dry the husks and corms as quickly as possible. Remove the old corm and debris. Corms that are less than one inch in diameter are unlikely to bloom the next year. Small cormels that form at the base will take two to three years to produce a blooming-size corm."
Dust with a garden fungicide and store them for the winter packed in dry peat moss in a cool, dark, well-ventilated area.
Lift calla lily rhizomes after the first frost. Wash carefully with water that is at room temperature and allow to dry for a few days. Dust the dry rhizomes with a garden fungicide and then store covered, in a single layer, in dry peat moss or vermiculite in a cool, dark location.
The key to survival is ensuring your storage area maintains the correct environment: cool, dark, dry, and well-ventilated. Remember to inspect your stored bulbs once a month and discard any bulbs that are showing signs of disease.