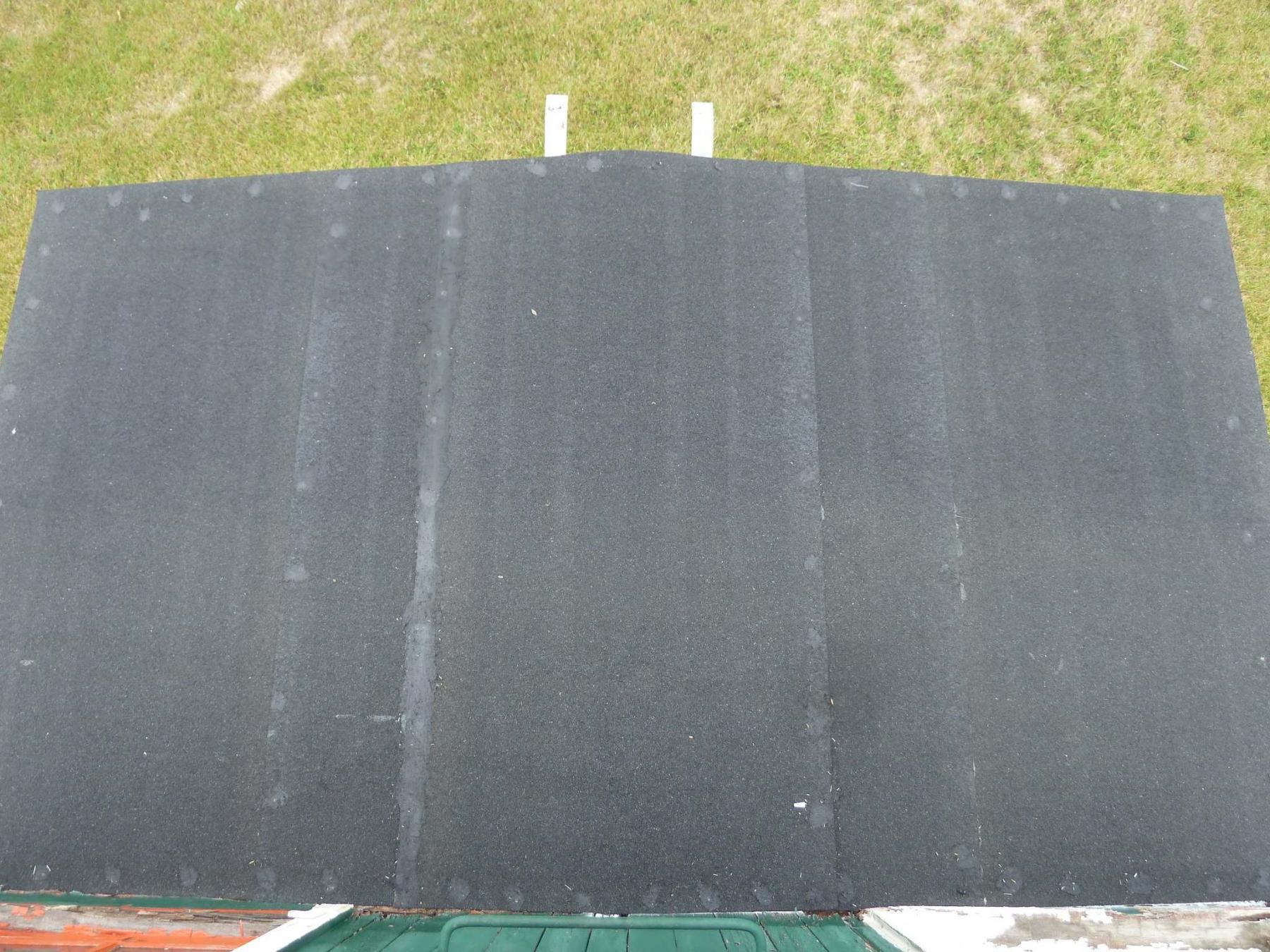 I actually may have smartened up a bit.
I made an executive decision and decided to work at re-roofing my 1905 CNR railway caboose in summer instead of winter. I'm finding it's a lot warmer.
The caboose has needed a new skin of plywood up top and new roofing for a while now, like a few years. So for whatever reason, last December I determined it was time to get at it, and applied the new sheeting over a few weeks (in between ugly winter weather) through December and January.
It was fun. I'm not sure why.
I did manage to show a bit of wisdom at that point by deciding I'd wait till summer to top it off with shingles, roll roofing, metal… whatever.
Roll roofing ultimately seemed like the cheapest and easiest solution. It was also closest to the original look. I'm trying to keep this baby as original as possible, except for the colour, which has already gone from orange to green.
Next spring, once the exterior wood that's rotted has been replaced, this wonderful old piece of history will be painted a cheery yellow.
Wonder why I picked that colour? The trim will remain white. It will look spectacular.
Gotta admit, I thought roll roofing would go on pretty quickly. However, just to be as up to speed as possible on installing this stuff (doing it all myself), I had a roofing buddy drop by so I could pick his brain a bit.
"So, do I have to put on tar paper or some sort of membrane before the roofing?"
"No," says he, "the roll roofing alone will be fine."
"Good, that makes it easier. And what do I use to stick it down, that black tarry gunk that eventually gets on absolutely everything?"
"No," says he. "We use Clear Patch (comes in caulking tubes) instead now. Does a great job, and is a lot less messy. Then roofing nails as well, of course, and you're done."
Beautiful.
As for the "going fairly quickly" part, if you're one of those attention-to-detail types as I am, slow and methodical is a lot closer to the truth.
First you measure and cut the roofing to fit. Then, glue the roofing down by creating a complete perimeter around the roofing an inch or so in from the edge, press it down in place to flatten the Clear Patch as much as possible, then wrap it up by nailing the roofing down (again, a perimeter).
Almost done. The last job is to seal the nails with a dab of caulking to prevent possible leakage. I use semi-messy black stuff to match the roll roofing. You might even caulk along the top edge of the roll roofing just for pretty much unnecessary overkill, but it makes that OCD part of me feel good. Now you're done, that one anyway, and it's time to measure and lay down the next.
I should have this done by spring.
Once the roof is finished, I'll redo the windows, removing one at a time, replacing the framing, caulk the heck out of everything, till nary a drop can seep into any vulnerable wood again.
The bottom-line goal is to remove and replace any exterior wood that has rot, seal it up tight against the weather, add that beautiful 'Mustard' yellow paint job, and enjoy escaping to the old caboose for a sit down and visit with friends anytime I like.
I presently heat it with the old summer-kitchen cook stove from the original John Taylor farm house, which was torn down some years ago. What a grand old home that was.
By the way, I'm always on the lookout for abandoned old cabooses I can salvage siding or trim wood from, so if you know of one, I would greatly appreciate hearing from you. Time's a wastin', back to work. Cheers!
Comments/feedback welcome at lmustard1948@gmail.com