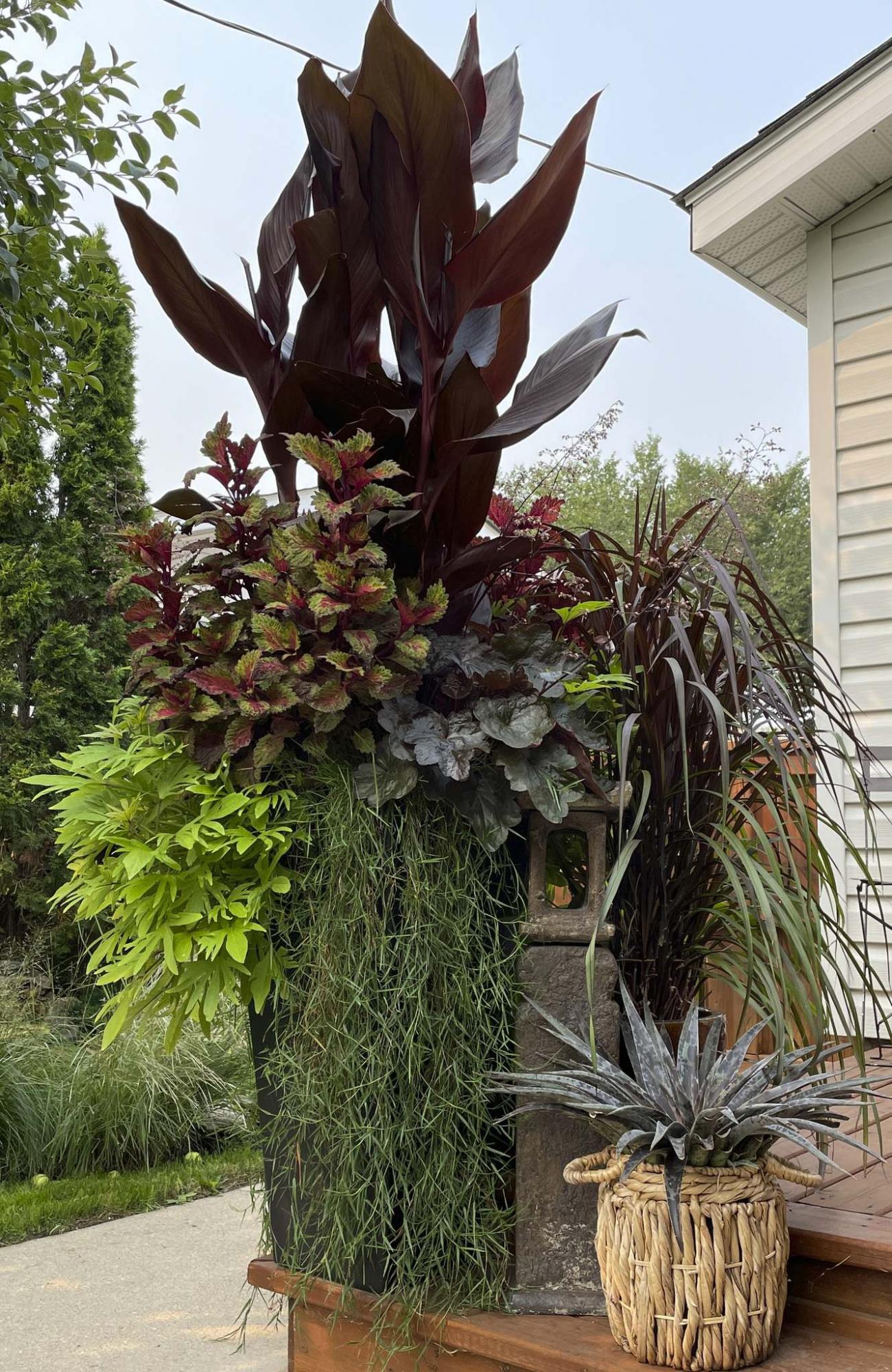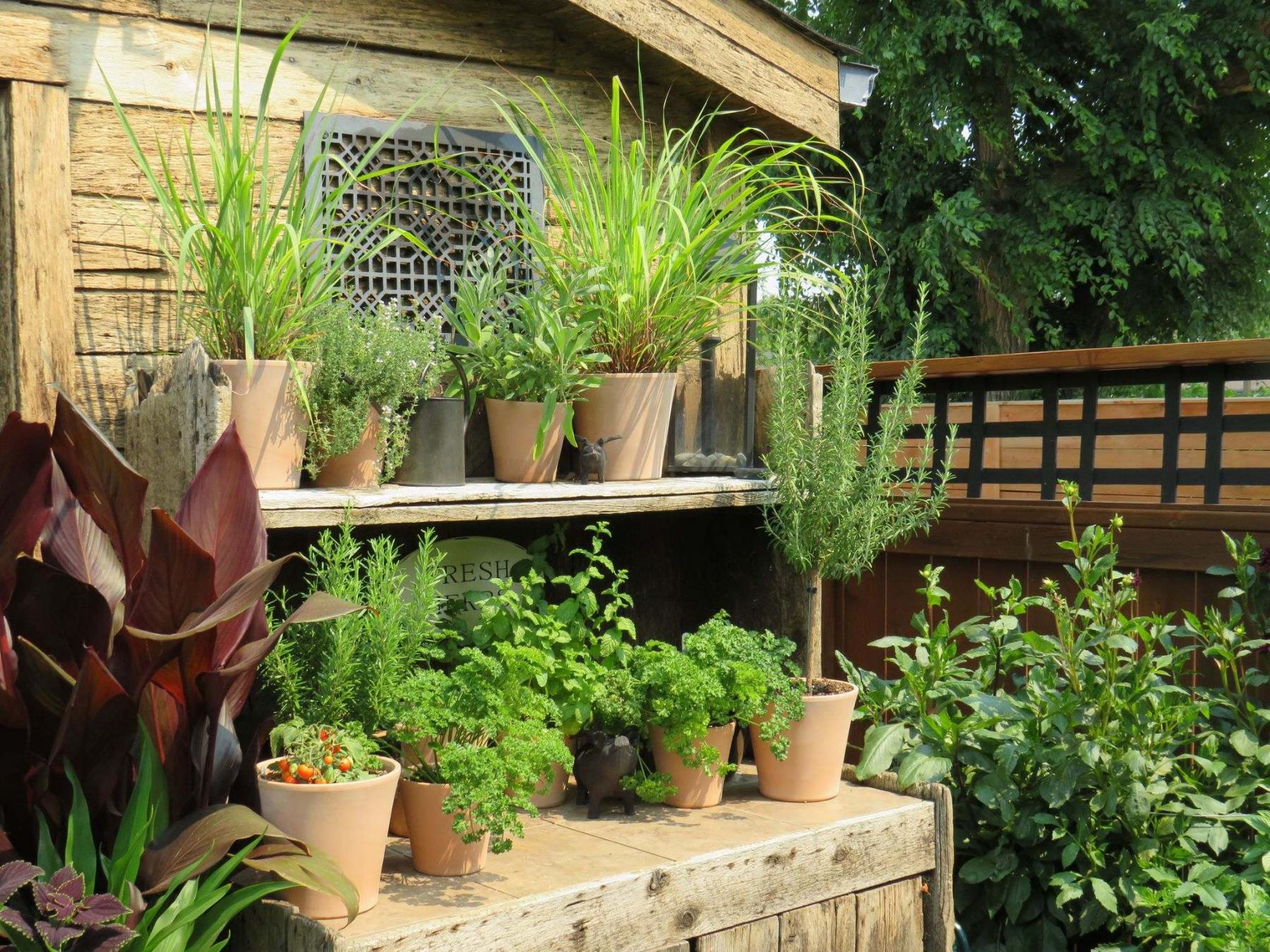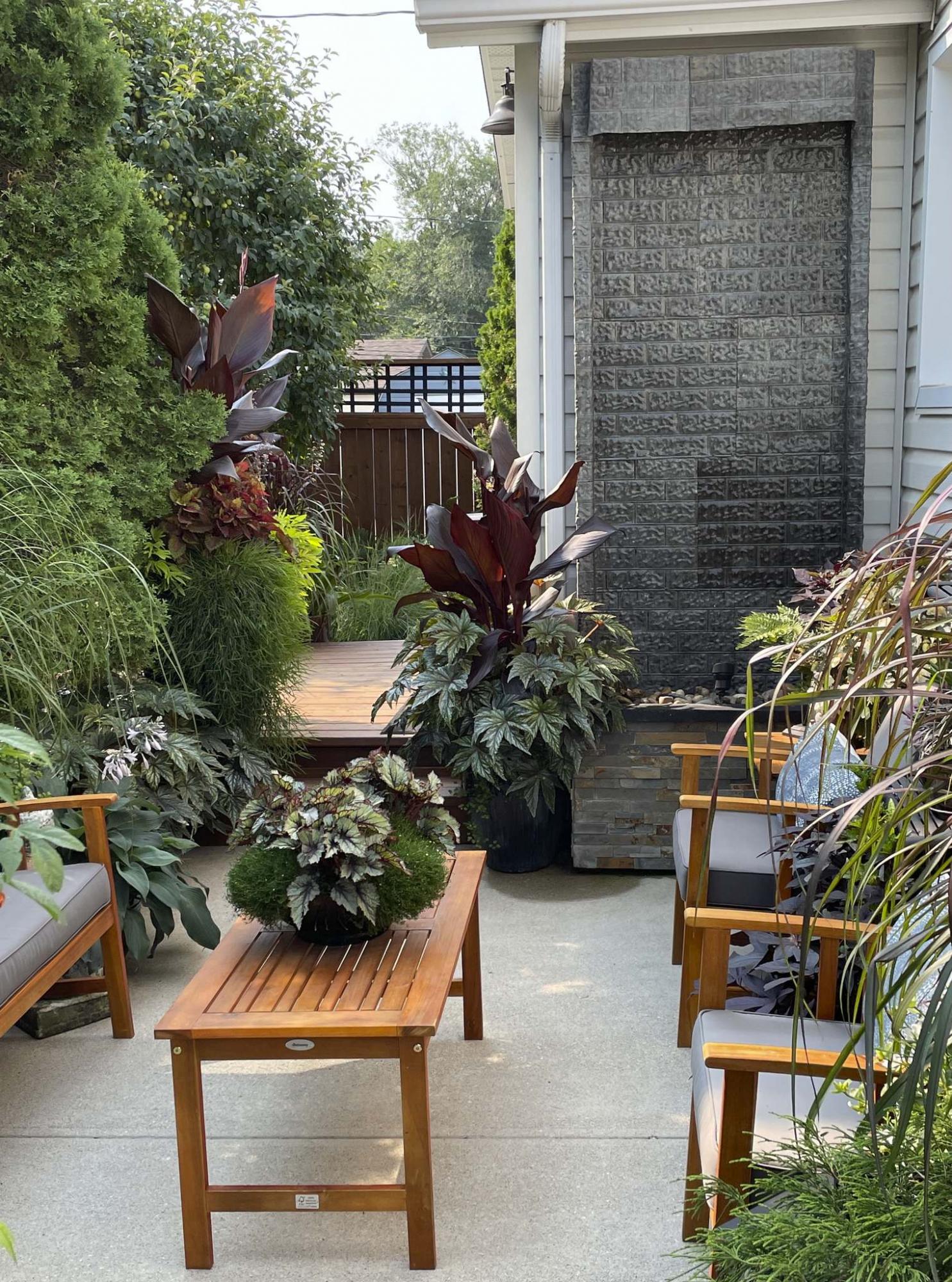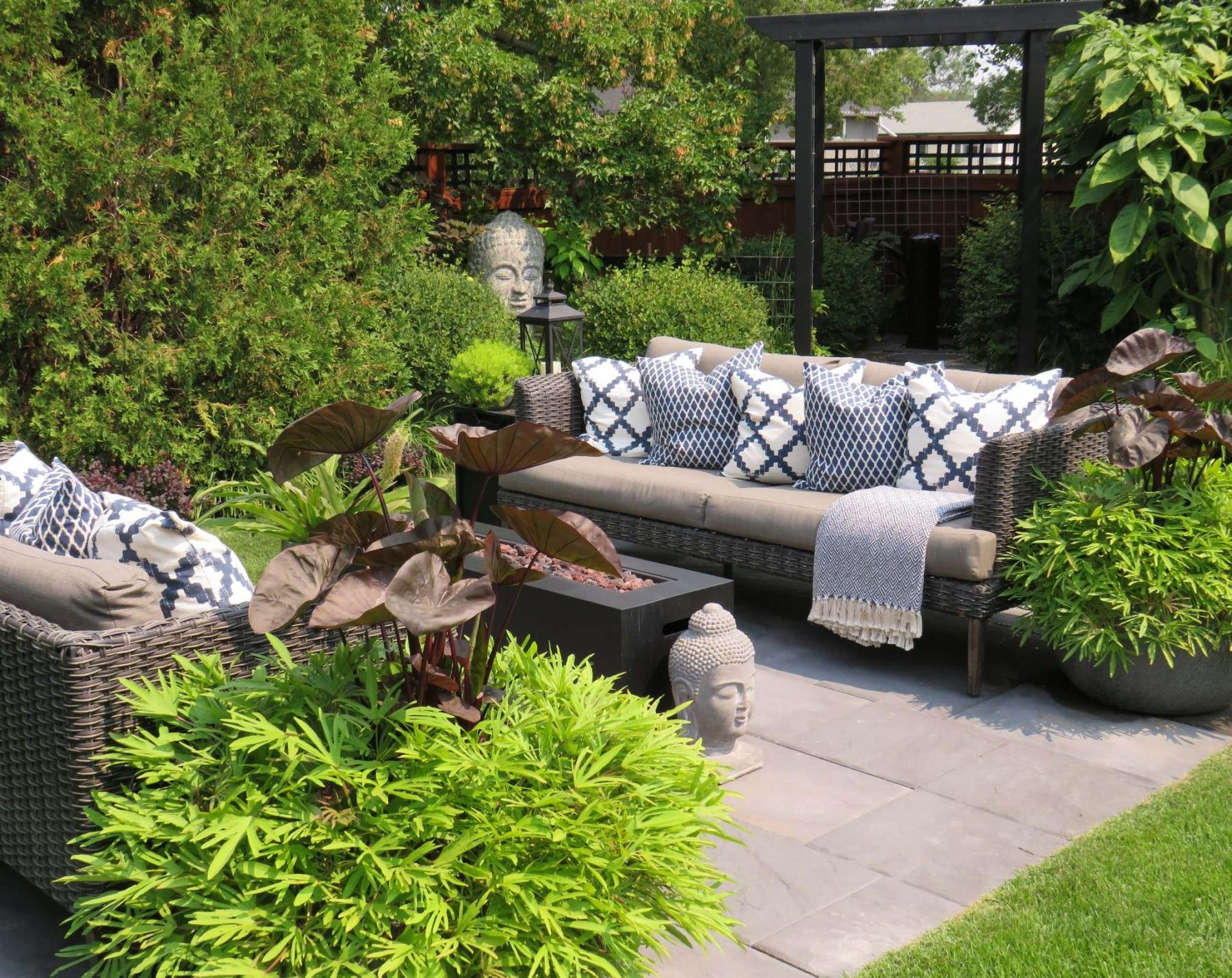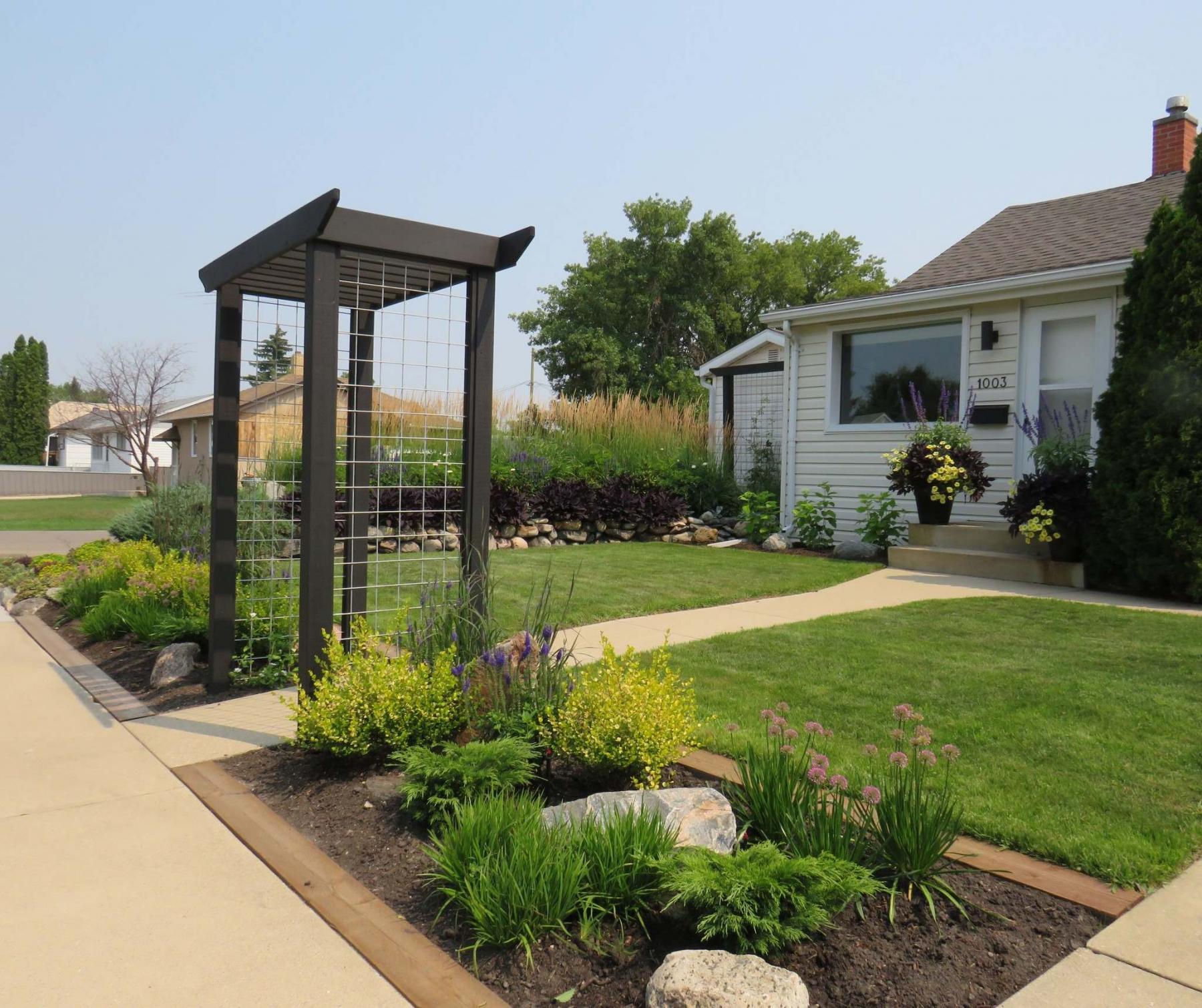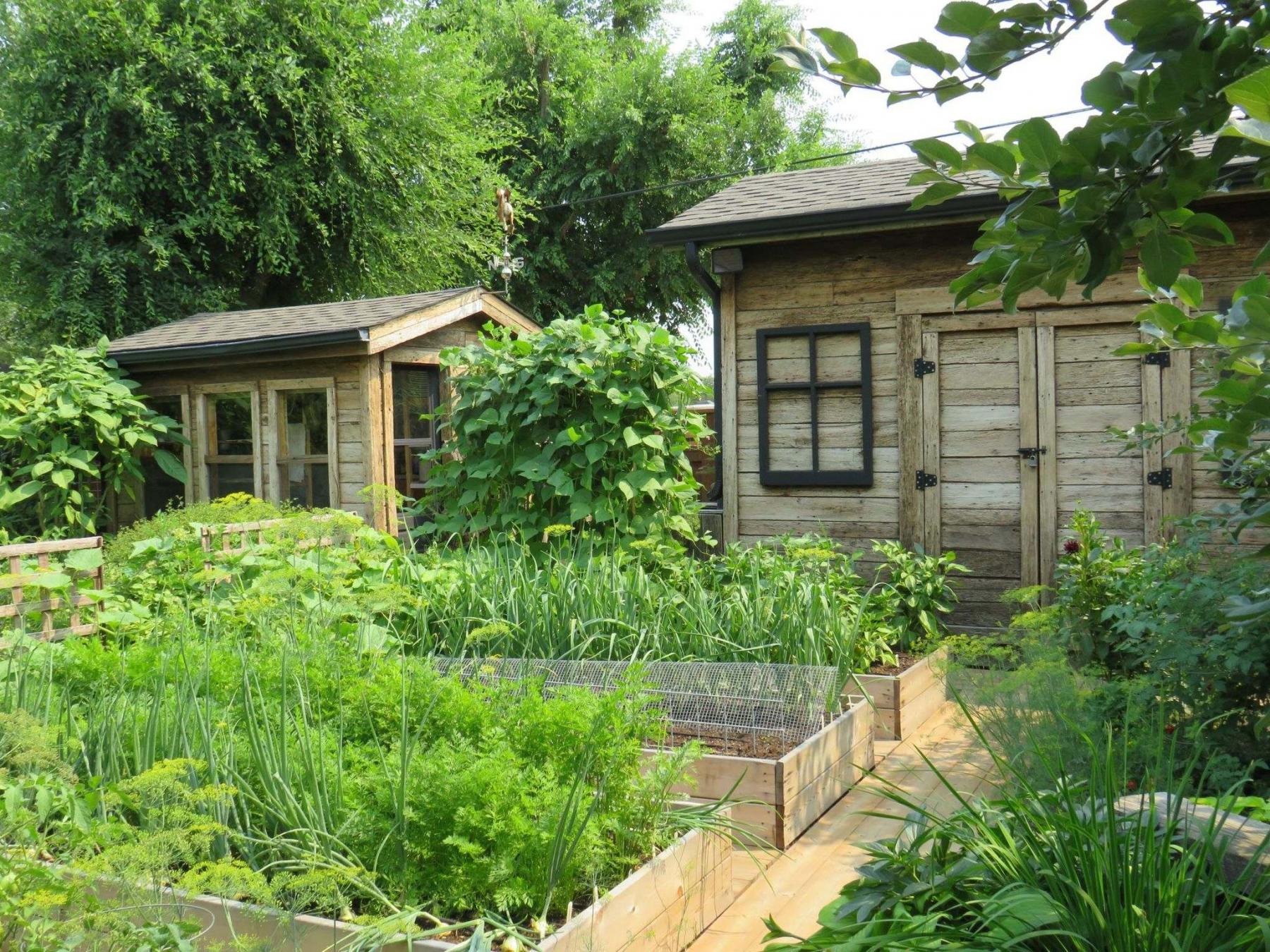 The urge to decorate the garden not only with plants but also permanent structural elements dates to the earliest landscape designs. Built elements such as trellises, fences, potting benches, sheds, patios, and water features as well as creative ways to repurpose vintage materials create four-season interest and an outdoor space that looks great from every angle.
Cory Messel has chosen many ornamental features to decorate his private garden in Brandon as well as the patio garden at Lady of the Lake Shop Café and Pub where he is general manager. Messel mixes vintage decor with a structured, contemporary look that is designed with a combination of dramatic black accents and lush green textures. Let's begin at his home garden.
Symmetry, straight lines, and geometric shapes are the underpinning for the newly revamped modern style of Messel's front yard. An arbour stained in flat black creates a welcoming entrance to the corner lot. Four wooden posts support trellises made from farm fencing which Messel purchased from a farm supply store. The welded galvanized steel with four-inch grid openings won't bend or rust. Messel is establishing Clematis Emilia Plater, a vigorous summer-flowering climber with lavender blue flowers. This year he combined it with a new black-eyed Susan annual vine called Susie which has large white flowers and deep black centres.
A six-by-six timber flush with the level of the front sidewalk frames the two rectangular ground level beds on either side of the black arbour and adds a clean, finishing touch. Symmetrical plantings include the deep purple and burgundy foliage of Blackhawks Big Bluestem grass with the chartreuse colour of Cesky Gold dwarf birch. The corner lot also includes an alpine rock garden as well as a dry stack stone raised bed on the north side that has been planted with a sweep of tall Karl Foerster grasses. From street level, the grasses create a privacy screen on the north side of the garden that stands two metres tall. The golden flower heads provide striking contrast with the landscape's black accents. "In winter, to have the ornamental grasses and visiting birds still provides that garden feel," says Messel.
Fences are important design elements which frame and complement the garden. The fence in Messel's backyard recently received a fresh coat of stain and the addition of a wooden lattice, a subtle detail which caught my eye immediately. Messel started with a typical grid pattern but then edited every third piece of wood for a more modern look. He painted the inner portions of the grid pattern black to tie in the other black accents in his landscape.
Two sheds made of reclaimed barn board create a stunning backdrop to Messel's raised vegetable garden. One is used for all the paraphernalia that sheds normally hold and the other is a gardener's dream space where Messel can store his new plant purchases each spring and pot up his magnificent containers. Messel sourced the barn board from near Dauphin and over the years, the weathered patina has taken on even greater character. He has added black accents to both sheds that include metal hinges and black wooden frames that give the idea of windows. Even the downspouts are painted black.
On an outer wall of one of the sheds, Messel has a display of vintage metal grates, each one sandblasted and spray painted black. There are also black metal hooks for hanging up tools or sometimes buckets of beer or other beverages when he hosts barbecue parties or other gatherings.
Messel has built a barn board enclosure around his rain barrel. "I think hiding the mechanics of things just makes them more aesthetic," he says. Garlic chives and Karl Foerster grass are planted alongside the rain barrel.
Messel pays attention to every detail. The second shed made of barn wood includes an outer workstation with a storage area where he keeps soilless potting mix and Sea Soil, an organic composting mixture that Messel uses in all his containers and planting beds. The area also includes a potting table that is both functional and utterly gorgeous. It's what every gardener wants. On my visit, the potting table was decorated with rows of potted herbs and tiny cherry tomatoes.
The layout of Messel's backyard which is 50 feet wide, and 40 feet deep is reflective of the symmetry, straight lines and geometric shapes that can be found in the design of his much smaller front yard. But the formality of the front design translates to a lusher and more layered look in the backyard which contains several conversation areas, some that are hidden from view. One is an intimate and meditative Asian-themed garden space with a water bubbler and flagstone patio. An arbour that is stained black marks the entrance. A larger conversation area sits on a square concrete patio in the centre of the backyard and is accented by round planters with chartreuse Sweet Caroline Medusa sweet potato vine and Colocasia Black Coral elephant ears with heart-shaped jet-black leaves. The comfortable outdoor furnishings are designed to stay outdoors year-round.
There is also a narrow garden room adjacent to the house that is framed by a row of tall, mature cedars. This private seating area includes a water wall that Messel created with repurposed vintage tin tiles that came from a ceiling in an old building. Messel applied the tiles to a vertical piece of plywood and added black accents. The entrance to this narrow garden room is flanked by two containers planted with Australia canna lily, Indian Summer coleus, Gryphon begonia, and Green Twist trailing bamboo grass. A small round tabletop container is planted with Rex begonia and Mondo grass and an emerald green skirt of Irish moss.
Messel's beautiful container designs are placed throughout the landscape. An impressive container grouping on his deck includes Australia canna, the large draping leaves of Black Olive coral bells, Indian Summer coleus, Medusa sweet potato vine, trailing bamboo, Vertigo grass, and pineapple lily. Mangave Moonglow, a succulent with silvery blue-green leaves in a handled wicker planter sits at the base of the grouping.
Now Messel is turning his attention to the outdoor patio at his workplace: Lady of the Lake, one of the most popular restaurants in Brandon. Metal corrugated fencing lends a rustic yet modern feel to the patio. Five arched church window frames, each standing 10 feet tall and spaced apart, create a fantastic backdrop. There are no windows in the vintage frames which look directly onto an open greenspace. The patio space may potentially be used for weddings, says Messel.
There are also window boxes made from the wooden floor of a barn owned by a former staff member. Messel has sourced two galvanized steel cupolas from an old barn building as well as a large round steel trough. "We're going to create a water feature by stacking one cupola on top of the other," says Messel. The water from the trough will cascade over the cupolas.
If you go to Lady of the Lake, plan to stay well past your meal. The food is delicious and there is so much to see and enjoy.
colleenizacharias@gmail.com