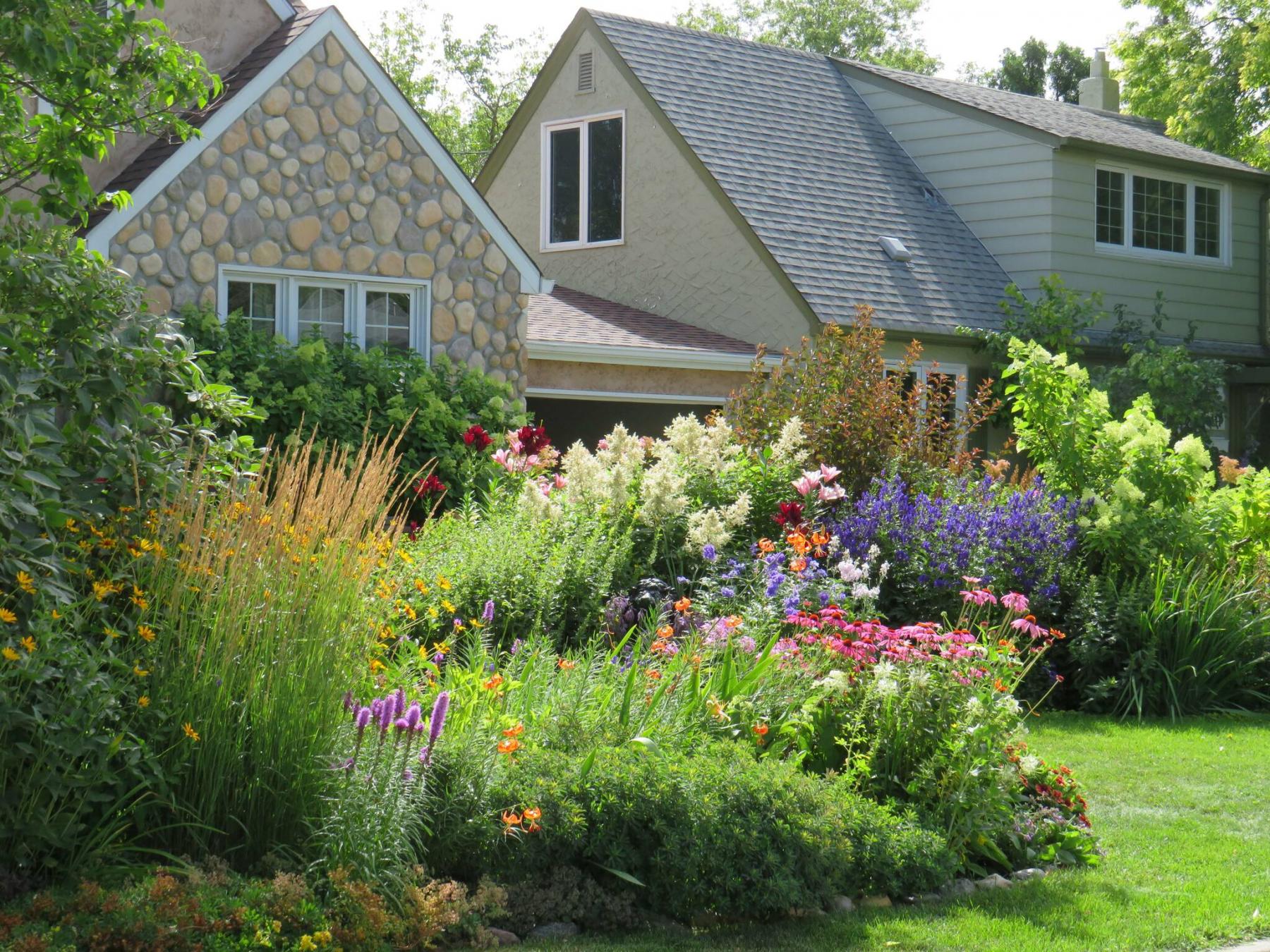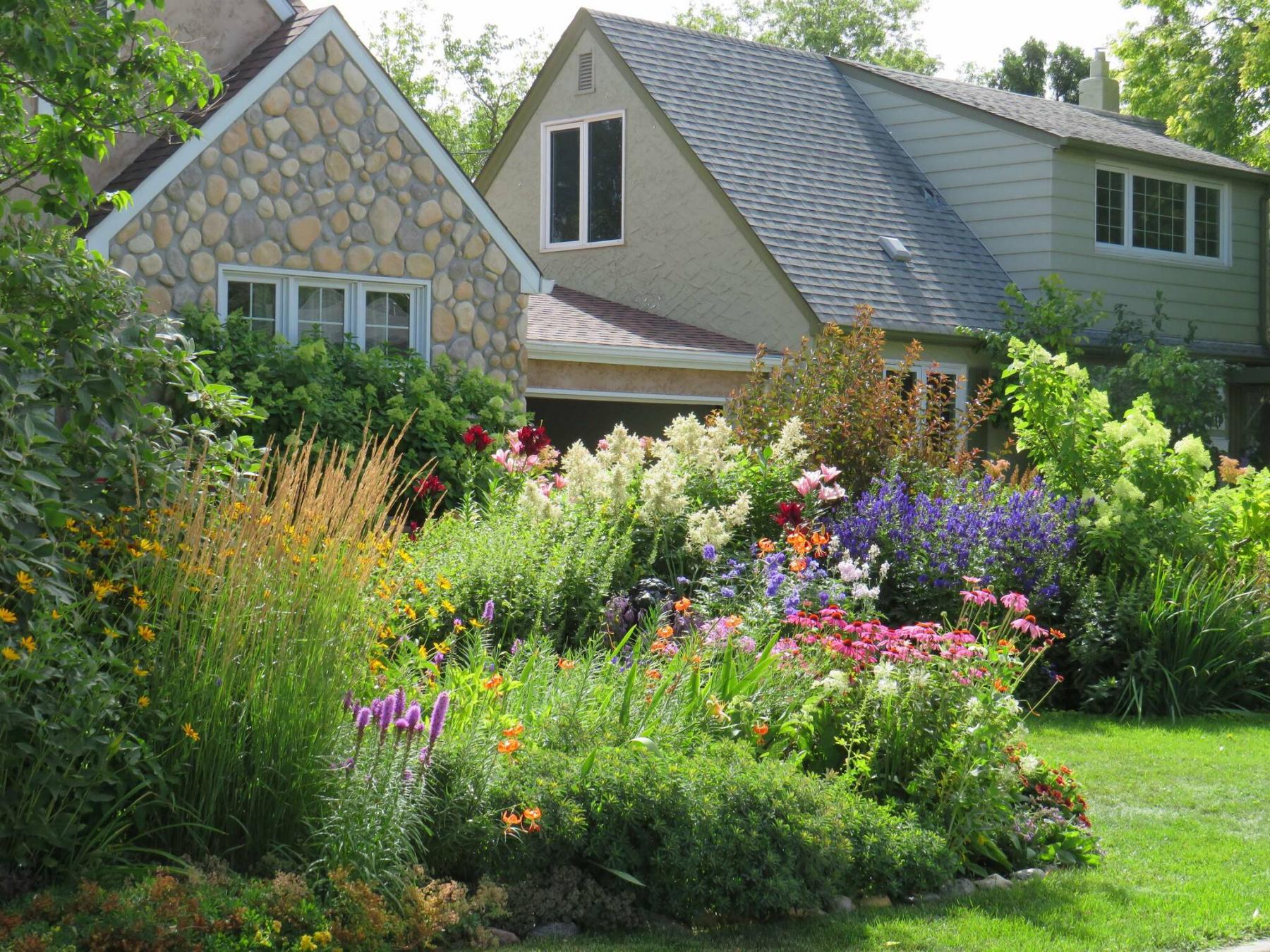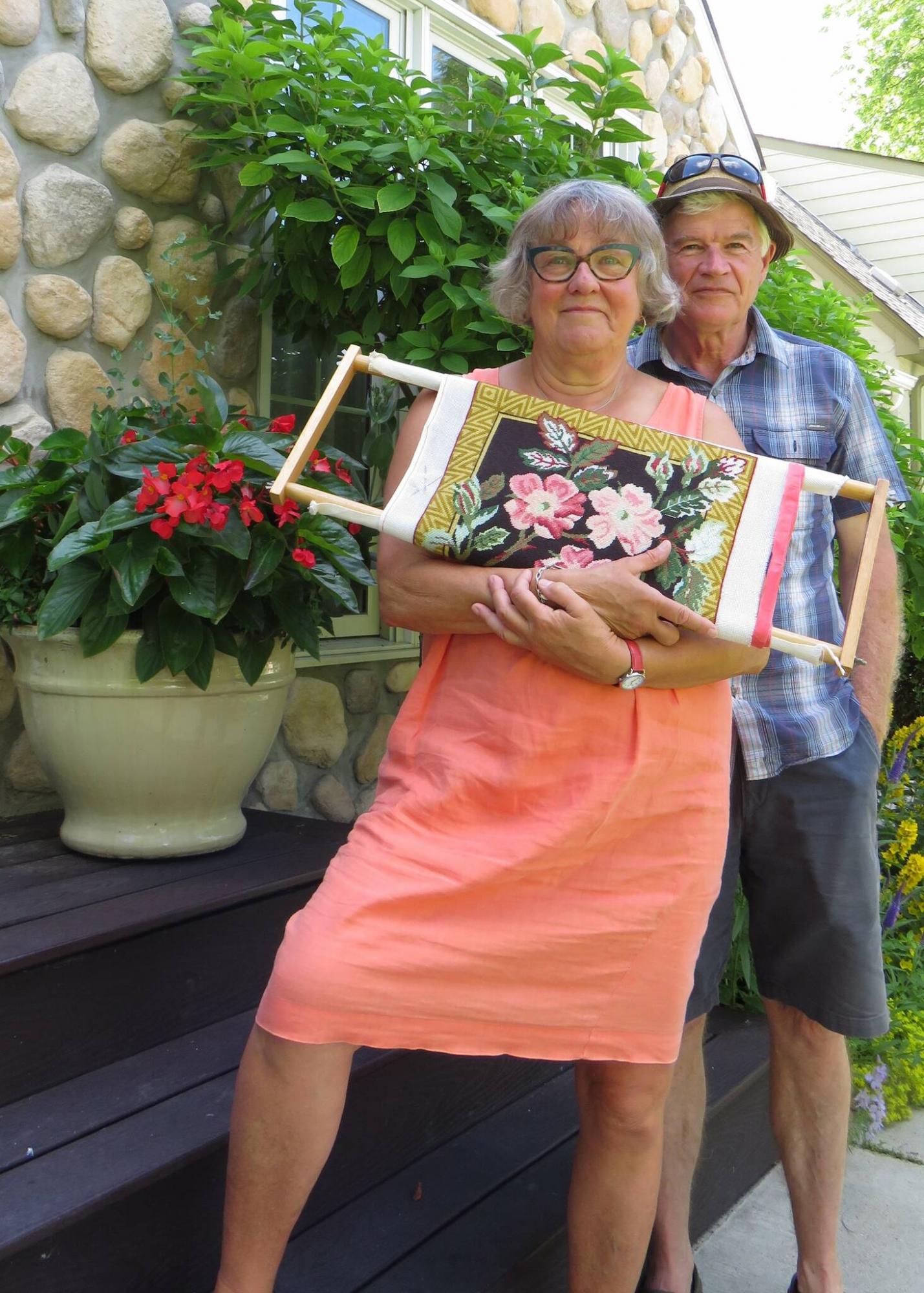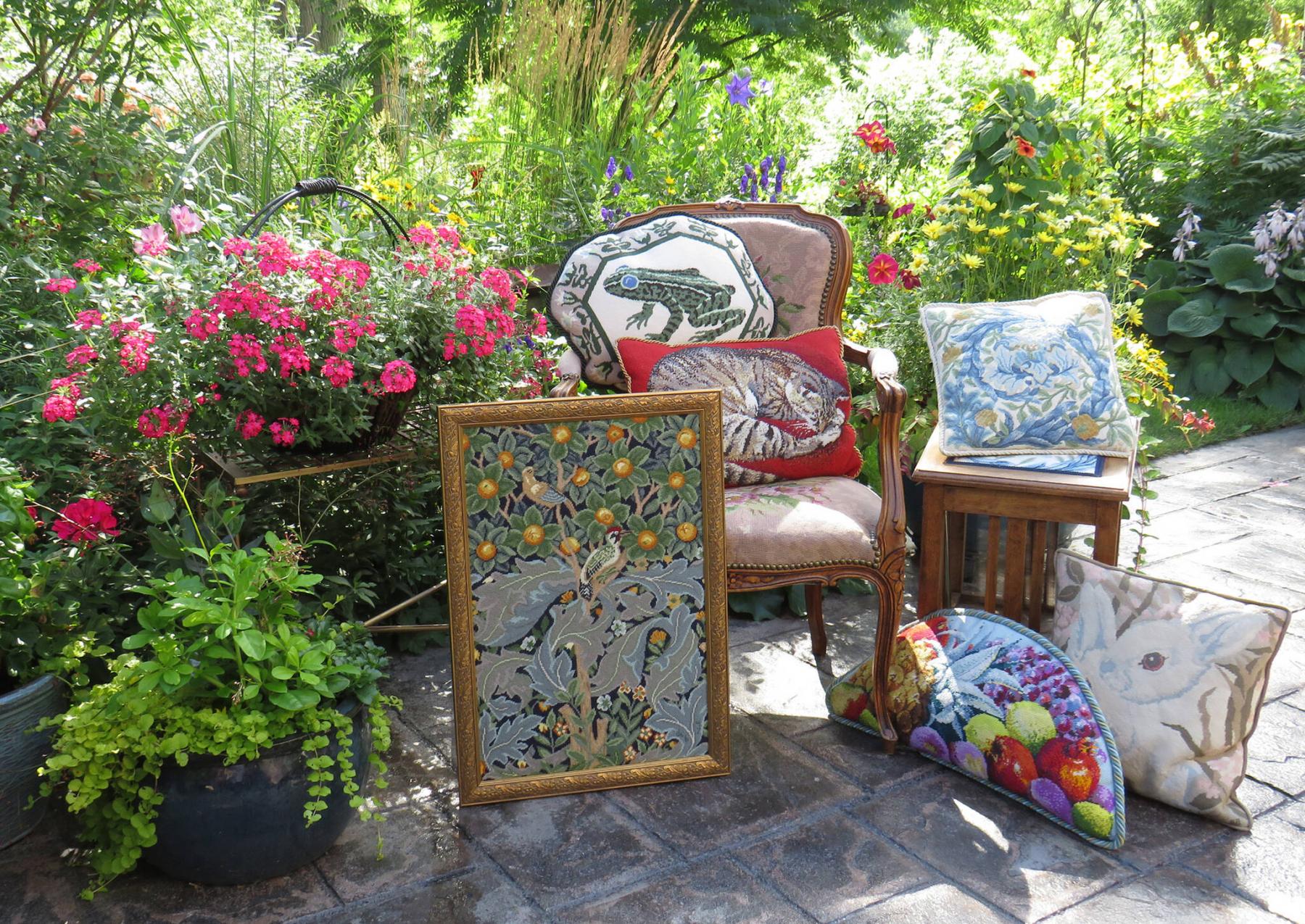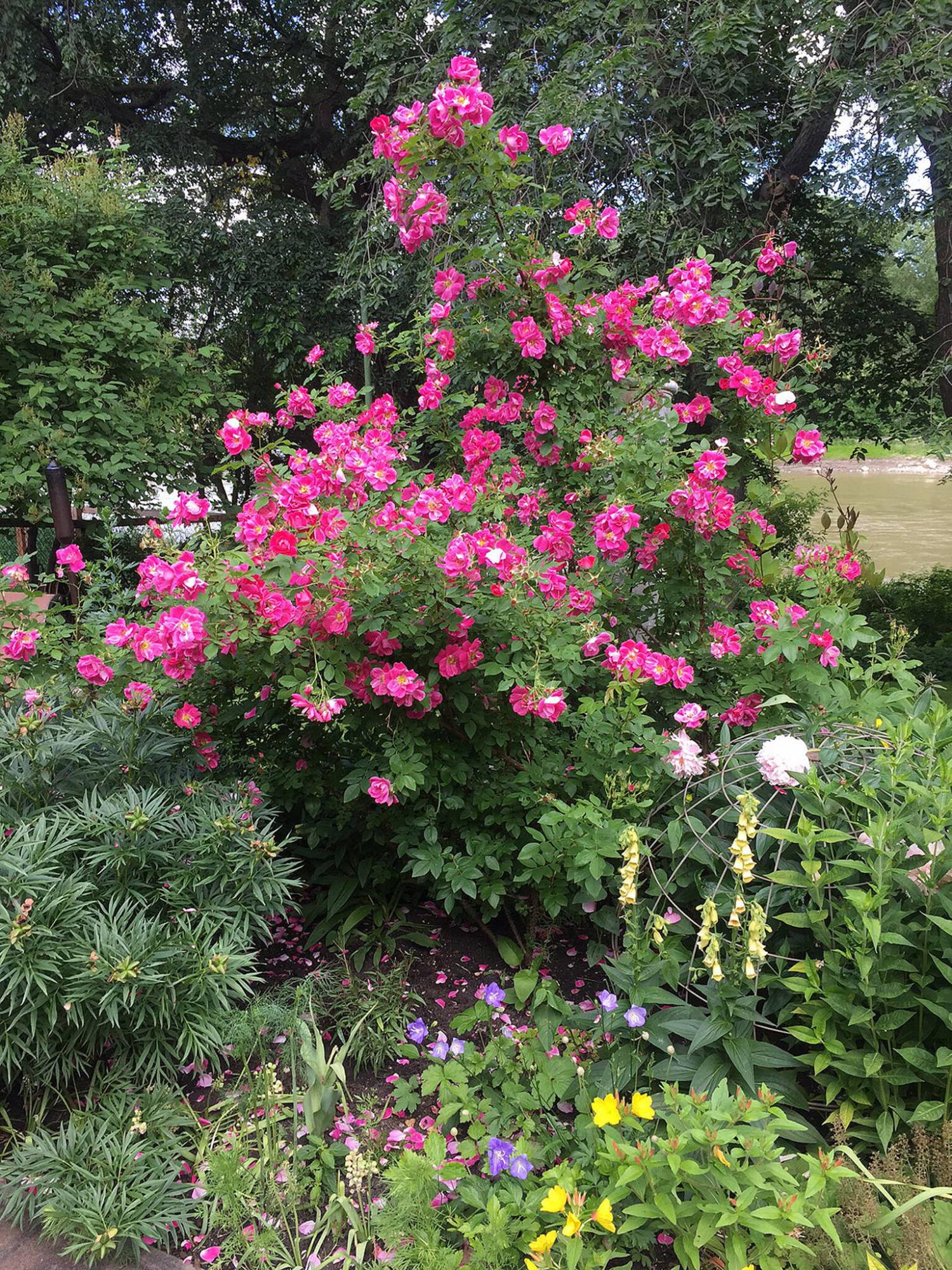 Deb Fast's garden, which overlooks the Assiniboine River in sunny St. James, is a source of inspiration in her everyday life. The colours and patterns she sees in nature, the esthetics of dappled light and shadow, and the wildlife creatures that visit her garden — all of these elements are reflected in Fast's needlepoint designs.
Fast began to needlepoint in the 1970s. Many of the patterns she chooses are inspired by the works of William Morris (1834-1896), a pioneer of the arts and crafts movement and an influential designer. His love of the natural world was reflected in his wallpaper and textile designs and captured the patterns of flowers and leaves as well as birds and other wildlife.
A tour through Fast's lushly planted front and backyard garden and the home she shares with her husband, David Wiebe, shows a passion for artistry and craftsmanship. Their beautifully appointed home's interior is rich with elements of nature incorporated into the nature-inspired designs on numerous needlepoint cushions, framed needlepoint, and vintage needlepoint chairs. There are floral and leaf motifs on floor tiles, botanical art prints on walls, vintage furnishings, unique collectibles such as a butterfly lampshade and sealskin florals, vintage glassware, stacks of books on textiles and natural history, and much more. Fast enjoys the thrill of finding fantastic vintage pieces at local thrift shops and whenever she travels.
Fast adheres to William Morris's best-known dictum, "have nothing in your houses that you do not know to be useful, or believe to be beautiful." None of her framed needlepoint is behind glass. Her exquisite needlepoint creations — such as the needlepoint pillow for her grandson that shows a famous William Morris design of a lion in a jungle — are meant to be enjoyed. "This art should always be touched," Fast said. "Needlepoint is a very durable medium so it should always be accessible for use. I make it into things I can use, touch, feel, and enjoy because it is beautiful."
Fast buys her needlepoint supplies from Ewa Kurnicka, owner of Needlepoint Place (113 Marion St.).
"She is an incredible artist," Fast said.
Kurnicka creates handpainted canvas designs. Fast has stitched 12 different Nutcracker designs on pendants that she displays each Christmas.
"Now I am working on the Twelve Days of Christmas."
The designs on each of the 12 canvases were handpainted by Kurnicka. Another work in progress is a needlepoint design that features roses.
The houses on Fast's street were built in 1946-1947 for Second World War veterans. Fast and her husband purchased their home from the original owners in 1988. Dr. McNeil served as a surgeon during the war and was a pediatrician, says Fast.
"We still have some of Mrs. McNeil's peonies and have turned her fishpond into our bog garden."
The bog garden is near the bottom of the sloped backyard. "It's a concrete cistern that goes down about six feet and by the time we moved here, it was already filled with soil," says Fast. Today it is planted with moisture-loving Yellow Flag iris. Marsh marigolds, hostas and Rodgersia with large-sized leaves, Mukgenia Nova Flame and Bergenia are planted alongside the bog garden.
The shady backyard is framed by majestic, decades-old elm trees, two of which have Dutch elm disease and are awaiting removal. There are numerous other trees that provide cooling shade and beautiful patterns of shade and dappled light.
"For me, it is important to have different shapes of leaves," Fast said. In addition to different textures, Fast is also drawn to varying shades of green. Some of the woodland plants Fast and Wiebe grow which thrive in deep shade to semi-shade include Epimedium Bishop's Hat; Leopard's Bane plant with its bright yellow, daisy-like flowers; Macleaya cordata Plume Poppy, which has large, lobed grey-green leaves; Astrantia Major Masterwort, which has deeply divided dark-green leaves; and Aralia Sun King Japanese Spikenard with bright chartreuse leaves that glow beside Tiger Eyes Cutleaf Sumac and Solomon's Seal.
The upper level of the backyard receives at least six hours of sun and this is where Fast grows sun-loving plants and flower-filled containers and baskets. An amazing Pink Marshmallow fuchsia with light pink pendulous flowers spills out of a hanging basket above a long, low stone trough planted with Whopper Rose Bronze Leaf Begonia (note to myself: I must have both these varieties next year).
Fast has several plants growing in her garden that she purchased several years ago at the Mother's Day Plant Sale, a popular plant sale hosted each May by the former Friends of the Assiniboine Park Conservatory. One of the plants she purchased at MDPS was a William Baffin rose, a climbing or pillar rose that today stands eight feet tall in her backyard. It features clusters of fragrant, deep pink flowers and dark green foliage. Fast, though, says her William Baffin rose has resisted climbing and instead is freestanding. Hemerocallis Chorus Line daylily, also purchased at MDPS, is planted in a large bed in the front yard. It produces dainty, soft pink blooms with ruffled edges.
Another treasured plant is Blue Moon Kentucky wisteria vine which is Zone 4 hardy. Wisteria produces plenty of vegetative growth and needs a sturdy support as well as a protected location. The wisteria has been trained to grow on a deck built with posts that support an open roof of beams and lattice next to her house's exterior wall. Wisteria is notorious for taking several years before it finally produces its incredible lavender-blue blooms. Fast's wisteria bloomed for the first time in 2017. One year it produced 22 flowers.
Wisteria's flowers develop on the previous year's growth. It is recommended to prune back the long vegetative shoots to about 15 centimetres after the vine has finished blooming. A second pruning is recommended while the plant is still dormant and the framework is easily visible, leaving three to five buds.
Fast misses the Mother's Day Plant Sale and the many experienced gardeners who volunteered at the sale and mentored her.
"That's where I learned about gardening," she said.
When Fast volunteered at MDPS, one of her tasks was to make plant labels. "I had to learn all the Latin names for the plants being sold."
Her front yard flower beds create a show-stopping display of seasonal blooms and a range of colour. On my first visit this summer, New Millennium Mini Stars Hybrid Bee delphinium was in full bloom with its huge spikes of purple, blue, pink, and lavender flowers. Lilies stood six feet tall. Giant Fleeceflower Persicaria polymorpha which was only planted in 2021 towered at seven feet. A seven-foot-tall Limelight Hydrangea which Fast and Wiebe are training into a tree stretches eight feet across the front of their house. By August it was laden with cream-coloured blooms. In case you are wondering, they feed their plants with one application of sheep manure in early spring.
The diversity of perennials, trees, shrubs, annuals, and wildlife in Fast's inspirational garden fuels her creativity. With her needlepoint designs, she brings the garden indoors all year round.
colleenizacharias@gmail.com