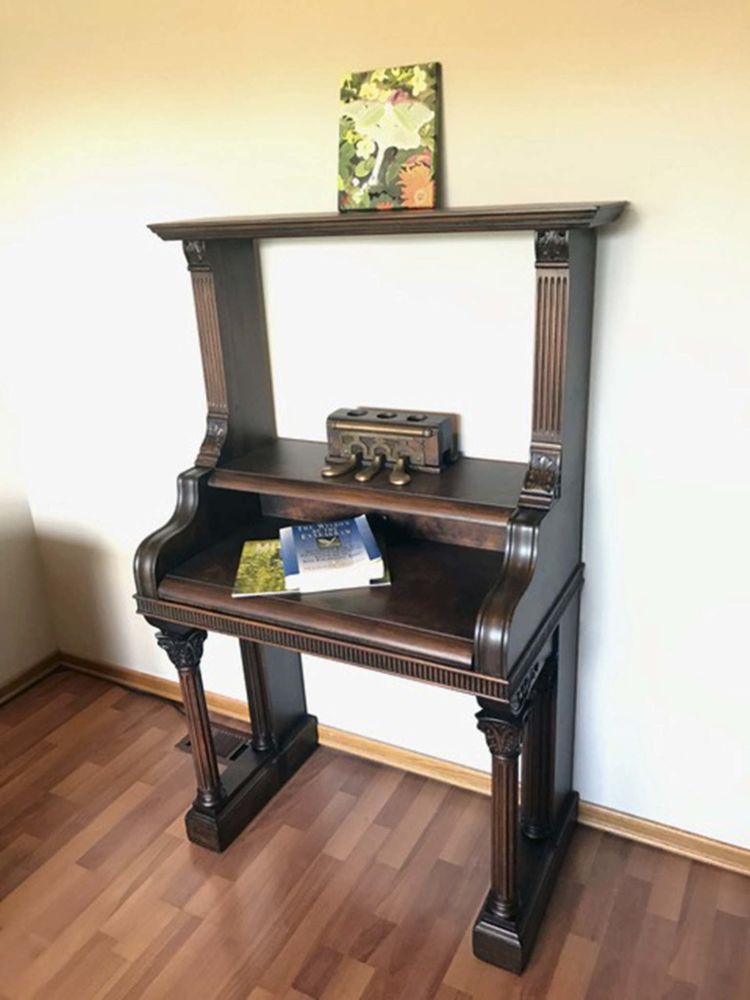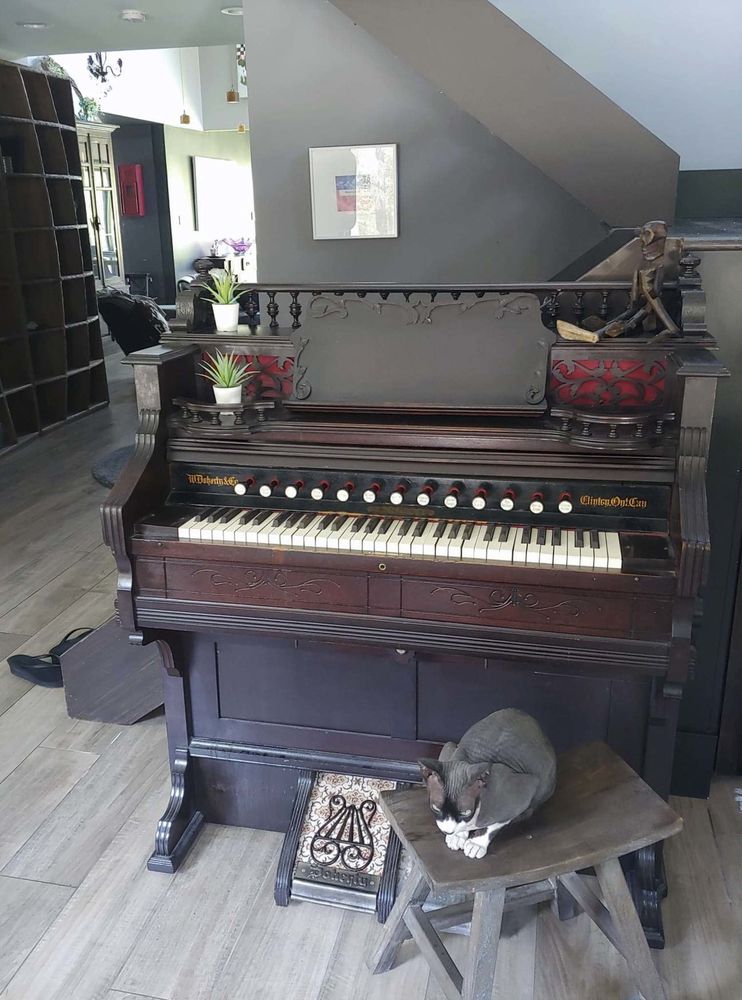 You may remember I've become the no-kill shelter for old, unwanted pianos.
Well, duh. I should have picked something lighter.
But again, I just can't stand seeing all that gorgeous old wood, antique piano components, etc., going to the dump! What a waste.
A few months ago, a piano tuner/mover told me he got to the point where he sent 16 of the old pianos he'd been storing to the dump. They all got squashed. Told me it killed him to do it, but he just didn't know what else to do with them. Horrible.
So I rescue the ones I can, and currently have four safely stored in my insulated garage, three more in the house (player piano, upright grand and a pump organ) and other rescues in the wings.
As I sit here writing this, recovering nicely from my sixth hernia operation (a month ago), I can tell you with no degree of uncertainty... I will not, repeat... WILL NOT... be the one lifting or moving them. That ship has sailed. I mean, I can still push a little though...
Two good news stories I want to share with you, neither of them "fake news." That guy. Wow.
Anyway, good news arrived via email to me from Nadine and Matt Halpin regarding a recycling miracle.
Laurie, I very much wanted to share with you some pictures of a repurposed old upright piano. A friend of ours, Clarence Roorda, was unable to repair this "old lady" as the soundboard was cracked. So he made some beautiful pieces for his family. Nice to see the respect he afforded their heirloom.
Wow, thanks Nadine. Certainly is. Inspiring. Bravo.
Our second good news story is the result of another MOE (Mustard on Everything!) reader requesting a re-homing if I could manage it. Mission accomplished. The spectacular old pump organ you see here now resides in the magnificent front hall of a very good friend of mine's gorgeous home (more like a castle), a hub of music, musicians and merriment. Perfect. Thrilled to have been part of that rescue.
It would truly be a sin for any of these beauties to be rotting in a dump somewhere.
So with a view to preserving and repurposing as many of these dear old pianos and pump organs as possible, let's call upon the KISS principle for guidance and support.
Keep It Simple, Stupid.
I can do that, so here's one of my many simple ideas.
That old piano or pump organ of yours. Are you handy? Know someone who is? Gut it, save the stuff inside for future repurposing and make a stunningly beautiful loveseat out of it. Add a little ingenuity, and you've got a one-of-a-kind Hide-A-Bed. They don't have to be musical instruments anymore.
Sure, you may wonder, even repurposed into, say, a loveseat, wouldn't they still be really heavy to move around? First, they are lighter with the innards out, and second, if you replace the old factory steel wheels with swanky, slightly larger rubber ones, you could take your new loveseat for a walk. You'll also have visitors to your home saying, "Wow, love your loveseat, what a great idea for an old piano. Harold, turn our piano into a loveseat!"
Sorry, Harold.
Now this won't be easy, but I'm going to be serious for a moment. We humans are horribly wasteful. Perfect example (other than old pianos)? All the "scrap" wood, metal, etc., from new home and building construction that is hauled to landfill sites daily. Definitely doing a column on that soon.
In the meantime, let's keep those good news stories coming!
Comments or feedback, love to hear from you at lmustard1948@gmail.com.