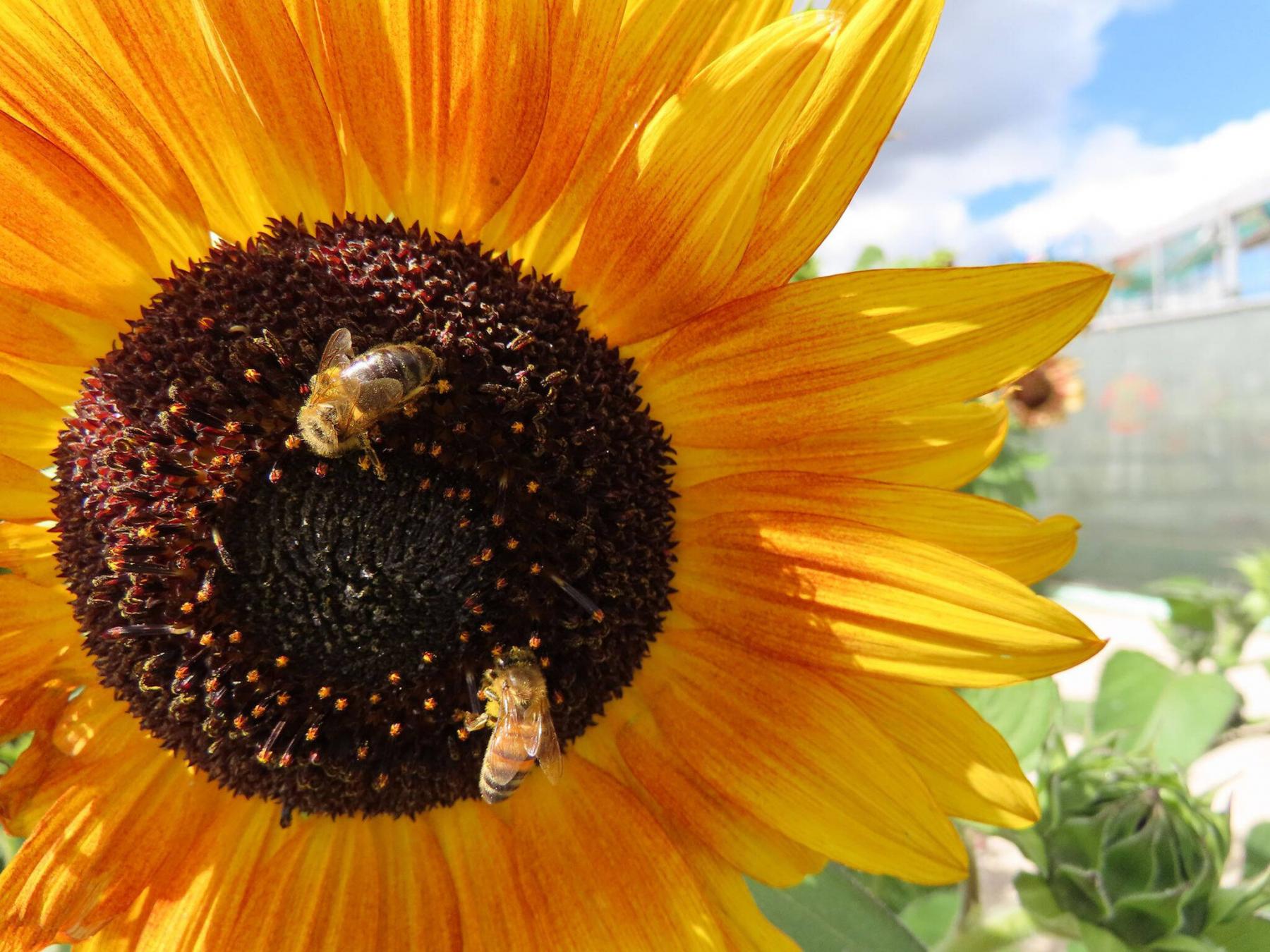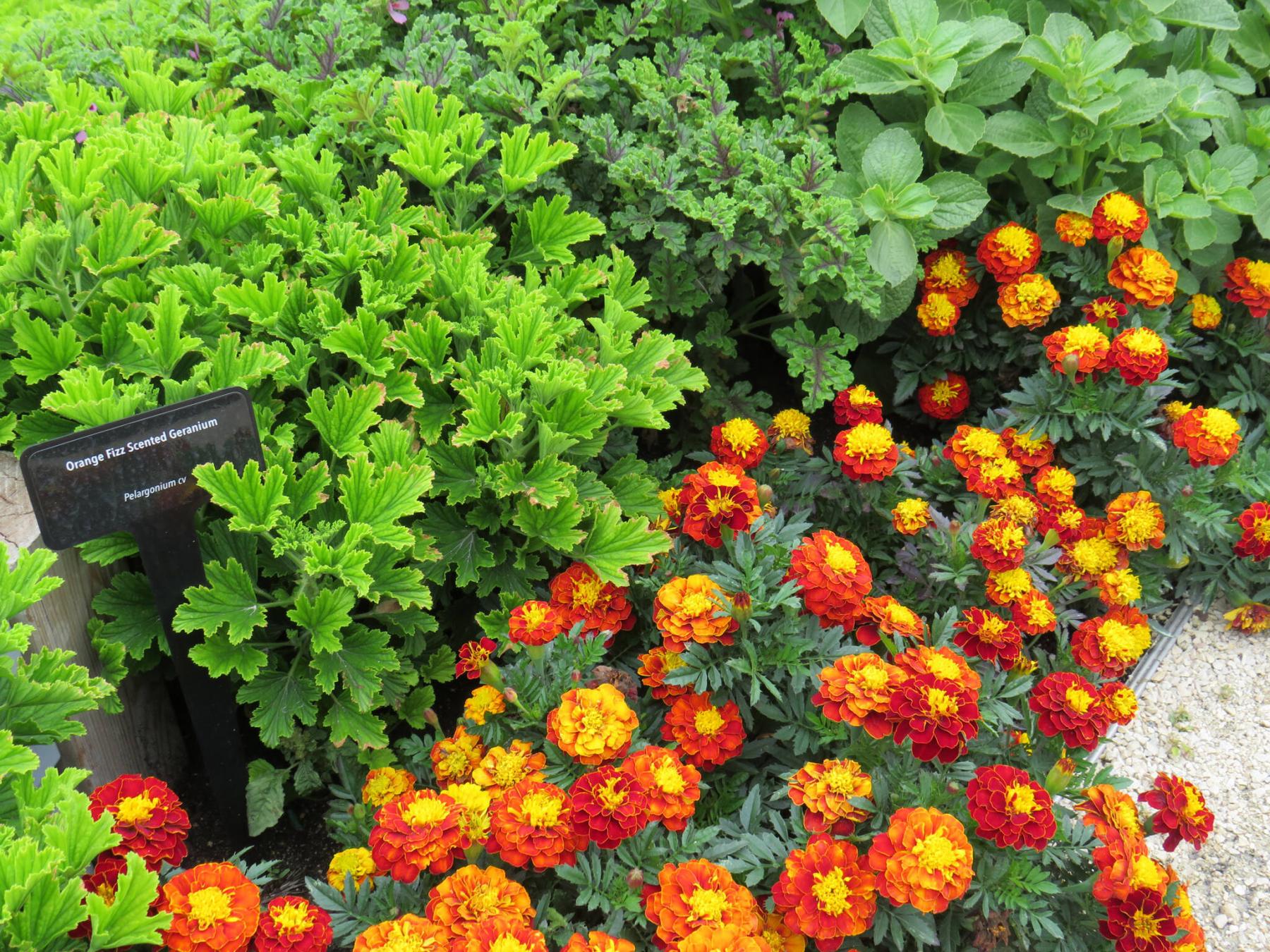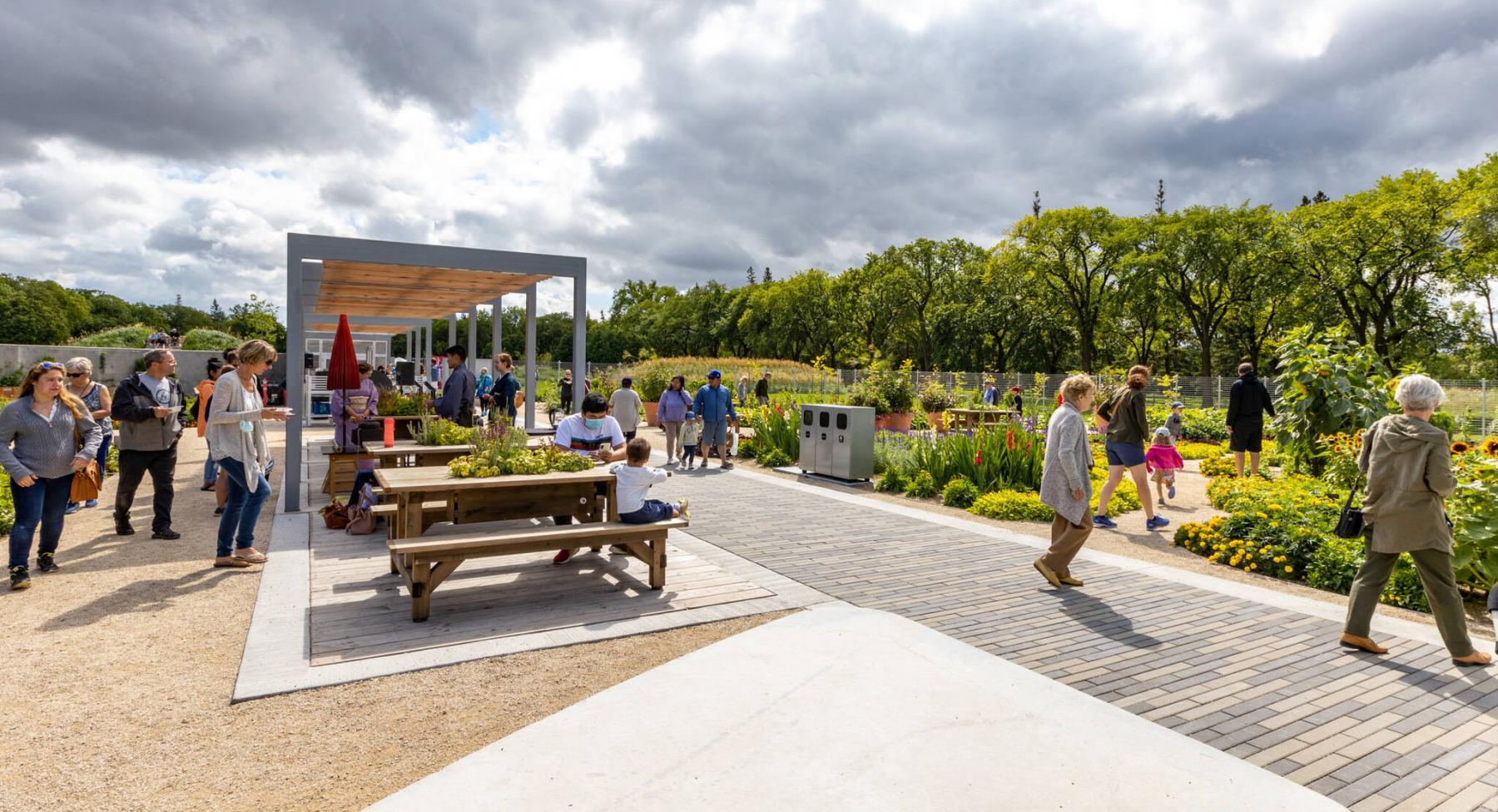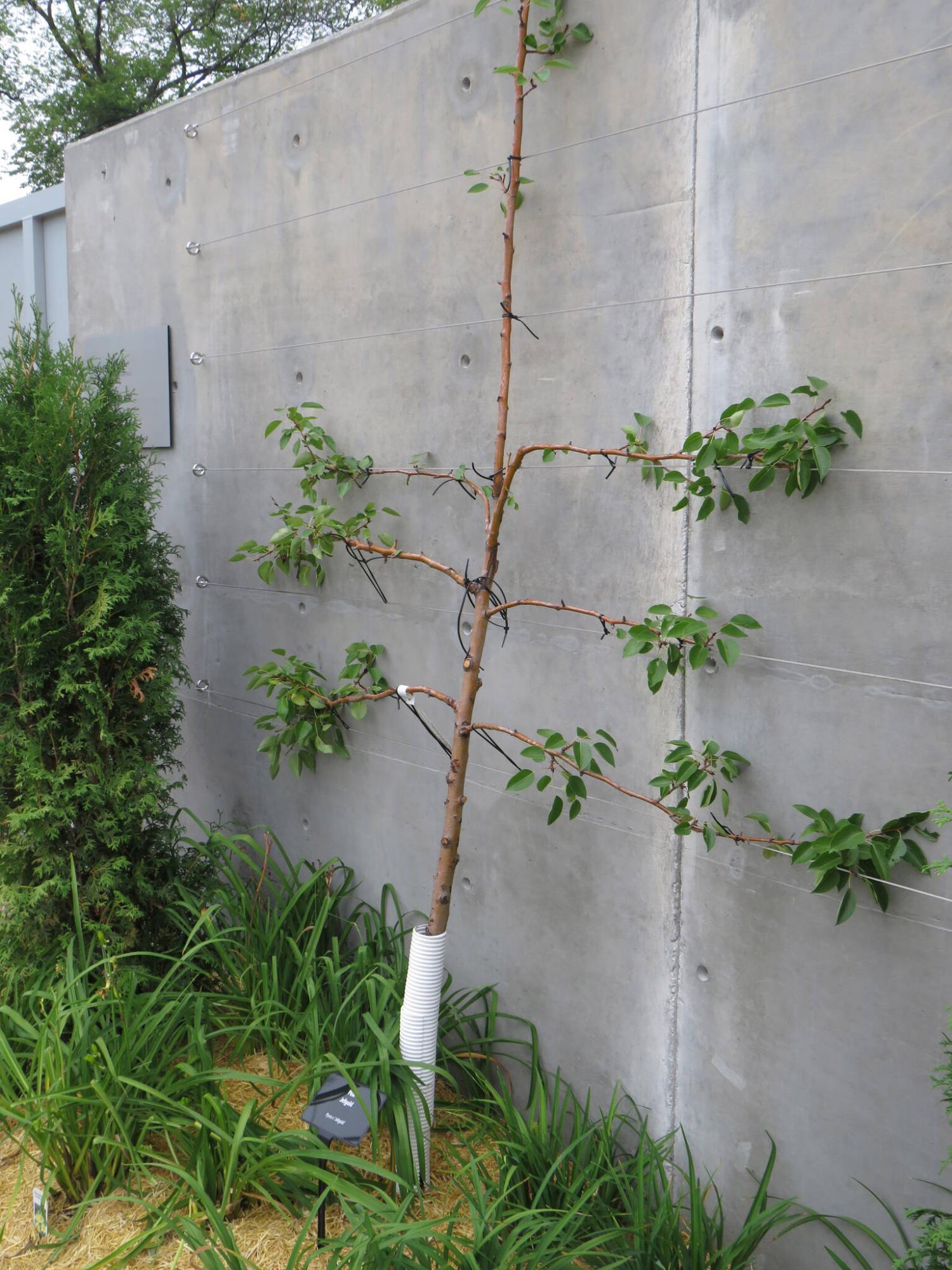 Discovering the best cucumbers or tomatoes that will thrive in your garden or learning which vegetables work well together or which companion plants are most effective in attracting pollinators or how to increase your crop yield while maximizing your garden space, has just been made easier. The Kitchen Garden at The Leaf is one of six outdoor gardens located in the southeast corner of Assiniboine Park. The architectural wonder that is The Leaf, a 64,600-square-foot indoor tropical biome in its final phase of construction, forms the dramatic backdrop to the Kitchen Garden. One of the key intentions of this new and innovative outdoor garden is to explore the different possibilities for growing diverse and delicious fruits, herbs, vegetables, and other edibles.
Newly opened in August 2021, the creative team who plan and design the Kitchen Garden are busy this spring starting seeds, choosing structural elements, and creating new displays that will tantalize your senses. But more than that, in this time of rising food prices and climate change – both of which threaten food security — you will discover ways to feed and nourish your family readily and economically whether you have space for a backyard vegetable garden or grow an edible garden on your patio or balcony. Let's see what the Kitchen Garden at The Leaf has in store for us.
Wade Meisner is the curator of horticulture at Assiniboine Park Conservancy. One of his many roles is to select the multitude of edible varieties that are planted in the Kitchen Garden. He is also involved in the design of the Kitchen Garden and its accessibility to visitors. The beds in this circular garden, for example, are in a radial pattern to allow visitors to get close to the edible plants to touch and smell them.
The Kitchen Garden at The Leaf is an enclosed garden, predominantly to keep the burgeoning deer population from devouring the fruits and veggies. The outer fence on one side of this circular garden is planted with approximately 18 different varieties of hops vines (Humulus lupulus), a herbaceous plant used in brewing beer since the 1300s. Meisner purchased as many different varieties as possible to test their cold hardiness. Insulated by a deep layer of snow cover this past winter, the hops plants should do very well. Hops vines are rampant climbers and in time will create a living wall of greenery. There is the potential for homeowners to assess the different varieties for use as a vertical element in their landscapes but also for the growing craft brewery industry to discover new varieties that will thrive in our climate.
The opposite side of the Kitchen Garden features a curved, eight-foot high concrete wall. The technique of espalier has been used to train apple and fruit trees to grow flat against the surface of the wall. Espalier has been used for centuries in Europe and is a modern and accessible way for homeowners to grow their own fruit in small spaces. There are many options for training fruit trees to grow along fences or walls. Meisner chose a classic system that uses eye hooks and aircraft cable. "It's an easy system that involved a trip to the hardware store", says Meisner. "You could basically do the same thing on the (sunny) side of a garage." An outer wall provides shelter from wind and a microclimate when it is heated by the sun.
Pear varieties include Early Gold Pear (Pyrus x ussuriensis Jefgold), an improved variety developed at Jeffries Nurseries in Portage la Prairie which offers chlorosis resistance and iron-clad cold hardiness, and apple varieties including Red Sparkle, Honeycrisp, and Prairie Welcome. Several grape varieties have also been planted close to the wall. Annual vines such as Morning Glory will provide colour and greenery until the grape vines mature. A border of reblooming daylilies will provide season-long colour. Installed as recently as last year, this layered planting will only grow lusher over time and is ample proof of how much beauty and functionality can be created in a very narrow space. Each plant is identified by a permanent plant marker to assist you in identifying varieties that you would like to try in your home garden.
This year, the Kitchen Garden will feature grains such as barley, oats, rye, and wheat. As a landscape element, grains add height and movement. Grains have decorative value in table arrangements and there is also renewed interest in the use of grains for weaving. But incorporating grains into the garden will also be an opportunity to highlight their importance in the breads and cereals we eat, says Bonnie Tulloch, education coordinator at Assiniboine Park Conservancy. There is also a conservation element. "With climate change, some of the historic varieties are endangered," says Tulloch.
With its vast number of pollinator friendly plants such as sunflowers, salvia, hibiscus, daylilies, fruit blossoms, and herbs that are abundant with nectar and pollen, the Kitchen Garden teaches important lessons, says Tulloch. Food production is dependent on pollination. The decline in pollinators and bees has serious implications for food security so inviting bees and other pollinators into your garden is important. Bees are attracted to blue, purple, violet, white and yellow flowers. A variety of plants with different heights attract a diversity of pollinators.
The use of drought tolerant plants is another important consideration, says Tulloch. Scented geraniums which belong to the genus Pelargonium, for example, are drought tolerant and make an ideal companion plant because their scent helps to repel pests. This year the Kitchen Garden will feature up to six varieties of scented geraniums including Orange Fizz and Chocolate Mint. Companion plants will also include several varieties of marigold such as Super Hero Spry and Bonanza Deep Orange.
Visitors will also find chickpea growing in the Kitchen Garden. A valued, drought tolerant crop grown in many parts of the world, chickpea is high in fibre and protein and a good source of iron.
Once the growing season gets underway, the air will be filled with the aroma of countless different herbs. Tables situated in the garden include herb planters that have a built-in water reservoir that lets water wick slowly into the soil to keep the herbs consistently watered.
This year, Meisner plans to focus on growing edibles vertically such as watermelon, cucumbers, and tomatoes. He is planning a vertical structure on which to grow crookneck squash together with nasturtium, an annual edible flower. Container displays will feature giant hibiscus flowers with DePurple, a gorgeous new purple cauliflower.
There are plans for future demonstrations and tours. Once the calendar of events has been completed, details will be posted at assiniboinepark.ca or follow Assiniboine Park on Instagram.
From basil and beans to herbs, marigolds, sunflowers, and everything in between, the Kitchen Garden at The Leaf is a kaleidoscope of colour and a food lover's paradise. Be inspired to start your own culinary garden.
When you visit, staff ask that you please not feed the deer and other wildlife as the practice risks changing the animals' natural habitat. The Kitchen Garden is open from 9 a.m. to dusk.
colleenizacharias@gmail.com