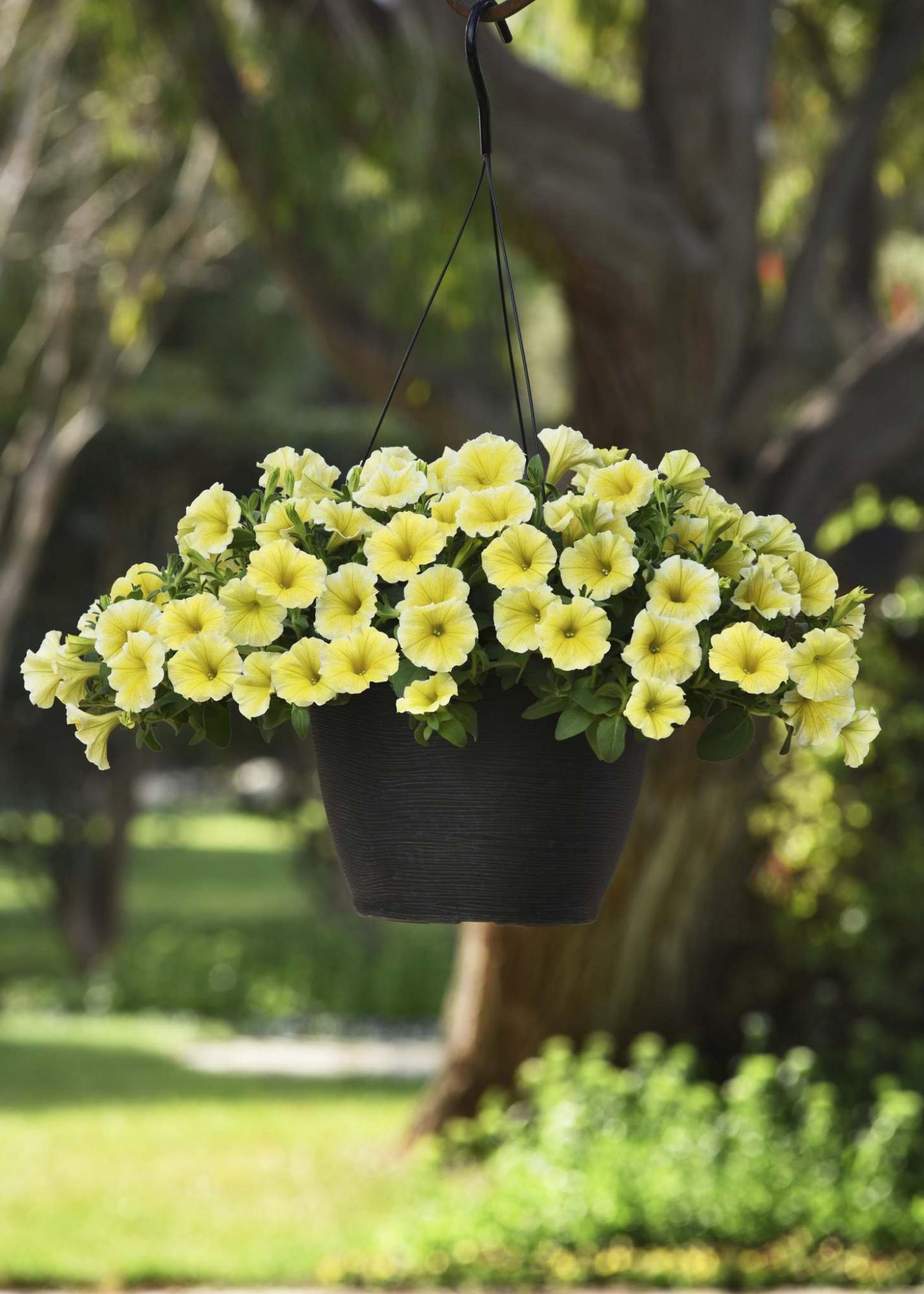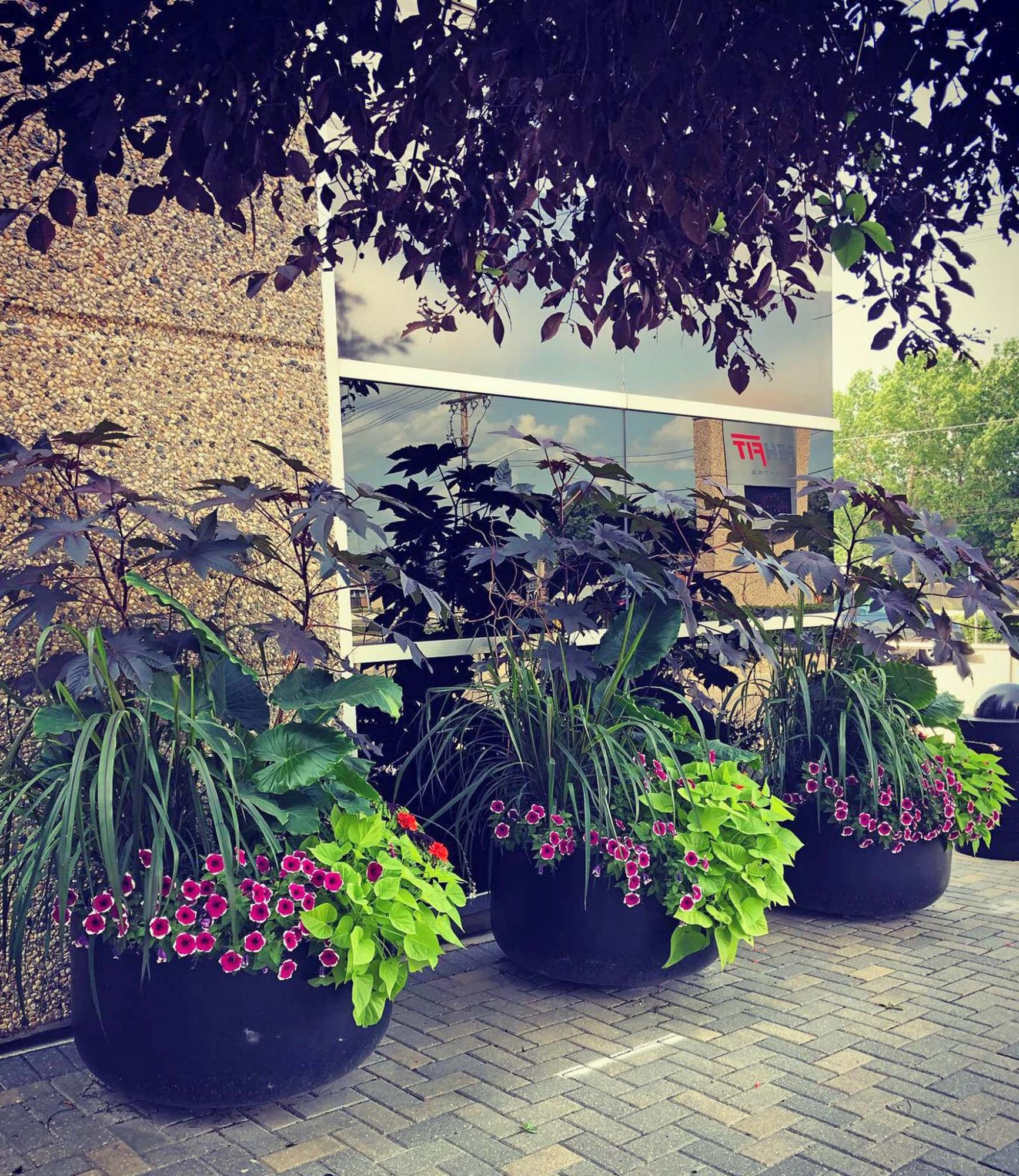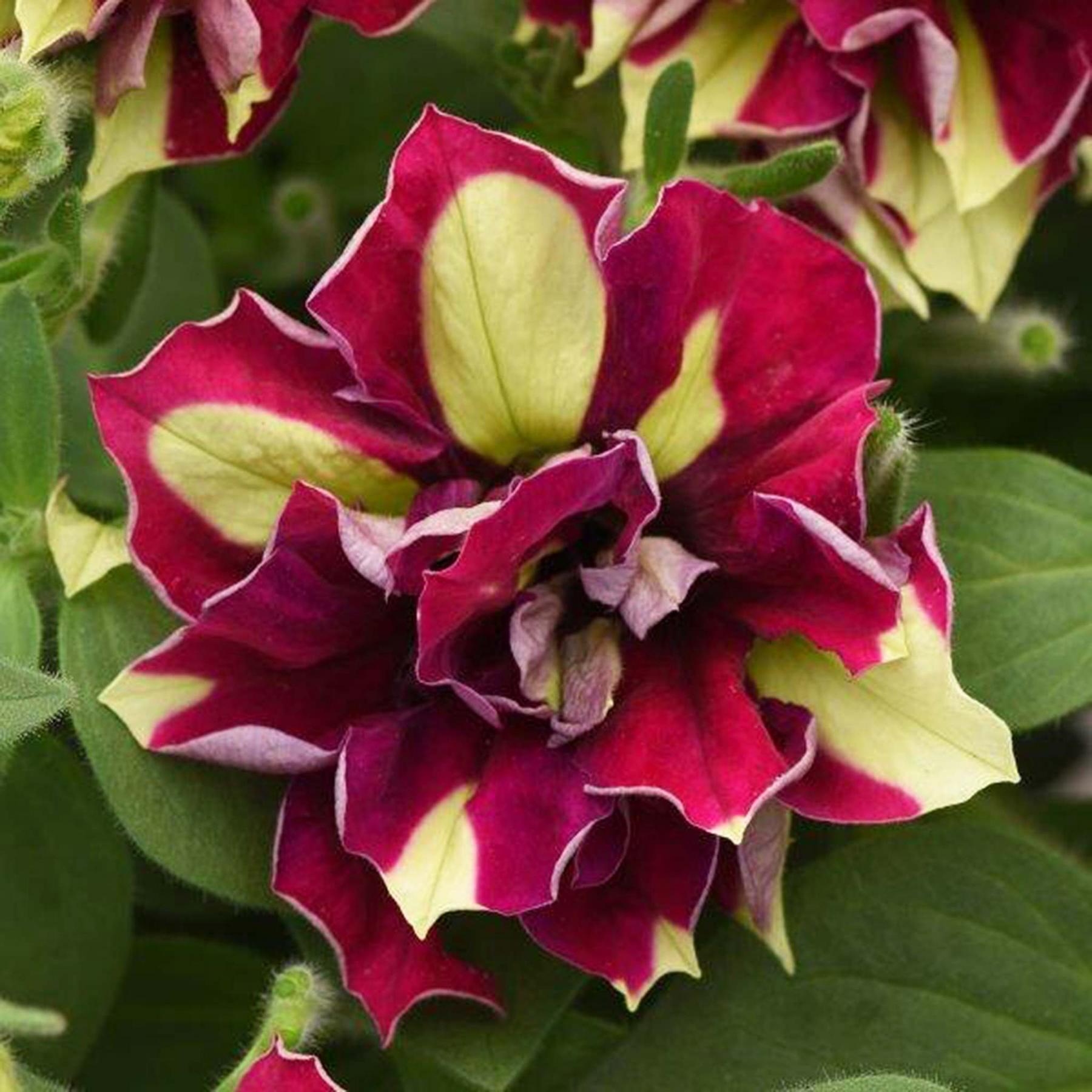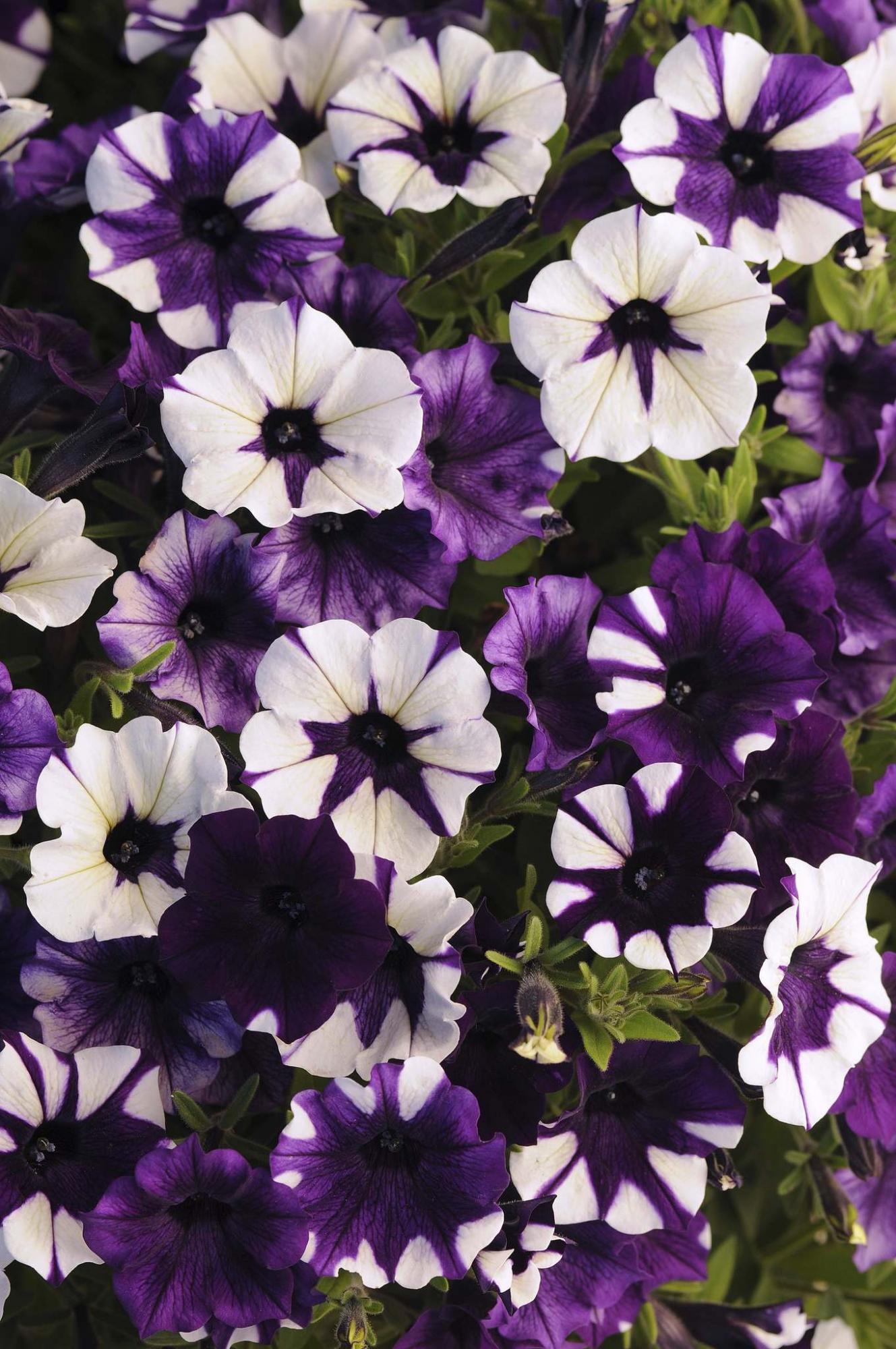 Petunias are durable and resilient. Would you leave a begonia to shiver outside in its container in May's often chilly, single-digit temperatures? The tender begonia might go into a state of shock and never be the same. Petunias, though, tolerate both cooler conditions (as cool as four degrees Celsius) and summer's heat very well.
The genus petunia is in the family solanaceae and is native to South America. The name petunia comes from the Brazilian word petun which means tobacco. Petunia's relatives also include eggplant, chili pepper, tomato, and potato. On a plant-hunting expedition to South America that began in 1831, Scottish botanist John (James) Tweedie collected petunia seeds and specimens from Argentina and sent them to botanic gardens in the U.K.
An annual favourite since hybridizing began in the early 1900s, the petunia is a mainstay for nursery growers and consumers alike. "The versatility of petunias and their range of colour and different forms makes them the core of our sales in the greenhouse," says Duayne Friesen, sales representative for Ball Seed Company, North America's leading wholesale horticultural distributor.
But are you a petunia snob like I used to be? Do you think petunias are common or ordinary? It's time to take another look and see what you've been missing. There are outstanding petunia series to choose from but also unique stand-alone varieties that flower prolifically and are standouts for garden performance.
Friesen, who makes his home in Winnipeg, says the biggest introduction in petunias has to be the new Bee's Knees petunia from Ball FloraPlant. Finding the richest, most intense yellow on a petunia has been the holy grail of plant breeders, says Friesen. "Put Bee's Knees beside any other yellow petunia and there is absolutely no comparison." Bee's Knees has dark green foliage, uniform growth, and holds its yellow colour better throughout the growing season than any other yellow petunia on the market.
"We had amazing success with Bee's Knees petunia last year," says Jen Van den Ham, an annuals grower at The Green Spot Home & Garden in Brandon.
Friesen says there is a growing trend towards double petunias. "Typically the flowers are smaller but they are also very full flowers compared to what you see in a regular petunia," he says. Last year, Midnight Gold petunia with nearly black double blooms edged in lemon-gold was in such high demand that it exceeded all expectations, says Friesen. This spring, also look for Petunia Pinkerbelle, a new semi-double flowering petunia that offers a bicolour bloom with a pink centre and white outer petal.
The Green Spot is carrying a stunning new double flowered petunia series called Double Vogue. "There are five different colours including Lemon Berry which is a swirl of bi-coloured purple and yellow petals," says Van den Ham. "We're really excited about this variety." One look at Lemon Berry's unique blooms and it's easy to see why.
Pink Diamond is another new stand-alone petunia for 2021 that is sure to earn rave reviews. I had the chance to trial Pink Diamond in my garden containers last year and fell in love with this pink double flowering variety which has crisp white edges.
There are plenty of interesting petunias as well that have single blooms. The Green Spot is offering Petunia Black Magic, a trailing petunia with the blackest black blooms on the market.
One of the most popular petunia series in recent years is the Headliner Petunia Series. The Headliner petunia series is perfect for hanging baskets and planters. Award-winning Headliner Night Sky petunia became an instant favourite when it was introduced a few years ago. Now comes Crystal Sky, a lavender veined petunia with white spots which Friesen describes as flat out gorgeous. Veining, by the way, is a definite trend in petunias.
Also new for this year is Electric Purple Sky. "We were able to get our hands on Headliner Banana Cherry Swirl and Enchanted Sky, two new petunia varieties that are being introduced in 2022," says Van den Ham. Both of these will be available at The Green Spot in limited quantities.
Shock Wave Purple Tie-Dye spreading petunia is an intriguing new introduction for 2021. The flowers are a combination of bright white and deep purple-blue with varying patterns. The blooms and patterns change based on temperature and light levels. On cool nights, for example, the purple colour deepens. Shock Wave's flowers are more petite than other Wave petunias, says Friesen, which gives them more durability against wind and rain. In addition, Shock Wave petunia is an excellent choice not only for hanging baskets and balcony or patio planters but also thrives in a landscape setting.
Sharlene Nielsen owns Front Door Stories, a custom container gardening service. For her clients who want loads of blooms, Neilsen uses many different petunia varieties. When Nielsen created a trio of high-impact container designs for the Reh-Fit Centre in Winnipeg, she used Cascadia Rim Magenta, a knock-out bicolour petunia with dark purple blooms with a cream edge and a cascading habit. Cascadia Rim Magenta flowers prolifically from early summer to the first frost. A 25 to 40 cm tall mounding plant, Cascadia Rim Magenta also has the right scale for large planters, says Neilsen. Her dramatic design combination also featured Castor Bean Red, Pennisetum purpureum Vertigo Fountain Grass, Alocasia California Elephant Ear, Ipomoea Sweet Potato Vine, Salmon Zonal Geranium, Coleus Kong Rose, and White Gaura.
"For a softer, more vintage French country look, I like to use a double petunia variety called Sweet Sunshine Honeydew," says Nielsen. Fully double and floriferous with excellent weather tolerance, Sweet Sunshine Honeydew has a semi-trailing habit with a very light green colour. Sheer elegance. "I typically use this variety for sitting areas where it can be viewed up close."
This spring, Nielsen is looking forward to growing Surfinia Purple, a fully trailing veined petunia as well as Supertunia Really Red, a mounding petunia with brilliant red flowers.
I'm keeping my eye out for Main Stage Glacier Sky, a trailing petunia with grandiflora size blooms in deep purple with a white picotee edge and white flecks.
It's important to remember that petunias are heavy feeders so must be fertilized regularly. But for nature's sake, please use an organic fertilizer. Friesen adds a half-strength solution of fertilizer to a barrel of water so that his petunias are being fed each time they are watered.
"Don't be afraid to cut back your petunia plants during the growing season," says Van den Ham. You will be rewarded with bushier growth and more flowers.
colleenizacharias@gmail.com