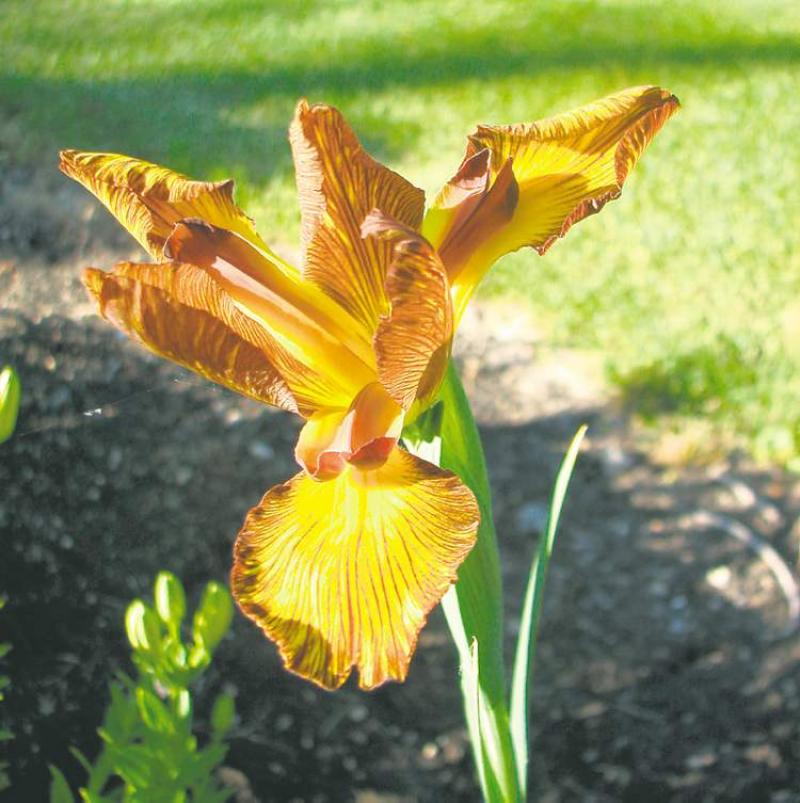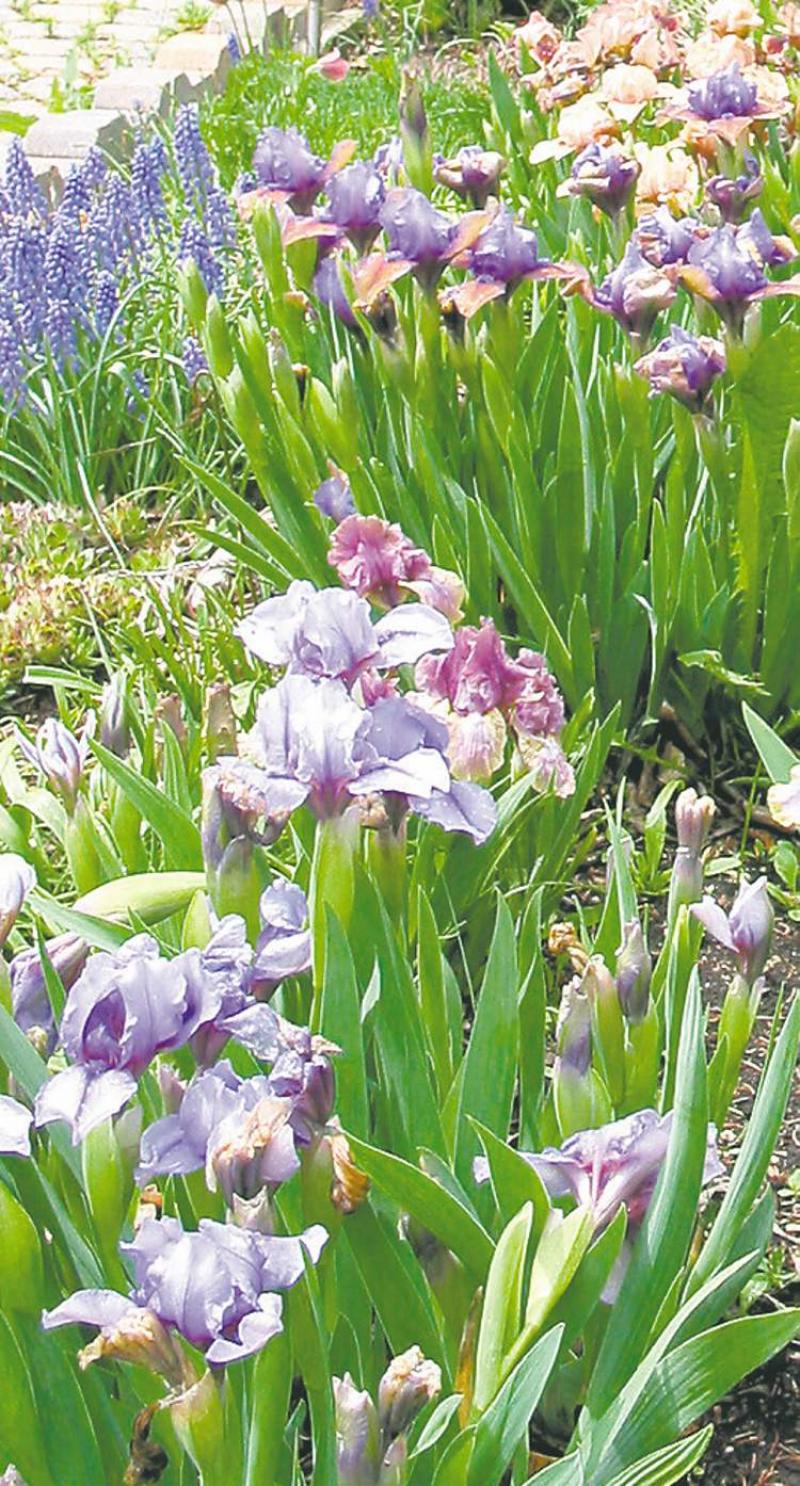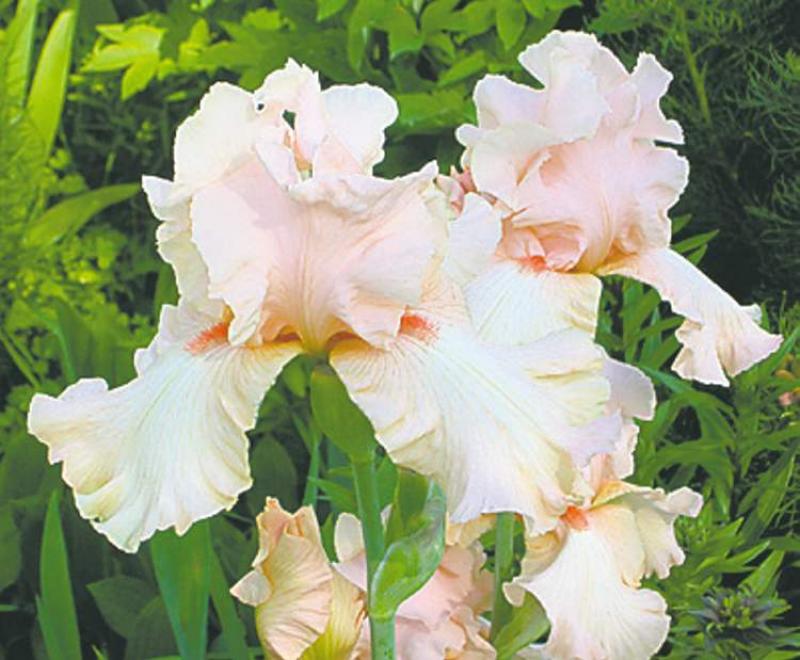 Spring is the time of the iris and gardens are experiencing iris bloom right now. Bearded iris come in all sizes and most colours of the rainbow except true red. Beginning with the tiny Miniature Dwarf Beardeds (MDBs) that generally start in mid-May, these are quickly followed by the median class consisting of the Standard Dwarf Beardeds (SDBs), Intermediate Beardeds (IBs), Border Beardeds (BBs) and Miniature Tall Beardeds (MTBs). Sometimes, the classes overlap with each other so you can have a few of each blooming at any one time. The bearded display ends with the Tall Beardeds (TBs) that bloom through to late June and early July.
Then there are the beardless iris, the Siberians (SIBs), Spurias (SPUs) and Species crosses (SPXs) that bloom into July. By the time those are done, there just might be repeat bloom on a bearded iris. Eleanor Hutchison, an iris grower who lives near Ste. Anne, reports she has consistent rebloom on the SDB Forever Blue and has since 2001. Another iris grower, Sandy Eggertson, who lives near St. Andrews, has had similar success. Irises that have been known to bloom until a frost include SDBs Autumn Jester, Blueberry Tart, MDB Forever Violet, among others.
All of these were hybridized by Chuck Chapman of Guelph, Ont. If you are just starting with the smaller iris, Chuck's creations are solid performers on the Prairies. By growing several different classes of bearded and non-bearded iris, it is possible to have iris in bloom from May to July with the possibility of repeat bloom into August and even September -- depending, of course, on the weather. As for the TBs that are advertised as 'rebloomers,' unless you get very lucky, and we have an unusually mild autumn, our season is just not long enough for them to bloom twice in one year.
That said, however, last September, a historic iris by the name of Red Revival did try to rebloom in both Sandy's and Eleanor's gardens. So, you just never know!
In addition to a full season of bloom, iris are relatively pest- and disease-free. About the only problem they experience on the Prairies is a condition called fungal leaf spot, which causes brown circular spots on the foliage that can, if left untreated, join together causing the leaf blade to brown off and die.
This condition is not usually fatal to the plant and is caused primarily by water splashing from the soil onto the foliage. Usually all that is required is to cut off the affected leaf part or remove the entire leaf if the infection is severe. Another condition that affects iris is bacterial soft rot. If you have it, you will know it right away. The rhizome gets mushy and soft and it is accompanied by a foul smell. One other type of rot that is not accompanied by the smell may also occur but is less common. Fungal crown rot presents as a grey or tan cottony mass on the leaf bases, nearby soil and rhizomes. Leaves turn yellow at the tips, rot at the base, and eventually fall over.
Many times a secondary infection of bacterial soft rot will also occur.
To ensure healthy iris, just follow basic garden sanitation.
This includes a major cleanup of all old iris foliage and organic debris twice a year: late fall and again in early spring.
During the spring and summer, pull off and destroy any outer leaves that become unsightly brown or die off. Do not put iris debris in the compost pile.
Regularly replant your irises to avoid crowding. Pests thrive when they can easily move from one plant host to another, and diseases rapidly spread under conditions of poor air circulation. Bearded iris plantings should be placed where they receive the longest possible period of direct sun and where the drainage is best. And lastly, a healthy, organic-rich soil produces healthy plants. Try to avoid using commercially prepared fertilizers, which may produce lush, susceptible growth. As well, avoid turning to insecticides and fungicides as a first resort for pest control. That should be the last resort!
I asked both Sandy Eggertson and Eleanor Hutchison, experienced iris growers, for tips on growing iris. Eggertson strongly recommends using MYKE (a growth supplement using mycorrhizal fungi to promote a healthy root system) when planting new iris. "Use Comet or other powdered bathroom cleaners to seal the cut end of a rhizome from digging. When new iris are added to your gardens, give them a bath in a 10 per cent bleach solution."
Hutchison follows this practice with a fresh water rinse. "It helps to kill any bacteria and other nasties that might be on the rhizome."
However, the most important step deals with the timing of planting new or divided plants in the gardens. Iris should be dug four to six weeks after blooming, which puts it well into summer. In our discussion, Hutchison noted, "Over the years, I've learned that we need to plant our iris by the end of August, most importantly in a well-drained spot, even better if it's slightly sloped so water doesn't pool. Tall Bearded's need to be planted by the end of July to give them their best chance at survival here on the Prairies."
This can pose a problem for cold zone iris growers who want to grow TBs. Many garden centres have TBs available in August and September. You can pay your money and take your chances and with the historic TBs (more than 30 years since registration) you will probably be fine planting into September. But in my opinion, most of the modern ones will not do well planted that late. Our season is just too short for them to put down new roots and become established in time for winter. When they die over the winter, the gardener is disappointed. If you can, buy and plant tall bearded iris in the spring and while they are in bloom.
As for favourites, I asked Hutchison and Eggertson for their top recommendations. Both Eggertson and I chose the MTB class while Hutchison chose the SDB class. As for varieties, we all recommend those that are tried, tested and true and have survived at least five years in our gardens (see favourites).
Colleen Zacharias
Tips and tricks
Plummeting nighttime temperatures in the month of May found many Manitoba gardeners thinking of perennials that can stand up to the cold and produce hardy blooms, too. Irises rarely disappoint.
Barbara Jean Jackson has grown iris for many years. Her garden, just west of Brandon, has achieved international designation as an iris display garden with the Median and Dwarf Iris Societies and has also been recognized as a designated display garden of the Historic Iris Preservation Society. Manitoba is home to two other iris gardens that have also achieved the same distinctions. In today's article, Jackson talks to iris growers Sandy Eggertson of St. Andrews and Eleanor Hutchison of Ste. Anne. Between the three of them, they grow more than 2,000 varieties of iris of various sizes, shapes and descriptions. Their iris gardens are listed with the Canadian Iris Society as open gardens to visit during the season when the iris is in full and glorious bloom.
Who better to ask about tips and tricks and variety recommendations? Join them at the fifth annual Can-West Iris Society show on June 10, from 1-4 p.m. at Bourkevale Community Centre, 100 Ferry Rd. Admission is free. Tour information will be available at the show or contact jacksonb@mts.net.
Colleen.Zacharias@gardensmanitoba.com
Eleanor Hutchison's favourites
MTB Ace
SPEC Varigatae var reginae
SDB Forever Blue
SDB Chubby Cheeks
SPEC Iris versicolor
iris_lady2001@hotmail.com
Sandy Eggertson's favourites
MDB Dunlin
SDB Butterscotch Carpet
IB Ming
MTB Rosemary's Dream
TB Quaker Lady (blooms every year)
www.merlebleu.net
B. J. Jackson's favourites
MDB Sleepy Time
SDB Blueberry Tart
MTB Ace
IB Fresh Insight
TB Best Bet (blooms every second year)
jacksonb@mts.net