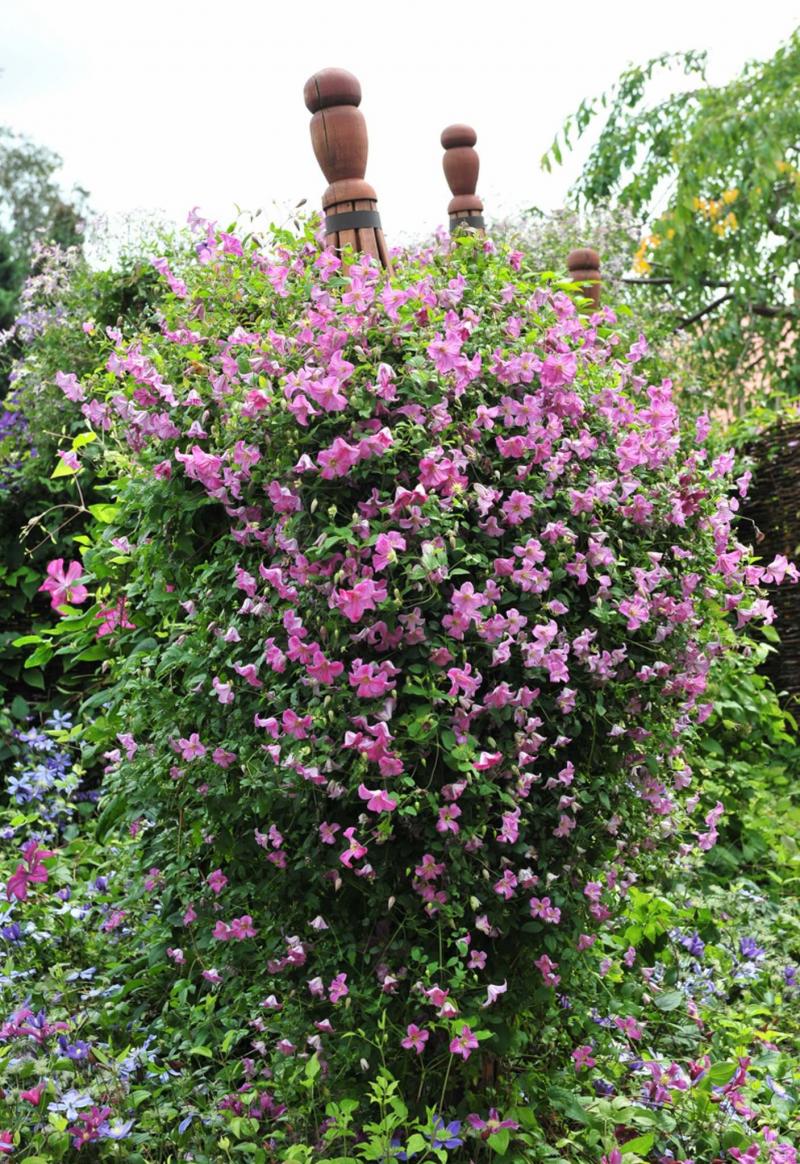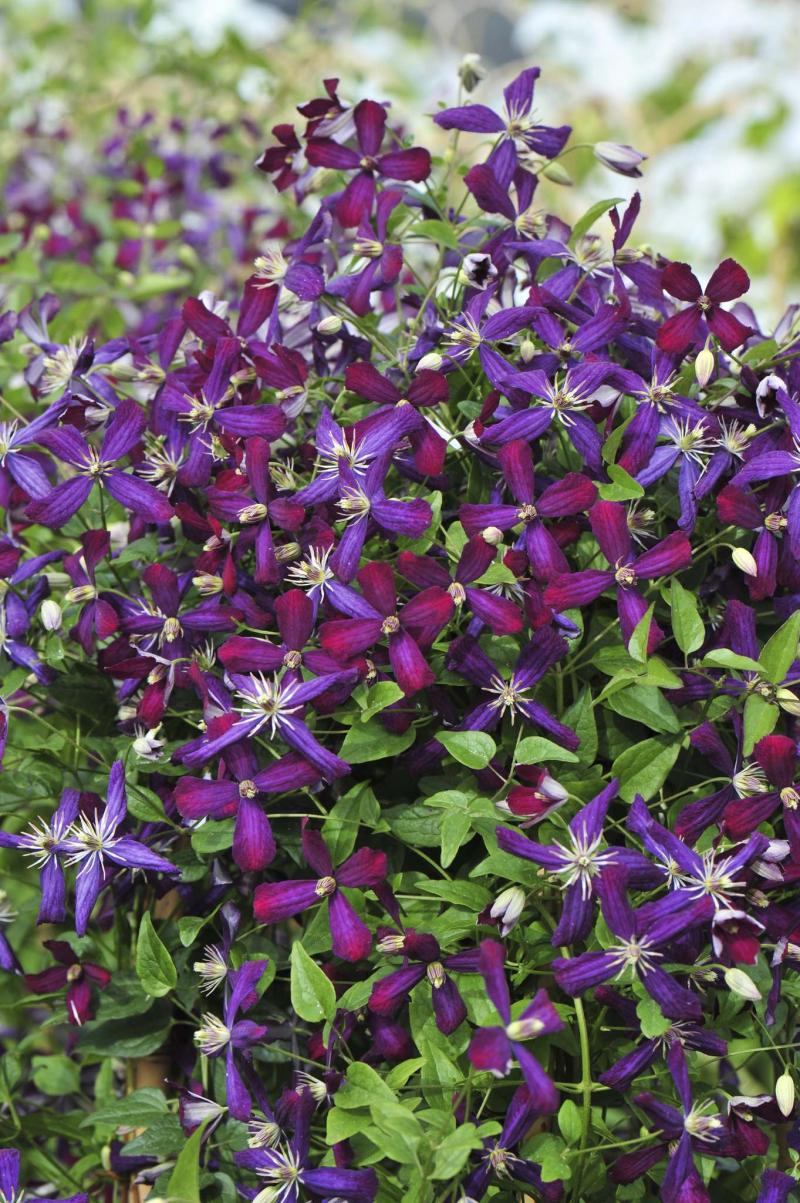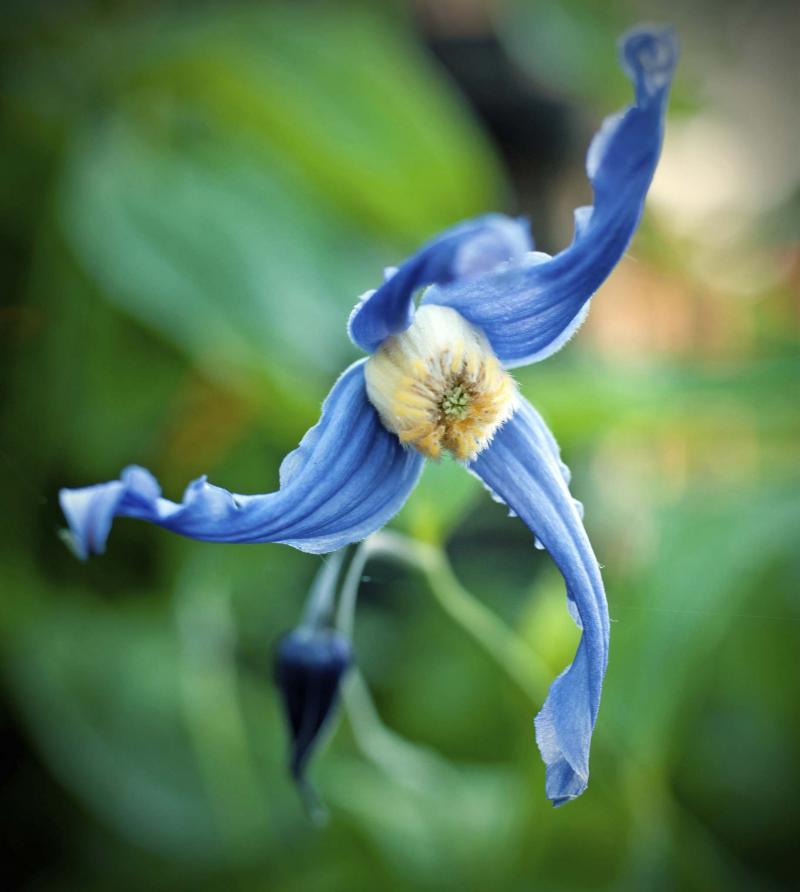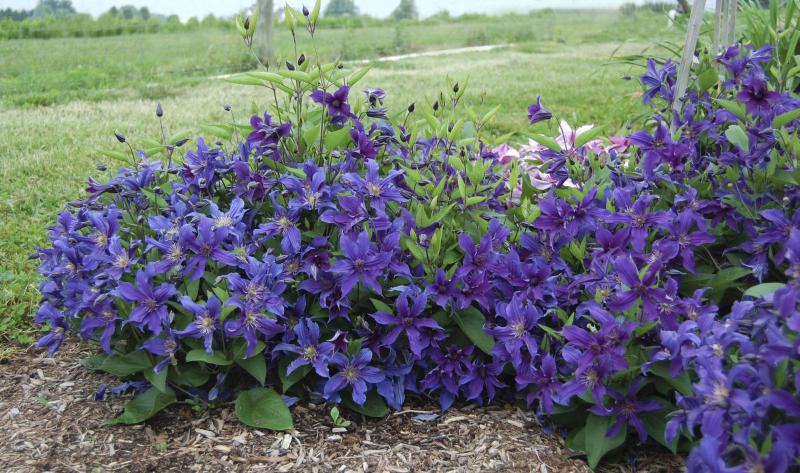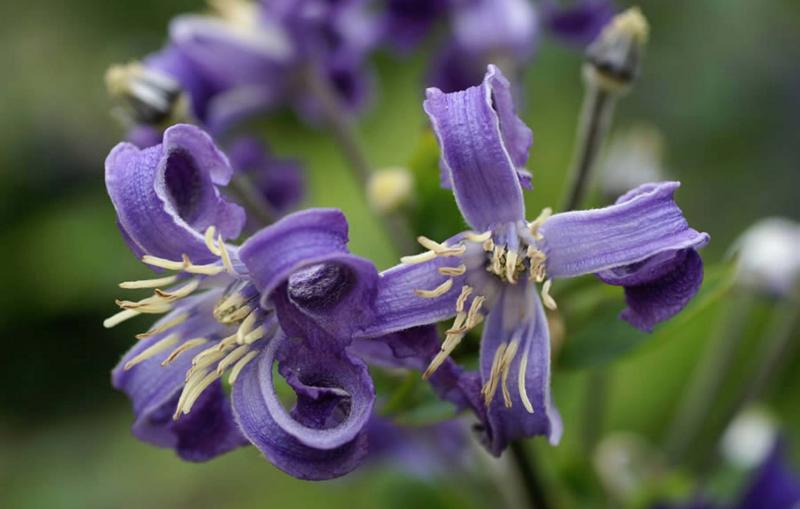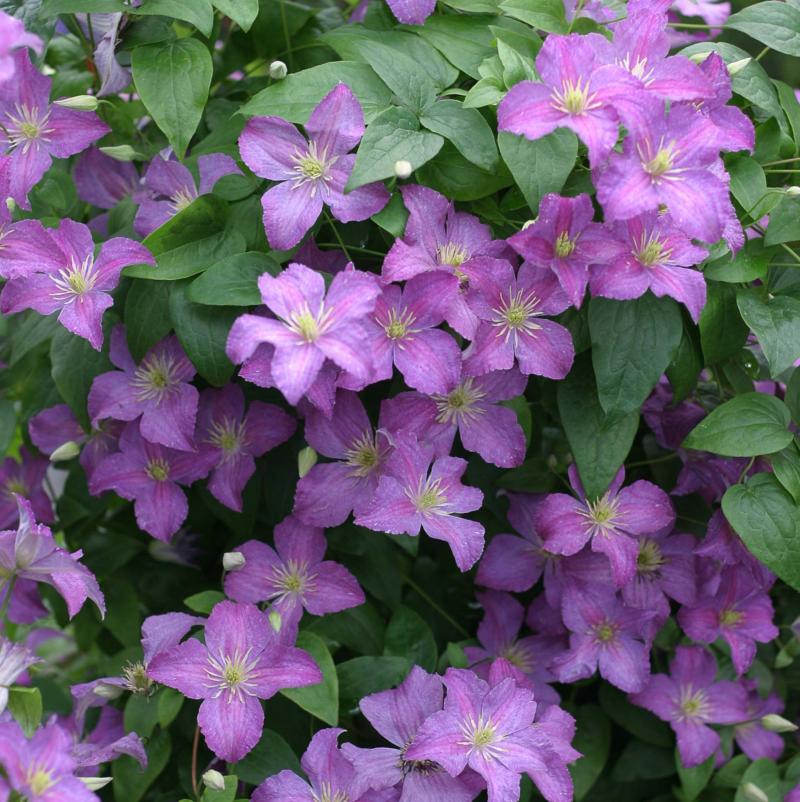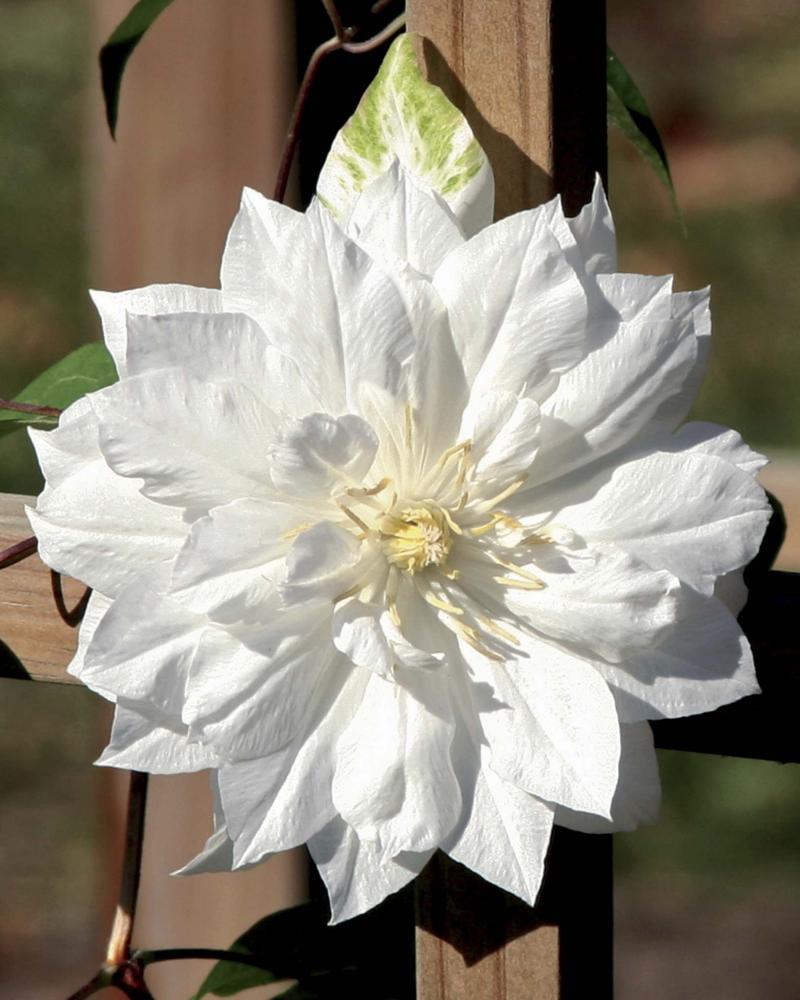 Even if you are not growing clematis in your garden, most likely you are familiar with Jackmanii clematis. The most popular clematis variety in the world, Jackmanii, with its prolific royal purple blooms, traces its proud lineage to the mid-1800s where it was raised at Jackman and Son Nursery in Woking, England.
Planted against a south- or east-facing wall in a prairie garden, Jackmanii clematis erupts with a blanket of nodding 10-centimetre blooms for a gorgeous, enviable display. Other famous varieties that continue to resonate today especially with prairie gardeners are Blue Bird, Blue Boy, Rosie O'Grady and White Swan, all developed by the legendary Frank Skinner who immigrated to the Dropmore district of Manitoba from Scotland in 1895.
Clematis, known as the queen of vines, belongs to a genus of more than 250 species around the world. Many of the thousands of hybrid selections that exist today are named after their origins in a diversity of habitats from the Far East to the Mediterranean, from European Alps to North American woodlands. Some varieties such as Jackmanii scramble up walls or obelisks, growing to a height of four metres while others are upright, non-vining growers with a sprawling habit more suited to the front of a herbaceous border.
For a moment, let's compare clematis with the hydrangea. In terms of common traits, both offer varieties with varying size and flower form, different bloom periods throughout the growing season and specific climate and growing requirements. All of these things can be said for any number of species when compared with another. Confusion, though, about when or how to prune either of these valuable flowering species is a common concern among home gardeners who sometimes fear that an untimely cut can result in a loss of blooms.
For both clematis and hydrangea, the best advice begins with choosing a variety that matches your growing zone and keeping your plant tag. Failing that, observe the time period when your plant blooms and the rest is easy.
"Clematis vines are actually pretty forgiving," says Craig Gillespie, head gardener at Assiniboine Park's English Garden and new editor for The Prairie Garden. While plant tags for clematis will denote which of the three pruning groups (A, B, or C) a particular variety belongs to, the worst that can happen if you prune at an inopportune time or never, is that flowering will either be delayed or not be as prolific.
If you have lost your plant tag, says Gillespie, try observing the plant's habit during the growing season.
If you have an early flowering clematis (group A), Gillespie recommends pruning immediately after flowering, removing any damaged or dead stems. If necessary, the plant can be reduced in size at this time as well. Hardy and locally available varieties that are classified as group A include C. alpina Ruby, C. macropetala Blue Bird and Joe Zary, a hardy zone 2 clematis with soft lavender star-shaped blooms that darken to violet-purple. Developed in 1991 in Saskatchewan by Stan Zubrowski, this variety is enjoying a revival of interest, in part because it is suited to growing in shadier areas of the garden. These early flowering clematis bloom on growth produced the previous year so waiting until fall before pruning will only result in fewer blooms the following year.
Group B clematis are typically large flowered varieties that bloom in late spring or early summer on new shoots on the previous year's growth. Often a second, smaller flush of blooms is produced later in the growing season. Best to simply do a light clean up in spring, removing dead or broken branches and cutting stems back to the first pair of buds. After blooming, snip off spent blooms to encourage a second flush and if necessary, overgrown plants can be pruned back to reduce their size. Another option, says Gillespie, is to prune the plant back by about half in alternate years. Examples of some of the better known group B varieties include Bees Jubilee, Duchess of Edinburgh, Elsa Spath, Fireworks, Henryi, Nelly Moser, Niobe, The President, Veronica's Choice, Ville de Lyon, and Warsaw Nike.
Late blooming varieties belong to group C and produce buds on the current year's stems. Sweet Summer Love, a recent Polish variety developed by Szczepan Marczynski, belongs to Group C. Tolerant of partial shade, it is a repeat bloomer, flowering a month sooner than Sweet Autumn Love and produces masses of lightly fragrant cranberry-violet blooms.
Group C varieties are the easiest to prune and can be cut back drastically in spring before new growth begins. Gillespie prunes Blue Boy which grows on an obelisk just off the path where the English Garden meets the Leo Mol sculpture garden, to the ground each spring leaving about 20 to 30 cm of growth.
Blue Boy is a cross between C. integrifolia and C. viticella. A smaller flowering variety, Blue Boy has steel blue, 10 to 12 cm flowers that bloom from June to September. Unlike other hardy group C viticella clematis varieties such as the stunning Purpurea Plena Elegans and the new Pink Mink or Jolly Good, a Jackmanii hybrid, which grow to a height of two to three metres or more, Blue Boy grows to only one and one-half to two metres.
Gillespie has a soft spot for Clematis recta or bush clematis varieties. Unlike the climbing varieties, these are more sprawling and have much smaller flowers. Ideal for the front of the border, bush clematis pairs nicely with neighbouring roses and shrubs, often weaving its way through branches for some startling, stunning combinations. Bush varieties also form an interesting ground cover.
This spring, Aubin Nurseries is carrying Simply Black, a non-vining upright clematis that does not require a structure to climb on. In spring its foliage is an unusual smoky-purple shade maturing to a deep olive green for an exciting addition to the herbaceous border. It's recommended to prune lightly in spring as it produces flowers on both old and new wood. Another new variety to look for is China Purple Bush, a heracleifolia variety that grows to only 90 cm. Its unique curling violet-blue flowers in August and September are great for cutting. Fluffy seed heads appear in late fall. A group C variety, China Purple Bush is one of the easiest to prune.
Recently I talked with Rob Wein, co-owner of Clearview Horticultural Products, a family owned company in British Columbia which offers a mail order site, www.homeofclematis.com, that ships clematis varieties across Canada and the U.S. An excellent guide to growing clematis in North America is also available for order.
Wein's family has been growing and breeding clematis since the days of his great-grandfather. He says that while hardy jackmanii and viticella types do great on the prairies, it's possible to grow even tender varieties successfully if they are planted close to the house or situated in a micro-climate. In addition, Wein recommends planting tender varieties deeply. How deeply? For a clematis sold in a three to four litre container, Wein suggests digging a hole that is about 45 cm deep. "Add seven to 10 cm of soil on the bottom," says Wein, "and then place your plant so that the stem is buried about 15 cm."
Wein recommends Sapphire Indigo, a spreading zone 4 clematis with a mature height of one meter. A cross between integrifolia Olgae and The President, it features masses of late-blooming purple flowers and can be pruned hard in spring. Spreading varieties can also be grown in peony cages.
Daniel Remillard, co-owner of Jardins St-Leon Gardens on St. Mary's Road, plans to carry new varieties such as China Purple Bush, Sweet Summer Love, Pink Mink and Jolly Good this spring as well as a number of the more traditional large-flowered varieties such as the elegant Duchess of Edinburgh. A classic, Duchess of Edinburgh was raised by George Jackman and Son in 1874. Flowers are double and semi-double with the occasional slight tinge of green and bloom on wood hardened by the previous season's growth. Only a light pruning in early spring is required.
Hate pruning of any sort? Hardy Tangutica varieties such as Golden Tiara will often keep rambling and blooming, says Gillespie, although it can also be invasive, self-seeding everywhere. Golden yellow bell-shaped blooms have dark red centres followed by silver seed heads.
Whichever variety you decide to grow, remember to mulch well to keep the roots cool, provide adequate moisture and regular, balanced feeding. And remember to keep your plant tag.
colleenizacharias@gmail.com