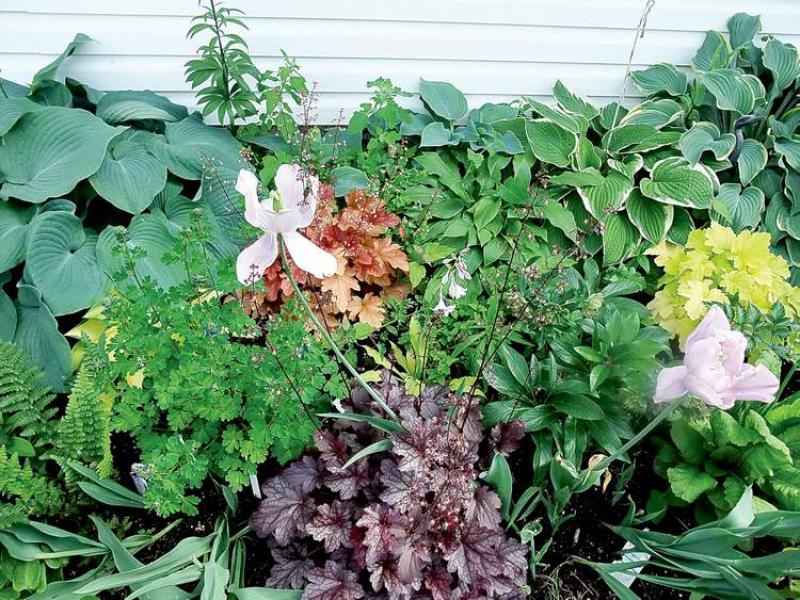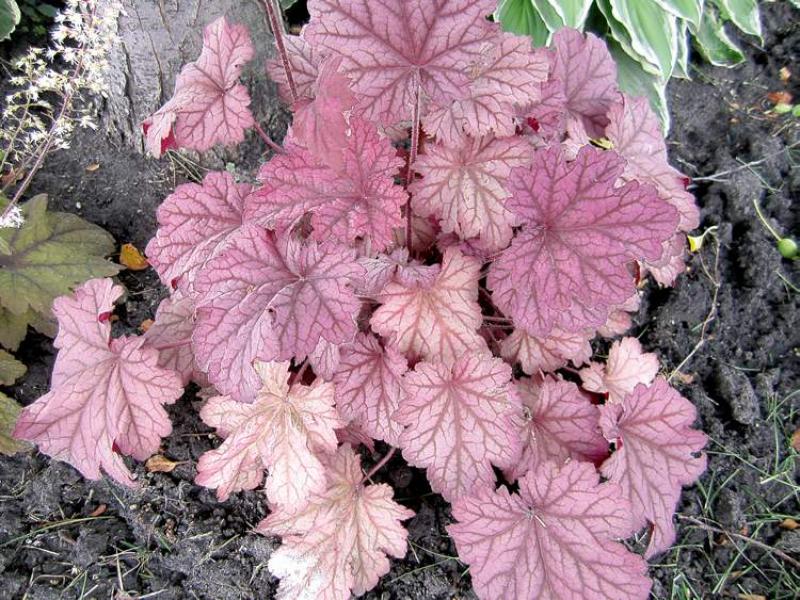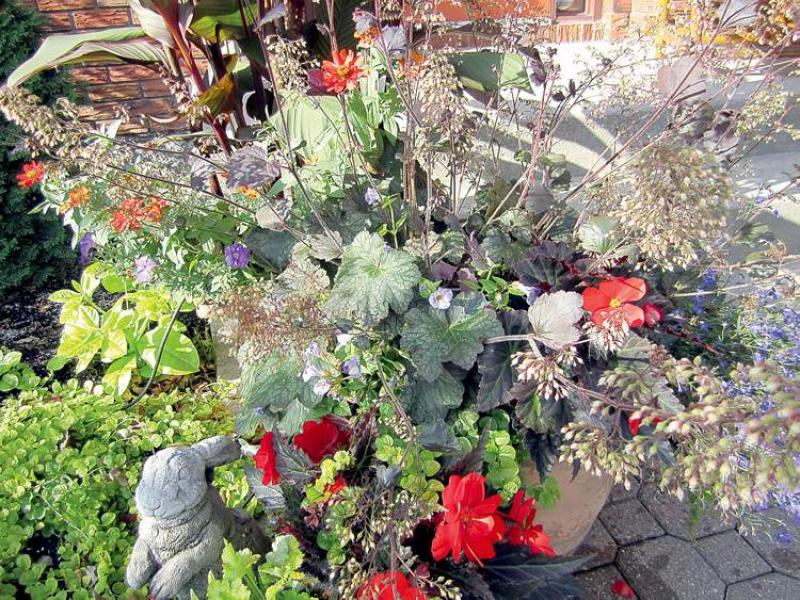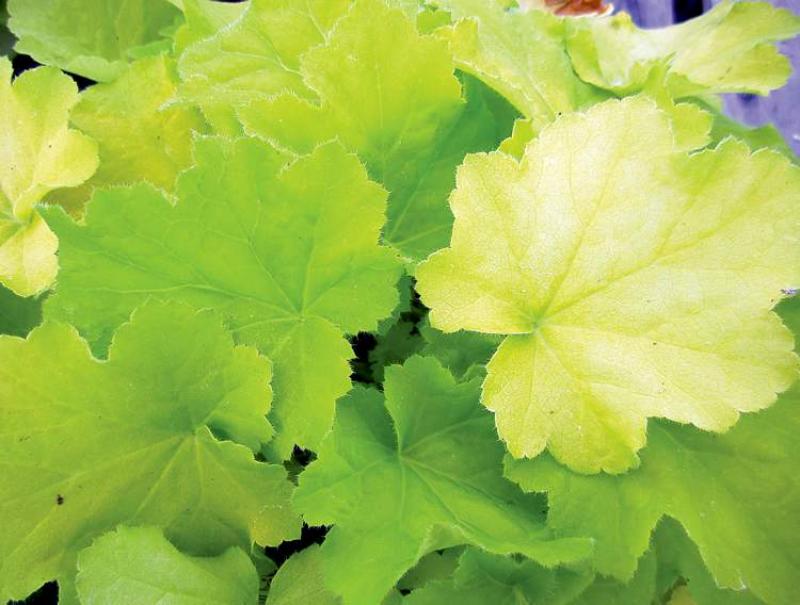 Would you like to enjoy some dessert and wine in your garden? I'm sure many say they already do this, but what about actually having these planted in your garden?
Heuchera are summer-flowering perennials that will entice you not only with their delicious-sounding names -- Pinot Noir, Crème Brªlée, Tiramisu, Key Lime Pie, Chocolate Ruffles, Pinot Gris, Berry Smoothie -- but also their many wonderful traits.
Heuchera is the botanical name for native coral bells or alumroot. It belongs to the saxifrage family and is a native plant, growing in North America down to Mexico and up to the Arctic. These plants are bred in various sizes, from 15 to 60 centimetres in diameter, with many leaf sizes and shapes and various flower colours. Wiry stemmed bell-shaped flowers with a similar size to lily of the valley reach heights of 15 to 90 centimetres and may bloom once, twice or continually, depending on the variety chosen.
Heuchera's big attraction for me is the leaf colour. The palette ranges from all hues of green to mahogany, bronze, chartreuse and metallic, as well as to a wide range of dark colours that are almost black. Purple undersides or different scape colouring and venation in the leaf, combined with smooth, circular, ruffled or jagged edges, give gardeners continual brightness for dark areas or depth in garden beds throughout the summer.
The flowers of Heuchera are small bell-shaped specimens held on long stems. Normally, they are not the selling feature of the plant, as they're quite understated, but they do add a foamy aura above the plant while attracting hummingbirds and bees. As the leaf colours are numerous, so too are the flower colours. When the flowers are spent, they should be cut off at the base.
These perennials are easy to grow in sun or part shade, with morning sun the preferred exposure. In my shady garden they do very well, as they receive morning sun for about two to three hours. If planted where they receive afternoon sun, the edges of the leaves may burn and you will not be able to enjoy them in their full glory.
As for all perennials, soil preparation is important and necessary for successful healthy plants. They enjoy a neutral-pH well-drained organic soil.
To plant, a substantial-sized hole should be dug -- about 11/2 to two times the size of the container they have been purchased in. When this soil has been removed, it can then be amended by the chosen organic matter -- my own preference is mushroom compost.
Tap out the plant, loosen any roots that are tightly wound and plant in the prepared hole. Backfill with the amended soil and place the Heuchera at the same level as in the container.
Water well at planting and continue until the plant is established, taking care not to overwater as they do not enjoy soggy, wet feet -- a not-uncommon occurrence in our clay soils. I recommend fertilizing each spring. Again, my choice of fertilizer is mushroom compost, which continues to amend the soil and supplies the necessary organic material needed for successful plants.
The only pest I have noticed on Heuchera are cankerworms. They love the dark-leaved varieties and will demolish a plant quickly. I spray with Btk (Bacillus thuringiensis var. kurstaki), a biological control -- usually only once, when I first notice small holes on the leaves and with close inspection find the tiny worms. As Heuchera is a plentiful native plant in our lake-country areas, it is deer-resistant.
Heuchera are hardy across many garden zones. The Heuchera available at local nurseries are marked Zone 3 or 4 or above. I've been successful at overwintering them but, if they are at the higher Zone 5 level or more, I cover them with oak leaves or flax straw.
Heuchera are evergreen perennials. In the spring, the plant will have most of its appropriately coloured leaves. If some do dry out, they need only to be snipped with secateurs. Often these plants will heave out of the soil in our climate. This is caused by our freeze-thaw cycle when soil temperatures are warming. Good snow cover is of great benefit -- this past winter there was not a lot and auxiliary covering would have been beneficial.
These wonderful plants with their numerous beautiful qualities can be used in many formats. They add unusual leaf colour and shape. They can easily be planted in containers and hanging baskets -- I've used them successfully both ways. In autumn, I dig these container-planted Heuchera into my garden and overwinter them with the previously mentioned applications.
The joy of having Heuchera in your garden is not only planting and having them offer their unusual colours and forms. Consider sitting in your garden, indulging in varieties of desserts such as Apple Crisp, Blackberry Crisp or Brownies, and pairing them with Champagne Bubbles, Root Beer, Cherry Cola or Ginger Ale.
Tantalizing choices
NEW cultivars of Heuchera are released at an amazing rate -- more than 200 since 2009 alone. The tantalizing choices make it tempting to have one of each ("one-of-each-itis" is a common condition among gardeners), but a better bet is to create contrasting or complementary plant combinations with some of your favourite varieties.
Today's article, by master gardener Marilyn Dudek, provides a number of tips on how to grow Heuchera successfully.
Erna Wiebe at Steinbach's Oakridge Garden Centre suggests Magnum, a 2011 introduction with massive burgundy-red 25-centimetre deeply lobed leaves.
Try pairing it with the more compact Arctic Mist, a reliable and hardy variety introduced in 2008 by Jeffries Nurseries, Portage la Prairie. Its mottled green foliage and red flowers make it an attractive border plant. There is a rabbit in my neighbourhood that loves to feast on its blooms, although this year I am going to try Plantskyyd, an environmentally safe product made from dried blood, vegetable oil and water.
Heucherella is similar to Heuchera but is actually a hybrid of Heuchera and Tiarella. Try Spotlight for a startling addition to your garden -- bright yellow leaves that feature a brilliant splash of red.
-- -- --
THE Westman Gardeners present Hort Day today in Brandon at the Central Community Club from 9 a.m. to 3 p.m. Presenters include Charlotte Tataryn, with Perfect Plants for Problem Places, and Brent Hunter, with Pizzazz in a Pot.
-- Colleen Zacharias
Colleen.Zacharias@gardensmanitoba.com