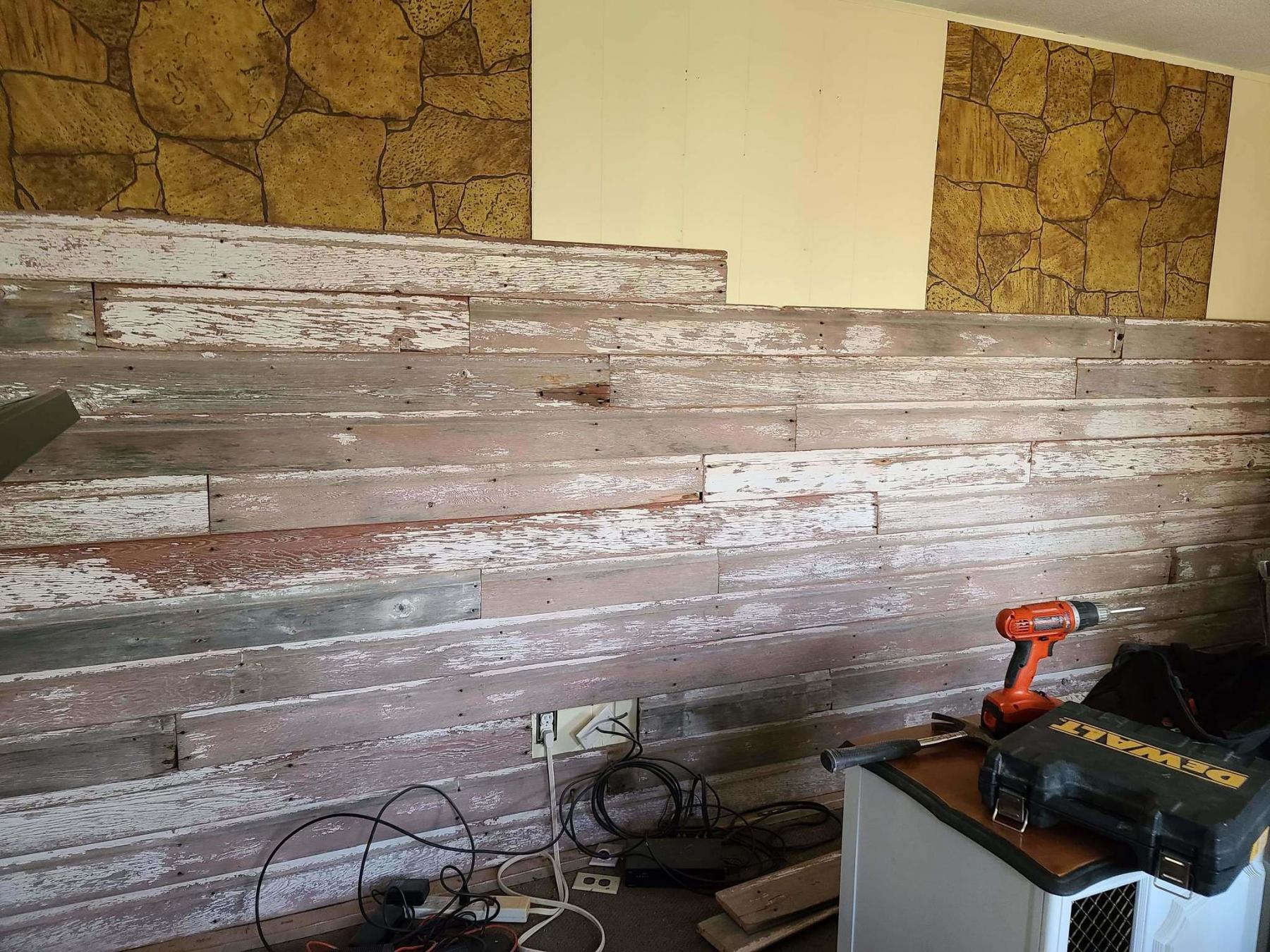 By the time the COVID-19 vaccine comes into effect, our world will be unrecognizable.
Renovated into a whole new reality! So there's at least one good thing resulting from civilization's latest pandemic, not to mention a tsunami of babies over the next few months. I mean, it's a DIY-world at present, and not everyone's handy with tools…
Krista Oar however, currently residing out Steinbach way, is very handy with tools, a skill picked up from her pro renovator daddy, and she has put those skills to very good use of late, renewing her living room! She and hubby Andrew did a superb job!
And they're not done yet. The ceiling will eventually be covered with white shiplap and false beams, an excellent complement to the old barn-board wall.
Worthy of note is that this isn't just any old barn board, it has some personal significance for Krista, which she shares with us here:
"The barn wood came from an old outbuilding near Domain, near where I grew up in Sanford, so it's like having a little piece of my past and my childhood with me."
Acquiring it was no "gimme." It's not like it was all neatly stacked for Krista to pop by and pick up. With lots of help from Andrew and her parents, removing the wood took two full days to complete. Not only was it challenging to get off without destroying, but once home, it was prep time:
"I pulled all the nails out, sanded and cut each board to size. Lots of work, but so worth it. I honestly couldn't be happier seeing my vision come to life!"
Krista built most of the wall herself, but at five-foot-three, was happy to have six-foot-three Andrew finish off the highest parts. Height didn't interfere in the least with her installation of the laminate plank floor (extending through the master bedroom as well) which really adds to that down-home country feel.
With the living room reno pretty much complete, the master bedroom stripped to the studs and redone some time ago, next on the list is the porch/deck combo, which would have happened ahead of the living room had the COVID materials shortage not stopped them in their tracks. Krista says it would have been a four- to six-month wait for the materials chosen for the job.
Work with what you've got — time. Barn board here we come.
It's always such a good feeling when you can incorporate a sentimental piece of your history into your living environment.
I would so love to have a wall covered with the exterior siding my Grandpa Mustard chose when building his homestead house back in the 1880s, but sadly it was all lost to a fire in the 1990s.
Fortunately, on a visit to the old farm site some time ago, I was able to salvage some of the wood from one of the old yard buildings, which I intend to use to frame pictures I have of the farm with all its original buildings, house and barn included. It was always such a treat going through that old house.
So just a heads up — if you have an old abandoned farm or home from your formative years still kicking, it might be a thought to go rescue the door frame to what used to be your parents' bedroom, or a window you remember looking out when you were a kid. I have the front door from the house my mom and dad were married in on a scorching July day in 1936, on a Mustard family cabin out in Killarney.
Brings back truly heartwarming memories every time I see it.
Applause to Krista and Andrew for a job well done. Send us some pics after you "hit the deck" next spring, when hopefully, the word COVID is fading fast, fast away. Stay safe.
Comments feedback welcome at lmustard1948@gmail.com