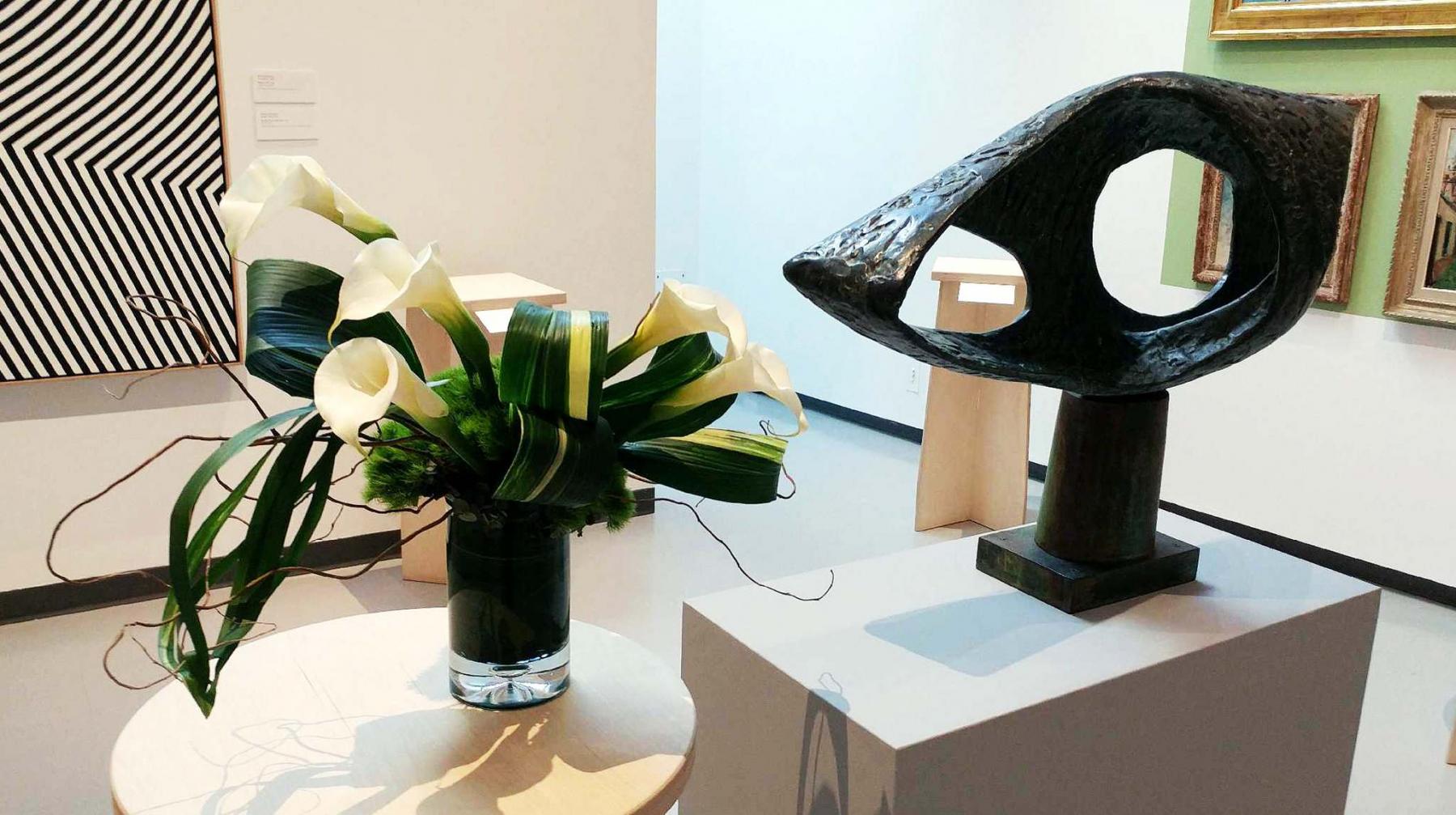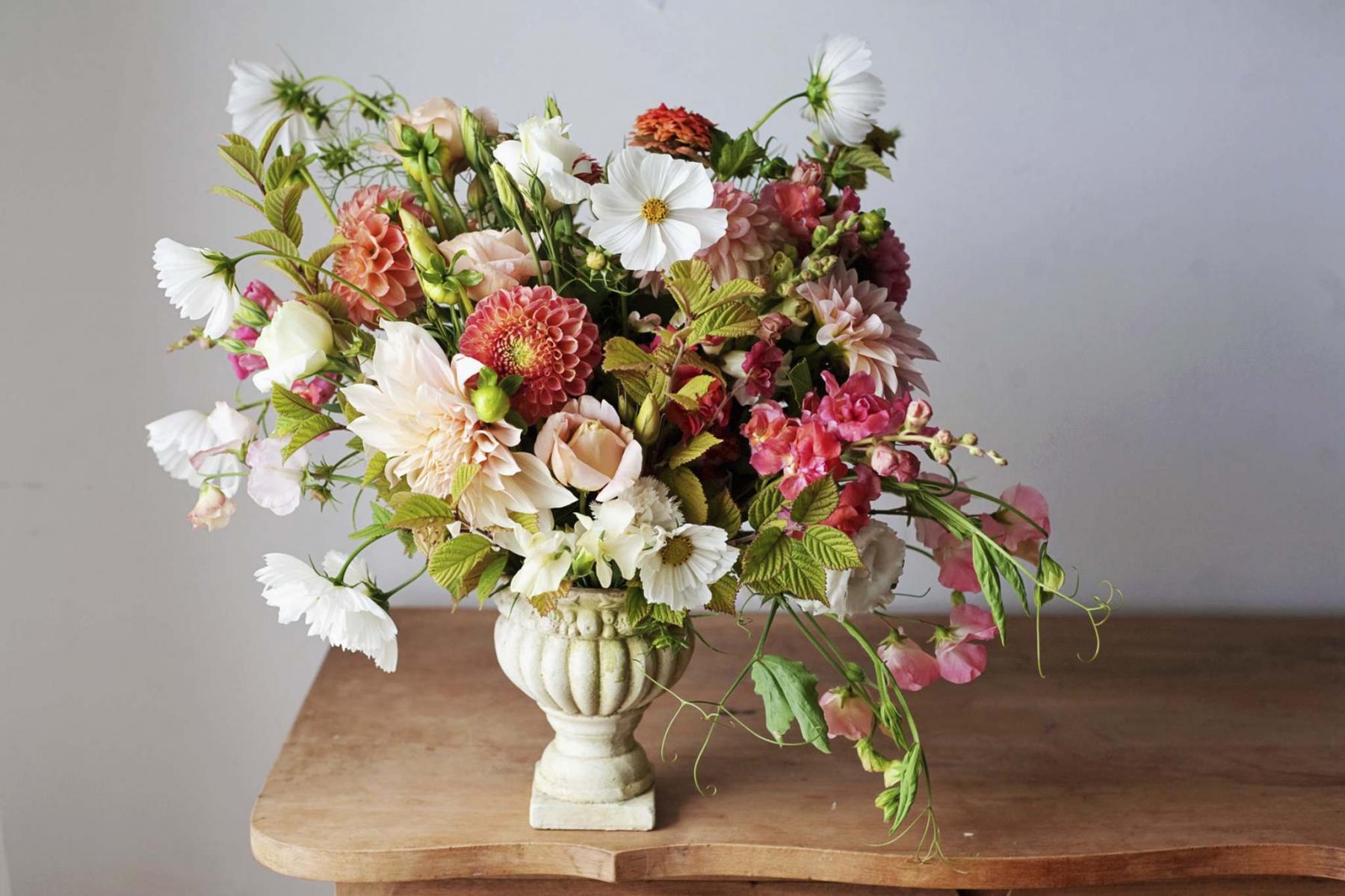 The flower garden comes into its own in August. Some gardeners just want to look and admire — there are even some who wince at the thought of cutting their flowers — but for those who love to design with cut flowers, many garden flowers are at their visual peak at this time of year.
Pamela McFarlane is president of the St. James Horticultural Society and an active member of the St. James Flower Arrangers. McFarlane began arranging cut flowers — or more accurately, rearranging — during the 25 years she was a wedding photographer. Delicate handheld bouquets in warm hands, McFarlane says, are not always camera-ready.
"By the end of the day, fresh flower bouquets have been transported from one location to another and no longer look fresh or perky. When you see a fresh flower arrangement shred and fall apart during the course of a day," she says, "it's an eye-opening experience in terms of not only client expectations but also in what can go wrong."
Photography and floral design follow many of the same principles — line, colour, form, space and texture. McFarlane, who has a degree in clothing and design from the University of Manitoba, has a keen eye and natural flair for composition. She began learning the principles of flower arranging, experimenting with different types of flowers and foliage, and taking note of which cut flowers were long-lasting.
On more than one occasion, McFarlane put down her camera when quick fixes were required for flower disasters. Sometimes it was hot water that came to the rescue. Cut hydrangea flowers, for example, can be revived, McFarlane says, by recutting the stems with a sharp, clean knife.
"Next, plunge the hydrangea stems into very hot water for a couple of minutes," she says, "then return the stems to a vase that has been replenished with fresh water."
Sometimes creative solutions are needed for a luxuriant look that won't break the bank. When McFarlane lived in Florida during her high school years, she saw elaborate flower-covered arches and massive flower arrangements for table decoration as almost any type of flower or foliage that was desired could be readily accessed. Today, McFarlane makes her home in the Wolseley area, where she grows a variety of cutting flowers in her garden. The home garden, she says, provides interesting and affordable options that can be used in many different types of flower arrangements. Love the cascading effect of Cymbidium orchid? Branches of Vanhoutte Spirea, also known as Bridalwreath Spirea, provide a stunning cascading effect, too, she says.
McFarlane maintains a large supply of potted annuals and perennials on the boulevard in front of her property that she uses in her flower arrangements. Lilies are a favourite, especially dwarf Asiatic Pixie lilies, as well as fern leaf peony and fuchsia.
"Many of the potted flowers and succulents we see at the garden centre can be used as part of your table decoration for any occasion," McFarlane says.
Two of her favourites are trailing calibrachoa and begonias. Using attractive containers that are large enough to hold individual pots, assemble pleasing combinations that include trailing plants, fillers and vertical elements. She uses reindeer moss to fill in any gaps. At the end of the night, McFarlane says, everyone has plants they can take home.
McFarlane says a hosta leaf is the most hard-wearing type of greenery to use in a flower arrangement. It will last a long time with proper care. Start by cutting the hosta stem on an angle with a very sharp, clean knife. Hydrate the stem immediately. Insert two hosta leaves into a tall vase, criss-crossing them to create a base, she says, and then begin placing your garden flowers within. Criss-crossed hosta leaves give the effect of a hand-tied bouquet. Larger flowers should be placed lower and towards the centre and smaller flowers at the top.
McFarlane likes to use Russian Sage with its small lavender-blue flowers for taller arrangements or statice and Veronica (speedwell) for shorter arrangements. She grows all of these in her garden. In one stunning arrangement, she combined Asiatic lilies and ornamental grass from her garden with the leaf from a corn plant in a sculptural Ikebana arrangement with a triangular arrangement.
McFarlane finds a use for everything in her garden, including ostrich fern leaves, which she has used for wrapping the outside of a black PVC pipe doubling as a tall centrepiece stand. Use a hot glue gun to attach a base to the bottom of the pipe, McFarlane says, and a bowl or vase to the top to hold your arrangement.
McFarlane loves using bulrush reed grass in the centre of her arrangements to add height and a vertical element. In one example, a tall bulrush formed the centre of an arrangement that featured a mix of succulents and vegetables. Hard-wearing, long-lasting vegetables are the ones with thicker skins such as squashes, ornamental gourds, and ornamental corn.
"If you are planning a fresh arrangement with vegetables and flowers," McFarlane says, "choose vegetables with bright colours such as yellow, orange and red." McFarlane likes to cut limes in half and puts them on skewers to serve as a vertical pop-up in the centre of an arrangement. These will last just a couple of days but provide a great citrus scent.
Earlier this year, McFarlane created an arrangement for the Winnipeg Art Gallery's Art in Bloom. To interpret a bronze sculpture, titled Patmos, by the English artist and sculptor Dame Barbara Hepworth, McFarlane used calla lilies, aspidistra greenery, Green Ball dianthus and curly willow. Aspidistra elatior is the popular cast-iron houseplant. The long glossy leaves are often used in flower arrangements. To capture the continuous flow and openness of the piece she was interpreting, McFarlane folded, tucked and trimmed the aspidistra leaves for a unique, contemporary statement. With careful trimming, McFarlane says, you can twist and curl aspidistra into corkscrews so that it resembles grass-like Juncus.
Flower shows are taking place around the province this month and are a great opportunity to learn new flower arranging techniques. The St. James Horticultural Society's 105th annual exhibition will be held at the Crestview United Church Aug. 20-21. More details can be found on its Facebook page. The Brandon Garden Club hosts its annual Flower, Fruit and Vegetable Show and Tea on Aug. 12 at the Park Avenue Activity Centre. Details can be found at thebrandongardenclub.weebly.com.
Perhaps you don't have space for your own cut flower garden but would like to have an arrangement of locally grown flowers. Irma Paetzold is a flower farmer who operates Prairie Blossom Farm in Portage la Prairie, where she grows fields of flowers that she starts from seed. Locally grown buckets of flowers are available for the DIY flower arranger or gorgeous, free-flowing flower arrangements can be ordered. Market bouquets from Prairie Blossom Farm can be picked up weekly at Blue Hills Design in Winnipeg, Baby Bump in Brandon and Foil Salon and Spa in Portage, or stop by to see Paetzold at the farmers market in Portage. Prairie Blossom offers bouquet subscriptions. Visit ­prairieblossom.com.
colleenizacharias@gmail.com