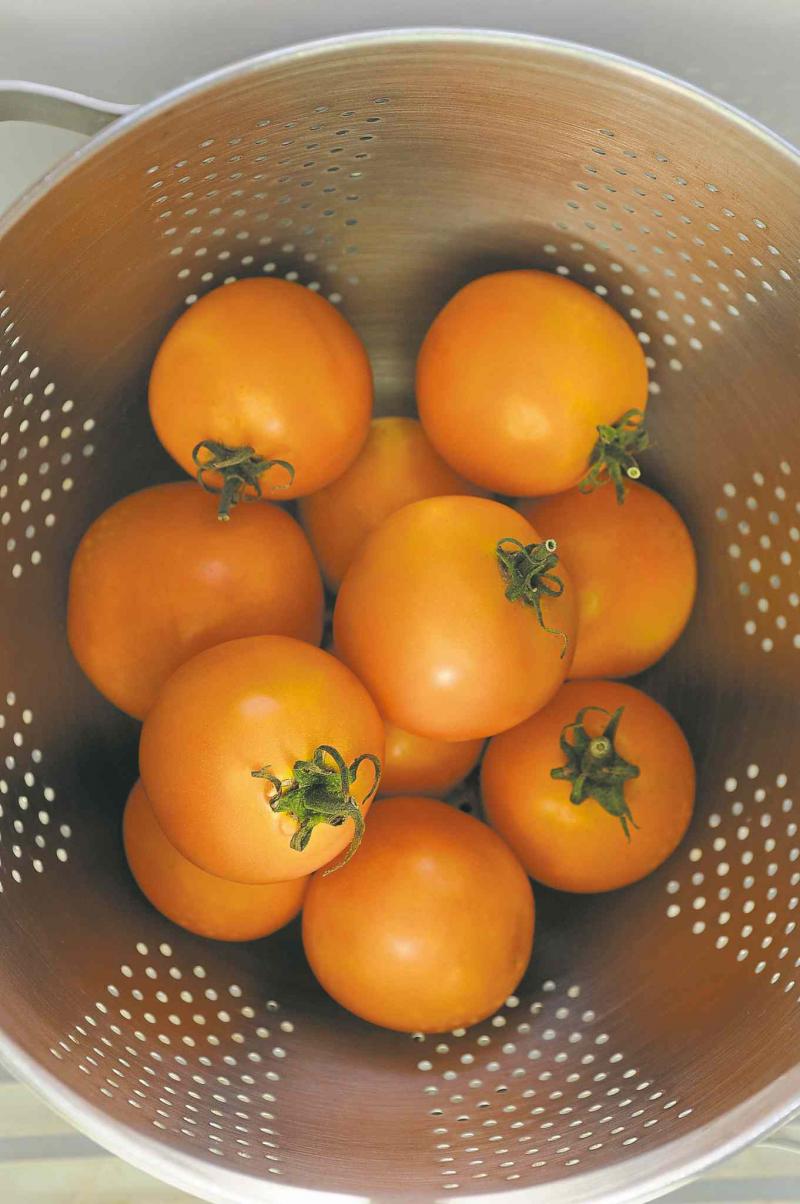 When Spaniards found the tomato, a new and strange South American fruit cultivated and eaten by the Aztecs in Mexico, it was taken to Spain in the 16th century by conquistadores. Spaniards grew it mostly for show until an enterprising court chef combined the tomato with garlic and onions and simmered the concoction in oil. Soon after, Italians embraced the tomato and in 1544, an Italian doctor, naturalist and student of botany, Pietro Andrea Gregorio Mattioli, described the yellow-skinned fruit in the earliest known reference to the tomato in European literature. He called it pomi d'oro (golden apple).
At the time, tomatoes were small-fruited with rough skin. Gradually, the tomato became known throughout Europe as the apple of love.
Today, few would be satisfied with only a small number of tomato varieties. Grown in gardens and on patios and balconies all over the world, the countless tomato varieties available are as varied in size, colour and flavour as any tomato-loving palate could desire.
The criteria for what makes a great tomato begins with freshness and extends to the quality of flavour, firmness of skin, aroma, and suitability for slicing or sauces, salsas and soups. It's a tall order but doesn't stop there. Beauty matters, but so does pedigree (read: heritage tomatoes) or the plant-breeding techniques used in the tomatoes we buy in the marketplace.
For consumers born Before Google (BG) and After Google (AG), the decision as to which tomatoes to grow is influenced by many factors.
Burpee, a North American company that dates back to 1876, supplies non-GMO hybrids, heirloom seeds, as well as certified organic varieties. Whether tomatoes are sold as seed packets or in ready-to-grow containers, Tiffany Heater, program representative with Burpee Home Gardens, said foodies, small-space gardening and the quest for unique and amazing varieties of tomatoes are the three main categories driving breeders today.
This is Manitoba and one of the criteria for growing in our climate is tolerance for cool nights and hot days. Sunrise Bumble Bee tomato is suited to just those conditions. A round, crack-resistant and small-fruited variety, this prolific new 21-gram cherry tomato sports a warm golden-yellow colour with blush red exterior striping and pink interior marbling and has a sweet and tangy taste. The series includes Pink Bumble Bee and Purple Bumblebee. Each is indeterminate, that is, the tomato plant grows and produces all season until first frost.
Tomato Tomande will make a foody of everyone. An old French variety known as Marmande, gourmands will come up with imaginative ways to use this unique, broad-shouldered tomato that spreads like a jam. Slice off a meaty chunk and try it on a piece of rustic, crusty French bread spread with your favourite olive oil. Also an indeterminate variety, Tomande is about 72 days to harvest and its size is close to 170 grams.
Heater describes new SuperSauce, a nearly seedless paste tomato as a game-changer. This new variety grows as big as your hand on the vine, with a weight of about 908 grams.
When small-fruited Indigo Rose, the first true purple tomato bred by Jim Myers of Oregon State University, debuted a few years ago, its unique reddish-purple colour had everyone talking. Heater said, though, not everybody was as enthusiastic about the flavour. Part of the problem was in knowing when to harvest it at the right time -- at the purple stage or waiting until it had matured to the red stage. Best to wait until it ripens to a red colour.
Now comes Indigo Cherry Drops, a prolific cocktail cherry tomato with purple and black fruit with rosy undersides and deep red flesh. In addition to Indigo Rose parentage, this new hybrid is exceptionally high in anthocyanins.
We've always known tomatoes are part of a healthy diet. The Boost Antioxidant Collection has been selected for higher nutrition and antioxidant levels. Solar Power, for example, is an early 72-gram tomato that claims to have three times the level of beta-carotene than the average garden tomato (based on vegetable trials).
New space-saving varieties such as Baby Boomer which is a small-fruited tomato, and BushSteak tomato, a beefsteak with multiple fruit sets, are both compact enough to be grown in patio pots or a small garden.
For the discerning connoisseur of heirloom tomato cultivars, ordinary store bought tomatoes pale in comparison, lacking in full-bodied flavour but also character and mystique. This year Pan American Seed introduces its Heirloom Marriage collection that crosses two select heirloom varieties for tomatoes Heater said offer flavour with fewer blemishes, better garden performance, and greater yields. One example is Cherokee Carbon tomato, a cross of Cherokee Purple and Carbon.
Tanya Stefanec, owner of Heritage Harvest Seed, a mail order seed company in Carman, offers many heirloom tomato varieties. Heirloom seeds, true to the parent plant, are preserved and passed down from generation to generation.
The lineage of the Sandul Moldovan tomato, for example, can be traced to the Sandul family who took it to the U.S. from Moldova (formerly the Republic of Moldova of the Soviet Union). Introduced to Seed Savers Exchange in 1993, it is a meaty beefsteak-styled fruit with slightly ribbed shoulders and deep pink flesh. Stefanec says it is very productive and has a sweet and tangy flavour.
Every year, she grows more and more varieties in her garden and discovers new favourites. "You can spend your whole life growing tomatoes and not grow all of the varieties that exist," says Stefanec.
Italian Heirloom tomato is an outstanding variety, says Stefanec. Easy to peel, this indeterminate tomato variety is perfect for eating fresh, canning or making salsa. Looking for a low-acid tomato? Stefanec recommends mild-tasting Giant Belgium, which produces huge, pink fruit (1.2 kg). It's ready to harvest 85 days from transplant. She says yellow tomato varieties are also usually low-acid.
Stefanec said she considers Bonny Best, an old heirloom introduced in 1908, to be one of the most productive and disease-resistant tomatoes she grows. She said it produces loads of blemish free tomatoes making it a good choice for market gardeners.
Andrew Rahart's Jumbo Red is a large, delicious slicing tomato and is a customer favourite. A deep red beefsteak that averages half a kilogram, it is dense and meaty. Two notable sauce tomatoes are Ernie's Plump Tomato and Dix Doigts de Naples (10 fingers of Naples). Both of these, says Stefanec, have exceptional aroma.
Stefanec grows so many tomatoes she can't always stake them. She strongly recommends taller varieties of tomatoes be staked as this reduces risk of disease and promotes better ripening. The larger-fruited tomatoes such as Monomakh's Hat, for example, a meaty, heavy-bearing pink Oxheart from Novosibirsk, Siberia, require sturdy stakes.
Purchase stakes or quality tomato cages or make your own supports using rebar or welded-wire galvanized fencing cut to size and attached to wooden stakes. Heavy-duty galvanized steel cages with hinged corners are also available for purchase and support even the heaviest climbers. Look for twine clips and support hooks that serve as tomato truss reinforcers and prevent nearly ripened tomatoes from snapping off.
Can't wait to bite into a fresh homegrown tomato? If you are starting your tomatoes by seed, wait at least until the end of March. Consider growing a variety such as Summer Girl, a slicing tomato that matures a week or more earlier than one of the earliest maturing tomatoes, Early Girl Or stop by Vic's Fruit Market, located in Fort Garry, in early April. Owner Scott Schriemer says that's when fresh, locally grown greenhouse tomatoes will be available.
colleenizacharias@gmail.com