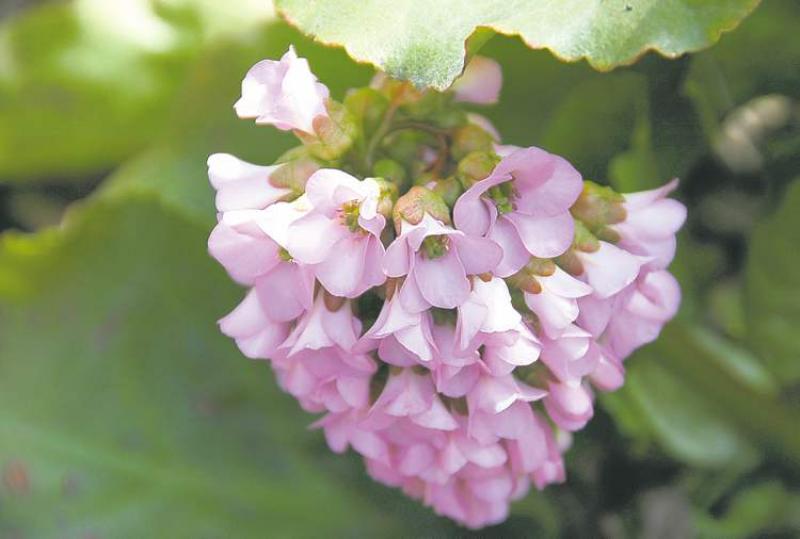 I've often heard novice gardeners say, "I'm going to plant a bunch of perennials and they will just grow every year."
By definition, a perennial is a plant that will grow back for three or more years. However, this doesn't mean it can just be put into a hole and left to fend for itself. Perennials, like all living things, have their needs and preferences. If these are met, the plants will reward you with repeated displays of growth and beauty.
Some research and preparation are required before you begin planting your dream garden. First, you must assess your garden space and growing environment. How much sunlight does your space receive? Is it full sun, part sun or part or full shade? What type of soil do you have? Is it new soil or a compacted area that needs to be dug up and amended with organic material? Is the area hot and dry or shady and damp? Is your garden sheltered or exposed to windy conditions?
Once you have answered these questions, you can do some research and make a list of Prairie hardy plants that will grow in your garden conditions.
Most perennials have specific bloom times that last from one week to several weeks. You will need to consider more features than just the flowers when choosing your perennials. Mature size, type and colour of foliage, seed pods and behaviour (will it stay in a neat clump or will it take over your garden?) are all things to take into account.
Lastly, you will narrow your list to the plants you really like. There are many books and magazines as well as websites that provide information for the Prairie or northern climate zones. You can also join a garden club and speak to experienced gardeners.
I have gardened in two Prairie provinces and on five properties and over the years have compiled a list of some of my favourite, easy-to-grow perennials. It was difficult to keep the list short since there are so many great plants and each year the list becomes longer.
Plants are listed by common name and also the botanical name as greenhouses often group plants according to botanical names.
Siberian Bugloss (Brunnera macroplylla)
Plant in part to full shade in moist, rich soil. Grown mainly for its attractive foliage, but produces small, vibrant blue flowers in early spring. Look for 'Jack Frost' or 'Variegata.'
Bergenia (Bergenia cordifolia
Hardy, leafy all-season ground cover, tolerant of most soil types, sun to part shade. Leafy clumps produce pink, multi-flowered stalks in early spring. Trim damaged leaves but do not cut back.
Garden peony (Paeonia lactiflora)
Plant in a sunny location in well-drained average soil with crown no deeper than two inches below the surface. Once established, peonies will survive for years. Large blooms in early summer require support. Trim off spent blooms to have a tidy shrub-like plant for the rest of the summer.
Hosta
Grown mostly for its foliage. Plant in part to full shade in moist, rich soil. Some are sun-tolerant. There is a wide range of size, colour and pattern choices.
Daylily (Hemerocallis)
Plant in sun to part shade in well-drained average soil. Forms neat grass-like clumps throughout the growing season. Wide choice for bloom colour and time of bloom. Shorter varieties will continue blooming if deadheaded.
Speedwell (Veronica s.s.p.)
Plant in sun to part shade in well-drained average soil. Drought-tolerant. Available in spreading ground cover or clumping upright varieties. Will re-bloom if deadheaded.
Coneflower (Echinacea pupurea)
Plant in full sun, well-drained average soil. Drought-tolerant. New designer varieties are not as tough as original purple 'Magnus.'
Blooms mid- to late summer and attracts bees and butterflies. Leave some seed heads for winter interest and food for birds.
Stonecrop (Sedum s.s.p)
Plant in full sun, average to sandy soil. Drought-tolerant. Available in spreading, clumping and upright varieties. Bloom time, colour of foliage and flowers depend on variety. Tall, showy sedums such as Autumn Joy put on their best show in late summer and can be left standing for winter interest.
Sneezeweed (Helenium Mardi Gras)
Sun to part shade in average well-drained soil. There are other varieties of Helenium that bloom in late summer, but Mardi Gras will bloom all summer if deadheaded. May need support if planted in an open area.
Ornamental grasses
Grasses have gained in popularity whether annual, Prairie or perennial. There are choices for short or tall, sun or shade, moist soil or dry. My favourite is the tall, feather reed grass, Calamagrostis acutiflora Karl Foerster. This grass makes a statement as a background or feature plant and will stand up to wind, heat and snow.
With the overwhelming plant choices and the numerous factors to take into consideration, developing a perennial garden can be challenging even for an experienced gardener.
However, if you can think of a garden as an ever-evolving creation and remember planning, experimentation, weather and a degree of luck all play a part, your dream of having a beautiful space to enjoy can become a reality.
Cabin fever
GARDENERS experience cabin fever in February regardless of the temperatures outside. Perhaps our unseasonably mild temperatures make us even more anxious to get into the greenhouses and begin planning our gardens!
Today's article by master gardener Jeannette Adams lists hardy perennial favourites that deserve to be on everyone's list.
While many gardeners are familiar with hosta, daylily and peony, a lesser-known perennial such as sneezeweed provides a stunning, vibrant display in late summer and well into the fall.
I can certainly vouch for Brunnera macrophylla 'Jack Frost' -- there are close to two-dozen in my garden. The masses of tiny, electric blue flowers from mid-May to mid-June creates a display that always invites comments from visitors to the garden. 'Jack Frost' is the 2012 Perennial of the Year.
Colleen.Zacharias@gardensmanitoba.com