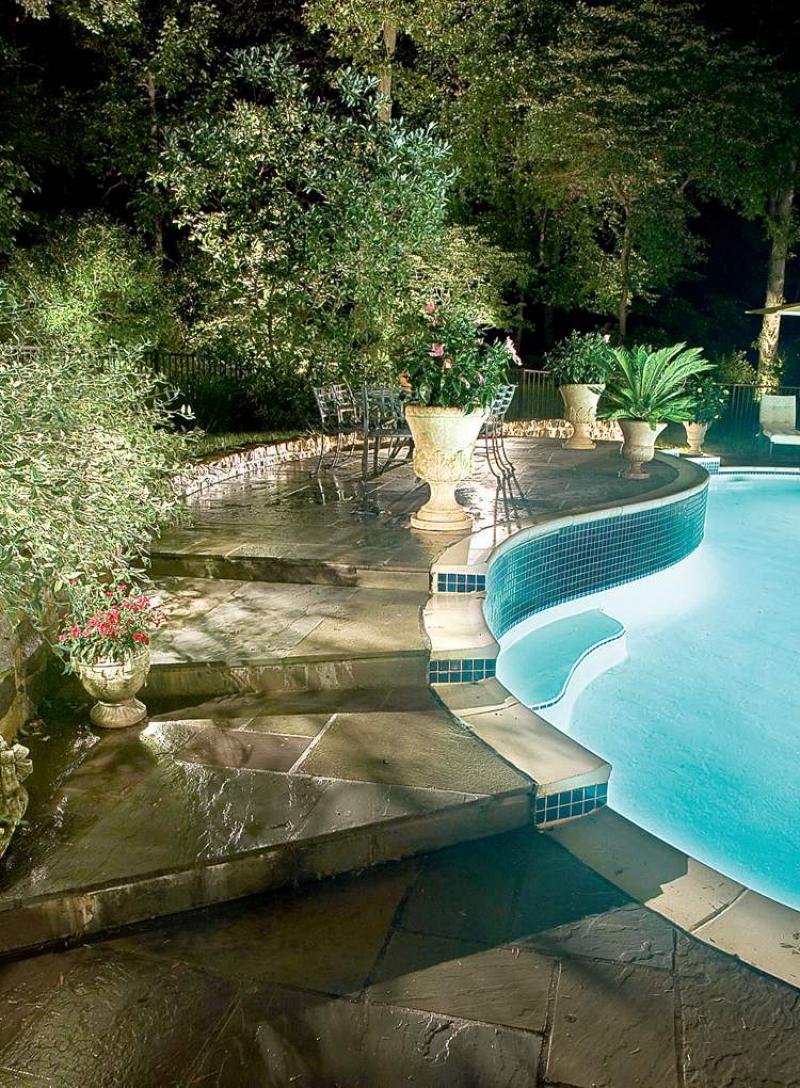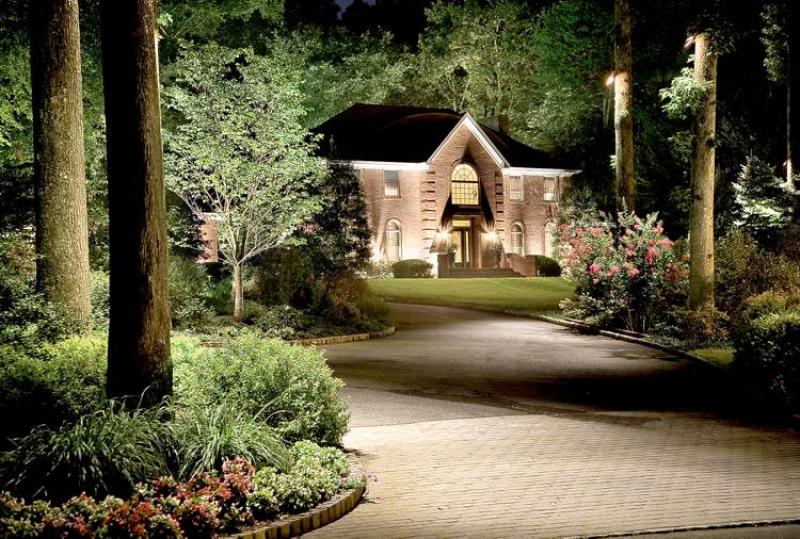 Low-voltage landscape lighting is still in its infancy in Manitoba but has huge potential. It is one of the most dramatic and breathtaking improvements you can make to your property, large or small. Create an entirely different look to your nighttime landscape while providing usability. Low-voltage landscape lighting is an affordable and effective option as well as a primary deterrent to residential crime.
A well-designed lighting plan with a few well-placed accent lights will illuminate the landscape to provide a secure and welcoming environment while giving you full use of all areas of your outdoor living spaces.
Path lights along a walkway and near steps increase safety. Lights should be positioned four to five metres apart. The goal is to not have a continuous display of light through overlapping but rather to have some light pattern between areas. The rise and run of the step need not be fully lit -- it is fine to just light the run for safety. The darker area of the rise will add dimension.
Less is more -- it is not necessary to illuminate everything in your yard. Enhance your viewing experience by selecting key areas to illuminate. Establish where your focal points are. We need focal points in the landscape to act as stepping stones for the eyes. A good design will take the viewer through the landscape, directing the visual experience to include specimen trees, water features or other interesting elements. Illuminated focal points should not have complete darkness between them.
Trees such as birch that have interesting bark or multiple branches will look amazing when lit from the base of the tree. It is important to graze the trunk from the base of the tree so that it is grounded to the landscape, otherwise it will look like the canopy is floating. When lighting from below a tree, be sure to light the entire canopy for the full effect.
An MR16 bullet light works well for this application. Bulbs with different wattages and beam spreads can be used to achieve the best result.
Lights mounted about seven to eight metres high in mature trees around a patio, walkway or driveway are a must have. The light shines down through the leaves, casting onto large areas and creating a dappled moon light effect. An added bonus: if bugs are an issue it attracts them up and away from where you are sitting.
If you have an outdoor kitchen, engineered wall lights work wonderful if installed in the backsplash above your workspace. They will also seamlessly incorporate into retaining walls to highlight the wall and walkway or any plantings that are in front of the wall. If you have pillars around your patio or at the end of the driveway, engineered wall lights can be used to highlight the sides of the pillar -- just slip them under the capstone.
Want to light the inside of your gazebo, pergola or arbor? Small niche lights work very well to light up the area around them.
Bullet MR16 and MR11 lights can also be used to cross light significant focal points such as boulders and statues. These lights also work incredibly well with streams, waterfalls or small bubbling water features, catching the ripples of the water to create a sparkling effect. If placing lights in the stream bed, take care not to direct the light at the viewer's eyes. Ponds can also be cross-lit with underwater lights. I can see my Koi fish swimming around and it looks amazing. Underwater lights tend to have short warranties and the failure rates are high, which is unfortunate. Great lighting can be achieved externally by using proper placement and selection of fixtures.
The fantastic thing about using low-voltage lighting outdoors is you don't have to install everything all at once. If you install a good-sized transformer now, additional lights can be added at anytime down the road. Let's say you would like to add lights to the front yard this year to improve your safety and security: You only pay for the energy consumed by those fixtures. In other words, a 900-watt transformer that only has 200 watts of fixtures on it uses 200 watts of energy, not 900 watts. Then when you are ready, you can add lights around your outdoor living areas in the backyard.
Low-voltage lighting is quite inexpensive to operate. Based on Manitoba Hydro rates, a 12-light system that is on every day for four hours will cost about 14 cents per day or $4.34 per month to operate.
Landscape lighting fixtures can be beautiful to look at during the day but ultimately it is the effect that they produce at night that is the most important aspect to consider when choosing a landscape lighting system. Solar-powered lights tend to only cast a bluish glow without truly creating the desired effect. LED-lighting manufacturers have had some huge improvements in colour quality in recent years. Some LED lighting lines are barely distinguishable from the incandescent lighting where others still have the blue colour tones -- so it is well worth researching the light colour before purchasing. LED is more expensive up front to purchase but costs very little to operate and it should last up to 15 years without needing replacement.
Another important consideration when selecting LED fixtures is replacement capabilities of the LED insert in the fixture. When some LED fixtures burn out, the entire fixture will go to the landfill. There are brands that have an LED insert that can be replaced, thus keeping the remainder of the fixture intact, which is a much greener solution.
Consider the environment when selecting lights for your landscape by selecting quality fixtures that will last many years. Inexpensive lights will fail within a few years, requiring replacement, which ultimately costs you more over a 10-year period than if you had purchased quality products in the beginning -- not to mention the fixtures that end up in our landfills.
There has been some concern about the effects of artificial illumination on plants. The concern is mainly with disruption of the plant's light/dark cycle. While some plants are more sensitive than others in this regard, there is no evidence that the low light levels in low-voltage lighting cause any significant problem. A more important concern is with plants that touch or nearly touch lighting fixtures (unless using LED). The high level of radiant heat can damage leaves and adversely affect the health of the plant. Care should be taken to position fixtures a safe distance from plants and to prune plants as needed.
Magical effect
DO you prefer your friends to tour your garden during the morning or evening instead of in the sun-drenched afternoon when plants are limp and colours seem less bright? Photographers, too, understand the impact of proper lighting on the garden and take advantage of the morning and evening light to create the best images. The right kind of artificial lighting also plays an important role in creating and enjoying your garden landscape once the sun has set.
Today's contributor is Lynne Melvin, owner of Riverdale Landscapes in Carman, with tips on the many different types of lighting products available and best ways to use them. The goal is to create an overall magical effect in your garden but not something resembling an airport runway.
Thinking of creating a night garden? Plants such as nicotiana, angel's trumpet, evening primrose and morning glory glow in the evening light. They're usually fragrant, too. Flowers with white, cream, or pale pink blooms such as roses, daisies or impatiens will be more visible at night. Add some mystery with a luminous white Cleopatra lily or plants with silvery foliage such as Majesty lungwort, dusty miller, sea holly, silver sage or Silver Scrolls heuchera.
-- -- --
THE Pilot Mound Horticultural Society will host its annual Fruit, Flower and Vegetable Show on Aug. 8 at the Kin Centre. Entries will be accepted until Aug. 7. Open to the public. Admission is free. Call 204-825-2214.
Colleen.Zacharias@gardensmanitoba.com