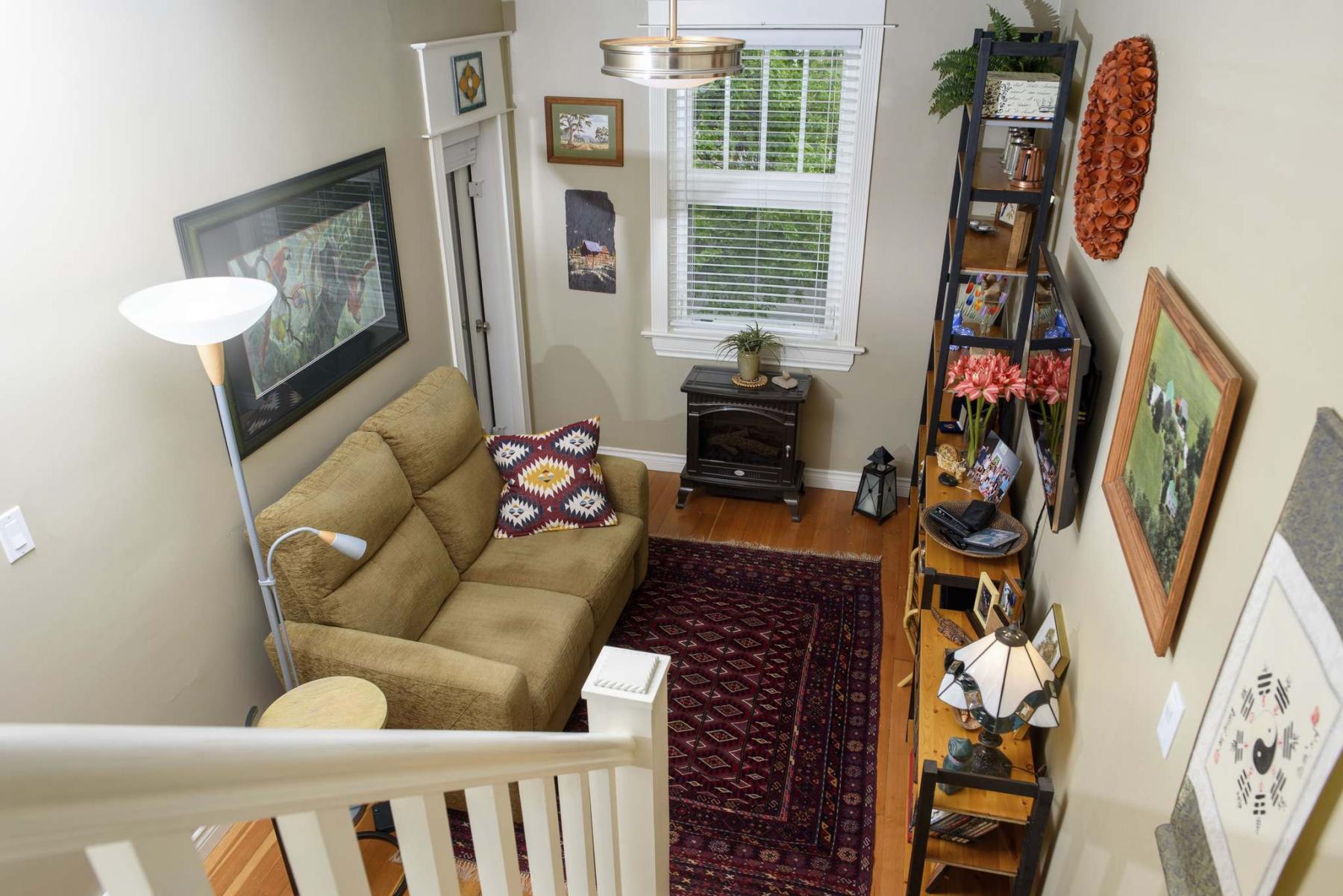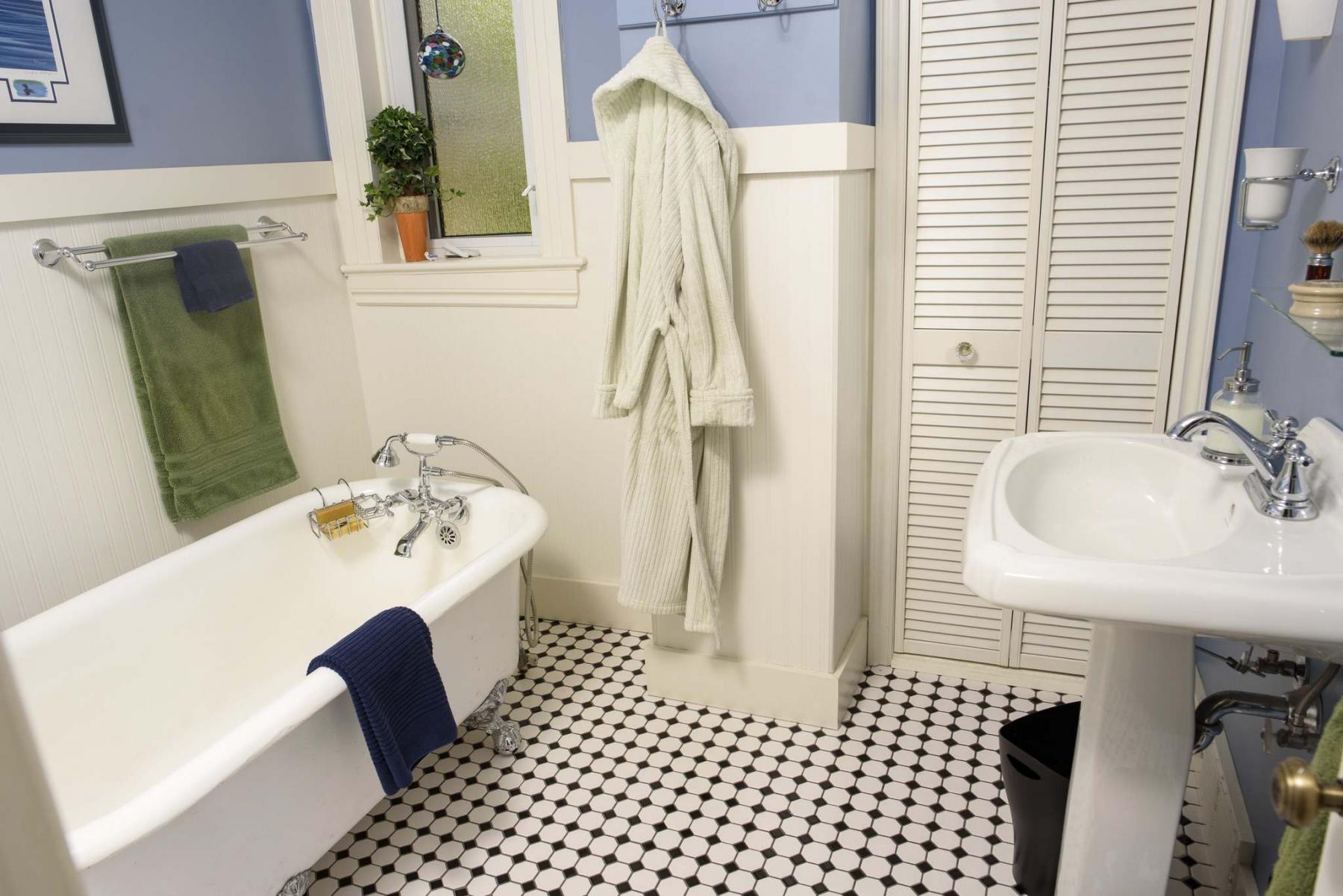 While the exterior of a home doesn't necessarily indicate what it will look like inside, an exceptional exterior is usually a sign of good things to come.
The exterior of 694 Banning St. — with its brick walkway, charming front porch and matching balcony, brown composite-capped steps with white risers and taupe, white and blue cladding — stands out the moment you set your eyes on it.
Morwenna Trevanen of Ethos Realty says the 2.5-storey home, which was built in 1913, has received a lot of love over the past 15 years from its owners.
"They bought the home in 2005, and since that time they meticulously and lovingly updated the home inside and out," she says.
"The level of detail that's gone into all the work that was done on the home is incredible."
That detail starts with the front porch, which was recently painted, and comes with low-maintenance composite decking.
A rich-looking woodgrain fibreglass door — it's framed perfectly by the taupe/white pillars that define the front landing, then finishes off the area perfectly, beckoning you to go inside and take a look.
What you find is an impressive mix of old and new design themes.
First, there's the foyer, which exudes a modern feel with its heated grey tile floor and a compact, stylish powder room tucked away to the left between the foyer and kitchen.
Next comes the traditional double-wide entrance with French doors to the right that leads into a sitting room and dining room area with an ornate white electric fireplace.
White crown molding on the ceiling above then seamlessly complements newer oak hardwoods, while huge windows on the front and rear walls allow natural light to flood the warm, welcoming space.
"While the outgoing owners wanted to modernize the home, they also wanted to maintain its old-time style and integrity," Trevenen says. "It's offers a nice balance of charm and modern function."
That deft balance of charm and function is exemplified by the formal dining room.
Accessed via a wide, arched entrance, it sports classic yesteryear features such as crown molding and an elegant chandelier. At the same time, it's a highly functional space that can seat anywhere from four to 10 guests, and that's neatly linked to the kitchen by a wide doorway on its left-hand wall.
Like the dining room, the kitchen has a high functionality quotient. Spacious, bright and beautifully finished, it's a modern space.
"It's a custom design that comes with a beautiful tile backsplash, taupe corian-style countertops, a wonderful combination of light and dark cabinets up high and down low, tile floor and high-end appliances," she says.
"The fridge is just steps from the kitchen in a recessed nook across from the stackable washer and dryer in the hallway that takes you to the back landing."
The back landing then provides access to two areas: the lower level, which houses a rec room and tons of storage space and the backyard, which looks like it came out of a home and garden magazine.
"I just love it," says Trevenen. "It's beautifully landcaped and offers a compact raised deck, patio and shed. It's also fully fenced with a gate at the back that can be opened and closed, and a grassy parking area with plastic grid beneath the grass to allow for parking without sacrificing the grass. There's room if future owners want to put one in."
There's also plenty of room inside the 1,586-sq.-ft. abode for a young family to enjoy spending time at home.
The second floor offers two bedrooms (one with a heated sunroom office), a remodelled bathroom with a pristine clawfoot tub, corner shower and heated tile floor and a lovely loft, a feature few turn-of-the-century homes come with.
"It's a flex space that could be used as a media area, office or reading nook," she says.
"It also has a patio door on its left-hand wall that takes you out to a covered balcony that you can enjoy a cup of coffee in, sitting up in the treetops."
Last but not least, there's the third floor, which is dedicated to a sensational loft-style master suite.
"All the detail that went into the home comes through in this gorgeous space with its cork flooring, custom cabinetry and matching windows at either end. One side of the area is occupied by the bedroom, the other by an office area. That area could be turned into a small bedroom, or walk-in closet. I love it just the way it is."
Trevenen says the home is ready and waiting for a young family.
"There's not a single thing to do to this home except enjoy it," she says. "Every bit of it has been done inside and out. Add in a fabulous location that's close to schools, shopping, restaurants, transit, and the Cindy Klassen Recreation Complex, and you have an affordable West End masterpiece that has so much to offer."
lewys@mymts.net
Details
Location: 694 Banning St., West End
Year Built: 1913
Style: two-and-a-half storey
Size: 1,586 sq. ft.
Bedrooms: three
Bathrooms: one-and-a-half
Price: $309,900
Contact: Morwenna Trevenen, Ethos Realty, 204-791-8764