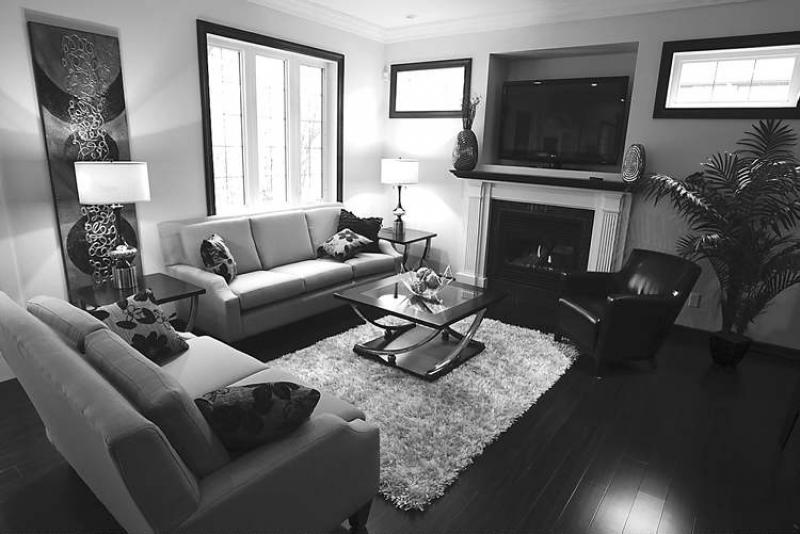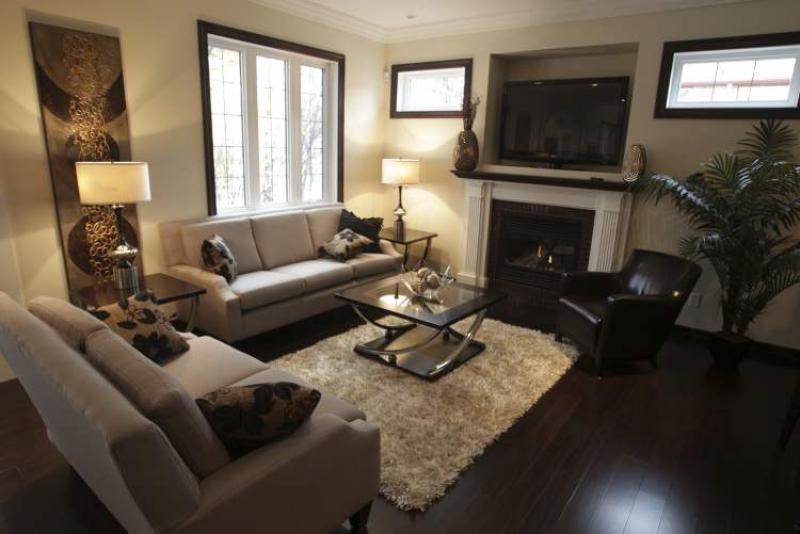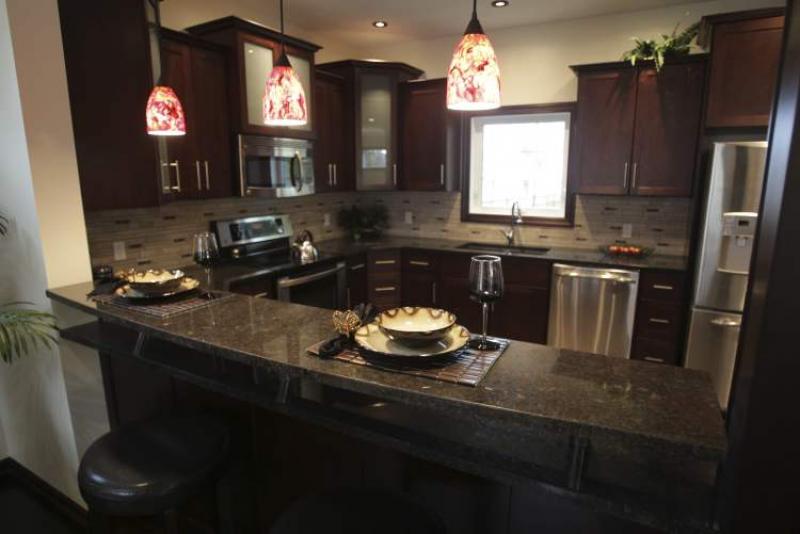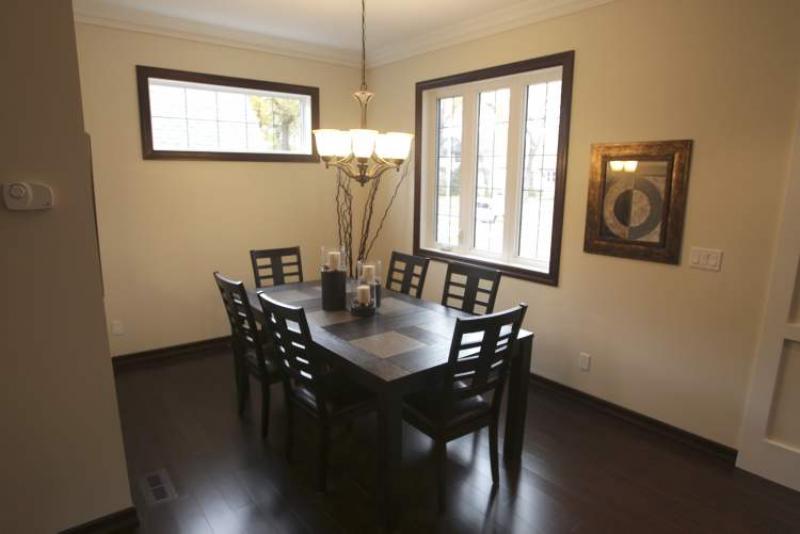 Three years ago, a rather rundown bungalow occupied the 50-foot by 157-foot at 75 Lanark St.
Today -- after a teardown and subsequent rebuild -- a 1,974-sq.-ft., one-and-three-quarter-storey home with a striking fir-framed front entrance and cultured stone facade stands has replaced the battered bungalow. It's a home that's literally new from the ground up, said RE/Max Professionals' Amory Steek.
"The basement floor was re-poured after digging down about 21/2 feet. That created a ceiling height of nine feet, which is very rare for a home in this area," she said. "A sump pump and new weeping tile were also installed, and there's also a new high-efficient furnace with HRV unit, as well as new plumbing with a manifold system that delivers water by the shortest possible route, and that also has individual shutoffs."
Steek added that the basement -- which offers about 800 sq. ft. of liveable space -- would be an ideal spot for either a rec room or another purpose.
"I think it would also be ideal for a teenager who wanted privacy," she said. "They could have their own bedroom, along with a private bathroom, and living area. The basement is insulated, framed and drywall, and is ready to be finished to the needs and tastes of the new owners."
Head back upstairs, and you find a main floor that bears little resemblance to the 70- to 100-year-old homes that populate River Heights. Rather than a centre hall plan, which tends to be on the dark side as the rooms are separate entities, with little light filtering from space to space, 75 Lanark features an open-concept floor plan.
With the dining room, living room and kitchen open to each other, flow is excellent. Even more importantly, the space is exceedingly bright, thanks to a collection of windows that surrounds the area.
Light simply pours in from two huge windows in the dining room, as well as through a big picture window on the living room's front wall -- and through two oversized piano windows placed either side of the fireplace, with its glass tile surround that's framed regally by white pillars and white cross beam. The adjacent kitchen even contributes to the bonanza of natural light with a large, low-silled window that was placed right where it should be -- over the double sink.
"Best of all, all the windows are new, either double- or triple-pane," said Steek. "So not only is this a bright home, it's an energy-efficient home. Every room has a huge window. No matter where you go on the main level, or upstairs, natural light just pours in. That makes it a very liveable home."
Livability is also derived from two other key features: floor plan, and finishes. The home delivers in spades on both fronts, with a logical floor plan and rich finishes.
Take the kitchen, for example. Thanks to its U-shaped, peninsula design, it's highly navigable, with room for two people to work in the kitchen without feeling like they'll collide as they go about their business. Countertops (black granite), cabinets (dark maple) and appliances are on the periphery, placing them out of the way, yet making them accessible.
At the same time, a tile floor with maple accents adds a sense of style, while an eating nook for two placed on the living room side of the peninsula (with pendant lighting above) adds function (and a spot to sip coffee and read the newspaper).
Meanwhile, the living room offers tons of space and light, while the dining room -- which can easily accommodate a table for six to eight -- opens up nicely on to the living room and kitchen. Features such as dark engineered bamboo floors, the ornate crown moulding on the ceiling above and dark maple trim around the windows and doors (which, incidentally, are solid maple) combine to create a cosy interior feel.
"It's a well-thought-out design," said Steek. "It keeps with the tradition of homes in River Heights, yet you've got the contemporary layout, which makes the main floor ideal for entertaining."
Turn to head upstairs via the dark, solid maple staircase (with dark maple handrail and white wooden spindles), and you notice something else other than the grand staircase: There's a den tucked away to the right of the stairs, as well as a handy powder room. Those are two features few River Heights classics offer.
The same could be said for the home's upper level, where the modern layout shines once again. First, there's a sitting area to the right of the stairs (with another large window above), where the rear wall has been framed for a future balcony, should the future owners want to install it.
Two inordinately large bedrooms, plus a huge (and luxurious) four-piece bath occupy the second level, which features minimal hallway space.
"That space was put into both bedrooms and the bathroom, which is shared," she said. "Like both bedrooms, it has a huge window (that was placed purposely to ensure privacy), a corner jetted tub, tile floor and a shower across the way in the other corner. It's a bright, spa-like space that's great to relax in. With its double-door entrance, three huge windows and all its space, the master suite is also offers a place to retreat from the world in comfort and privacy."
With over 2,700 sq. ft. of liveable space, 75 Lanark is a newly constructed home that provides the opportunity to own a contemporary classic in one of the city's most desirable -- and central -- neighbourhoods.
lewys@mts.net
DETAILS
Location: 75 Lanark St., North River Heights
Year Built: 2012 (Project took 2.5 years to complete)
Style: One-and-three-quarter storey
Size: 1,974 sq. ft.
Bedrooms: 3
Bathrooms: 2.5
Lot Size: 50' x 157'
Taxes: $2,675.40 (Gross 2012)
Price: $529,900
Contact: Amory Steek, RE/Max Professionals @ (204) 997-6848