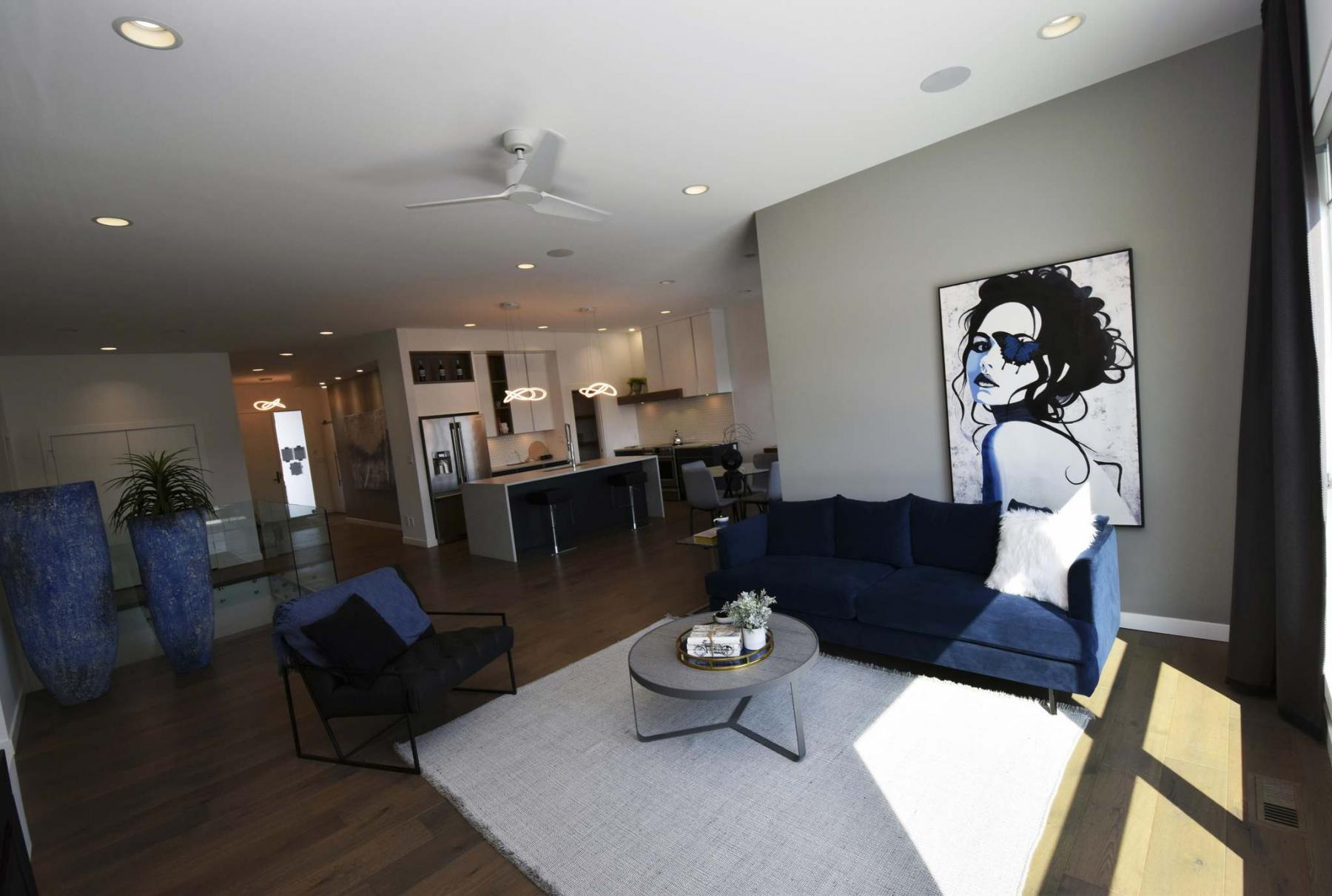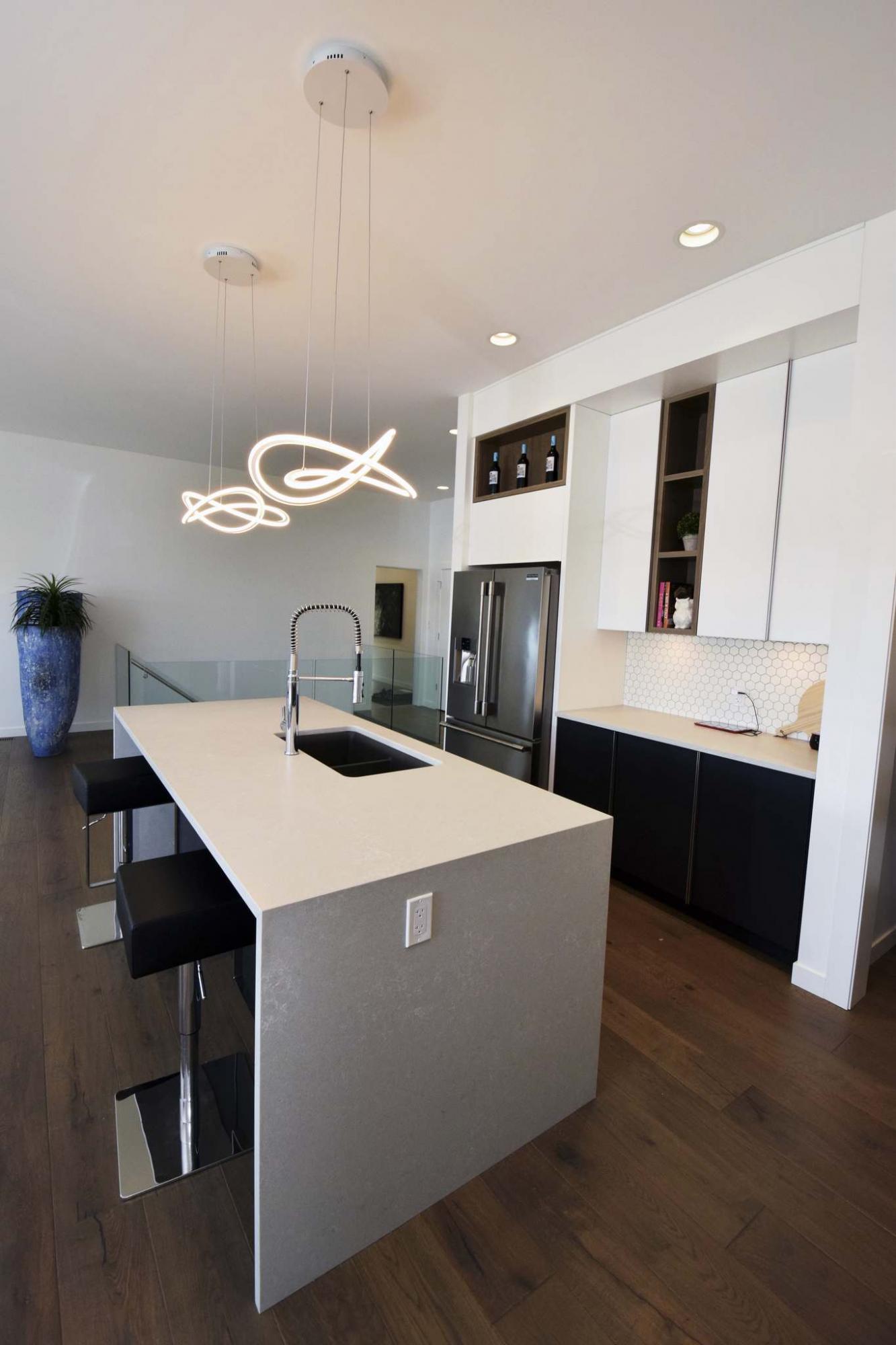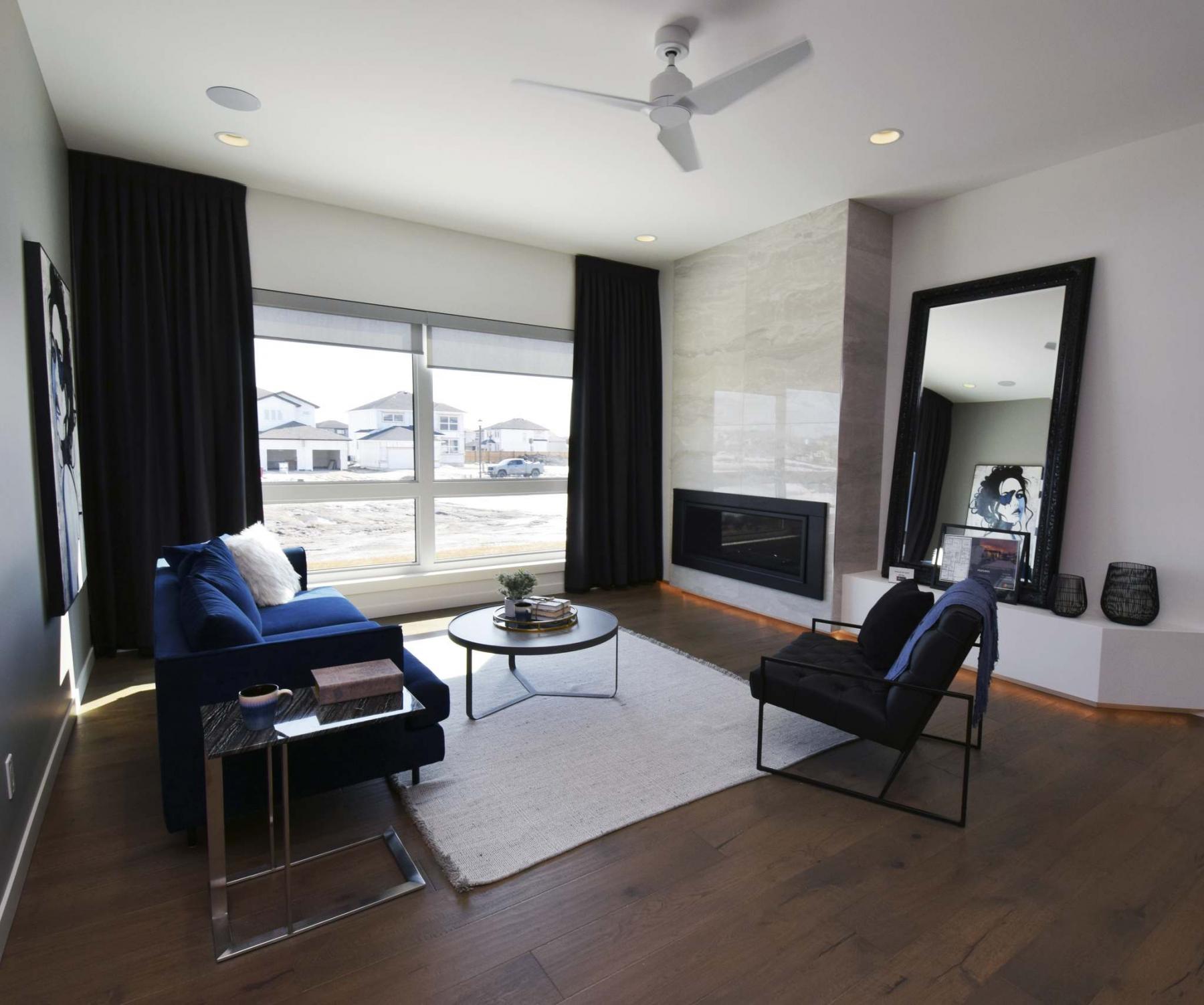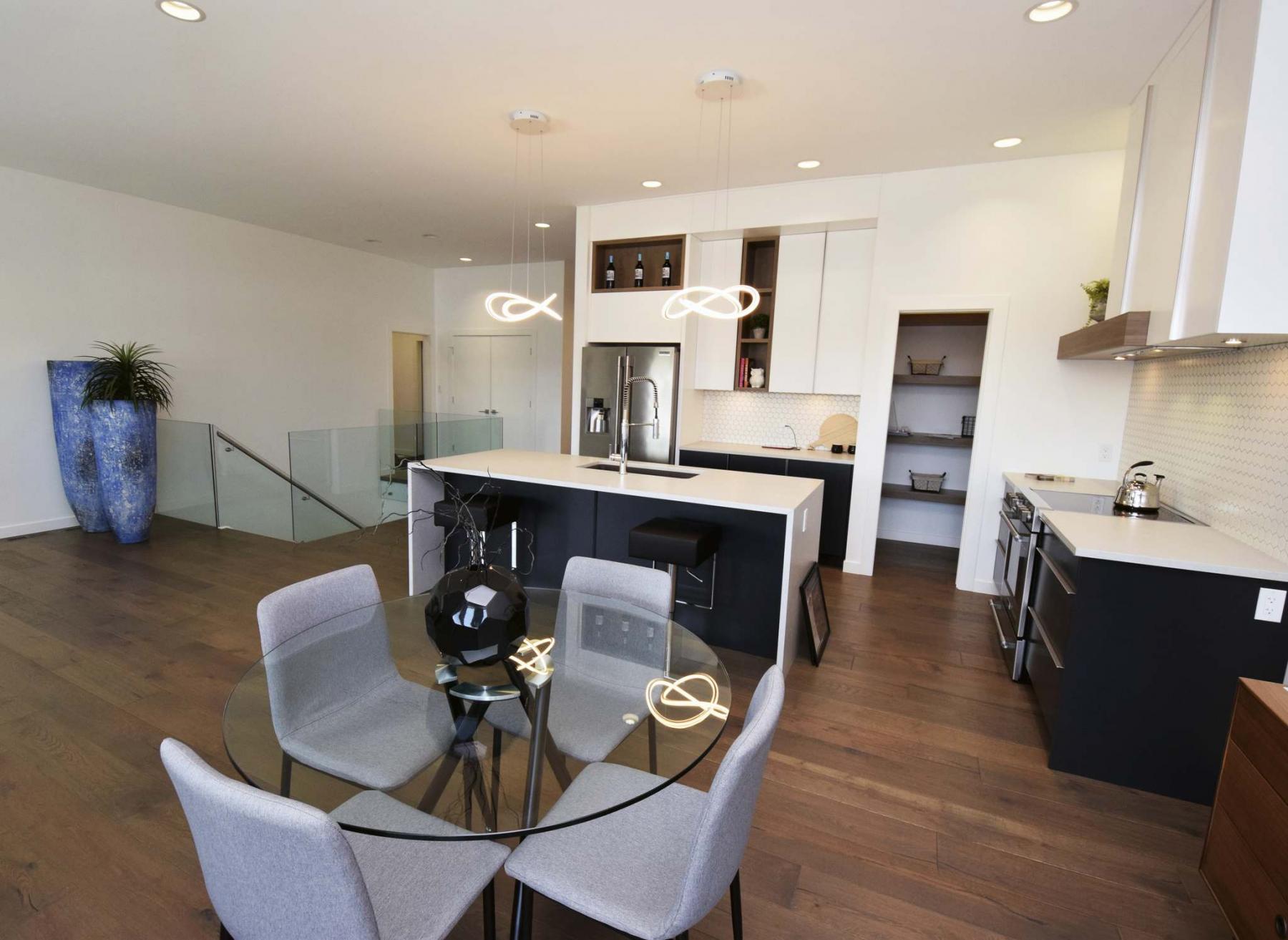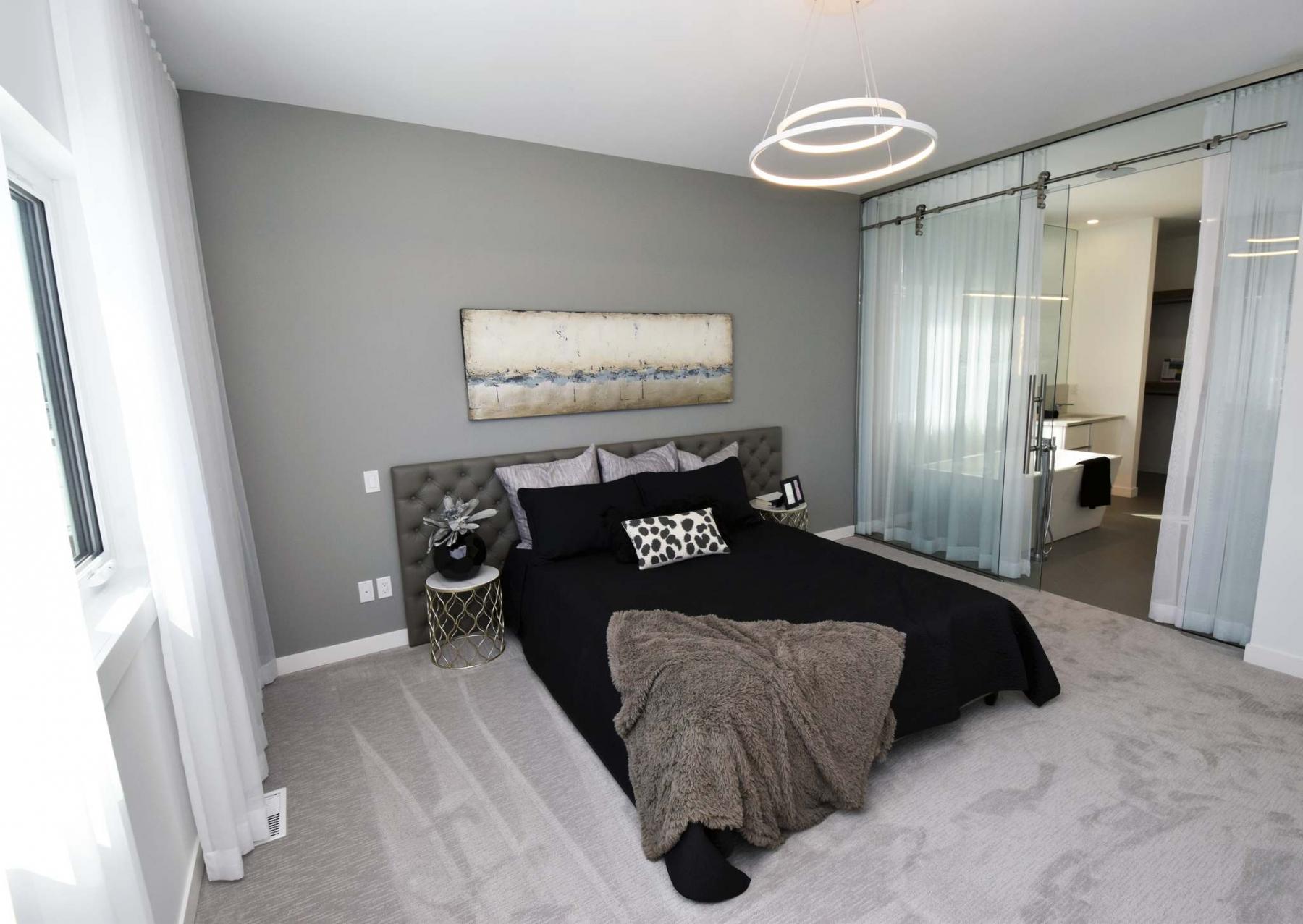 Wow factor doesn't come from one singular source.
Rather, it comes from two sources: a well-thought-out collection of design details, and a builder's ability to bring those details to life in seemingly effortless fashion.
Artista Homes' show home at 104 Creemans Cres. in RidgeWood West is a fine example of how an uncomplicated design can possess more than its fair share of wow factor, says the sales representative for the 1,917 sq. ft. bungalow, Elliot Didomenicantonio.
"The design of this home is so simple, yet it's so functional and so easy to enjoy. Everyone who's been through the home has loved how inviting it is."
That inviting feel starts in the wide, tiled foyer, which transitions effortlessly into a wide landing with lower-level staircase to the right.
Instead of bordering it with railing and spindles, Artista's design team decided to go a different route.
"It's bordered tempered glass inserts," notes Didomenicantonio. "Using the inserts defined the stairs, yet kept them open. Doing that helped maintain the open feel of the great room."
The moment you step into the great room, you're enveloped in natural light.
Turns out, all that light that floods inside courtesy of a huge picture window on the family room's rear wall and eight-foot sliding patio doors behind the dining area.
"Having a rear wall filled with glass makes for a naturally bright area that's particularly nice to be in on late afternoons," he says. "With all its space, light and beautiful finishes, the great room is an area you enjoy spending time in."
While the great room is wide-open, it isn't just one big box.
Set back neatly from the dining area, the family room is a distinct yet accessible space.
Meanwhile, the dining area is defined by the oversized patio doors (which lead out to a covered composite deck), and the kitchen is demarcated by a huge island with eating nook for three.
"All three spaces are open, yet they're separated enough so they each have their own personality," says Didomenicantonio. "A 10-foot ceiling adds to the sense of space."
Next come the finishes, which give the area an alluring character and texture.
"Everything starts with the flooring, which in this case is a luxury vinyl plank floor that looks like a rustic barnwood. It's just the right colour, not too dark or too light. Everyone loved it — there wasn't a single negative comment about it."
The theme of simple elegance extends into the roomy kitchen, which comes with two-tone cabinetry — navy blue cabinets down low and long, off-white cabinets up high — plus taupe/grey quartz countertops, stainless appliances and a cool off-white honeycomb backsplash.
"I love how the cabinets pop on the backsplash, and how the navy blue cabinets add contrast. The island adds function and separates the kitchen from the dining area, which can accommodate four to 10 guests, depending on your needs. And the family room is a wonderful space with its tiled fireplace and huge picture window."
He adds that the home's split plan has also been well-received.
"The two secondary bedrooms are in their own wing with a four-piece bath to the left of the foyer, while the master suite is way over in the right corner of the home off the family room. It's a layout that suits both families and empty nesters."
With its creative yet functional design, the master suite, which is set back inside a recessed doorway, will suit anyone with its creative yet functional design.
"It's the perfect size, and is separated from the ensuite by a tempered glass wall and door," Didomenicantonio says. "The ensuite on the other side of the glass is like an ensuite in a boutique hotel with a tile floor, stand-alone soaker tub, five-foot custom glass/tile shower, split his/her vanities and a huge walk-in closet with built-in wooden storage. It's a gorgeous, spa-like space."
Not to be overlooked is the home's lower level, which offers 1,480 sq. ft. of livable space plus 450 sq. ft. of storage space, he adds.
"You can put in a huge rec room, bathroom and another two bedrooms without a problem," he says of the wide-open area, which comes with a nine-foot ceiling. "This home proves that a simple design can be spectacular. It's a great design from start to finish."
lewys@mymts.net
Details
Builder: Artista Homes
Address: 104 Creemans Cres., RidgeWood West
Style: bungalow
Size: 1,917 sq. ft.
Bedrooms: three
Bathrooms: two
Price: $699,900 (Includes lot & GST)
Contact: Elliot Didomenicantonio, Royal LePage Alliance, 204-990-2516