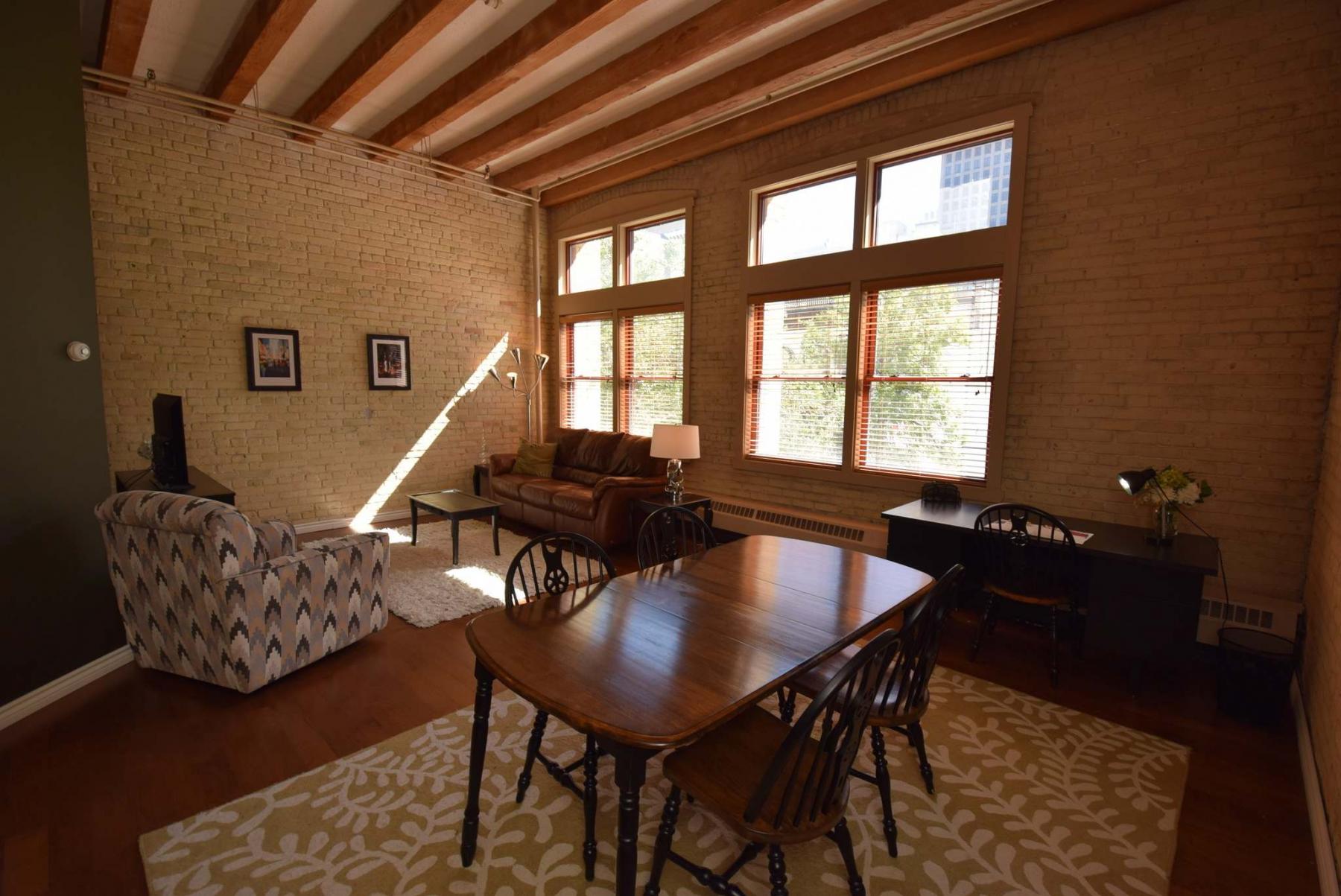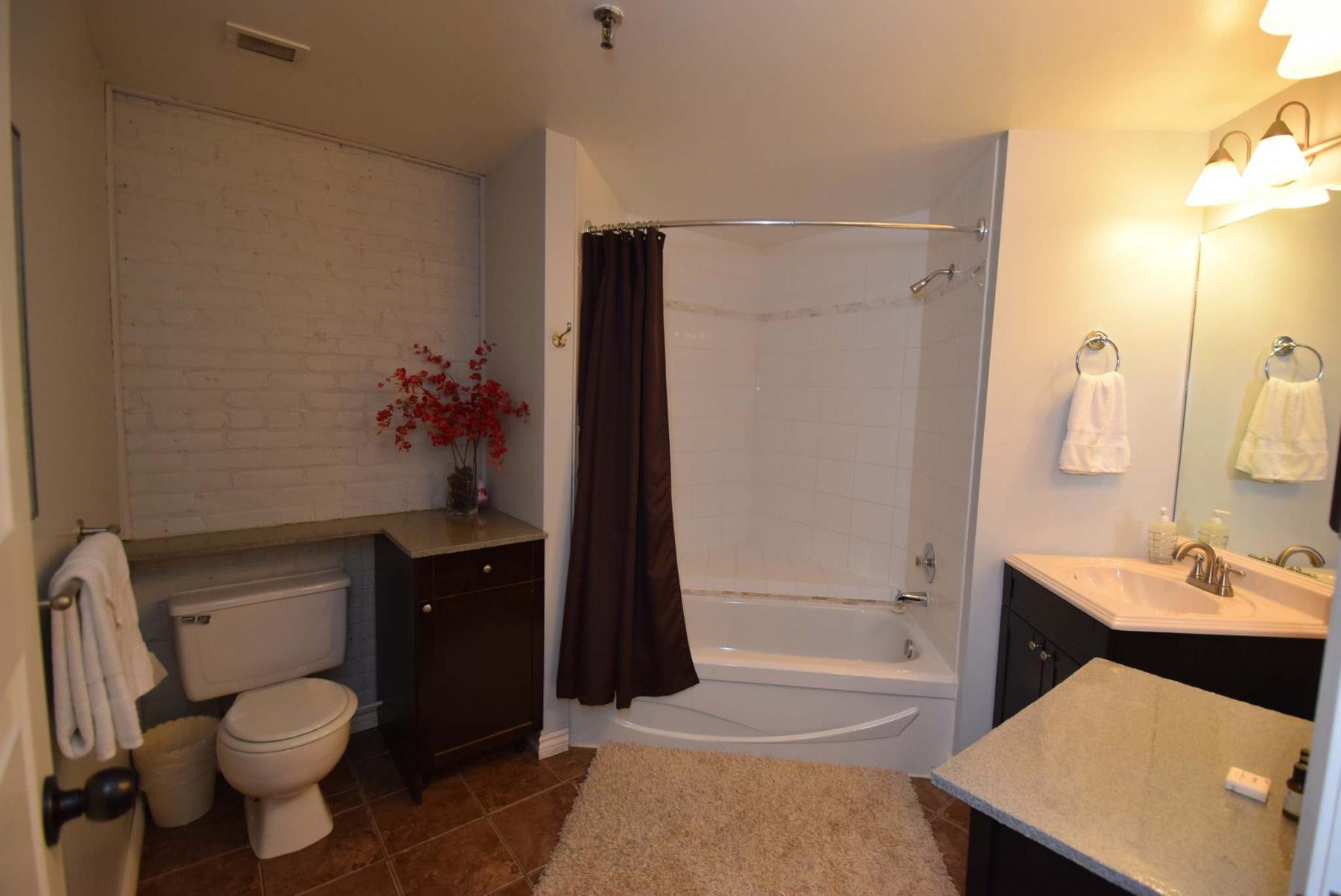 Back in the late 1890s, Winnipeg merchant James H. Ashdown hired local architect S. Frank Peters to design an expansive warehouse for his burgeoning hardware business at 167 Bannatyne Ave.
Not long after, Ashdown had architect J.H.G. Russell design another warehouse that was built at 179 Bannatyne Ave.
Eventually — after Russell designed several additions — the two buildings were connected, in the process growing in height from four storeys to six. For many years, the huge building was used as a base by wholesale food retailer Codville and Co.
In 1971, the Ashdown Co. was sold, and the building — which had been labelled by the City of Winnipeg as a designated historic site — was turned into residential and commercial space. The renovations earned a Heritage Winnipeg Award in 1989.
Today, the sprawling, brick-faced building, which is notable for its huge, ornate windows, is home to a unique collection of suites that combine turn-of-the-century character with modern design elements.
Step inside, and you're greeted by a modern, tiled foyer with elevator.
Once you step out of the elevator to walk to your suite — in this case a 1,079-sq.-ft. second-floor suite — the magic begins.
A wide, well-lit hallway with brick-lined walls and high wood-beamed ceilings makes for an effortless stroll to the unit, which is tucked away down its own private hallway — and fronted by its very own mini garden complete with wrought-iron fence enclosure.
Then, there's the suite itself, which starts off with a modern, tiled foyer and hallway.
Charlene Urbanski of Lifestyles Real Estate says the suite's charms come on full display the moment you reach the end of the wide hallway and enter the main living area.
"It features a perfect blend of early-1900s architecture and modern design elements," she says of the expansive one-bedroom, one-bath suite. "I just love the 13-foot ceiling with its fir beams and exposed ductwork and the exposed brick walls. Those features give the suite so much character."
Fortunately, that character is complemented by plenty of function. Thanks to an excellent layout, the voluminous great room is extremely navigable.
It's also very modern, adds Urbanski.
"The updated peninsula-style kitchen is nice and roomy, and offers tile countertops with stainless steel trim, a breakfast bar with seating for three, brick and tile backsplashes, two-tone grey and off-white cabinets, ceramic tile floor, stainless steel appliances and a wine fridge," she says. "It's a space that beautifully combines modern function with early-nineteen-hundreds charm."
That perfect marriage between modern and yesteryear design themes then extends into the dining room/living room area behind the kitchen.
A collection of huge, south-facing windows allows sunlight to cascade inside, while medium-brown maple hardwoods combine with the brick and hand-hewn fir beams above to create a cozy, relaxing atmosphere.
"The way the finishing materials, natural light and space come together is amazing," Urbanski says. "With a spacious dining room and huge living room, there's lots of room to entertain and visit with guests."
She adds that there's plenty of space for respite in the bedroom and adjacent four-piece bath.
"The bedroom is huge, and comes with a brick feature wall, big walk-in closet, beamed ceiling and picture window that looks out onto the interior garden. The bathroom next door is bright and spacious with a tile floor, tub set in white subway tile and espresso vanity and plenty of storage."
Finally comes the suite's trump card: its location.
"You're easy walking distance to shops, theatre, The Forks and many fine restaurants," says Urbanski, adding that the building is pet-friendly. "This suite is ideally-suited to a professor, young professional or student. It's a wonderful home that someone will appreciate for all the character and function that it offers."
lewys@mymts.net
Details
Location: 211-167 Bannatyne Ave., Exchange District
Development: Ashdown Warehouse
Year Built: 1904
Style: apartment-style condominium
Size: 1,079sq. ft.
Bedrooms: one
Bathrooms: one
Price: $314,900
Contact: Charlene Urbanski, Lifestyles Real Estate, 204-612-6655