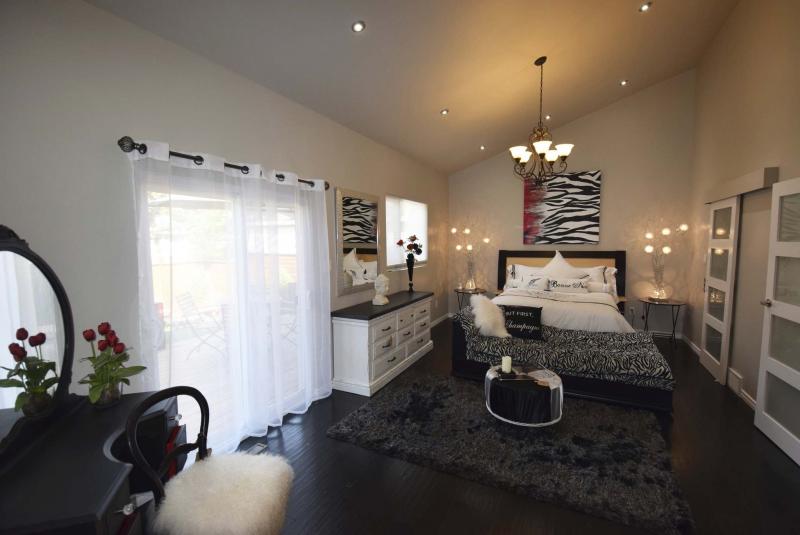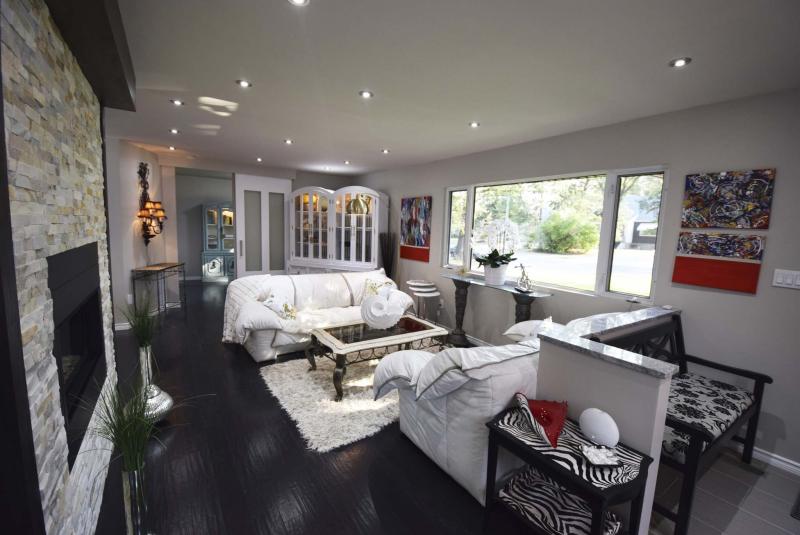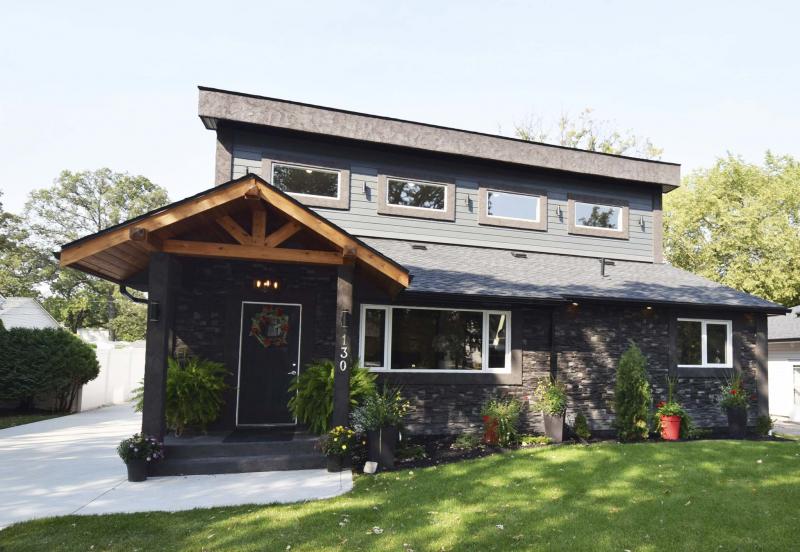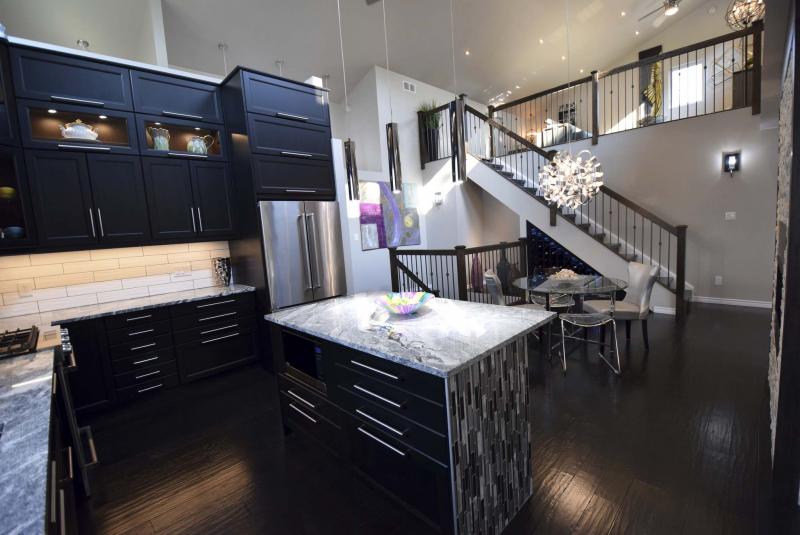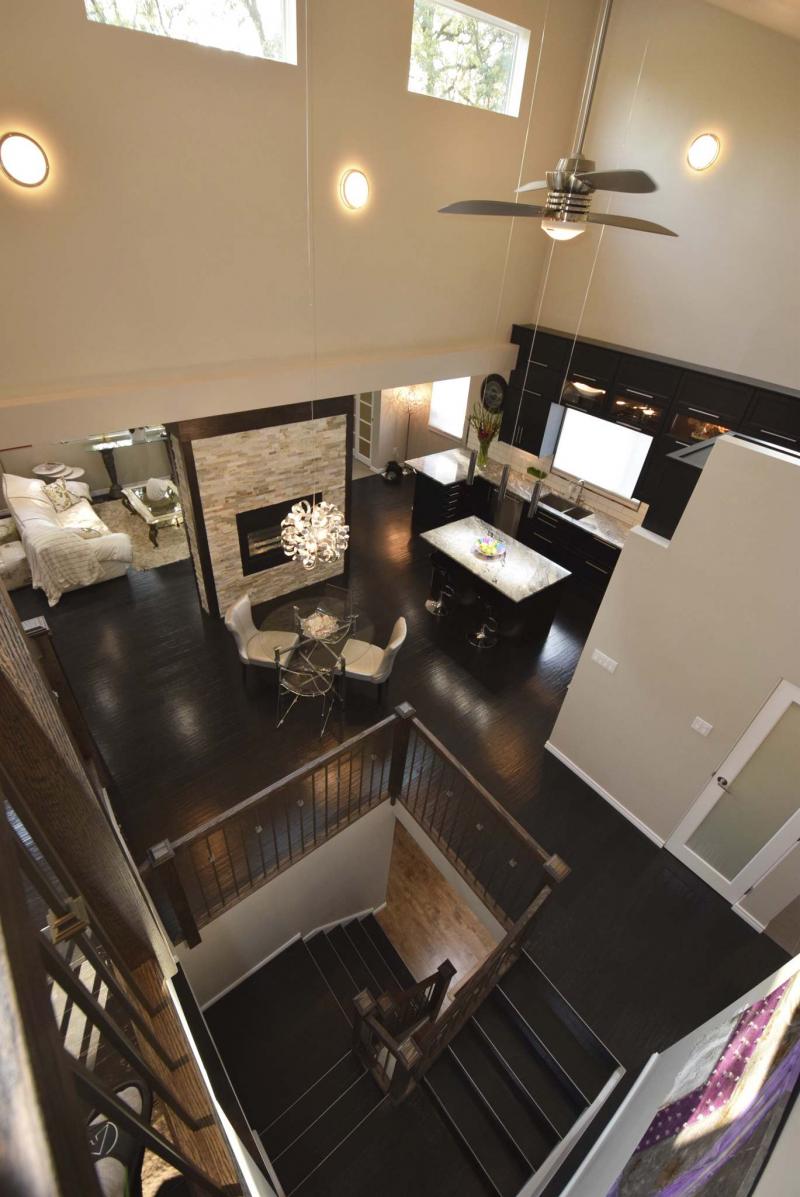 'Bungaloft" is a rare term in the lexicon of home building.
The sight of such an architectural wonder is made that much more rare in a cottagey enclave such as Woodhaven.
Yet, there it is with its covered front entrance featuring distressed pillars and cedar trim on the roofline above. Then there's the home's cultured stone/Hardie board/stucco exterior and a linear row of four windows set up high in an apparent nod to renowned architect Frank Lloyd Wright.
Home renovator extraordinaire Tracey Adam says the striking bungaloft — found at 130 Oakdean Blvd. — was two years in the making.
"Great attention to detail was paid to its design inside and out," Adam says. "Initially, it was a simple 990-square-foot bungalow. Today, you have a bungaloft that's essentially a new home. We (Tracey and her husband) put our heart and soul into the design and build of the home. I grew up in Woodhaven and love the area. Our goal was to create something special."
Why a bungaloft design?
"We chose it for the ease of living that it offers. Like a bungalow, everything is essentially on one level, yet you have the open-concept feel that comes from the loft and a ceiling that soars to a height of 21 feet."
Not surprisingly, the home bears little resemblance to its predecessor.
To create the open-concept feel, the entire main living area was gutted. The rear wall was removed to create additional living space, hence the increase (on the main level) in square footage from 990 to 2,229 sq. ft. (not including the basement). The roof was also removed to make way for the loft area, which is accessed via a gorgeous, hand-carved oak staircase with a built-in wine rack.
Adam then used all that additional room well create a home that's striking, yet functional.
The centrepiece of the airy great room is a two-sided, cultured stone fireplace. Set between the living room and kitchen/dining area, it subtly separates the two spaces, while adding warmth, texture and an additional heating source.
The living room is a cosy space — the hand-scraped espresso hardwoods that run through most of the great room are partially responsible for that inviting feel — making it ideal for visiting with guests, while the kitchen/dining area is supremely stylish, yet remains practical.
There's a wealth of soft-close espresso cabinets and drawers that contrast beautifully with an off-white, textured backsplash (plus a three-tone grey glass tile backsplash that mimics steam rising over the stove) and taupe/black granite countertops.
Meanwhile, a compact centre island offers seating for two, while an extended countertop at the outset of the kitchen (opposite the tiled foyer) adds an eating nook for two. The adjacent dining area — which benefits from the rich backdrop that the oak staircase provides — can seat up to 10.
Or the order can be reversed, Adam says.
"There's plenty of space to change things around — you can put a large dining table in the living room and then put the love seat and sofa in the dining area. There's a lot of flexibility built in to the great room's design."
While the loft area off the dining area is spectacular — it can be either a media or entertaining area, the linear windows on its rear wall serving as an elevated source of daylight — a private wing placed in the home's rear portion is equally impressive.
Tucked away neatly behind the kitchen, it deftly houses a back landing, ultra-functional main floor laundry, gorgeous four-piece bath, second bedroom and master suite.
Simply put, the master suite is sublime.
A double-wide entrance leads inside to a bedroom bathed in natural light — one that feels exceptionally roomy thanks to a vaulted ceiling that opens it up all the more. A patio door leads out to a backyard deck, while a huge walk-in closet on the opposite wall offers tons of built-in storage space.
A four-piece ensuite — which can be neatly closed off by barn-style white five-panel doors — then completes the delightful space in lavish yet functional style.
"It's a beautiful space that features a soaker tub set in a marble surround, six-foot glass/tile shower, vaulted ceiling, (taupe) tile floor and glossy white vanity with dual sinks," Adam says. "We used only the highest quality materials throughout the home. The ensuite is no exception."
The home also boasts a private, fenced backyard with patio, raised deck and new double garage.
Last but not least is a fully developed lower level. "It adds another 1,700 sq. ft. of living space to the home, taking its total square footage to approximately 4,000 sq. ft.," she says. "There are two distinct areas — the original basement, which features a sitting area with electric fireplace, three-piece bath and bedroom with walk-in closet. The second area (set two steps down) — offers a games/media area and another big bedroom."
With five bedrooms, four baths, a modern, ultra-functional floor plan and exceptional finishing quality, nothing is lacking in the home's overall design.
"This home is not a flip, but a rebuild," Adam says. "It was a real labour of love. It's in an amazing area close to all kinds of amenities — a mature area with a charm you don't find in newer neighbourhoods. Homes like this are rarely available — like-new, in an established community. You can just move in and enjoy all it has to offer."
lewys@mymts.net
Details
Location: 130 Oakdean Blvd., Woodhaven
Year Built: 1953. Rebuild completed: 2017
Style: Bungaloft
Size: 2,229 sq. ft.
Bedrooms: 5
Bathrooms: 4
Price: $699,800.00
Contact: The Castelane Team, Cole & Brett, 204-668-8799