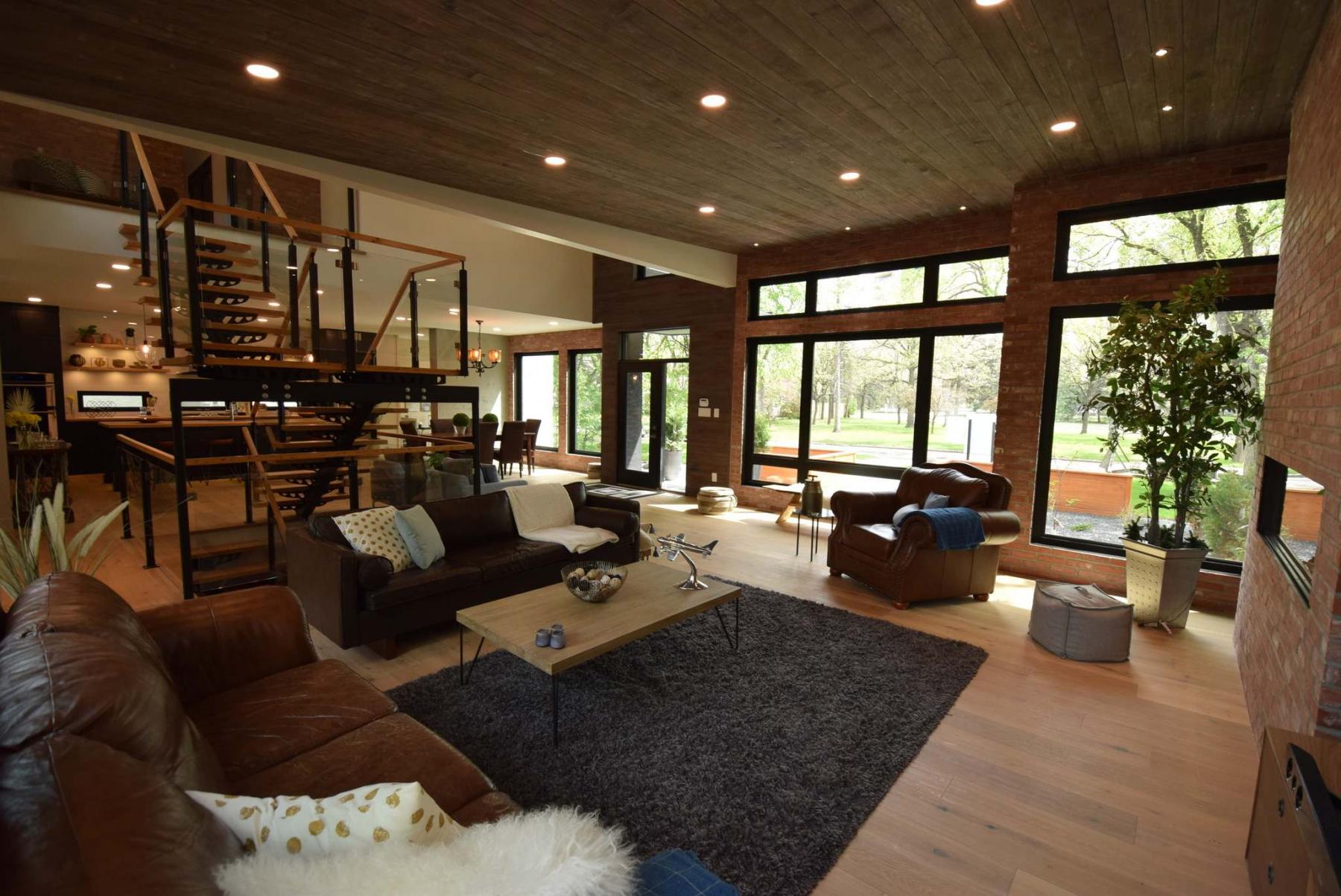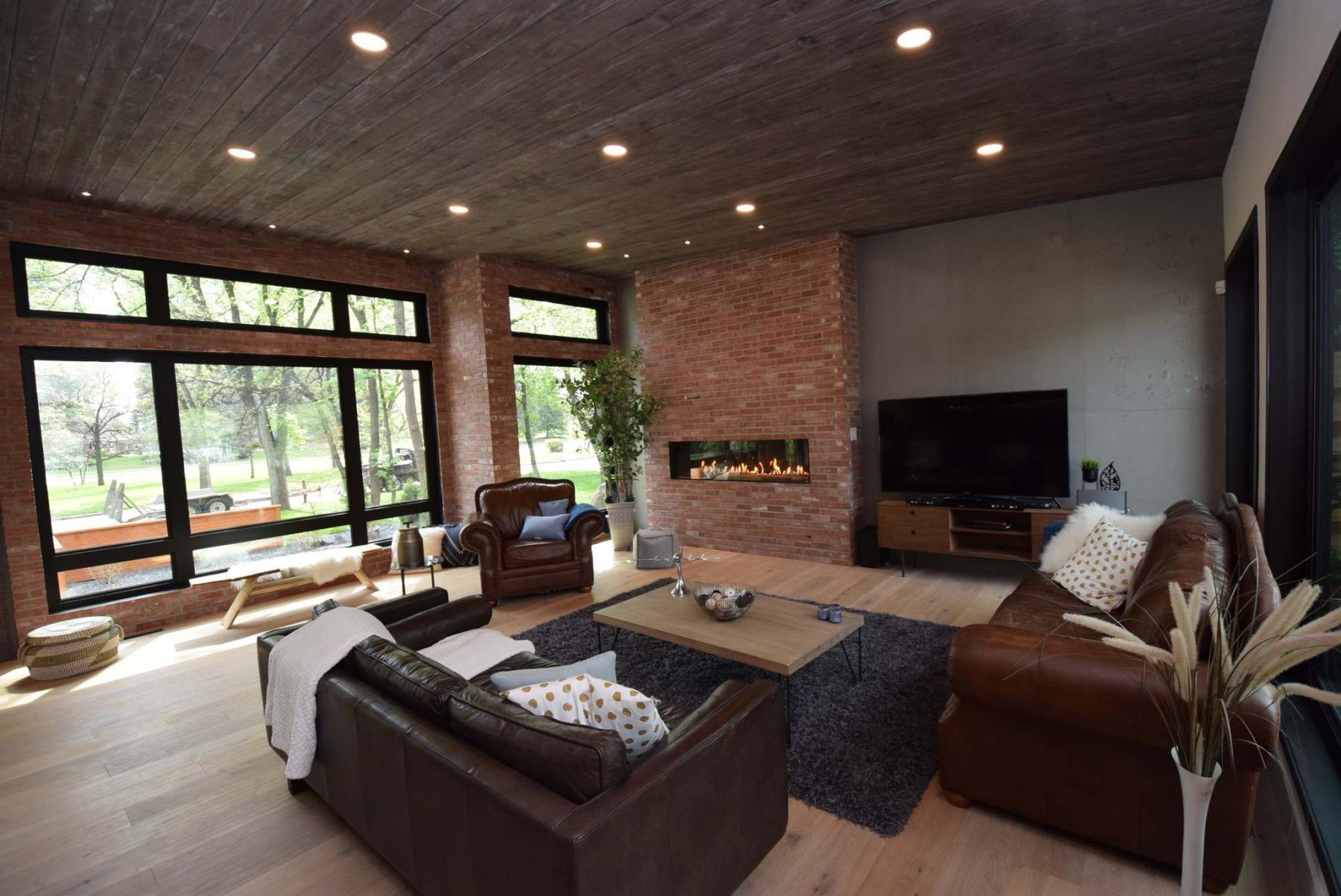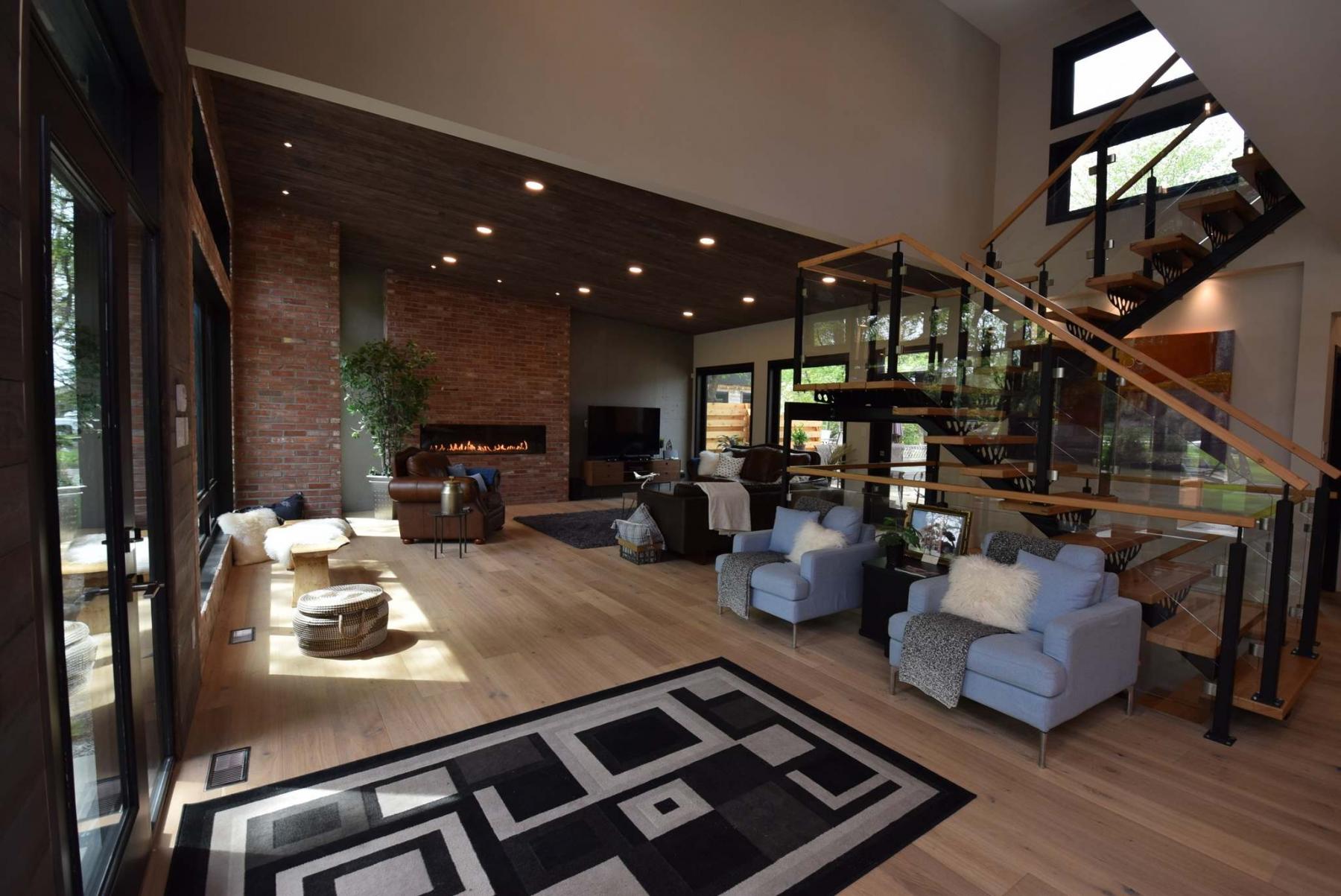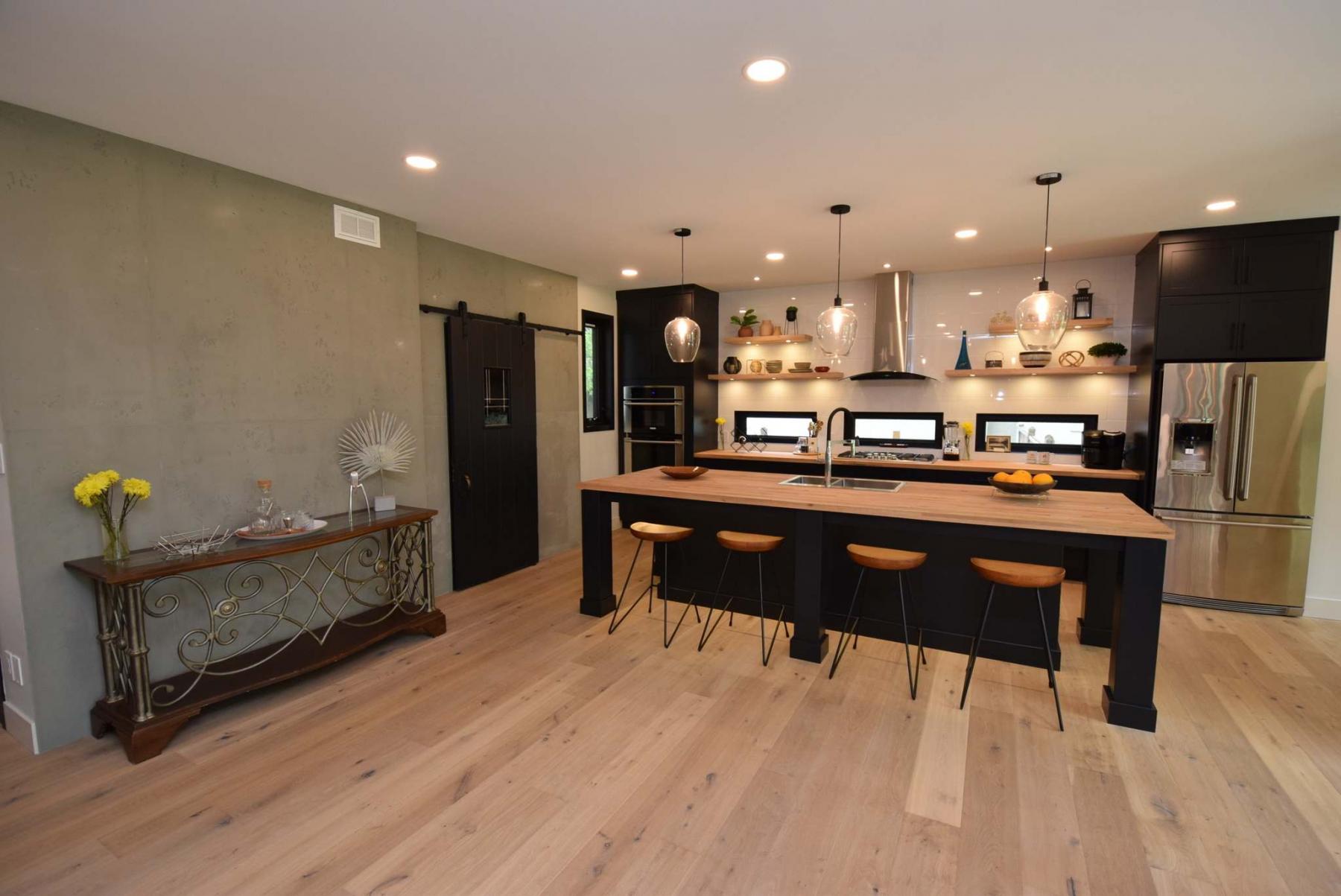 You rarely see a modern concept home sitting on a huge lot surrounded by mature trees in Old Tuxedo.
Despite the fact 214 Girton Blvd. possesses typical modern concept characteristics including a clean, linear silhouette, huge windows and modern finishes such as polished cement — it doesn't look out of place.
That's because natural wood accents in its cladding and at the front of the home soften its facade, allowing it to blend well with its surroundings and neighbouring homes.
Michael Dubienski says the wood provides a bit of hint as to what awaits inside the 3,055 sq. ft., two-storey home.
"It looks ultra-modern outside, but it transforms when you walk inside," he says. "With so many traditional materials that provide texture and character, it's very warm inside."
In fact, the home's interior is a far cry from most modern concept-themed homes, notes Dubienski's sales partner, Viktoria Fazekas.
"The inside of the home is filled with materials like brick, century-old wood and reclaimed wood countertops. The brick that runs along the walls in the great room was sourced from A & B Sound on Portage Avenue, the wood — mainly the stairs in the beautiful staircase — came from Siloam Mission and the countertops are from trailer deck boards."
Each of the three materials plays a prominent role in giving the great room the character and personality that few modern concept designs possess. Truth be told, this is a modern-rustic design.
The reddish-brown brick serves as trim around the two huge windows behind the dining room, and as trim around the massive windows that run along the home's front wall into the sitting area and living room.
Then, there's the magnificent open-riser, upper-level staircase that's situated prominently in the middle of the great room.
"The stairs were all made of the wood that was reclaimed from Siloam Mission," says Fazekas. "Tempered glass panels help maintain the great room's open feel, while natural wood railings and trim perfectly matches the stairs."
She adds that the kitchen countertops also make a statement.
"They just look amazing. They're so natural, and go perfectly with the dark cabinets and off-white tile backsplash. The wooden surface sets off the island, while a reclaimed, century-old door with hammered copper handle was put on rollers to give the pantry a bit of extra character."
While the traditional materials give the cutting-edge home loads of character, its modern-themed design endows it with exceptional function.
The great room's open-concept design promotes effortless flow, while huge floor-to-ceiling windows all around let in tons of natural light and wonderful views of all the mature trees that surround the home.
At the same time, natural engineered oak floors tie in beautifully with the character-laden decor, which also includes a vintage turn-of-the-century-style chandelier over the table in the dining room.
Dubienski says the main living area is finished off perfectly by a quietly spectacular living room.
"It's highlighted by a linear gas fireplace set in more of the beautiful reclaimed brick," he says, adding that a dark-stained pine ceiling above adds a nice rustic touch. "A pair of windows on its back wall let in even more light, while a patio door takes you out to a private backyard deck."
Turns out, the deck can also be accessed from a main-floor master suite, one of two master suites in the home.
"I just love it," Fazekas says. "Not only do the sliding patio doors give you access to the deck, but it also comes with a gorgeous ensuite with glass/tile shower and hexagonal tile floor."
The rock-solid, modern-rustic staircase then leads up to the second floor, which features a sitting area with brick feature wall looking down onto the great room below.
It houses two big secondary bedrooms (with cool shiplap walls), a lavish main bath and of course, the second master suite.
"The main bath is an absolutely beautiful space with its soaker tub, shower with tempered glass enclosure and cement wall and lovely vanity with ceramic vessel sink," she says. "It's at one end of the hall, with the master suite at the other end."
As might be expected, it's a stunning space.
"It has windows on both sides, six in total," says Fazekas. "A pair of oversized transom windows pop on the concrete feature wall behind the bed, while the natural oak engineered hardwoods add warmth. The ensuite comes with a six-foot glass tile shower and tile floor, and there's also a nice big walk-in closet to store all your clothes in."
Add in a great location, and you have a character-filled, like-new luxury home that's ready and waiting for new owners, says Dubienski.
"Not only are you getting a wonderful home that was built with incredible care and attention to detail, but you're also in a location where everything is within walking distance from shopping, to parks, to golf and more," he says. "It represents a fantastic opportunity to own a next-to-new luxury home in one of the city's most beautiful, sought-after neighbourhoods."
lewys@mymts.net
Details
Location: 214 Girton Blvd., Old Tuxedo
Year Built: 2019
Style: two-storey
Size: 3,055 sq. ft.
Bedrooms: four
Bathrooms: 3.5
Price: $1,795,000
Contact: Michael Dubienski, RE/MAX Professionals, 204-981-4101 or Viktoria Fazekas, RE/MAX Professionals, 204-250-7711