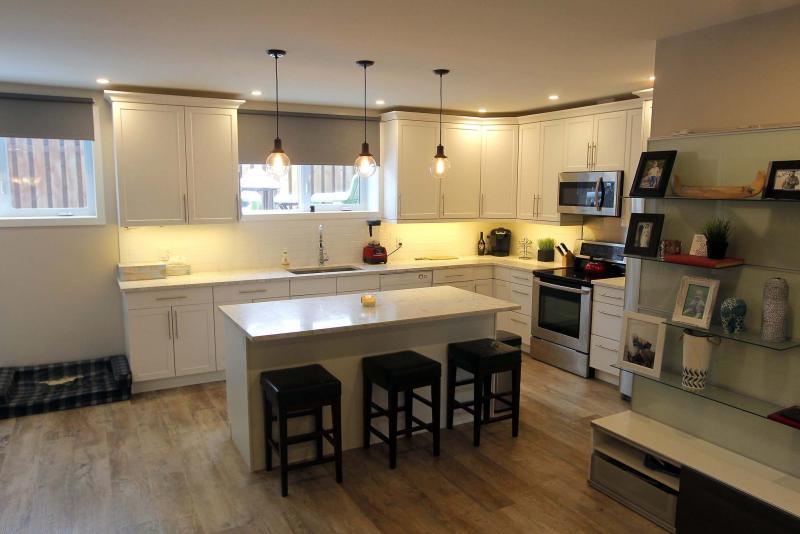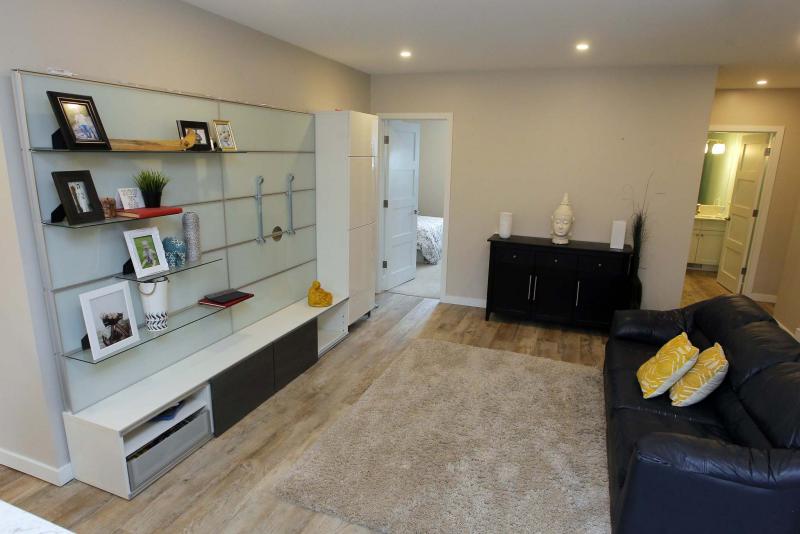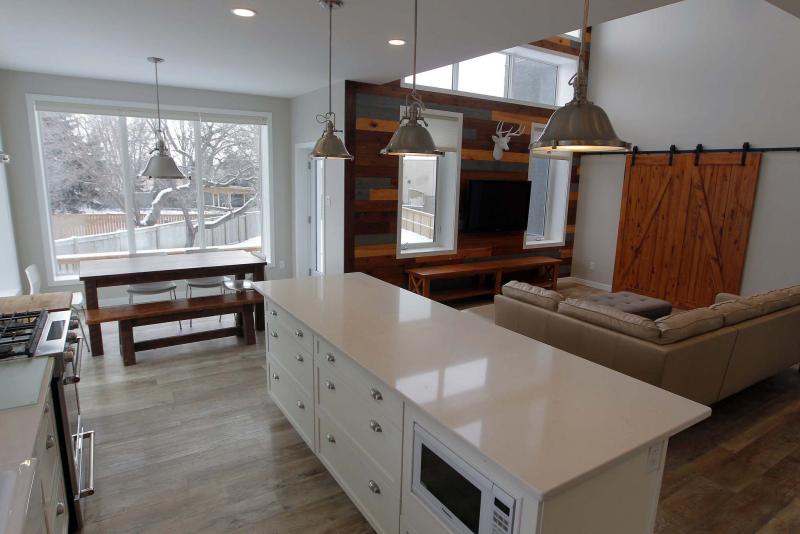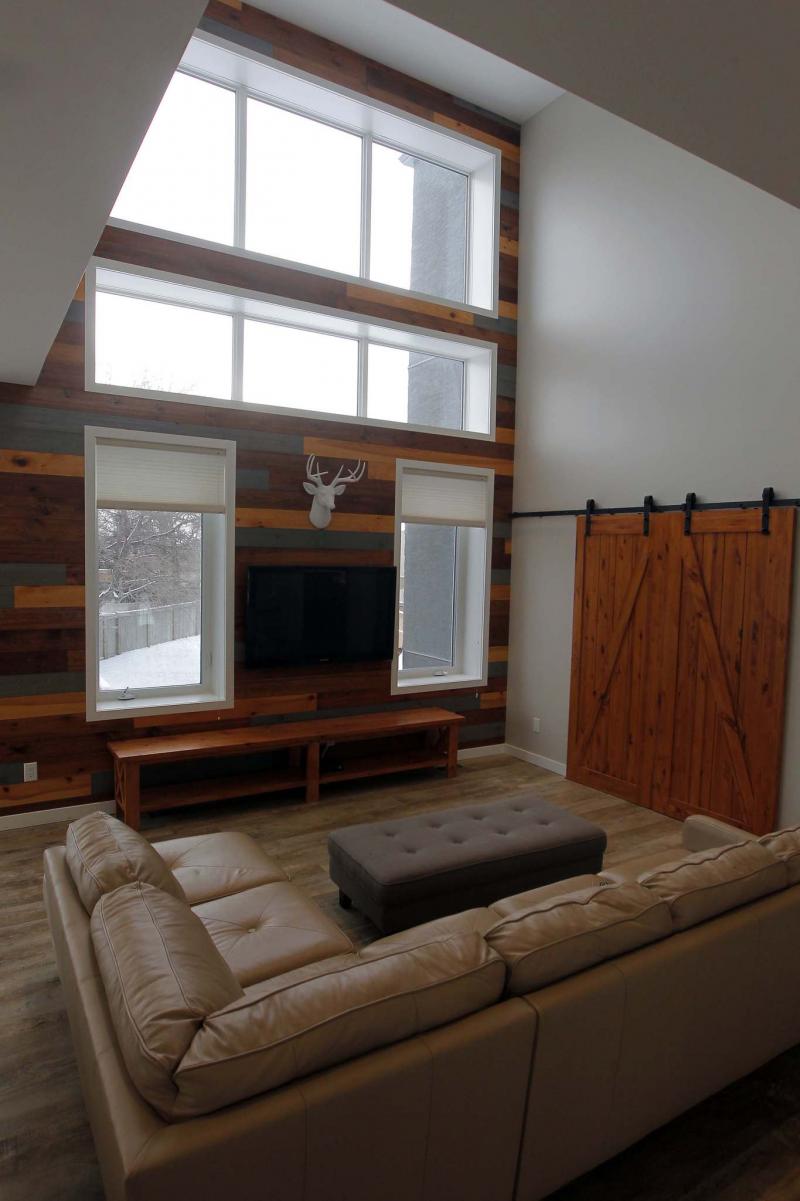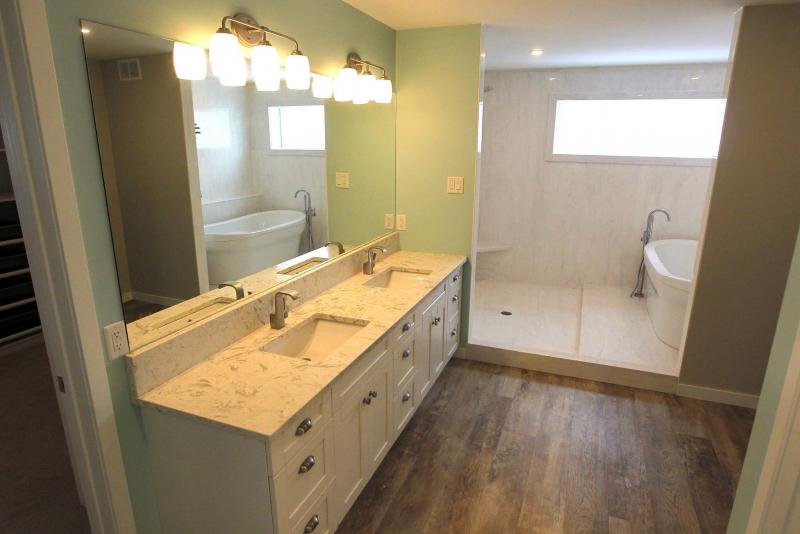 Think of multi-generational family homes and you tend to think of the Bridgwater communities — and South Pointe in Waverley West.
The reason there's such a high concentration of these homes in these areas is simple — both are newer communities that have promoted construction of such abodes.
With that in mind, imagine the pleasant surprise of finding a next-to-new multi-generational family home at 54 Sterling Ave. in Meadowood (St. Vital) tucked away on a huge, pie-shaped lot.
"The home was built on a vacant lot in 2016 and is zoned for a secondary or in-law suite. That makes it an ideal two-family or multi-generational family home," notes RE/MAX Executives Realty's Akash Bedi.
Built to serve as a show home to highlight the work of Emmett Leo Homes' Dan Nagy and his crack design team, it's now up for sale as Nagy — who's been living in the home — moves on to his next project.
Bedi says the quality of the work and materials is second-to-none: a completely piled foundation, structural garage floor, acrylic stucco exterior and structural wood basement floor with heated crawl space, for starters.
Meanwhile, the roof isn't run-of-the-mill, either; it features an ultra-durable (flat) SBS commercial roof system. Blue Skin and Delta Wrap systems were also used to waterproof the ICF (Insulated Concrete Form) foundation.
"The materials used throughout this home are ones you'd expect to be used in a far more expensive home," he says. "It's a well-built and well-designed home."
Nagy says he and his design team spent countless hours designing the home's floor plan.
"It took a while to figure out how the layout should work to provide occupants with the space, privacy and separation they'd need. I think all the time put into the design of the floor plan paid off."
The home starts off with a wide, deep foyer with high ceiling set nine steps down from the main level. To the left is a huge mudroom with bench and door for access to the double-attached garage; the basement stairs are placed unobtrusively to the right of the upper level stairs. Plenty of sunlight streams down into the foyer from the great room — a pleasing touch that prompts you to hasten your ascent into the home's main living area to see what it's all about.
The great room is exceptionally bright courtesy of a wealth of large, well-placed windows that span its rear wall. Finishes are rich and tasteful, with textured, wide-plank luxury vinyl plank floor infusing the area with a warm, yet lively feel.
Space and light abound, and the flow between spaces is superb. While one space usually stands out above the other in your typical great room (kitchen, dining area, family room) it's (at least initially) difficult to pick a clear favourite here.
"The great room is the epitome of taste, style and functionality," Bedi says. "You can show off your Master Chef cooking skills in the amazing kitchen, with its huge island, (white/grey) quartz countertops, loads of (white) cabinets, double sink beneath a big, recessed window, pantry and stainless steel appliances."
It only gets better from there, he adds. "The dining area at the rear of the kitchen is surrounded by windows, giving it a solarium-like feel. It can hold a table for eight or more guests, and offers a patio door that you can take out to a huge backyard with two-tiered deck."
The adjacent family room is also special.
"With its 20-foot ceiling, floor-to-ceiling windows and (multi-hued) plank feature wall, it's spectacular," he says.
"There's also a play room with barn-style doors off it. A wing tucked away in its far right corner with two-piece bath and bedroom den is perfect for aging parents or the overflow of a big family."
While the home's second floor is to be duly noted for its incredible great room view, theatre room, two bedrooms, bright laundry room and three-piece bath, the mid-level area that precedes it is the true showstopper.
That's where a bright, generous landing leads to a stunning master suite that checks in at 600 square feet.
"Set on its own private level, it's a retreat that features a marble-lined wet room with stand-alone tub and shower, beautiful ensuite area, diva walk-in closet with tons of built-in storage and a good-sized bedroom featuring four huge windows on its rear wall," Bedi says.
"It's straight out of a luxury homes magazine."
Finally, there's the home's lower level with its legally-zoned secondary suite. "You can access it from two separate entrances — from outside, or from the main floor. There's a mechanical room with upgraded (Marathon) water tanks, storage room, two bedrooms, bathroom, big living room, a nook that can serve either as a pantry or office — and island kitchen with the same finishes found upstairs. It offers style, function, ease of access and quiet, semi-private living."
In all, the solid, well-designed home — set in a quiet area that's close to a host of amenities (U of M, St. Vital Centre, Dakota Community Centre) — has a lot going for it.
"It's turnkey," says Bedi, "all you'll need to do is move in and enjoy all the wonderful amenities it offers."
lewys@mymts.net
Details
Location: 54 Sterling Ave., Meadowood (St. Vital)
Year Built: 2016
Style: Two-storey
Size: 2,850 sq. ft. plus 800+ sq. ft. in lower level secondary suite
Bedrooms: 5
Bathrooms: 3.5
Price: $1,090,000
Contact: Akash Bedi, RE/MAX Executives Realty, 204-987-9800