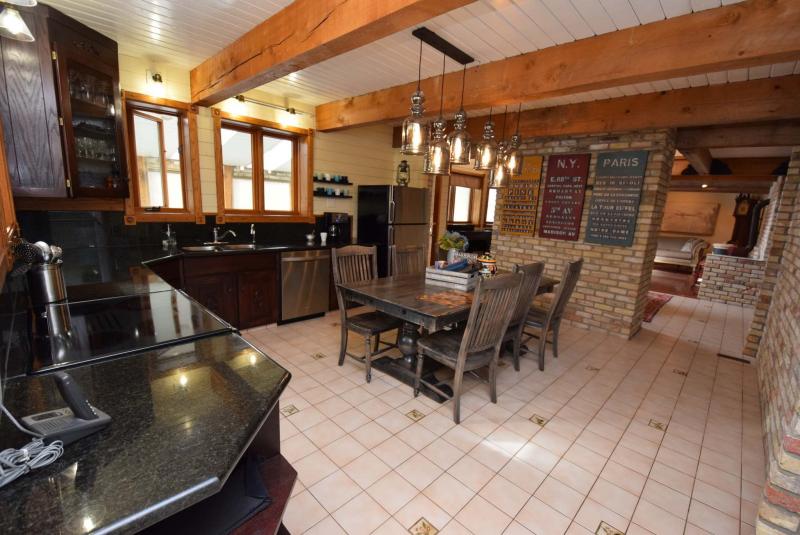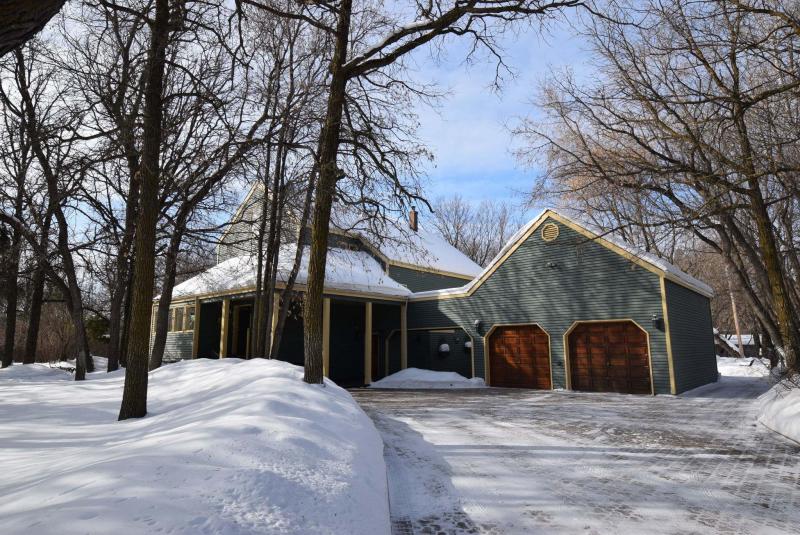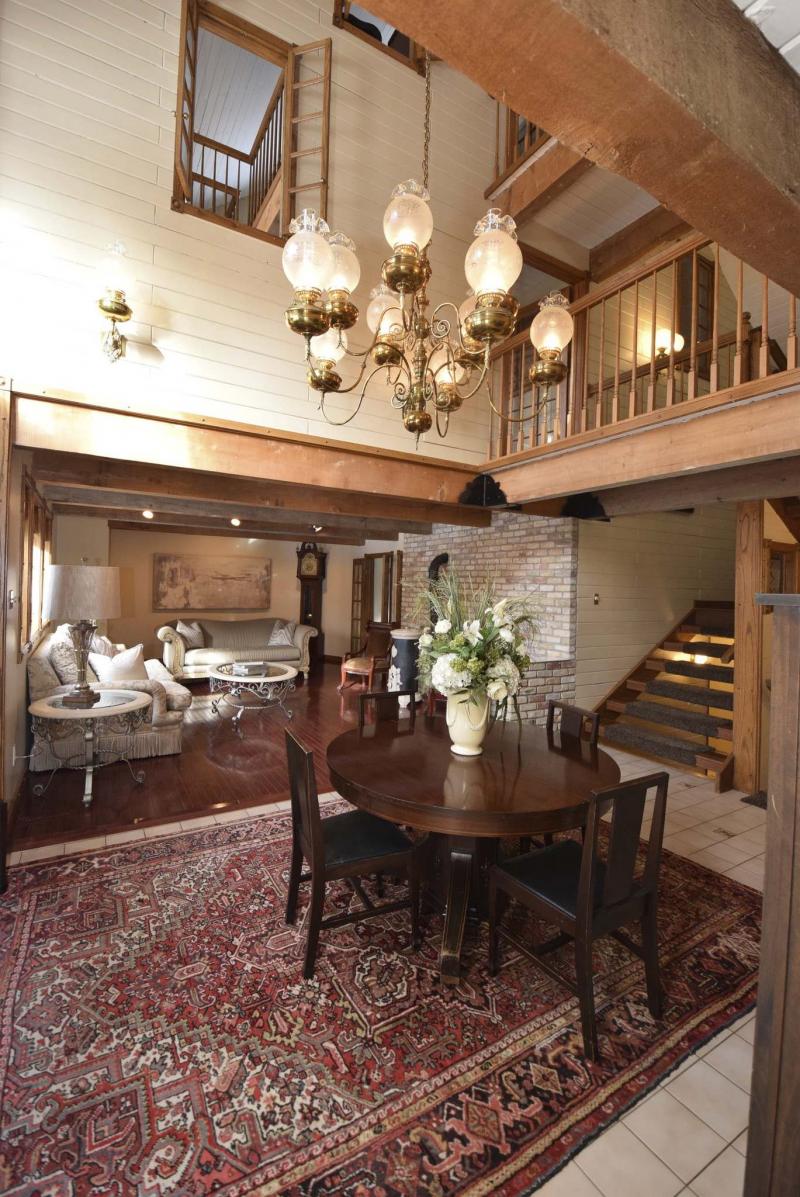 Once upon a time — back in the early 1900s, to be exact — a forested tract of land in the RM of St. Clements was a spot where locals came to get their mail and use artesian wells to replenish their water supply.
Today, more than 100 years later, a striking, 3,500-sq.-ft. multi-level home sits squarely in the middle of that same forest on a majestic 2.5-acre lot.
"The outgoing owners bought the home when it was just a shell back in the mid-'80s," says Glen MacAngus of Royal LePage Top Producers Real Estate, the listing agent for 34 Fuller Rd.
"They moved in, finished its interior and exterior and landscaped the home. They also kept the old post office, which is located at the rear of the property."
And while narrow dirt paths once wound through thick forest to the post office, a wide, gated entrance now leads through the trees to the home, which features an interlocking grey brick driveway that contrasts beautifully with the home's blue vinyl siding.
A quaint, covered porch leads to a winding stairwell that takes you into the home, an abode that can only be described one way, MacAngus says.
"It's a rustic-modern masterpiece," he says. "Everything in the home is custom, and everything was done to the highest standards. The walls are 12 inches thick, and the main floor was built on thick concrete. It's a wonderful post-and-beam-style home that is priced substantially below what you could build it for today — the cost would now likely be higher than $1 million."
A wonderful collection of spaces, this home is chock full of rustic personality and well-placed modern amenities.
Turns out, the kitchen — which is prefaced by a separate, enclosed foyer and a delightful, sun-filled space the owners call a summer kitchen — is a microcosm of the home.
The expansive kitchen features a wonderful mix of rustic and modern materials: brick and whitewashed pine walls, fir ceiling beams, wood-trimmed windows (lots of them), black granite countertops, dark oak cabinets, taupe tile floor and a huge pantry off the kitchen.
"The kitchen's tile floor is actually heated, a great feature for winters," MacAngus says. "All the materials come together to create a space that has a warm, rustic feel, yet it has all the modern conveniences you need to prepare gourmet meals. The summer kitchen allows you to enjoy meals surrounded by forest views in the spring, summer and fall."
A brick wall placed at the rear of the kitchen then creates two aisles — one to the right that leads to the dining room/living room, and another to the left (between the kitchen and dining room/living room area) that directs you to a doorway on the adjacent wall.
"It leads to an amazing four-season sunroom with nine windows, six skylights and a multicoloured slate floor," MacAngus says. "A doorway off it then leads out to a sunken courtyard that's completed by a custom stone fireplace."
The two spaces on the other side of the brick wall are just as spectacular: a formal dining room with an ornate chandelier and 40-foot ceiling, and a spacious yet cosy living room.
"I just love all the natural light that pours in from the windows on the side wall, and how the dark oak hardwoods — they were built over two-inch tongue and groove fir — give the area such a nice, warm feel. And the soaring ceiling over the dining room is incredible."
Several sets of rock-solid oak staircases provide access to the various levels of the home.
One set leads down to a huge rec room with a wood-burning stove, brick feature wall, bank of six windows that lets in loads of natural light and a built-in entertainment unit.
A second stairway leads to a spacious landing, powder room and bedroom. And a third stairway provides access to another tranquil bedroom.
A fourth set of stairs then leads up to a level with a bedroom and dressing room with circular staircase and luxurious ensuite.
"The ensuite is gorgeous," MacAngus says.
"It features a tile floor, open tiled shower with rain shower head and jetted corner soaker tub with tile surround and gold-plated fixtures."
As for the purpose of the circular staircase in the dressing room?
"It provides access to the master suite above. It's a loft-like space with huge windows that gives you elevated views of the beautiful trees below. You can also gain access to the master suite from another staircase at the end of the hall."
MacAngus says the spotless, impeccably built home, which offers over 5,000 sq. ft. of total living space, is a hidden gem.
"It really has to be seen to be appreciated. It's just five minutes from Selkirk and about 20 minutes from the city on a park-like lot that has a sanctuary-like feel. You can enjoy the solitude by yourself, or you can entertain guests in the home, out on the deck or in the courtyard. It's a magical place to call home."
lewys@mymts.net
The details
Location: 34 Fuller Rd., RM of St. Clements (Heritage Grove Estates)
Year built: 1985
Style: Multi-level
Size: 3,500 sq. ft.
Lot size: 2.5 acres
Bedrooms: 4
Bathrooms: 2.5
Price: $650,000
Contact: Glen MacAngus, Royal LePage Top Producers Real Estate, 204-955-4800