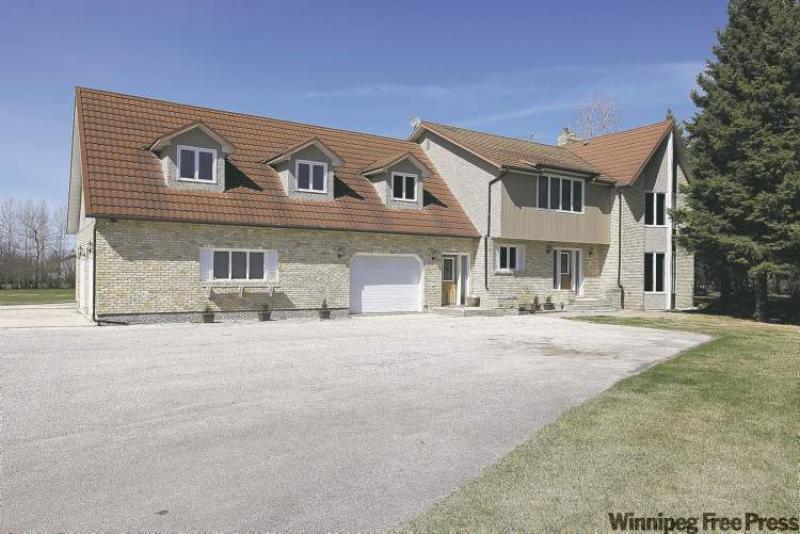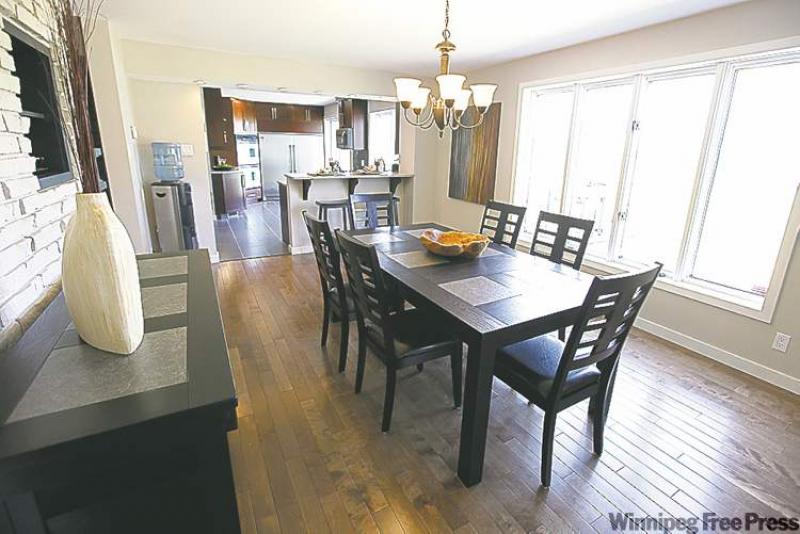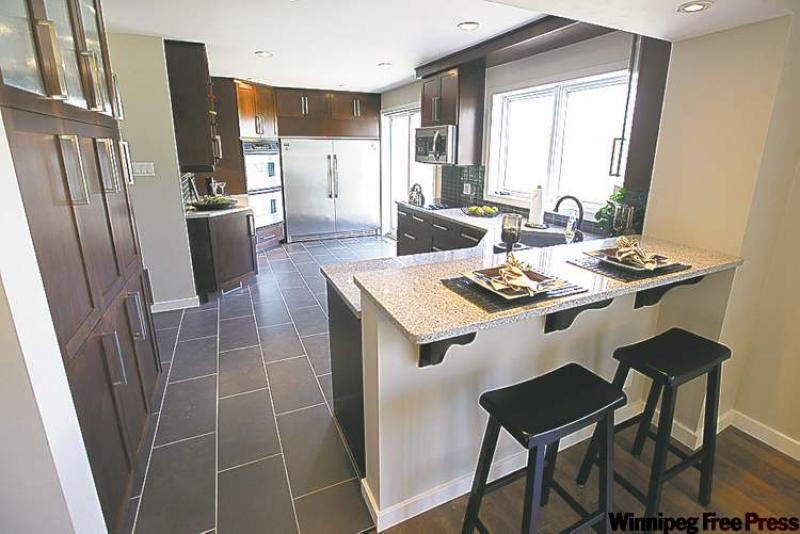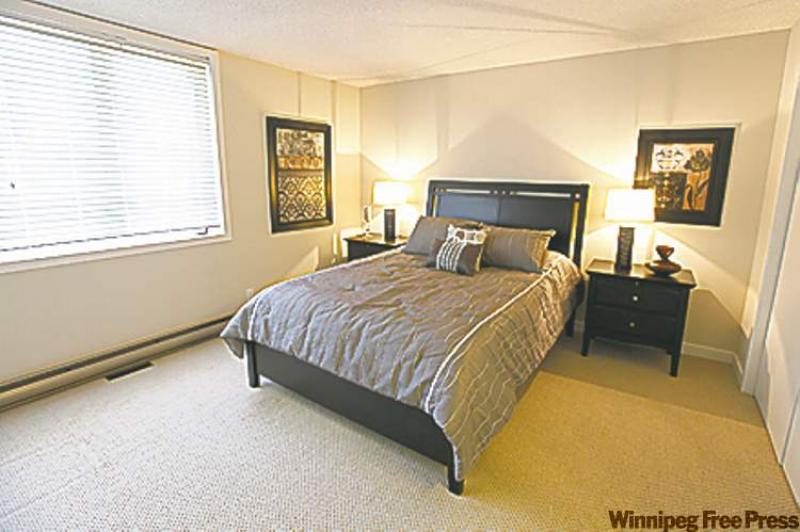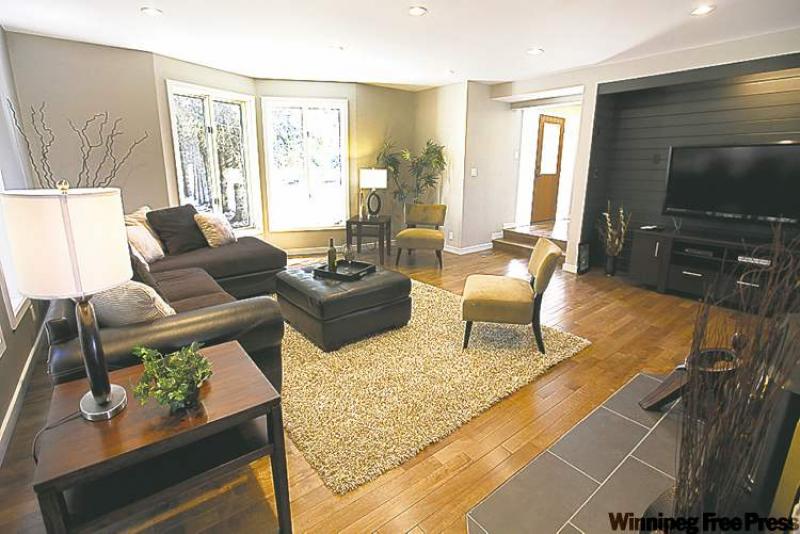 Drive by the housing enclave where Bluegrass Road is located, and you wouldn't know it's there.
The slopes of the adjacent Springhill Ski Area cut off any view of the development, which is something of a shame because, while countrified in ambience, it's just minutes from city amenities.
As you'd expect, not many homes come up for sale there. But now, about six or seven houses down on the left-hand side of the road, sits 100 Bluegrass Road, a two-storey residence that was built on piles in 1979.
On a five-acre lot populated by mature pines but offering wide-open prairie vistas, at 3,100 sq. ft. it's not your typical Little House on the Prairie. Rather, it's a deceptively expansive, contemporary home positioned in a pleasingly prime location, says RE/MAX Executives Realty's Ben Thiessen.
"It's just a great location," says Thiessen. "You're close to the city, yet you're on a private, park-like lot. From the road, you don't fully realize how big the home is, it's nestled back so nicely into the property."
In a sense, 100 Bluegrass was ahead of its time in that every room offers large windows. That wasn't necessarily the case back when The Village People and Donna Summer were in vogue at the tail end of the disco era. The result is stunning.
No matter where you go in the home — the kitchen, with its sliding deck doors, huge low-silled window and double undermounted sink, the six-window dining room, the living room with five vertical windows on two walls or the upstairs bedrooms — there are great countryside views and a heaping helping of natural light.
The windows link the home's interior beautifully to its exterior surroundings. Add rich finishing materials and a logical layout, and you have a home that's equal parts rustic and contemporary.
"The builders pretty much thought of everything when they built the home," Thiessen says. "There's an exceptional chef's kitchen, main-floor laundry and living room with woodburning fireplace (a focal point with its brick stack/surround that neatly divides the dining room from the living room) and cantilevered area for a huge flat-screen TV."
While the floor plan allows for seamless access from space to space, it's the finishing materials that bring the home from the 1970s all the way to 2011: medium-stained brown maple hardwoods, elegant granite countertops, dark ceramic-tile flooring (in foyer, kitchen, laundry room and back-door landing) and a relaxing earth-tone colour palette. This home is not dated in any way — the appliances are even stainless steel.
Not unexpected in a 3,100-sq.-ft. home, the upper level is gargantuan, with five bedrooms including a loft-style room with three huge windows perched atop the insulated multi-car garage below.
"It's a real bonus," Thiessen says. "It's a space that could be used as a master bedroom, office, games room or play room, depending on your needs. It's unique, but in a very good way."
The remainder of the second level is family-friendly, with the four bedrooms spread out well away from one another. The smallest of the four yields another unexpected surprise — sliding doors with a balcony. Not a bad spot for a den, with mandatory balcony breaks.
The master suite is in its own tranquil corner, shielded out front by a covey of mature pines but with a large window yielding a view of the grounds and countryside stretching away in the distance. It's a fortress of solitude and space, with three closets and tons of room to move around. And though it has "only" a modest three-piece ensuite, there's a four-piece main bath just steps away with a huge oval jetted tub, dark tile floor and maple vanity with granite countertop and rectangular white ceramic sink.
Thiessen says 100 Bluegrass is a home that has much to offer.
"It's an excellent family home in a phenomenal spot," he says. "It's been wonderfully updated, has a 600-amp panel with underground service, and a park-like, landscaped private yard. It's amazing in every way."

lewys@mts.net
Realtors: Have a home you think would make a good Resale Homes feature? E-mail the listing to Todd; it could be the next Resale Homes feature.
DETAILS

Address: 100 Bluegrass Road, RM of Springfield
Size: 3,100 sq.ft.
Style: Two-storey
Year Built: 1979
Lot Size: 5 acres
Bedrooms: 6
Bathrooms: 4
Price: $599,000
Contact: Ben Thiessen, RE/MAX Executives Realty @ 999-2625