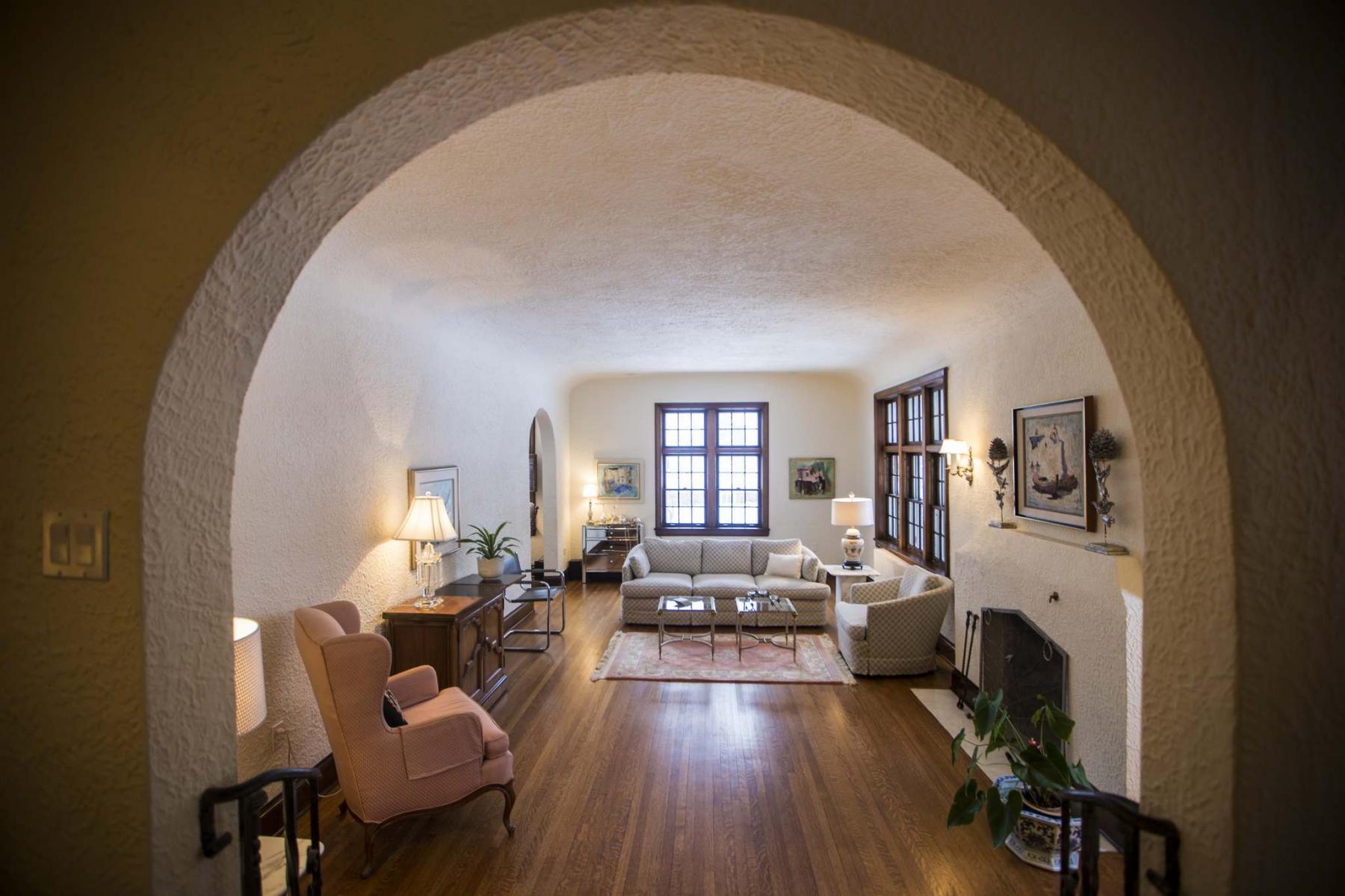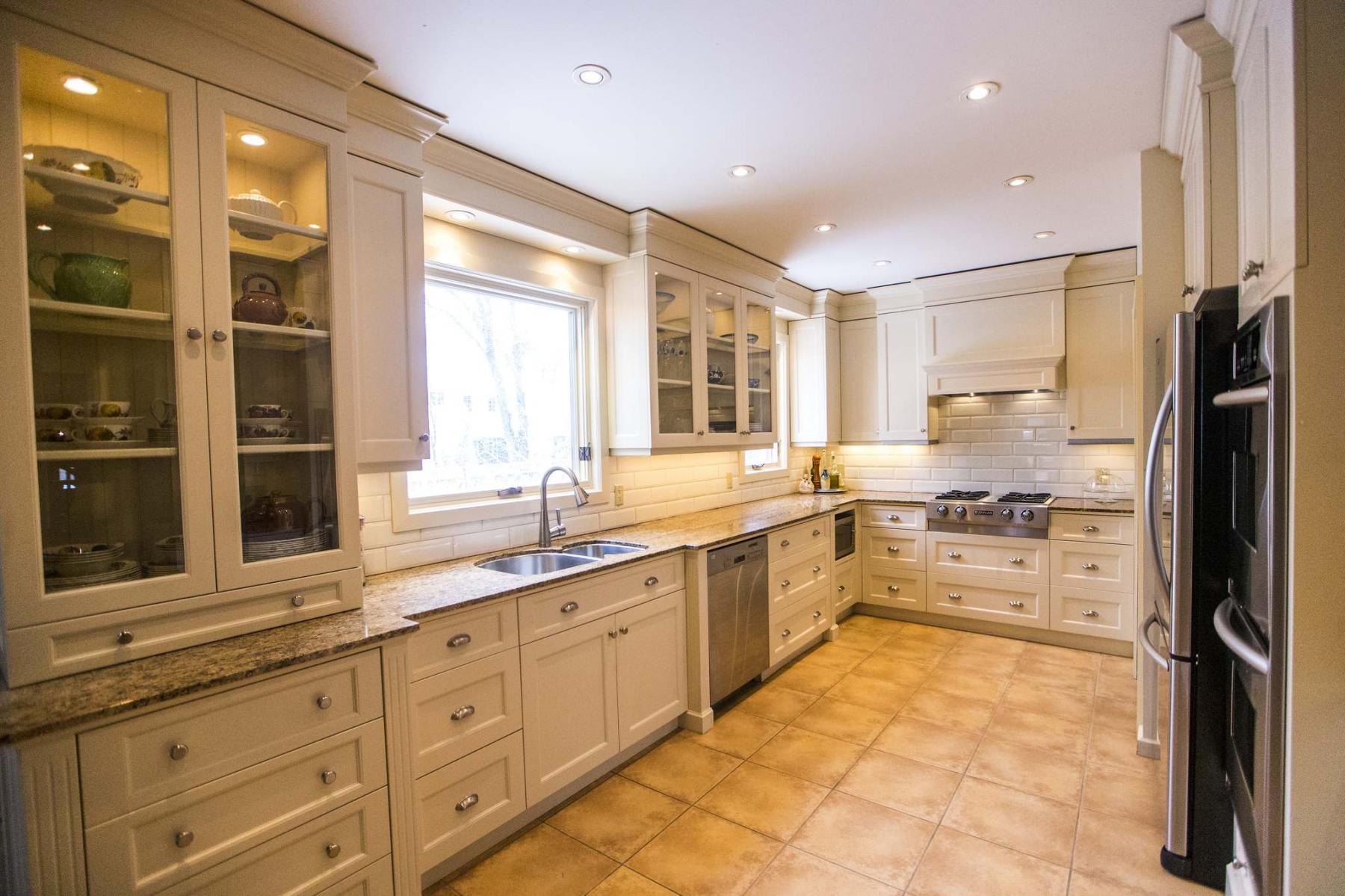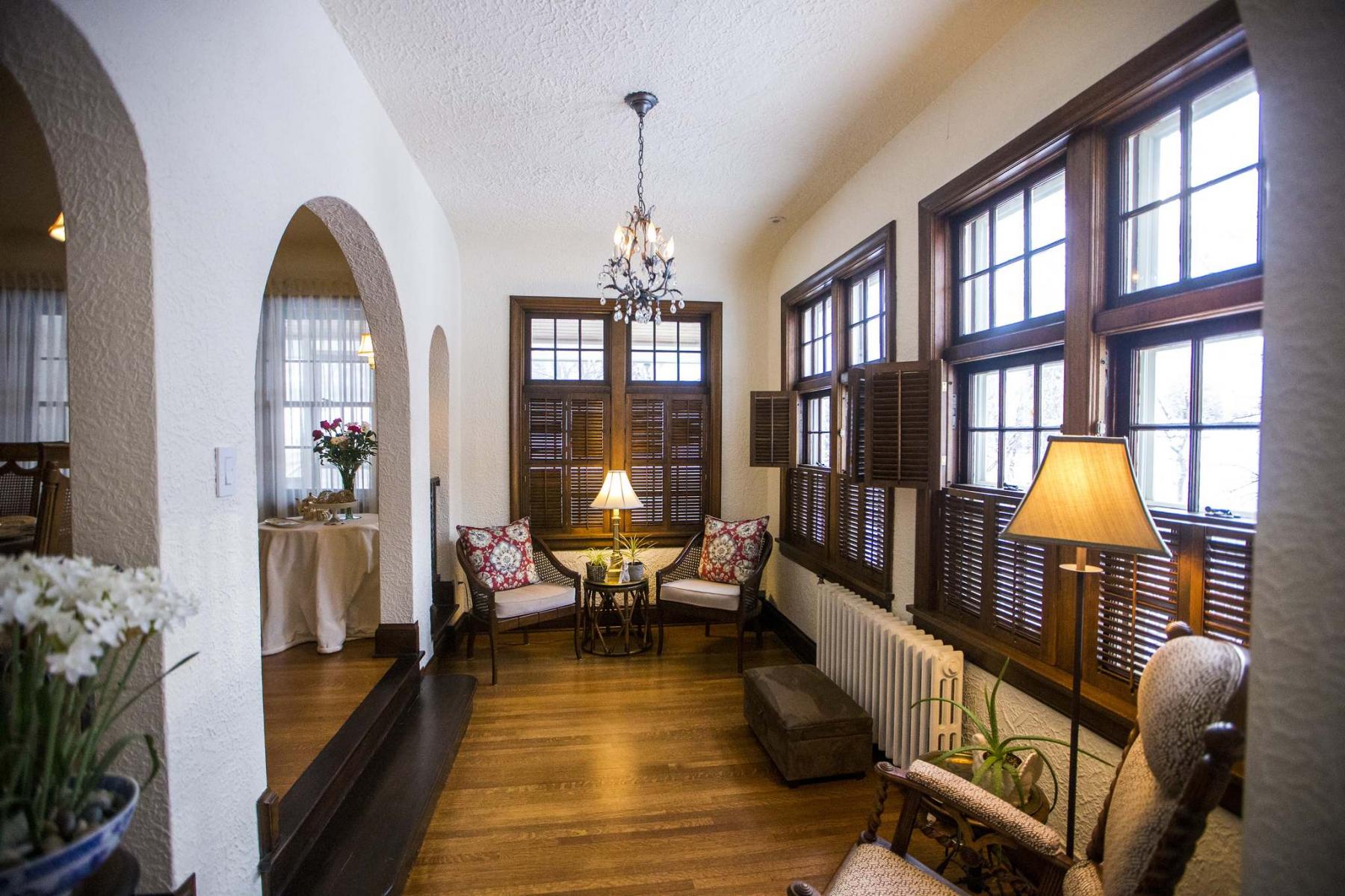 Brett Castelane of Century 21 Bachman & Associates says 68 Ash St. is a glorious home both inside and out.
"This truly is a grand home," he says of the 3,708 sq. ft., two-storey. "It's in a spectacular location just off Wellington Crescent on a mature, 120-foot-deep lot. Outside, it features a classic Tudor design, while its interior features English Jacobean and Spanish styling. It's difficult to find a home like this — it's just so well-preserved and full of character and style."
That character and style is front and centre the moment you set foot in the 91-year-old home's sunken, tiled foyer. There's wood everywhere, the original oak front door, the oak-trimmed stained glass window to its right, pristine oak hardwoods that run from the front landing through most of the main level and a grand, hand-crafted oak staircase tucked away to the left of the foyer.
From there the home unfolds in natural, spectacular fashion. Textured off-white plaster walls mesh beautifully with all the wonderful wood. On cue, a wide doorway to the right of the landing leads into a sitting room with a high ceiling, oak-trimmed window and a streamlined fireplace.
Another doorway to its rear then provides access to a sitting area that's set down two steps from a dazzling dining room.
"A wide entrance with two cut-outs on either side, they both sport wrought iron rail accents, leads into a formal dining space that's perfect for entertaining," Castelane says. "Another entrance with a wrought iron gate on the opposite wall takes you out to the kitchen."
While the front portion of the home is all River Heights classic, the eat-in kitchen is totally contemporary.
"It's been remodelled with a tile floor, granite countertops, a tile backsplash, gorgeous cream-coloured cabinets and stainless steel appliances. It's a bright space thanks to a pair of windows on its front wall and a ton of pot lights on the ceiling above."
The rear of the home is then finished off in classic style by a spacious yet cozy family room.
"This space is an addition," he says. "It features a beamed ceiling, fireplace with stone surround and hearth and a huge bay window on the wall across from the fireplace. The window lets in lots of natural light, while doors on either side of it allow you to walk out to a spacious patio in the big, well-treed backyard."
Meanwhile, access to the home's second floor comes via the grand upper-level staircase, which is bordered by a gorgeous, curved oak railing with wrought iron spindles all the way to the top.
Much like the main floor, it's spacious, warm and highly functional.
"The landing area is huge," says Castelane. "It's surrounded by a remodelled main bath and five bedrooms. The four bedrooms are a good size with big windows and plenty of storage, while the master suite is amazing."
Set up high, large windows afford elevated views of the mature trees that surround the home, while the alluring oak hardwoods add warmth.
'It's a private, relaxing space that comes with a wall of closets with built-in organizers and a luxurious ensuite with soaker tub, frameless glass shower with marble tile surround and rain shower head and a heated octagonal tile floor that adds a nice classic touch to what is otherwise a modern, spa-like space."
The spotless, well-preserved home is ready and waiting for a new owner, he adds.
"It's ready to go. All you need to do is move in and enjoy its great location, classic character and contemporary features."
l
ewys@mymts.net
Location: 68 Ash St., North River Heights
Year Built: 1929
Style: two-storey
Size: 3,708 sq. ft.
Bedrooms: five
Bathrooms: 2.5
Price: $998,800
Contact: Cole or Brett Castelane, Century 21 Bachman & Associates, 204-453-7653