Renovation & Design
Question: When the second storey to my house was added on, about 30 years ago, the HVAC people ran the vents for the second floor through a bedroom on the second floor. These were for the heating system that was in the basement, right next to the chimney. Therefore, this bedroom has a four-foot by four-foot finished box in the centre of the room, six feet away from the outside wall, which contains the chimney and the ductwork. This goes into the attic and from there the heat is piped into the rooms on the second floor. This occurs through small ducts in the ceiling, via flexible tubes that are on the attic floor. We have lived with this for 30 years and now would like to fix this situation, once and for all. Can a gas furnace in the basement be vented out a side wall that is six feet away? If so, we can get rid of the chimney that goes from the basement right up through the roof. Can heating/AC ducts be located on the outside of the building if they are super insulated? What can be done about this situation? I surmise we will have to hire a structural engineer to come up with a plan, but I am hoping that you can give a brief answer so I know in which direction to turn. Someone suggested just leaving the chimney, furnace, and duct work and putting an eight-foot bump-out onto that second floor bedroom. But, I suppose this would be more work and would have to sit on pilings and footings.
I thank you for your time, Martha
Answer: Relocating heating ducts for a forced air heating system can be a tricky job for a home that is already complete. While this may be a worthwhile endeavour, moving them out of the attic should be part of any planned renovation, to prevent issues with condensation and moisture.
A new high-efficiency gas-fired furnace should be able to vent out the foundation or side wall of your home, as long as it is not too close to any existing windows or other restricted items. A licensed HVAC technician or contractor should be able to immediately tell you that by looking at the location. If there is an issue, relocating the new vent and air intake may be possible on an alternate side of the home.
Moving your heating ducts and registers to a new location on the upper floor of your home will make sense once you have upgraded your furnace. This will allow removal of your old chimney, which will give you more unencumbered space in the bedroom in question. As long as the chimney is not supporting any portion of the upper floor system, this should be possible. Evaluation by a professional structural engineer will indeed be required.
As far as installing the new ducting in an exterior wall, that should not be considered an option. In fact, moving the small, flexible ducting from the floor of the attic to interior walls should be seriously looked at. The reason that heating ducts are not installed in exterior walls is that there is no way to properly insulate and air seal them, especially in an older home with minimal space in the wall cavity. Without this protection, condensation on the cold metal ducts in the winter is a given. This could also occur in the warm, humid summer weather, when the ducts are cooled by the air conditioning. This same issue can occur in the attic, but may have been more manageable in the past due to much more space for increased insulation.
Regardless, the best option after removing the chimney and chase is to relocate larger ducts to an interior wall or walls on the main floor. This will be most easily accomplished if one or more of the bedroom walls is common to other rooms upstairs. In that situation, the new ducts may be run horizontally inside the bedroom floors. These could be connected to the existing ducts at the bottom of the old chase, or new ducts run through the main floor walls. The location of these will be reliant on the existing conformation of the main floor and will likely require modifications to some walls on both floors. Also, removing a portion of the upper floor in the bedroom with the chimney will be needed, but that will have to be patched anyway, after the chimney and duct removal.
Because of this, plans for new floor coverings on the upper floor rooms should be included in the renovation plans. That way, any floor sheathing that is cut for installation of the new ducts can be easily patched. That will also allow for installation of floor level heating and return air registers, which will be a much better location than in the ceilings. The existing ceiling registers should be removed and the attic ducting either abandoned and well sealed, or taken out altogether, to prevent any future issues.
Relocating poorly installed heating ducts and registers, along with a nuisance chimney, is a good plan when upgrading your furnace. It will involve some removal of wall and floor coverings, possibly on both floors of your home, but should be worth the effort. Moving all of these to the warmer areas inside the living space will prevent possible condensation and moisture issues possible with the current duct location.
Ari Marantz is the owner of Trained Eye Home Inspection Ltd. and the past president of the Canadian Association of Home & Property Inspectors — Manitoba (cahpi.mb.ca). Questions can be emailed to the address below. Ari can be reached at 204-291-5358 or check out his website at trainedeye.ca.
trainedeye@iname.com
QUESTION: I recently bought an LCD TV. The dealer stressed that the screen was not glass and could easily be damaged by using common glass cleaners, for example those that contain ammonia. From what I've read, the damage may not appear immediately, but after regular cleaning with the wrong products it may become cloudy or have some other visible problems. Another issue is the apparent dust-magnet properties of the LCD screen. Some of the commercial products claim to have anti-static properties, and I'd sure like to know what substance they use and how we can be sure it won't affect the screen. Can you shed some light on this and recommend something to clean the TV screen? Thanks in advance. —Bonnie
Answer: When in doubt, always refer to your manufacturer's manual first, if you do not have a manual call the company who manufactured the screen and ask them to email you their recommendations. Getting recommendations in writing is always a good idea.
If you would like to make your own homemade cleaner, mix one-part water and one part 90 per cent isopropyl alcohol, wipe with a very soft cloth. Do not use paper towels or anything more abrasive than a cotton T-shirt. Windex or anything that contains ammonia is not recommended as it can etch the screen surface and can cause the plastic to become cloudy. There are commercial cleaning solutions available, but some of them are quite expensive and contain nothing other than isopropyl alcohol and water.
To repel dust, gently wipe the screen with a dry fabric softener sheet. In every case always test on a small inconspicuous area first.
Question: I was steaming vegetables and forgot about them. The water went dry and burned my pot. Any solution? — Derrick
Answer: Soak the pot with dishwasher detergent and hot water for a couple of hours, scrub with a steel wool pad. Or, and this is what I like to do, pour baking soda, dish soap and enough water to cover the bottom. Boil the contents for five minutes. Let sit just until cool enough to handle and scrub with an S.O.S pad. Some people use oven cleaner for this purpose and leave it overnight, but I prefer baking soda.
Tips for the New Year
You can make the best ribs in a slow cooker if you remove them from the slow cooker 30 minutes before serving and place them onto a baking sheet. Broil until browned, this way they are crispy on the outside and tender on the inside. — Karen
To temporarily camouflage tiny nicks or chips in flooring melt a matching crayon. Drip the wax onto the area. Use a plastic scraper or ruler to level off the top so the wax is even with the floor. — Fraser
I have tried all kinds of coffeemakers and am finally satisfied with a good strong cup of coffee made with a French press/Bodem. Put coffee (I use President's Choice dark roast) into the French press, pour in water that has just been boiled. Let sit for a few minutes. Press the top down, pour into mug. One cup of this coffee, and I'm fine for the rest of the day. Nothing fancy. — Henry
Note: Every user assumes all risks of injury or damage resulting from the implementation of any suggestions in this column. Test all products on an inconspicuous area first.
Have a great suggestion or tip? Please send an email at: info@reena.ca. Reena Nerbas is a popular motivational presenter for large and small groups; check out her website: reena.ca.
Question: I am writing to inquire about some hints that I read about which were published in the 1950's, I am wondering if they actually work? Submitted by George
Answer: Many of these old tips are still relevent today. Here are the vintage tips along with our findings today.
Then: A teaspoon of salad oil added to water prevents, rice and noodles from sticking together and prevents water from boiling over.
Now: I always add a small amount of canola oil, to the rice and heat them up for about 30 seconds before adding water to the pot. This does prevent the rice from sticking together; however, the water is still able to boil over the edge of the pot.
Then: To split a cake into layers, use dental floss to cut through the layers.
Now: I have used this tip many times, not only for cutting cake layers, but also for cutting cinnamon buns after filling and rolling them. The dental floss is strong, and the floss prevents the dough from losing its shape.
Then: A tasty addition to a cucumber salad is chopped rhubarb.
Now: For people who love the tartness of rhubarb, this is a great way to add colour and texture to a salad. Bring the rhubarb to a boil for two minutes, along with a little sugar, drain, chop and add to salad.
Then: If you have too much fat in cooked gravy, wrap an ice cube into a cheesecloth. As the fat hits the ice cube, it will stick to the cheesecloth.
Now: I use ice cubes, without the cheesecloth. I drop one or two ice cubes into the gravy and allow the fat to stick to the ice. Remove the ice cubes with a spoon.
Then: Sperate egg yolks by breaking the egg through a funnel. The egg whites flow through and the yolk stays in the cup.
Now: This works, although it seems like an unnecessary amount of work. Purchase an egg separator from the dollar store, if you prefer to use a kitchen tool to separate an egg.
Then: To peel citrus fruit for a salad, pour boiling water over them and let stand for five minutes. The white part will peel off with the skin leaving the orange clean.
Now: I tried this tip, and while some of the white peel was removed, but the orange became mushy and unappetizing.
Then: A little lemon juice added to the water in which rice is boiling will whiten it.
Now: The change in colour by adding a small amount of lemon juice is hardly noticeable; however, adding two tablespoons of lemon juice to one cup of water, changes the flavour to zesty and the colour to a light yellow. It's a nice ingredient to add in order to switch up an old dish. Add broth and butter for an even bigger change.
Discovery that really POPS
The following is one of my favourite discoveries for 2020. For an easy snack option, make your own healthy popcorn. Choose a tall microwave safe plastic container. Rinse the container and pour out the water, but do not dry the bottom of the container. Drop one quarter cup of popping corn kernels into the container. Salt the kernels. Place a lid on the container, the lid should be larger than the container and should not be snapped close, it should just lay over the top to prevent the popcorn from flying out. Pop the corn in the microwave for about two minutes, depending on the strength of your microwave. No need to add oil, butter or margarine. The small amount of water on the bottom of the container is enough to allow the salt to hold onto the kernels. Season as desired and eat. Healthy, cheap and delicious!
Note: Every user assumes all risks of injury or damage resulting from the implementation of any suggestions in this column. Test all products on an inconspicuous area first.
Have a great suggestion or tip? Please send an email at: info@reena.ca. Reena Nerbas is a popular motivational presenter for large and small groups; check out her website: reena.ca.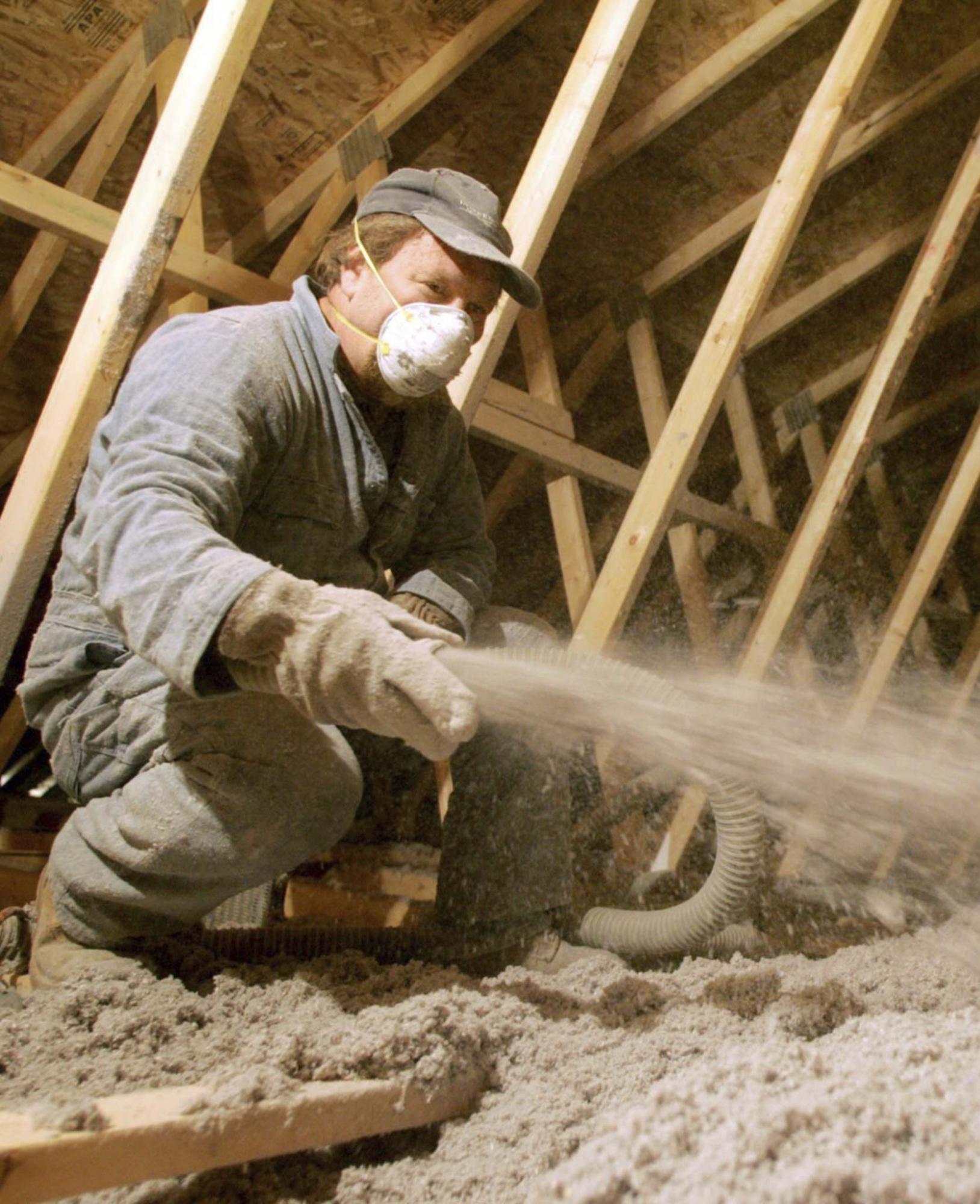 Question: My neighbour is installing a new high-efficiency wood stove in his home, and I have a question about the required chimney height above the roofline. We live in the West End, our houses are only six to seven feet apart, and I am concerned about smoke being properly ventilated. His chimney is coming up the south side of his house, at the lower end of his 21/2-storey roof line. My 21/2-storey house, to the south of him, is several feet higher. I am concerned that the wind from the north or west may negatively affect air quality in my home, if his chimney is not sufficiently high enough above the roofline. Are my concerns valid? Do you have any recommendations in this circumstance? — Matt H.
Answer: Your concerns with smoke-related issues for your home are certainly valid and will depend on the frequency of use of the new wood stove and the configuration of the upper portion of your home.
Regardless, the building codes and fire codes are very specific on requirements for any wood-burning appliances, and as long as the chimney is being installed by WETT certified technicians it should be done properly.
Installation of any wood-burning appliance in your neighbour's home must be done in accordance with applicable codes. A polite inquiry in regards to the credentials of the installers, and the presence of a building permit, should ensure this is done.
Any company installing this type of heating source in a building must have WETT certified technicians completing the work. They will be trained on all compliance issues with the wood stove and should ensure the chimney meets or exceeds the minimum guidelines. This will include proper height of the top of the chimney above the roof and any adjacent roofs or buildings.
If you want a rough guideline, there is a rule of thumb that is often used to ensure proper chimney height. The top of the chimney should be at least two feet higher than any surface within 10 feet horizontally. Owing to to the proximity of your two houses, this could be an issue if you have a wall or dormer extending above the neighbour's roofline.
If your upper roof is pitched at the side adjacent to the new chimney there should be little chance this rule is violated. In that situation, it is also doubtful that there will be a window on that side of your upper floor that would easily allow smoke to enter the living space. If you do have operable windows on the upper floor, which is typical in this style of home, that is where my concern would lie. Since the wood stove would likely be used mostly during the winter these windows should be shut, but if it is used in moderate weather, you may have to close all these windows to ensure no unwanted smoke intrusion occurs.
As far as the overall indoor air quality of your home, it should not be negatively affected if a few items are addressed. Hopefully, your neighbour will be responsible and primarily burn dry, seasoned hardwood in the new heating appliance.
Using softwood or scrap lumber may alter the efficiency and relative clean-burning of the woodstove. Because those burn at a lower temperature than hardwood, the combustion may not be as complete and there is more chance of creosote buildup in the chimney. This may also allow more soot to escape into the air, raising the chance of particles entering your home.
If the new fireplace is a pellet stove, there should be even less chance of this happening.
Regular chimney inspection and cleaning should also be done by your neighbour and if you see vehicles with WETT logos parked on a fairly regular basis, that will be an encouraging sign. This is more important for fire safety protection than it is for smoke issues, but should protect against both issues.
As with most home systems, good maintenance and cleaning will ensure they operate as efficiently as possible. So, if you do start to notice excessive soot or smoke accumulation in the air, on the roofing or walls, or smell it inside your home, you should suggest to the neighbour that servicing may be in order.
For more details on your rights, and the neighbour's requirements, in relation to the new wood stove you should contact the City of Winnipeg building division for more information. They will often have pamphlets or online resources that outline specifics in relation to code requirements for various common home upgrades. Otherwise, you could ask to speak to a building official, who should be able to directly address these concerns. They may also be able to tell you whether the neighbour has obtained the proper building permits, and if inspections have been completed after installation.
Whether you have dormers with opening windows on the north side of your upper floor and use of the wood stove in moderate weather may determine whether smoke particles enter your living space. Ensuring the chimney is installed at the proper height, and with the proper clearances, should be a given if done by WETT certified contractors.
Ari Marantz is the owner of Trained Eye Home Inspection Ltd. and the past president of the Canadian Association of Home & Property Inspectors — Manitoba (cahpi.mb.ca). Questions can be emailed to the address below. Ari can be reached at 204-291-5358 or check out his website at trainedeye.ca.
trainedeye@iname.com
The easiest tool for hanging Christmas lights on a railing is to fasten them with zip ties. Maurice
I've never understood why people use only one size light to decorate their Christmas tree. I use three different strands, each a different size bulb which illuminates the tree and looks professionally decorated. Lana
For a more majestic looking tree, place the tree on a stand and wrap the base with burlap. Ethilia
String Christmas lights from the top to the bottom, instead of around the tree. This will give the tree a more appealing look. Ethilia
For a professionally decorated appearance to your Christmas tree, consider using only one-colour decoration such as white i.e. feathers, ribbon, bulbs etc., this includes the tree skirt and topper. Ethilia
Decorating gingerbread cookies takes a long time, so I use them to decorate my tree instead of eating them (easier on the hips). Before baking, use a chopstick to puncture a hole close to the top, so they can be hung. Apply varnish and they will last for years. Sharon
When I worked in a restaurant, we had a tradition, we would spread whip cream on a baking sheet and then freeze it. Next, we used a cookie cutter to cut out little Christmas trees or hearts, which we would add to hot chocolate mugs. Samantha
The best hot chocolate is made with milk, not water. Drop a teaspoon of peanut butter and a few chocolate chips into the hot drink, for extra flavour. Samantha
I didn't enjoy hot chocolate until I started adding a half teaspoon chili powder to the hot chocolate, as I was heating it. I now like spicy, hot chocolate. Alejandro
I make Cheesecake Hot Chocolate for my grandkids by whipping together one-quarter cup cream cheese and one-quarter cup heavy cream. Add a spoonful onto hot chocolate and sprinkle with shaved chocolate. Juliette
Every year I bake delicious cookies for family members. I wrap them in an empty Pringles container which I gift wrap using Christmas paper. So festive and cheap. Eve
If you own a white fridge, then you have the perfect base for a snowman. Cut out black circles for the eyes, mouth and buttons and an orange triangle for the nose and tape them to the front of the fridge. Tape a piece of red wrapping paper horizontally as the scarf. Tonya
Note: Every user assumes all risks of injury or damage resulting from the implementation of any suggestions in this column. Test all products on an inconspicuous area first.
Have a great suggestion or tip? Please send an email at: info@reena.ca. Reena Nerbas is a popular motivational presenter for large and small groups; check out her website: reena.ca.